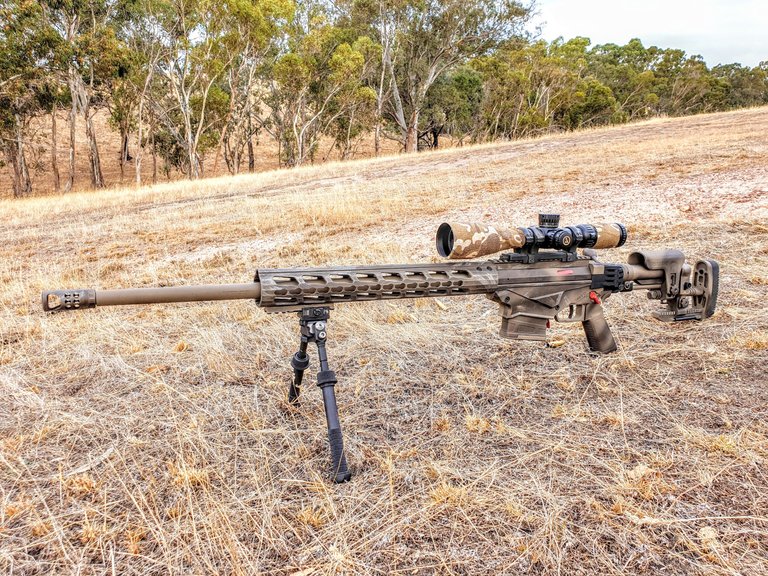 Those who know me remark about how multi-faceted I am; It comes from having many interests, a curious mind and a desire to know and understand many different things - I've always been this way and life is too short to be closed off. No matter what I do though, whether it's firearms, off-roading, my job, watching Netflix, travelling around the world, anything at all, I apply three things: Passion, effort and the right attitude.
With my shooting hobby people often ask what I like the most, what discipline or gun; There's no answer though...What I like the most isn't a gun...It's the fact I get to apply those three things above.
I shoot many different types of firearms from hunting rifles, competition and long range rifles, to hand guns, revolvers and shot guns. I'm often asked what I enjoy more, rifles or hand guns, culling or competition, hunting, clay shooting, or just all of them combined...It's a good question, but one that's a little difficult to answer.
I suppose the easy answer is all of them although to be honest I enjoy some at particular times and others at other moments; It's situational, seasonal and dependant upon my mood.
You can see one of my long guns up above. This is a rifle I shoot regularly out to a mile and more...That's 1600+ metres. It's challenging and many, many, factors combine to make it happen; It's not just a point and shoot scenario. Over the years I've shot a lot in the field at great distances and in the last several years many practical competitions have sprung up allowing for me to do so whilst competing against other like-minded shooters. I travel all over the country doing this and am heavily invested in the discipline.
Below is one of my tactical guns...This is designed for practical competitions where I run and gun in competition-stages designed to simulate real-world military and law-enforcement scenarios...The same as long-gun competitions, but a little different too. It won't shoot as far as the long gun above, but it is still a lot of fun, sometimes more fun - Certainly less frustrating at times.
Below is one of my handguns which is used in a similar way to the Warwick WFA1 above, that is, in practical run and gun competitions although with the handgun I shoot from a holstered position and make my way through practical real-world scenarios, obstacles, buildings, moving targets and the like. It is fast and exciting.
Each different form of shooting requires discipline and dedication, not just for my safety and those around me, but to get the best results and enjoyment from it. I spend a lot of money on this hobby in buying and modifying firearms, reloading equipment and consumables like projectiles and gun powder and to travelling around the country competing or getting to hunting locations. It's all a lot of effort. And so, I apply a lot of effort.
It's so difficult to isolate one firearm or discipline as more valuable to me, although easy to say what is the most prevalent personality trait I apply...Passion. I approach it with a lot of passion, as I do with life itself and everything in it.
I enjoy culling on the farm as it's relaxing, quiet (unless I'm shooting) and allows me to get away from people and be alone, but I love the urgency and hectic nature of practical shooting be it long range rifle or handgun. It goes deeper than that though.
Preparing for a long range competition takes weeks and weeks for instance and for me that preparation time is enjoyable as well. It allows my ordered mind to work through processes, for my slightly OCD nature to check, re-check then check again in pursuit of that comfort-level I need to be able to fly or drive interstate and compete at the highest level I can possibly find. It's a rewarding process. You see, for me it's the whole concept and process around my hobby.
I'm not one of those people who simply like to pull triggers and hear a loud noise.
I've been shooting in competition, and in the field, for years and years and that attitude wears off quickly; For me it's about chasing my best result possible, to attain a personal best each time I shoot and every element of the process comes into play from breathing and trigger-pulling process all the way back to making the ammunition I shoot...It's a complete package, not just a few isolated elements and not all firearm related; Passion, effort and attitude matter too.
So, what do I like more? That's not a question I can't answer when it comes to firearms, or most other hobbies I have either. For me it's not just the act of engaging with a thing, it's the journey that got me there, the lessons I learn and the path forward. A little like itself life really; It's the journey that matters, not the destination.
---
Design and create your ideal life, don't live it by default - Tomorrow isn't promised.
Be well
Discord: galenkp#9209