Presenting dope
If you were to spend time with me and some of the people I hang with you'll hear the word dope spoken of, certainly if we happen to be long range shooting at the time. I understand what the word means various things but to me it is a shooting term.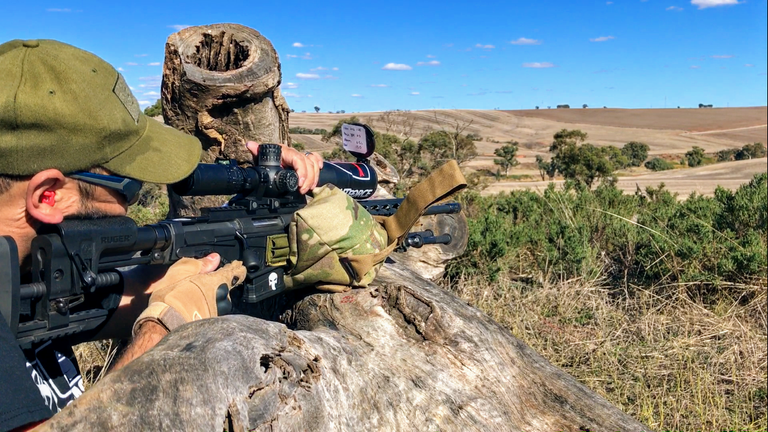 What is DOPE
DOPE, is an acronym for data on previous engagements.
To clarify, the word engagements doesn't mean hostile engagements, just rifle shots that have engaged a target. Essentially DOPE is the information gathered from previous shot, or series of shots, recorded for later use; A resource used for later shots.
Each time I shoot at long range I record a lot of data, especially if it's in training, practice or evaluation, but also, in a more basic way, competition and field work.
I record things like location, direction of shot, altitude, temperature, humidity, whether it's raining, sunny, overcast, snowing etc. On top of that I record the amount of elevation and windage input I use for each shot, the range and where it fell on the target. All of those things get entered into my logbook and are studied, evaluated and used later.
Why do I need it
DOPE is the information used to determine the amount of elevation and windage required to take a shot. The shooter will consider the range and weather conditions then refer to the DOPE which for me is either on my ballistics calculator in a table-format, or presented to me in some other way, which I will talk about in a bit. The DOPE is the amount of clicks, or MRAD input, I must make to the scope to effect the shot accurately, first time.
A good example would be data collected on cold-bore shots, that is, the first shot through a rifle when it is cold. It will land differently than the subsequent shots as the barrel heats up, and so it is critical information, DOPE, to gather for later shots. This is especially so in a sniper situation in the military or law enforcement, but also for hunters.
What does DOPE look like
Below is a sample DOPE table/chart from my ballistics software, a program called StrelokPro.
This one shows DOPE to 700m. It factors many different elements into the calculation which I have written about before, so won't go into here. This is what I would typically use when culling or hunting. All of this information is important to the shot.
Range the target, find the closet range on the chart, check the MRAD elevation and windage required, input to scope and away I go. It's quite quick; The whole process may only take 10-12 seconds, including ranging the target. This is suitable for shooting from a fixed position, a snipers hide, on a target that doesn't know I'm there, when I have ample time to shoot.
Other situations call for other methods though.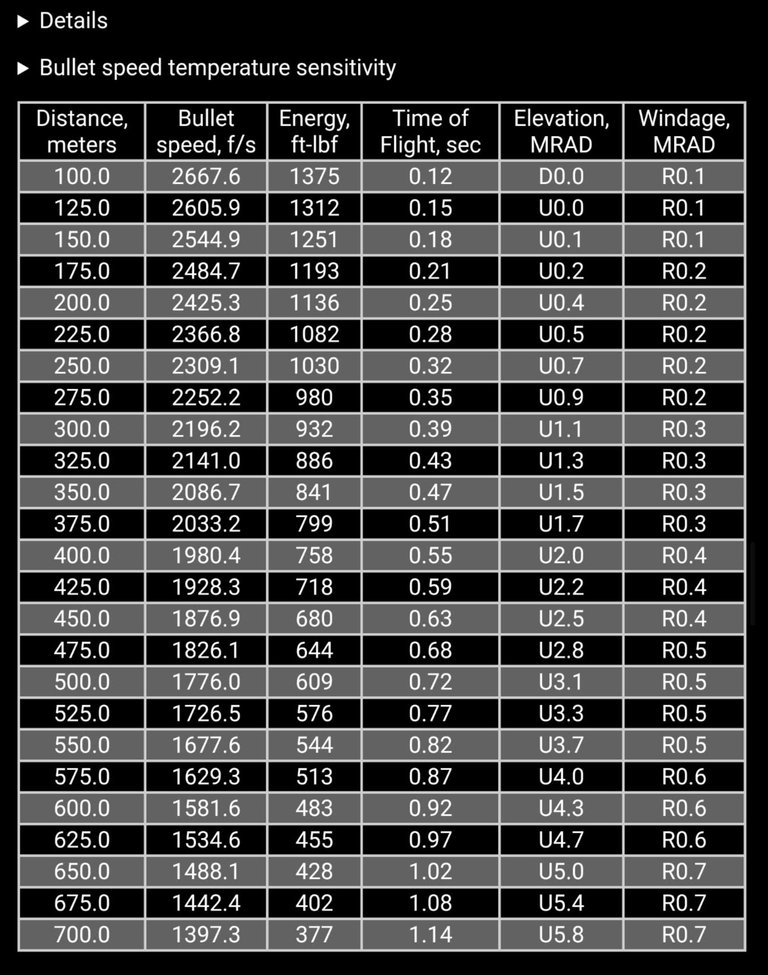 Presenting DOPE
Sometimes I have to present the DOPE in different ways; Ways that are either easier or faster to access on the run. That's when a purpose-made DOPE chart is required, and I make my own.
Below you can see two ways in which I present DOPE in competition, and sometimes in the field depending on conditions.
One arrow points to a small laminated card that I have written DOPE onto with a non-permanent marker; It is stuck, using Velcro, to the flip up scope cap, on my rifle.
The bottom arrow points to a full-DOPE-chart which sits within a device on my arm called an arm-board. There are other ways to do it, but this is how I do it.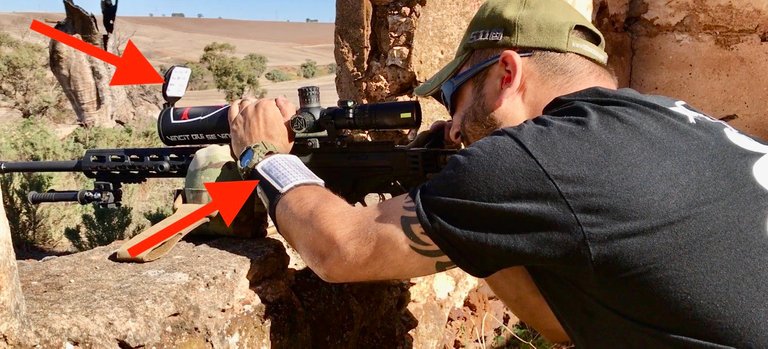 Scope card - I use this method in stages with multiple targets over multiple ranges.
I use my ballistics calculator to work out a chart based on the weather conditions (as above int he black and white chart) at the time and simply transpose the ranges (assuming they are known, which is not always the case, but let's keep it simple here) to the card and write the appropriate DOPE next to it.
When affixed by Velcro as above, the card presents my DOPE (for that stage only) and all I need to do to check it is glance up from the scope eye-piece. It takes a split second. Of course, I try memorise the DOPE in the 4 minutes we get before the stage begins, but this is a check-measure as sometimes in the heat of a shooting stage the brain can forget things.
The below images shows one such card. It reads metres on the left and the MRAD elevation on the right, the adjustment I need to make to my scope, based on the black and white DOPE chart above. I may need to make between 5 and 20 shots on the stage, but will know the dial, the adjustment for each range, at a glance. This is good because the stages are all time-limited so getting the data quickly is important. Also, not having to think about it means I can focus on other things, of which there are plenty.
When that stage is over I wipe the card clean and it's ready for the next one. Keep in mind, the weather changes the elevation adjustment required, so I do this for each stage over a competition, not just once.
This is my preferred method in competition as it is fast, the data is up-to-the-minute correct and it is super fast to refer to.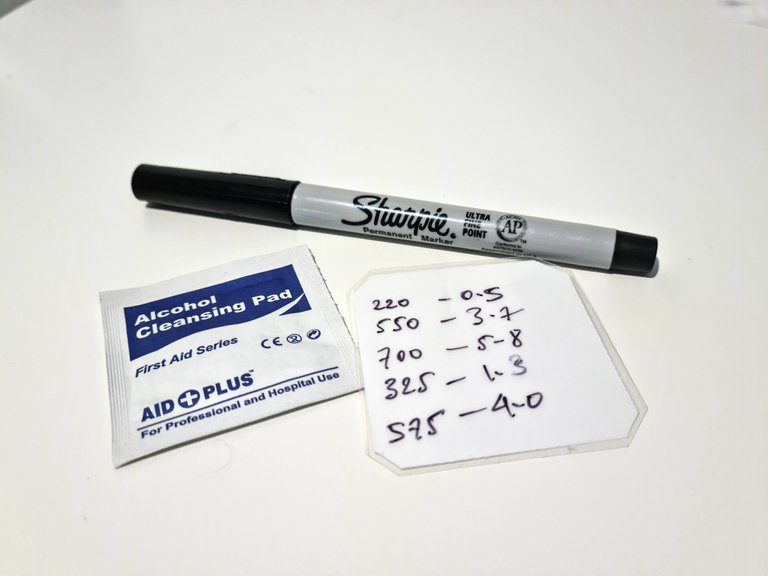 Arm-board - Prepared ahead of time.
This method is also good, but is more indistinct as it is done ahead of time and not mere minutes before the shooting stage begins. This is what many military shooters use, or something similar. (You may have seen this in movies.) It is sometimes affixed to the stock of the rifle, but often as you see it here.
It is simply a DOPE chart, pre-made, worn on the arm for reference. In the image above of me shooting you can see where it sits and how visible it is to the eye. It is still fast to access, but not as fast as the card-system above plus it presents all the DOPE so can be harder to read which is why I prefer the other method for competition.
In the image below you'll note it goes up to 500 metres in range, and there are three coloured columns of green, yellow and red. I have also added a windage DOPE but I'll ignore that for the moment.
The colours refer to DOPE over different Density Altitude's (DA). That is a measurement gained from combining altitude, temperature and humidity in a complex calculation. The DA is in meters here and indicates in metres above sea-level, the conditions I am shooting at. The higher the DA the less impact the air-density has on the projectile as it flies, so the shot requires less elevation. It's all pretty simple.
I have hand-written this one on a blank pre-printed chart because I wanted to take environmental readings at the range (in Darwin, Australia) where this competition was shot at first, knowing they would be completely different to where I live. That night I went home to the hotel and created the chart.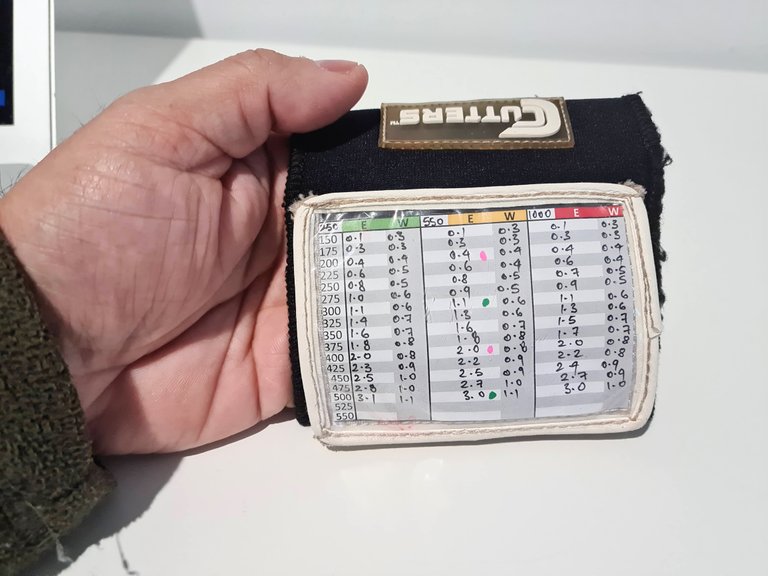 A word on the windage...I knew, through experience, that the range I was shooting on only allowed for wind at full-value from the right (that is, 90 degrees to the shooting position) due to shooting mounds. So, I simply put the windage dial in at full-value, 5pmh, intending to adjust according to the wind on each shot, read manually by eye and feel. It worked well.
The chart also only goes to 500 metres. That's because the range was only 500m long which is unusual, a very small rifle range. Normally I'd have DOPE out to 1500m or so.
Having DOPE presented correctly is a game-changer when one is shooting in pressured situations where time is of the essence. It could be on the battlefield or in a competition, or even in a hunting scenario I suppose. Knowing what elevation to dial into the scope is critical to making the shot, and having the information readily accessible will mean faster shots which could make all the difference in the situations above.
The two methods I use are the most basic and foolproof I have found. They may not work for others, however when implemented correctly I have found them to be incredibly effective.
A little note on these charts. There is a lengthy and complicated process to obtain the DOPE. The ballistics calculator requires a lot of setting up and some very accurate date to be logged into each rifle/projectile profile before it spits out effective DOPE charts. It's not a simple matter of punching some buttons.
Anyway, that's my little piece on presenting DOPE...Which most of you never even read. Thanks for looking at the pictures though.
---
Design and create your ideal life, don't live it by default - Tomorrow isn't promised.
Be well
Discord: galenkp#9209
Subscribe to THE PEW a hive community for all things firearms, archery, hunting, airsoft and paintball.
---
---