Not socialising much isn't unusual for Faith and I; It's not that we're anti-social per se, just that we are often most comfortable and satisfied either being alone or together and don't need to surround ourselves with other people all the time. It keeps things simple and simple is good. I am, after all, just a simple man.
These days, due to the flu restrictions, we're even more reclusive than usual and have been happily spending time at home gardening, building Lego, playing board games, writing blogs, reading, lazing around in the garden and seeing to some chores around the place here and there...It's all good.
I've also been doing a little extra training for one of my hobbies.
I usually spend a lot of time at home training my draw and target acquisition; Both elements are a critical part of the shooting sport of IPSC, a practical shooting competition that simulates real-world situations. I do it every day for around twenty minutes working to create speed and repeatability, muscle memory.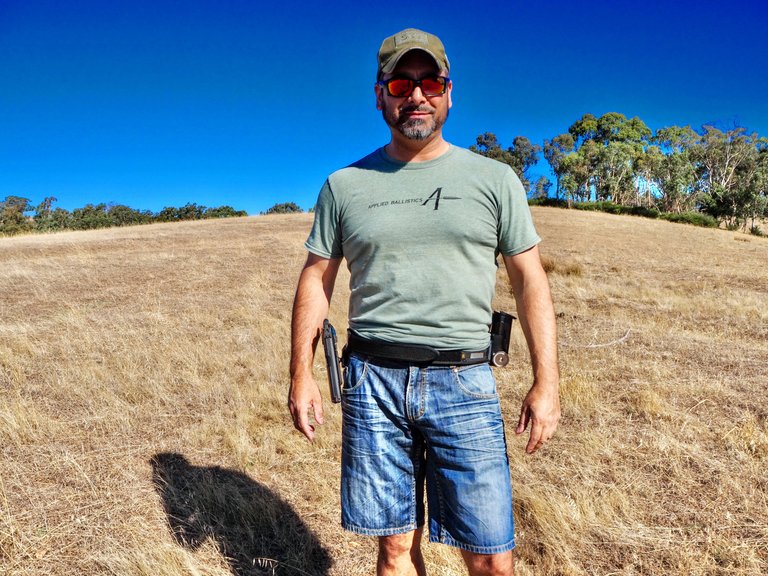 It's simple...I strap on my holster rig and (empty) 9mm semi-auto CZ Shadow 2 handgun and draw, acquire the target (a series of small dots on the walls), aim, and dry-fire the handgun. Re-holster and do it again...And again...And again. I use a shot-timer to start the process at random intervals so I never know when the beep will occur, just like in competition. I do this in around 1.1 to 1.4 seconds depending on how good I'm going on the day.
Scoring at events is done by taking the achieved points score of each stage we shoot over the day, subtracting any penalties incurred and dividing it by the elapsed time to get a hit factor. It's called Comstock scoring. This is why a fast draw and target acquisition is desirable, along with many other attributes, as it can help towards a better score by saving time.
As I said, I do this each day for twenty minutes usually. I only do twenty at a time as that ensures my process is as perfect as possible; Training the wrong thing, sloppy work, is not worth doing. Lately though, I've been training twice a day, morning and night as I have more time up my sleeve. Man I'm gonna get goooood!
It sucks-ass though because usually the dry-fire training I do at home is backed up with live-fire practice at the range each week. It allows me to apply the training in the field along with the other factors including the actual shot and recoil, and the result down range of course.
Unfortunately the ranges are closed at the moment due to the flu...And I'm getting tired of training and not shooting. I haven't fired any handguns for weeks now, I think about six weeks, and that's the longest time I can recall for since I was about 21 years old (29 years ago. It's bloody weird.
Anyway, it'll come good at some stage I hope. I've been stocking up on rounds (I make my own) which is good as usually I shoot so much my stockpile is difficult to maintain...Now...Well, now I have...Let's just call it a lot of handgun ammo; Several thousand...Or much more. 😶
It's Sunday afternoon here rockstars, and I'm going to get strapped up for some training before...Well, I'll be honest, before I have a snooze...Then wake up for some more repetitive reclusiveness.
I hope y'all having a great weekend.
---
Design and create your ideal life, don't live it by default - Tomorrow isn't promised.
Be well
Discord: galenkp#9209