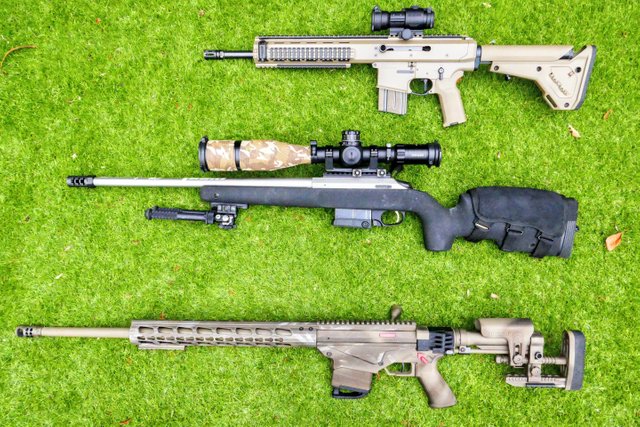 I own and shoot guns...Most of you know that; It's a hobby. I haven't inundated my blog with firearms posts though as I have many other hobbies and interests and didn't want to seem one-dimensional.
I've made an attempt to represent my hobby responsibly though, in a positive way, and have enjoyed comments and engagement from many here; Some who don't like or have guns, and others who do. It's been fun.
Now there's the ability to bundle up my firearms stuff and drop it into the one place which is cool. I'll not post about it all the time but when I do it will have a home...Right here.
Communities...
...have given people the opportunity to specifically place posts into a particular location and for people to congregate within that space. I figured it would be a good time to give it a try. It's sort of like a bucket, maybe library may be a better term, for my gun stuff to sit in...Other people's too.
"The Pew" Community, #hive-139358, is a place for people to post firearms and archery-related content...Anything firearms and archery related in fact.
As a gun owner I'm fully aware that many don't like, or understand, guns and the people who use them. It's a widely, and passionately, debated, topic around the world, especially when the media isolate a shooting-event. I get it too.
So because there's always many differing opinions, and we're all entitled to our views, I want to promote this Community as a place for everyone, no matter what your thoughts on firearms may be...
...even if a person is an anti-gun advocate. Here is where people can voice opinions, open dialogues, conversations and to comment about news or current affairs if they so choose.
Of course people with guns, and similar interests to mine, may pop in from time to time also I hope.

This Community #hive-139358 is where I'll be dropping my own firearms-related stuff from now on and if no one joins in that's completely cool; I'm not averse to a little solitude. You'll note I have opened the Community to archery also as I know there's some out there who are interested in that legit hobby/skill as well.
Are you a sports-shooter, target-shooter, hunter, weekend-plinker, pro-gun advocate, anti-gun advocate, someone who has an opinion on firearms or firearm/hunting related topics, military (current or past), gunsmith or simply interested in the equipment, techniques and concepts behind anything to do with firearms and archery? Are you Robin Hood? Have you ever taken a photo of a gun? It doesn't matter, feel free to post in the Community.
---
Tomorrow isn't promised - Design and create your ideal life, don't live it by default
Join "The Pew" here.
---
Images:
Warwick WFA1 straight-pull .223
Tikka CTR .243
Ruger RPR 6.5mm Creedmoor
All three have been heavily modified.
Scope on CTR - Kahles 624i(6-24x56) SKMR3 reticle.
The cattle farm I cull feral pests on.