1911 model vs. Striker fired. So, I decided it was time to pass along my previous backup duty weapon and EDC to my oldest son. I've had this beauty I guess about 20-25 years or so now, the last 10 or more really just sitting in the safe next to my bed as my main home defense weapon. It had always shot a half inch left for me, but never really bothered to mess with it, just held to the right a bit.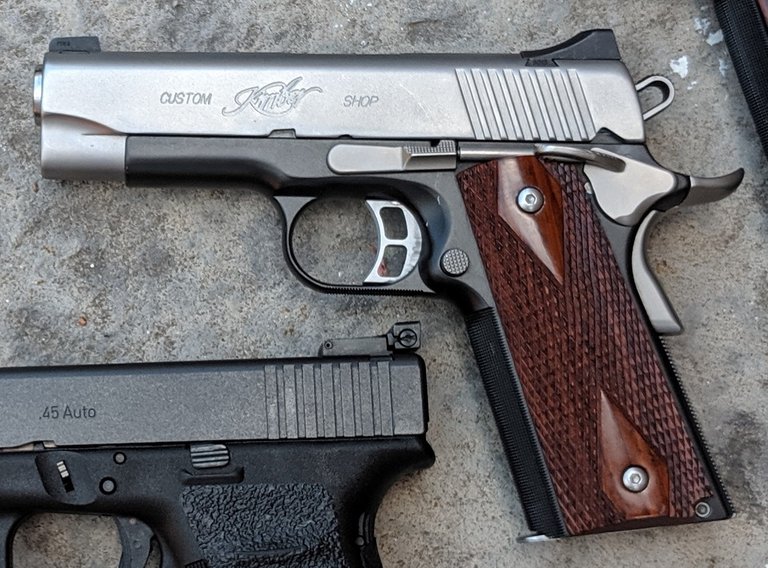 Well since I bought the really nice Wheeler Sight adjustment tool last year (highly recommended btw), I decided to adjust it before giving it to him. Interesting little tidbit, the rear sight on this Kimber appears to be pinned, or maybe my rear adjustment screw just stripped out. On further inspection, it was obvious that the front sight was not centered. I put it in the wheeler tool, adjusted it and took it out for a test fire.
Holy cow. I guess I didn't realize I've only been shooting my Glock and Sig P365 pistols really in the past several years with a few exceptions. This is a Kimber CDP Pro II out of the Kimber Custom shop, and yes their "custom shop" models are definitely a step above the standard over the counter models..
Wow, what a difference. Not to put down the striker fired, I really like the lighter Sig for EDC, but WOW, what a difference in trigger and feel. For all you striker fired fanboys, if you've never fired a REAL pistol, then be sure to get out and shoot a custom .45 of any model (just joking.... well sort of lol).
For those not familiar with hammer vs. striker fired, there are a few basic differences. In a hammer fired, a spring powered weight, usually a steel hammer, swings into the firing pin when the trigger is pulled. In the Kimber pic, you can see the nice skeletonized hammer sticking out the back of the pistol.
In a striker-fired, the hammer and mainspring are removed, instead the mainspring is in the slide, and releases the firing pin (now called a striker) directly. The striker-fired has the advantage of fewer parts.
I won't argue the pros and cons, each have several of both, and I own several of each for different purposes. When it comes down to the feel of the weapon shooting though there is a very pronounced difference, and I must say that for me there is really no comparison. Each time I shoot striker for a while and then go back to a hammer fired, it's just like "wow" what a great feel.
It looks like I will be getting several of the old safe queens out to play this year. I almost couldn't let her go after shooting her again, but I am thrilled to pass her on for him to enjoy. Coming soon and take good care of her!