I finally got the scope mounted the new rifle. This ended up being quite the adventure. If you remember from my previous post, this rifle requires some custom dovetail mounts.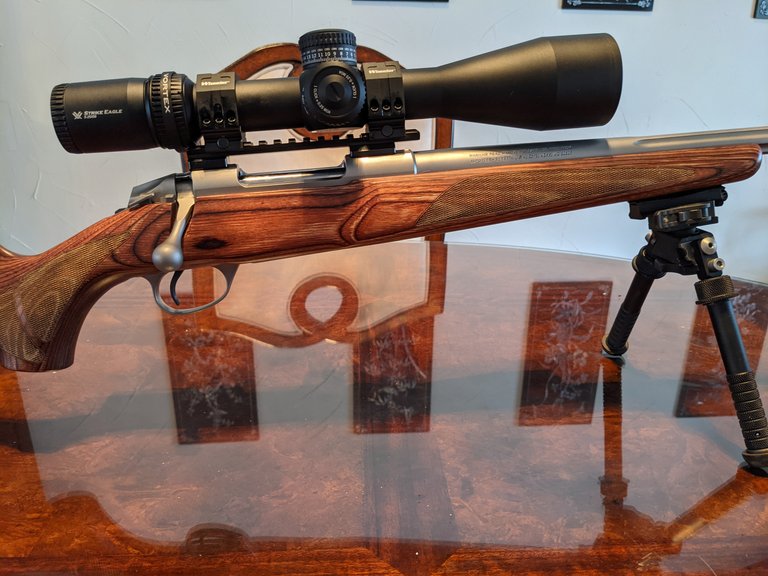 First, I had ordered a scope mount before xmas. It arrived early, before Xmas and before I received the rifle. After anxiously waiting for the background check to get the rifle, I was all excited to put it together and test it out. Well, I couldn't find the mount! It apparently got thrown out with Xmas wrappings, or found legs in my garage.. So I ordered another one and had to wait a week for it to come in. Sako likes you to use their own proprietary Optilok mount and rings, but I wanted a picatinny rail.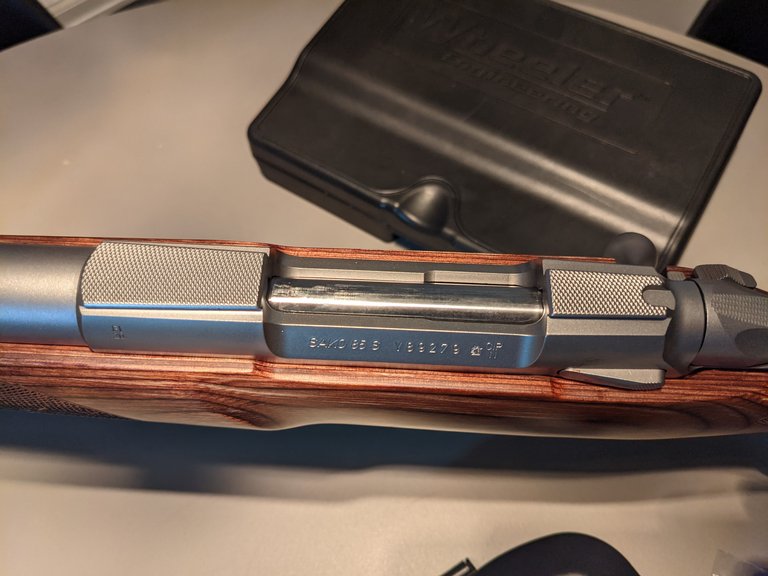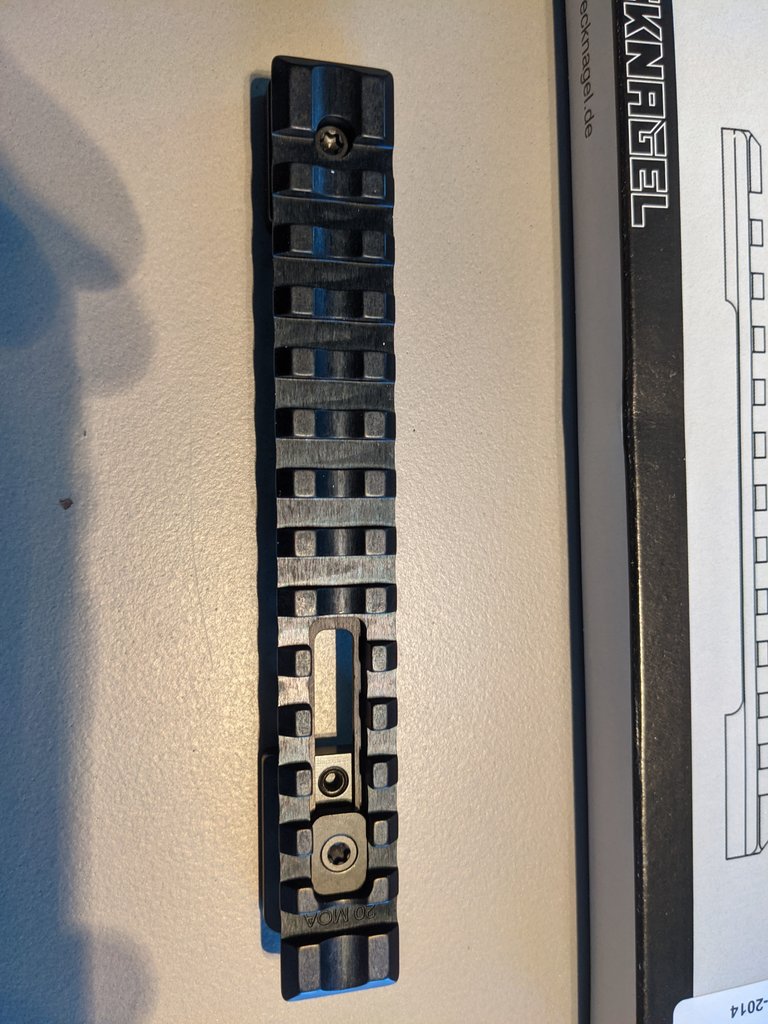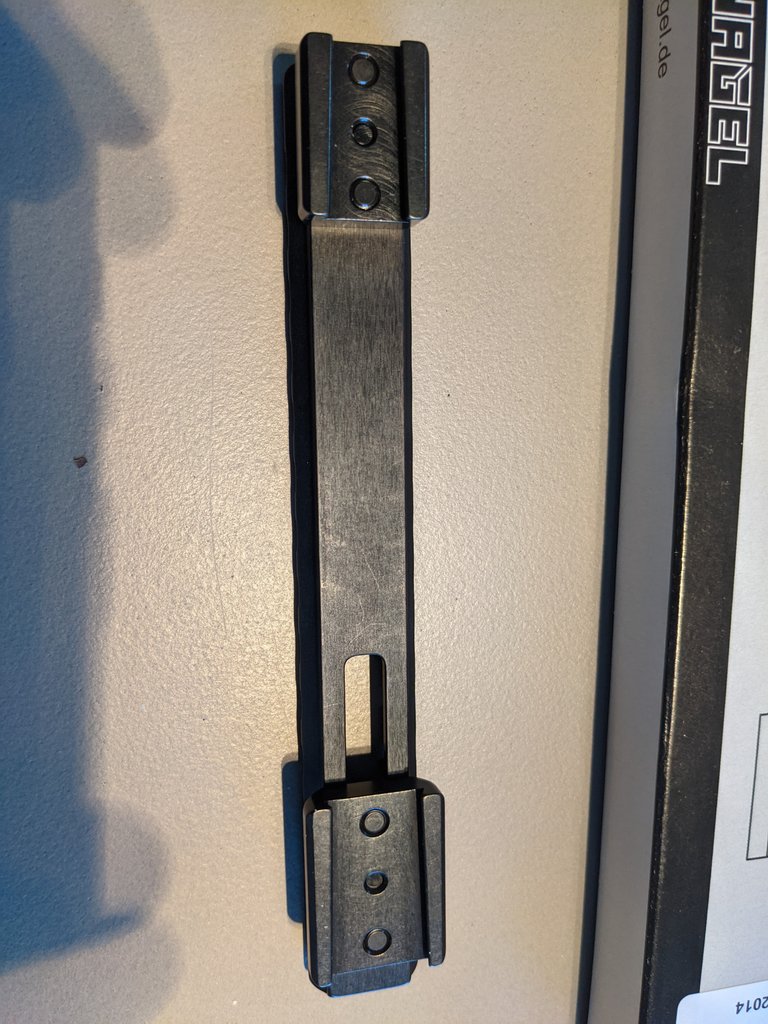 One reason so I could easily switch scopes if desired, and the other reason was this rail has a 20 MOA cant/tilt to it. This one is custom made by Recknagel for the dovetail mount underneath, then the picatinny on top. I was a little concerned at first because the Sako mounts are designed to be a angled, friction fit, meaning that you just kind of tap them on, and expect the friction and recoil of the weapon to hold them. I wasn't sure I liked that. The Recknagel rail helped me feel much better when I realized that there were additional screws to hold down onto the mounts. Whew, I of course added a little blue locktite to the threads and dovetail, just to be sure.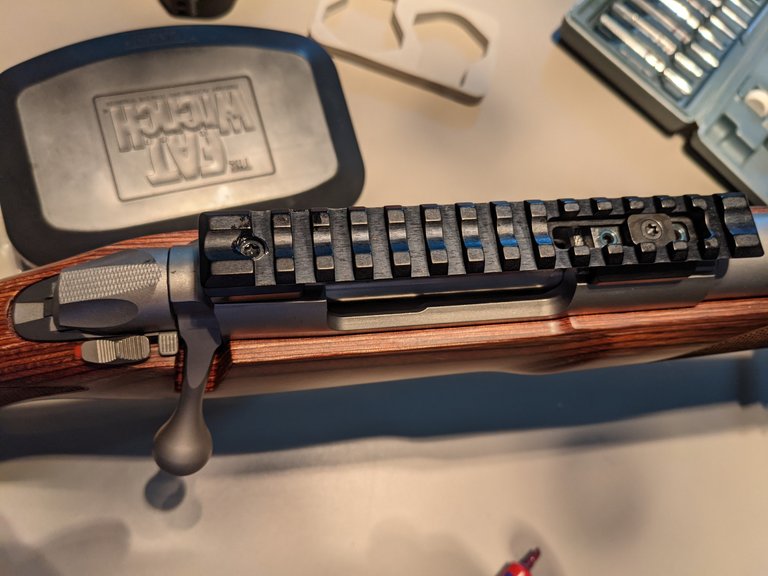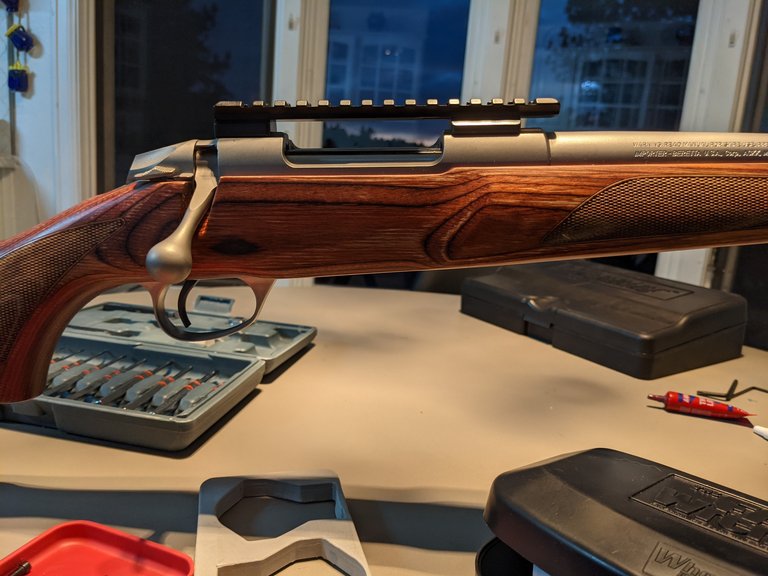 What the 20 MOA tilt does is tilt the angle of the scope slightly to allow for more movement in the scope elevation dial to allow for dialing it up to longer ranges before running out of adjustment travel limits.
It did come in after the week, and I quickly attached it to the rifle. I then put the rings (which I had also pre-ordered) and mounted the scope in it. I was disappointed to find that the scope was WAY too high. Like the bottom of the scope was an inch and a half above the barrel. This put the center of scope to center of barrel measurement over 2 1/2 inches. Ouch. I couldn't even see through the scope at all with my cheek resting on the stock, or even the bottom of my chin!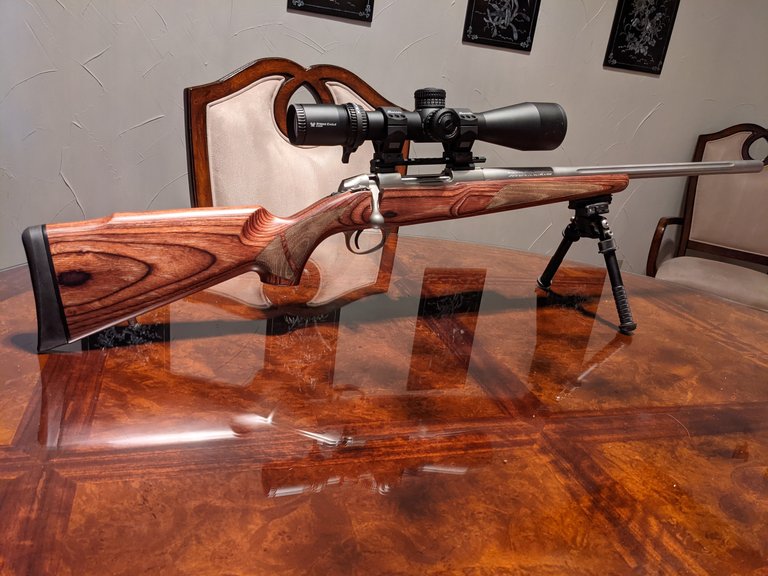 (Scope way too high!)
I looked at raising the stock comb, there are a few decent aftermarket solutions out there. I ordered one, just in case. But a better solution is of course mount the scope properly, and then look to other options. I went back to ring searching. My typical scope ring choice for years has been Burris XTR rings because they have 6 locking screws per mount, and can be adjusted for specific MOA cant (tilt). These were not available anywhere I could find except in the "High" model that I already had. For those that are not familiar, there are typically four sized of scope rings, Low, Medium, High, and Extra High.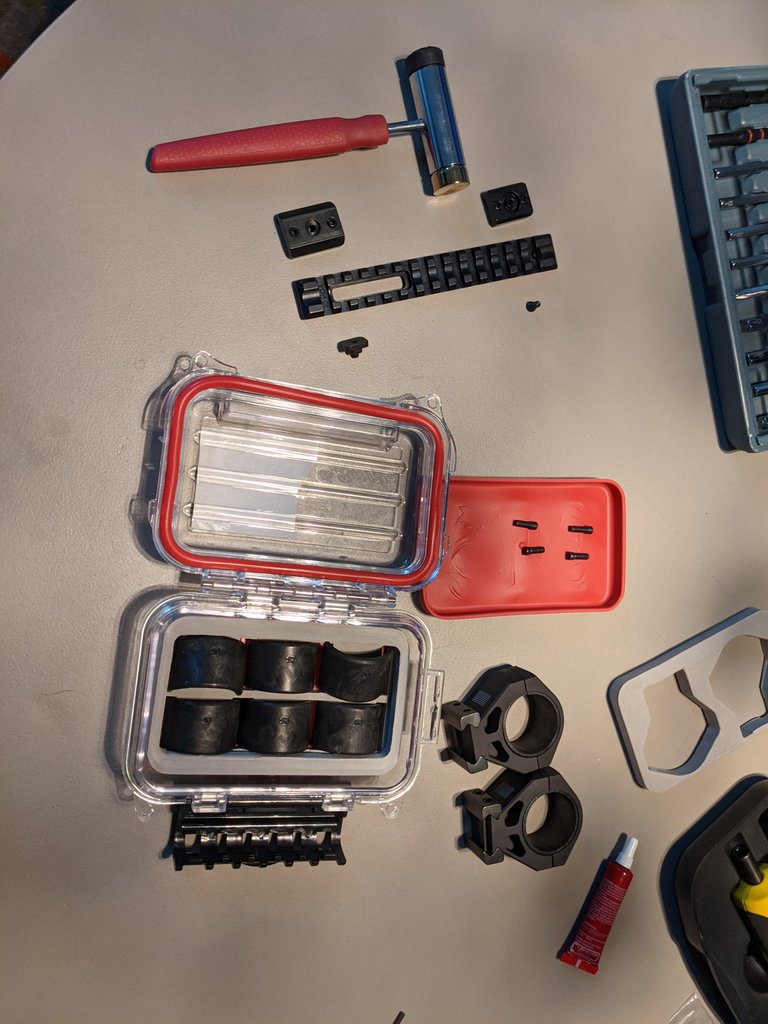 (Burris XTR Rings. Nice, but way too tall!)
I searched further, and ran across some Low and Medium rings made by Wheeler. Wheeler makes a lot of nice tools and other weapon accessories that I have, so I figured, why not give it a try. Well, I love these Wheeler rings. I have found a new favorite. Not only do they have the 6 locking screws I like, they also have a better angled mounting style, and this model even came with a nice flip up, flip down level built into the side of the rear ring. How handy! But another week of waiting for delivery.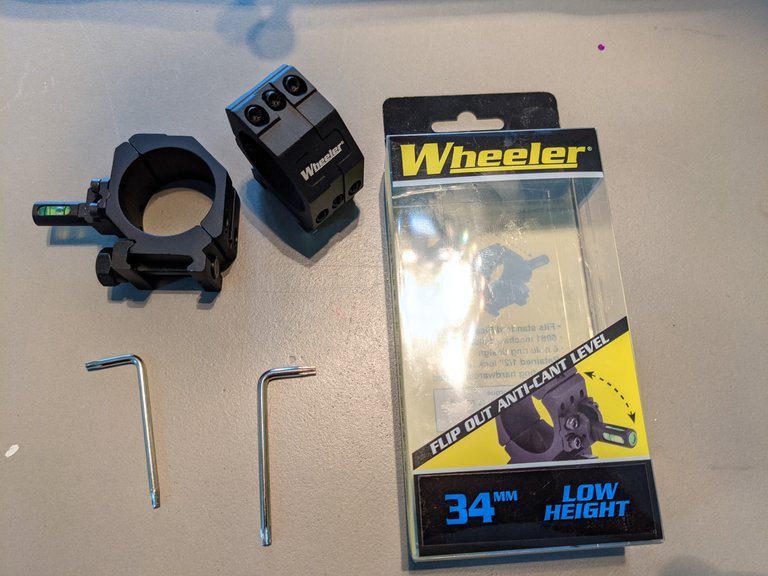 (Wheeler Rings, with level, my new favorite!)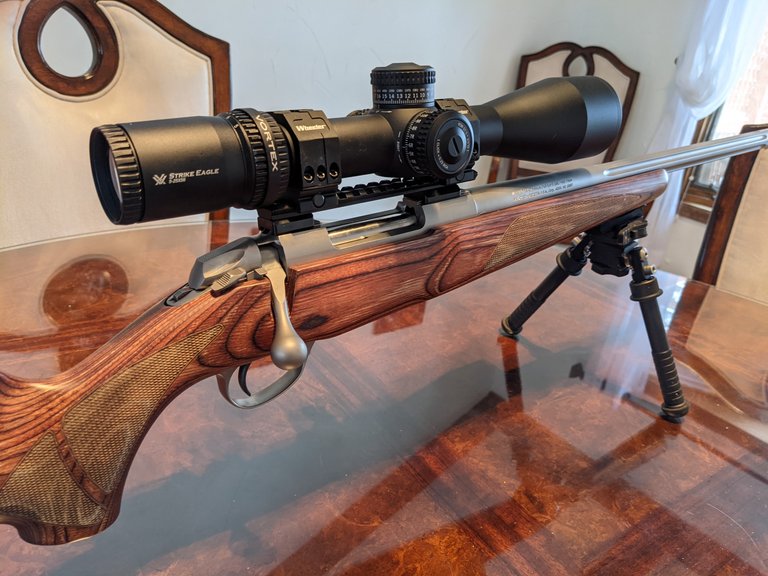 So the end result is that the scope is now mounted with the "Low" rings at a reasonable height. Now about 3/8" from the bottom of scope to barrel, I'd prefer just a hair lower at 1/4", but this will do. I can actually see through the scope now with a normal cheek weld on the stock without having to use a cheek riser. Of course as the world has a sense of humor, I just received the new scope ring last night, mounted it up this morning and the weather changed from the nice 50 degree (F) weather we had last weekend to now having a 3-4 inches of snow falling down... Arrrrggghhh!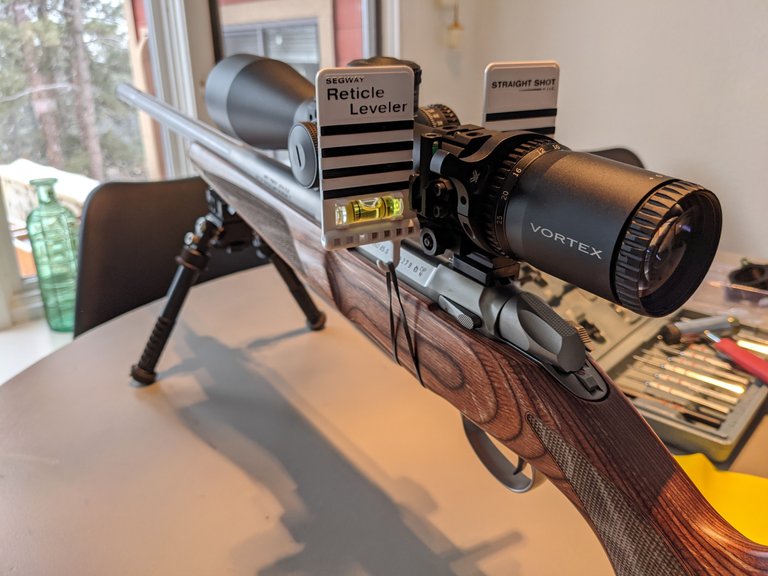 No shooting targets for today, but I am looking forward to getting it out soon. I got the scope all leveled today using the nice Segway reticle leveler I reviewed in a previous post. I also got it bore-sighted. One of the things I love about bolt-actions is being able to actually bore-sight through the bore! I've always had better results with this method than using the lasers, collimators, or other methods.
Here's hoping for warm weather next weekend. Finally all together, all dressed up and nowhere to go!