So I will be starting on a new project rifle. I've been taking care of my oldest son's Ruger 10-22 .22 caliber Rimfire Target model for several years, waiting for him to finish school and move into his own place away from the ex. It's a nice rifle, with a nice bull barrel and custom BX trigger upgrade that I put in for him.
So, I believe a well-shooting .22 rimfire is a must have for everyone's arsenal and that will leave a hole in mine. Not to mention that I have a really nice suppressor waiting to get out of tax stamp jail hold and have been wanting one with a threaded barrel anyway.
I've been on the fence a long time trying to decide if I would buy a pre-built custom model, partially built one, or start with a base model and go from scratch. My brother recently got one that came with a nice stock, threaded target barrel, and BX trigger upgrade pre-installed for a nice price.
So, as luck would have it, while shopping at the Local Gun Stores (LGS) for some .22 Ammo for my other son's upcoming BDay, I just happened to run across a basic model at a really good price and couldn't pass it up. Looks like I'll be building from scratch.
Here is the basic model that I'll be starting with.



Pic courtesy of Ruger.com website.
I'll be adding a custom Match grade barrel. A Volquartsen Carbon Fiber THM Tension Barrel (threaded). It comes with a compensator, but that is really just to protect the threads until I can put the suppressor on. I doubt I'll shoot it much un-suppressed once I get it there!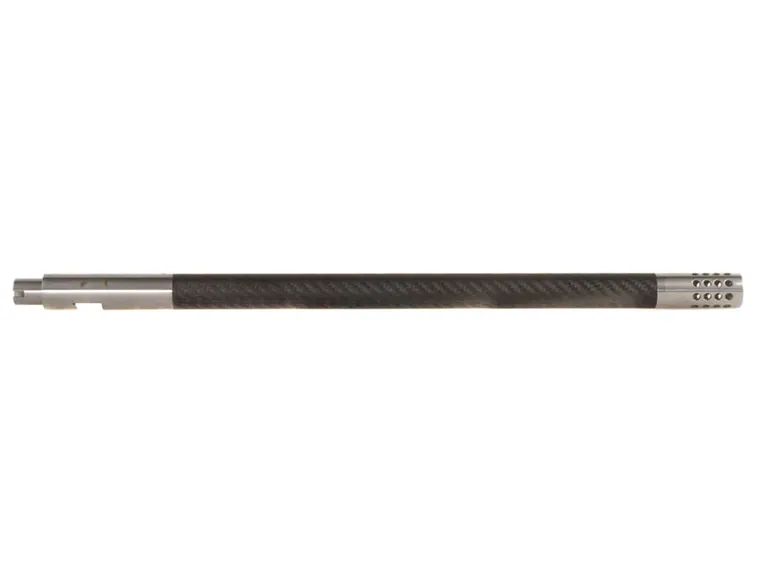 Pic courtesy of MidwayUSA.com website.
Next will be a custom Volquartsen Trigger assembly, extended mag release, bolt release, and custom stock.
The stock will be a target model Boyd's AT One with thumbhole. I prefer the laminated wood look over some of the others. These come in all kinds of wild colors, but my taste a little more old-school and basic.



Pic courtesy of Boydsgunstocks.com web site.
I should have all the parts in the next few weeks and look forward to posting the final result. My goal is to take this semi-auto average plinker from shooting 3 inch groups, to shooting under quarter inch groups at 50 yards, and then see what it can do at 100 yards and farther.