So this weekend I also took out my FX Impact .30 Caliber PCP Air Rifle (Pellet gun) out to test while testing ammo in the new custom .22 Rimfire.
The previous 50 yard groups and the 100 yard groups today convinced me to "pull the trigger" on an upgrade version. The new version (on pre-order) is the FX Impact MKII .357 caliber (9mm). Of course being me, I had to order some pellets ahead of time. Here is the picture of the pellet sizes for comparison.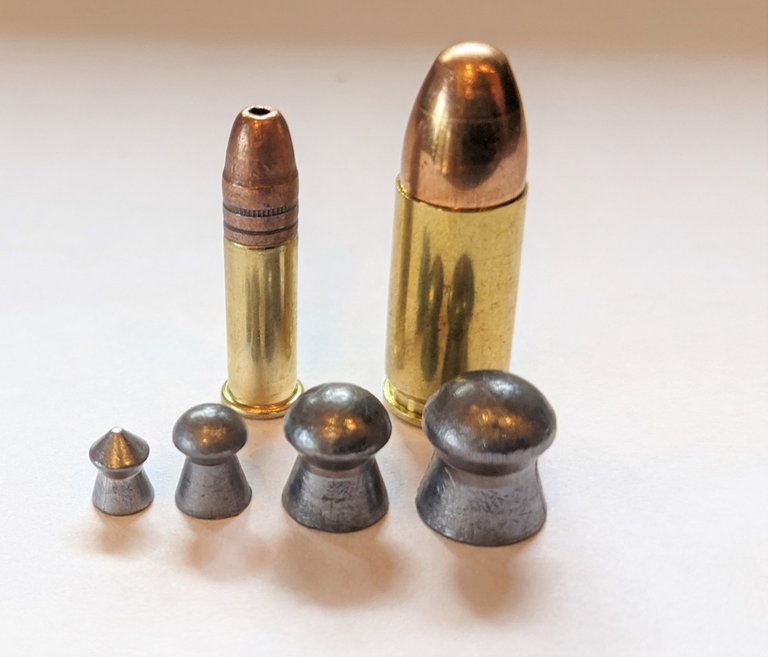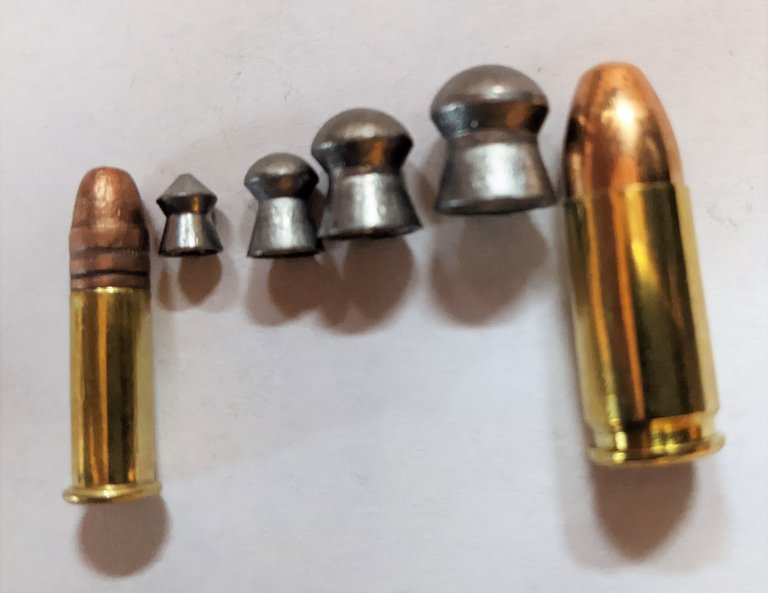 I just got some pellets in for the .35 cal pellet rifle coming later this fall. Check out the differences. On the far left, a .22 Rimfire, then a normal .177 cal (bb gun) pellet, then 18 grain .22 pellet, then 44.75 grain .30 pellet, then new 81.02 grain .357 cal (9mm) pellet compared to 119 grain 9mm round on the right. The new PCP Air rifle is predicted to push the 81.02 grain pellet out at 950fps, generating over 150fpe and get 40 shots per fill (more if external plenum is added).
Ooh ya, that's gonna leave a mark!
Back to today's .30 cal shooting.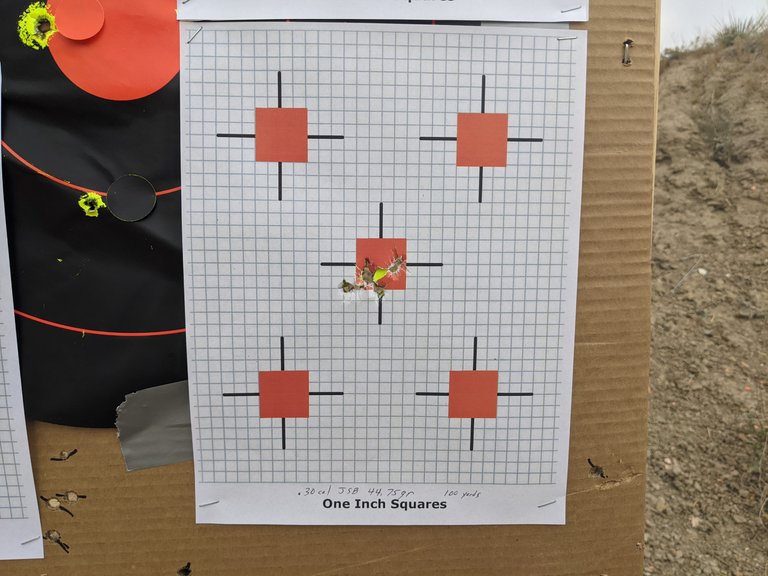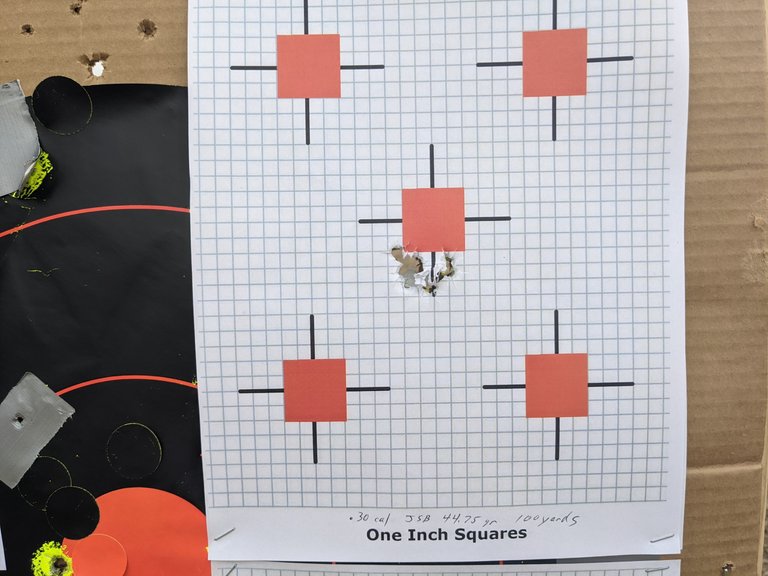 I have to say I was amazed at the difference. Two 10 shot groups back to back under an inch. This is considered sub-MOA, the standard a high quality firearm is measured at. This didn't just out-shoot the .22 Rimfire, it spanked it!
I recently changed the pellet weight from 50.15 grain to 44.75 grain. This resulted in tighter groups at 50 yards, so I thought I would give it a try at 100 yards. I suppose the slight difference in size and shape or the barrel harmonics change the way it flies just enough to make the difference. With groups this tight here, I'm going to test it at 200 yards next!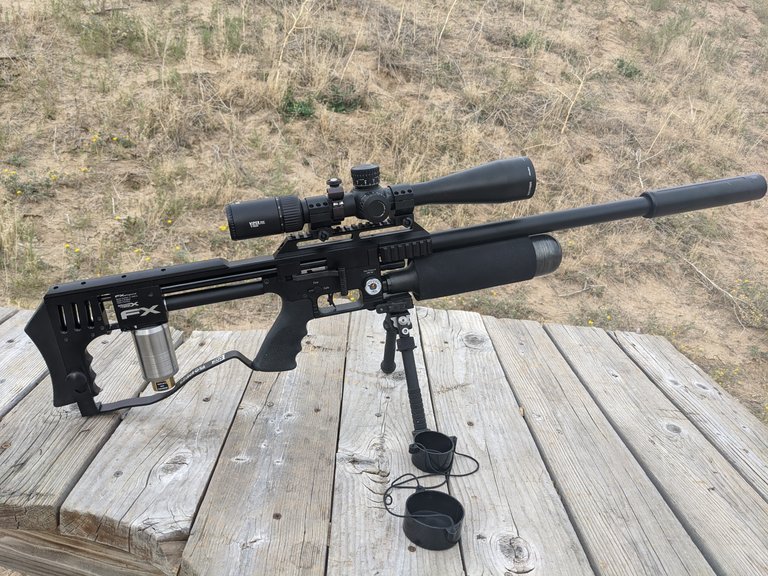 Many people just like to pick a weapon up and just shoot it. While one can certainly do that with these, the thing most attractive to me is the tuneability of these rifles. You can adjust the regulator air flow, the hammer spring, and fine tune the valve to get just the right harmonics and consistent shot to shot fps. Very similar to handloading a firearm round and adjusting powder weights.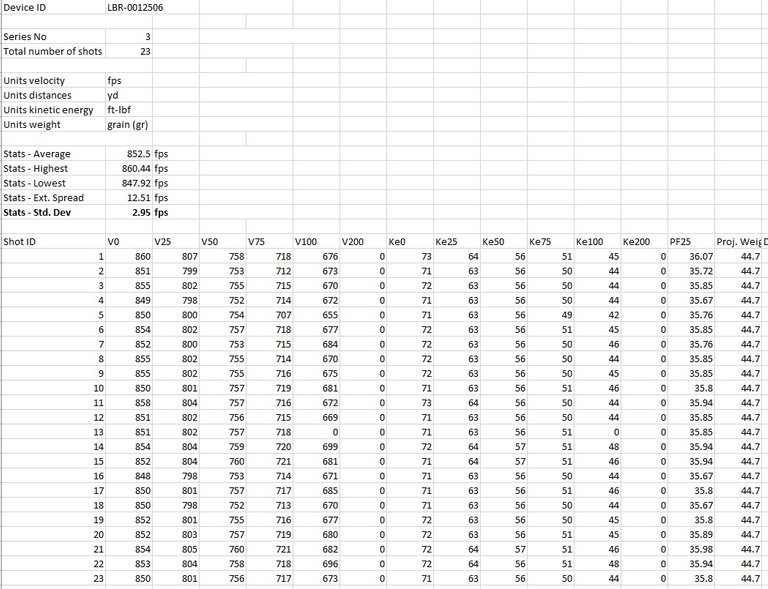 By tuning these adjustments, I was able to achieve a standard deviation of only 2.95 fps across 23 shots! And that big difference mainly from Two high outliers and one low outlier. Smaller shot groups are even less difference.
I have been impressed with this rifle so much, I find myself shooting it more than all the others I own combined. The really cool thing is that here in the U.S. they are not considered firearms, so can be ordered and shipped directly to your door with no license or registration hassle. Even the suppressors are unregulated for them, unlike firearm suppressors, which take 8-12 months and 200 dollar tax stamp.
I can't wait for the larger .357/9mm variant! May still be another month or two until it arrives, until then, I just play with that monster pellet on my desk and dream!
Enjoy!
@ksteem