Rabona - How to Search Transfer Market by Formation Experience
Did you know you can search for transfer-listed players in the Rabona Soccer Management Game that fit your team's preferred formation?
I am not saying you can currently sort the transfer list by 4-4-2 Formation Experience in the same way you can do for Speed but there is a way to know more right from reading the grid before you open the individual player page.
It is a paid feature, but it is well worth the price. It is less than 500 RBN (half a cent going by the shop price) and it is only payable when you purchase the player (window shopping is for free).
Want to subscribe that? You do not have to. Well, you can't.
All you need to do is to check the price of the player. The last three digits will tell you what his preferred formation is (the 4-2-3-1 is coded as 424).
Sounds easy? It is. I cannot guarantee everyone will oblige to the code, some might outright lie, but you can buy from me instead. There is a lot of players posted for insane prices (listing is free, isn't it?) so looking for the codes eases looking for reasonable offers too.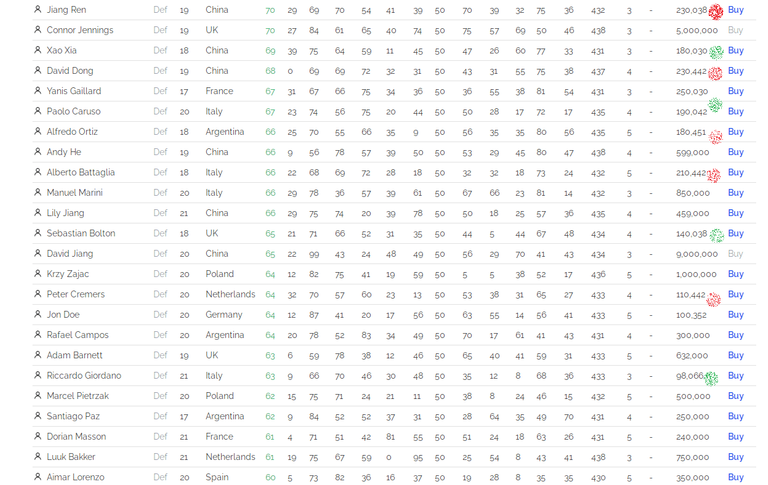 If the player plays two or more formations well (or all five equally weak), he is coded as 0xx, where xx indicates the level of his experience.
If you do not own a team in the game yet, follow the link at the top. The next season starts tomorrow and you do not want to miss the start or you have to wait another week for an opportunity to join the leagues.
Innovation was brought to you by AC Piggericks. Not affiliated to Rabona Development Team. Registering with the link gives both of us 25k RBN ($0,25 in shop prices). Purchase required to play.
---
---