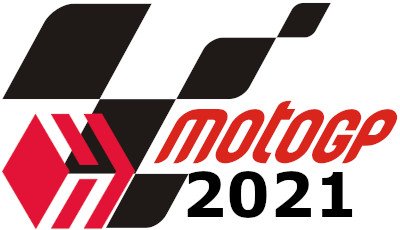 [ITA]
Weekend di ritorni per la motoGP
Il primo ritorno è quello alle gare europee dopo la parentesi del Qatar ed esattamente in Portogallo sul circuito di Portimao
Il secondo è ben più importante e clamoroso
Se avete letto qualcosa in giro o seguito qualche TG sportivo saprete di chi parlo.
Se non sapete niente ve lo racconto io.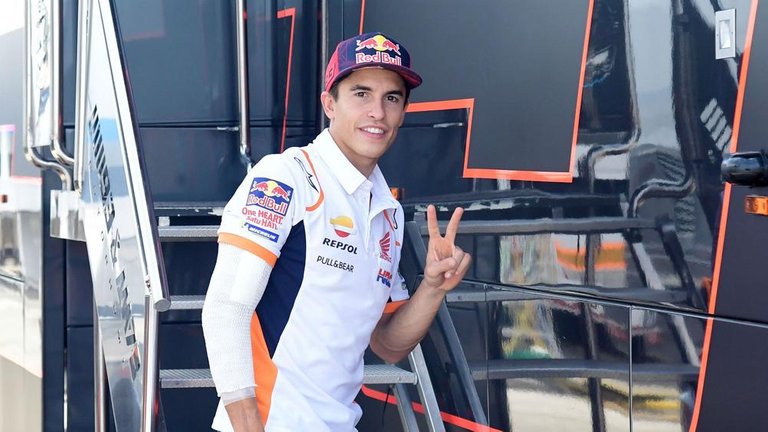 Dopo quasi una stagione intera, oltre 270 giorni, e le prime due gare rientra nel circus della motoGP il Cannibale Marc Marquez.
Il braccio non è ancora al 100% ma è "fit" per le gare
La testa sarà al 100%? E' la domanda che si fanno tutti, dalla Honda agli avversari. Sarà il "solito" Marquez? Tornerà in breve al top? Farà fatica ad adattarsi alla ostica Honda ed alla bagarre?
Dalle prime prove libere sembrerebbe proprio di no...il suo è stato il terzo tempo nelle FP1 e sesto nelle FP2
Al momento in testa ritorna Pecco Bagnaia seguito da Quartararo davanti alle due Suzuki
Deludenti le Petronas di Rossi e Morbidelli.
Direi che ci sono ottime premesse per un weekend di gara interessante
Lo scorsa GP, in casa Hive, ha visto solo 2 giocatori a punti: @flewsplash che centra il secondo ed il terzo posto e @green77 che prende Zarco e 2 punti
In classifica si trovano alla pari a tre punti
Anche da noi il campionato è combattuto
A questo punto vi aspetto per i pronostici
[ENG]
Weekend of returns for the MotoGP
The first return is racing in the European continent after the interlude in Qatar and precisely in Portimao's circuit in Portugal
The second is much more important and sensational
If you have read something around or followed some sports news, you will know who I am talking about.
If you don't know anything then let me tell you.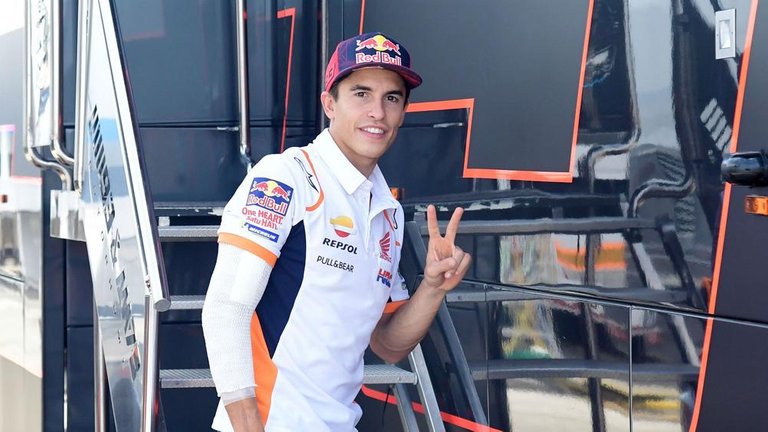 After almost a whole season (about 270 days) and the first two races, the Cannibal, Marc Marquez returns to the MotoGP circus.
The arm is not yet 100% but he is declared "fit" for racing
Will the head be 100%? This is the question everyone is asking, from Honda to his rivals. Will it be the "usual" Marquez? Will he be back on top soon? Will he have a hard time adapting to the tough Honda and the brawl?
From the first free practice, it would seem no ... his was the third fastest time in FP1 and sixth in FP2
At the moment, Pecco Bagnaia is back in the lead, followed by Quartararo and the two Suzuki.
Rossi and Morbidelli's Petronas were disappointing.
I would say that there are excellent conditions for an interesting race weekend
Last GP, at Hive, saw only 2 players in the points: @flewsplash who hits the second and third place and @green77 who takes Zarco and 2 points
In the standings they are tied on three points
The championship is fought in Hive too
At this point I wait for you for the predictions
[FRA]
Week-end de retours pour le MotoGP
Le premier retour se déroule sur le continent européen après l'intermède au Qatar, precisement en Portimao, Portugal
Le second est beaucoup plus important et sensationnel
Si vous avez lu quelque chose aux alentours ou suivi des actualités sportives, vous saurez de qui je parle.
Si vous ne savez rien, laissez-moi vous le dire.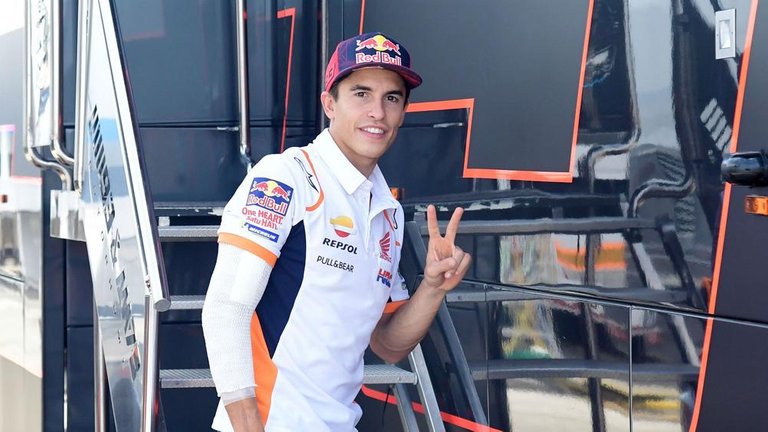 Après presque une saison entière (environ 270 jours) et les deux premières courses, le Cannibal, Marc Marquez revient au cirque MotoGP.
Le bras n'est pas encore à 100% mais il est déclaré "apte" à la course
La tête sera-t-elle à 100%? C'est la question que tout le monde se pose, de Honda à ses rivaux. Sera-ce le Marquez "habituel"? Sera-t-il bientôt de retour au sommet? Aura-t-il du mal à s'adapter à la dure Honda et à la bagarre?
Dès les premiers essais libres, il semblerait que non ... c'était le troisième temps le plus rapide en FP1 et le sixième en FP2
En ce moment, Pecco Bagnaia est de retour en tête, suivi de Quartararo et des deux Suzuki.
Les Petronas de Rossi et Morbidelli ont été décevants.
Je dirais qu'il y a d'excellentes conditions pour un week-end de course intéressant
Le dernier GP, à Hive, n'a vu que 2 joueurs dans les points: @flewsplash qui prend la deuxième et la troisième place et @green77 qui prend Zarco et 2 points
Au classement, ils sont à égalité sur trois points
Le championnat se bat aussi à Hive
À ce stade, je vous attends pour les prédictions
[SPA]
Fin de semana de vueltas para MotoGP
El primer regreso es la carrera en el continente europeo después del interludio en Qatar in Portugal, Portimao
El segundo es mucho más importante y sensacional
Si ha leído algo o ha seguido alguna noticia deportiva, sabrá de quién estoy hablando.
Si no sabes nada, déjame decirte.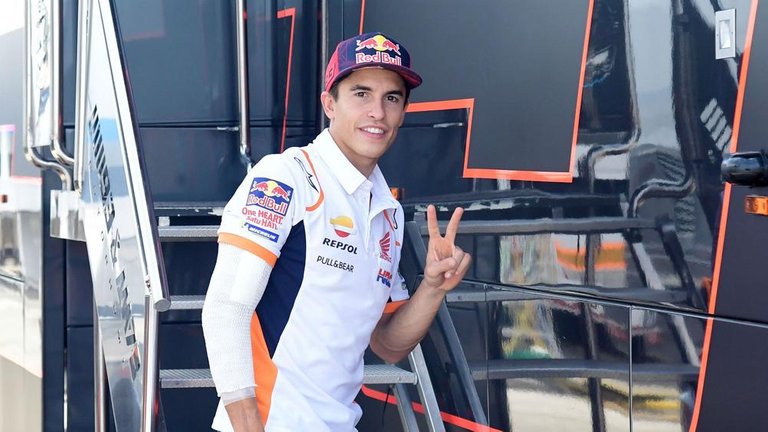 Tras casi toda una temporada (unos 270 días) y las dos primeras carreras, el Caníbal, Marc Márquez vuelve al circo de MotoGP.
El brazo aún no está al 100%, pero está declarado "apto" para competir.
¿La cabeza estará al 100%? Esta es la pregunta que todos se hacen, desde Honda hasta sus rivales. ¿Será el "habitual" Márquez? ¿Volverá pronto a la cima? ¿Tendrá dificultades para adaptarse a la dura Honda y la pelea?
Desde los primeros entrenamientos libres, parecería que no ... fue el tercer mejor tiempo en la FP1 y el sexto en la FP2
De momento, Pecco Bagnaia vuelve a liderar, seguido de Quartararo y los dos Suzuki.
Las Petronas de Rossi y Morbidelli fueron decepcionantes.
Diría que hay excelentes condiciones para un fin de semana de carrera interesante.
El último GP, en Hive, solo vio a 2 jugadores en los puntos: @flewsplash que alcanza el segundo y tercer lugar y @ green77 que se lleva a Zarco y 2 puntos
En la clasificación están empatados a tres puntos
El campeonato también se pelea en Hive
En este punto te espero por las predicciones
Call to all participants
@bubbolo21
@zipsardinia
@green77
@Ciuoto
@catgio
@miss-ste
@hollywood
@sarabelardo
@antorchajohnny
@dudithedoctor
@yocritico
@dolomitidreaming
@mad-runner
@cmoljoe
@franz54
@dianagomez
@lelluzzo
@sergioambro
@serialfiller
@bisec
@zakyrayyan
@neo-wiza
@raidford
@photo-moment
@hellenita
@dubydoo25
@shifaadi
@steemforez
@adimantong
@c3r34lk1ll3r
@dexpartacus
@robertomarinello
@flewsplash
@phage93
@lallo
@delilhavores
@alequandro
@zottone
@leone.bianco
@siomara-2018
For the rules you can refer to the POST
Per il regolamento potete fare riferimento al POST
Para conocer el reglamento, puede consultar el POST
Pour le règlement, vous pouvez vous référer au POST