Hive F1 Contest - Race #06 - Barcelona, Spain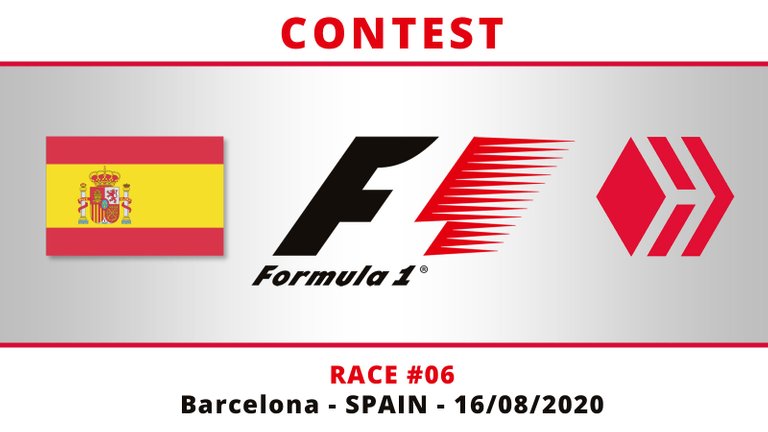 | RACE | Track | 1st | 2nd | 3rd |
| --- | --- | --- | --- | --- |
| 01 | Austria | Bottas | Leclerc | Norris |
| 02 | Austria | Hamilton | Bottas | Verstappen |
| 03 | Hungary | Hamilton | Verstappen | Bottas |
| 04 | Silverstone | Hamilton | Verstappen | Leclerc |
| 05 | Silverstone 70th | Verstappen | Hamilton | Bottas |
| 06 | Spain | - | - | - |


Gara #06 – Barcellona, Spagna
Un saluto a tutti,
Altra settimana, altra gara. Questa volta siamo in Spagna, sul circuito di Barcellona, lungo rettilineo e tante curve. Personalmente, a me piace.
Arriviamo dalla gara del 70esimo a Silverstone in cui, un pò a sorpresa, ha vinto Verstappen su Redbull e le Mercedes solamente seconda e terza. Leclerc nuovamente quarto a racimolare un pò di punti per la Ferrari. Ferrari in crisi con Vettel, e già si fanno strada delle voci riguardo la sua sostituzione già prima della fine del campionato di quest'anno.
Oltre alle tre squadre di testa, si stanno facendo notare anche le altre squadre e soprattutto i giovani piloti. Vedremo questo weekend come andrà.
---
Regolamento del concorso
Per quanto riguarda il nostro concorso, più sotto potete vedere i risultati dell'ultima gara e la nostra classifica generale. Solamente @dexpartacus ha indovinato la terza posizione di Bottas, guadagnando un punto. Aspetto i vostri nuovi pronostici ed in bocca al lupo a tutti.


Race #06 – Barcelona, Spain
Greetings to all,
Another week, another race. This time we are in Spain, on the Barcelona circuit, with long a straight and many curves. Personally, I like it.
We come from the race of the 70th at Silverstone in which, somewhat surprisingly, Verstappen won on Redbull and Mercedes only second and third. Leclerc again fourth to collect some points for Ferrari. Ferrari are in crisis with Vettel, and rumours are already growing about his replacement before the end of this year's championship.
In addition to the three leading teams, the other teams and especially the young drivers are also being noticed. We'll see how it goes this weekend.
---
Rules of the contest
As for our competition, the below you can see the results of the last race and our overall ranking. Only @dexpartacus guessed Bottas's third position, earning a point. I'm waiting for your new picks and good luck to everyone.


Race #04 results and general standings



Official FIA Formula 1 Site
Official FIA Formula 1 Youtube Channel
---
Call for the Players
@bubbolo21, @hasbydiaz, @chabertonvideo, @catgio, @zipsardinia, @lokibalboa, @ciuoto, @isabel23011, @yocritico, @alfredolopez1980, @grof, @jonelescalona, @vicpics, @dexpartacus, @franz54, @nfelix92, @fuentesjo3006, @chipi17, @miss-ste, @edgarf1979, @photo-moment, @cmoljoe, @sportsjrfc2018, @bisec, @lucasantangelo, @carlood, @dianagomez, @pagliozzo, @lelluzzo, @antorchajohnny, @mekky, @dernierdiaz, @deusjudo, @lolyfuentes, @salazarcag, @colon2018, @linterio, @jclark, @neo-wiza, @sljivanono, @vibeof100monkeys, @beisbol7, @justamoment, @lostprophet, @lovetaxi005, @hollywwod, @steemforez, @barbadosso, @davidesimoncini, @serialfiller, @sukhothai, @perdomo56, @adimantong, @traveljack894, @stefanogabbo, @coccodema, @freestyle7, @massrado, @alequandro and the others…
---
Immagini CC0 con diritti di modifica
CC0 Image labeled for reuse with modification
---
---