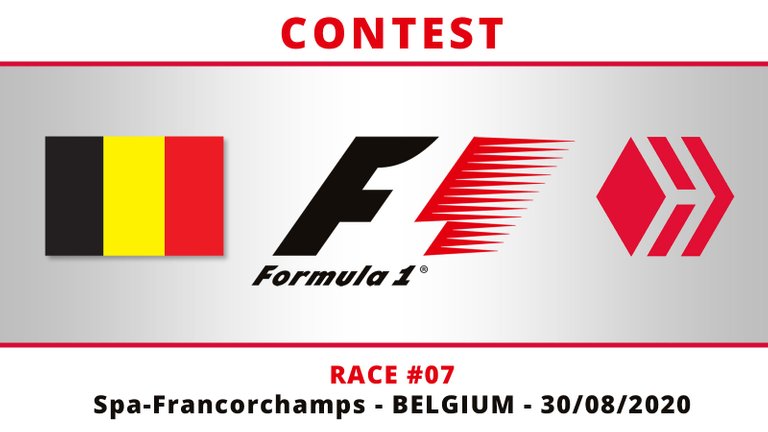 | RACE | Track | 1st | 2nd | 3rd |
| --- | --- | --- | --- | --- |
| 01 | Austria | Bottas | Leclerc | Norris |
| 02 | Austria | Hamilton | Bottas | Verstappen |
| 03 | Hungary | Hamilton | Verstappen | Bottas |
| 04 | Silverstone | Hamilton | Verstappen | Leclerc |
| 05 | Silverstone 70th | Verstappen | Hamilton | Bottas |
| 06 | Spain | Hamilton | Verstappen | Bottas |
| 07 | Belgium | - | - | - |


Gara #07 – Spa-Francorchamps, Belgio
Un saluto a tutti,
Dopo la pausa di metà agosto, eccoci con la ripresa del nostro contest, che va di pari passo con il campionato di F1. Questa settimana saremo in Belgio, sulla fantastica pista di Spa-Francorchamps, secondo me la migliore di tutto il campionato: lunga, veloce, molto varia e sicuramente anche molto impegnativa, sia per le vetture che soprattutto per i piloti. Qui, più che su altri circuiti, farei attenzione alle prestazioni e al consumo delle gomme Pirelli, che ultimamente hanno dato qualche segno di "cedimento" troppo spesso.
La gara precedente in Spagna ha visto il "solito podio" ormai: Hamilton, Verstappen, Bottas, che stanno prendendo il largo su tutto il resto dei piloti. Sicuramente il campionato non è concluso e mancano ancora parecchie gare, ma non si vedono molti spazi per le altre squadre, nemmeno per la Ferrari, ancora in crisi di macchina e piloti.
Vedremo se stavolta in Belgio le cose cambieranno, anche se dubito…
---
Regolamento del concorso
Per quanto riguarda il nostro concorso, più sotto potete vedere i risultati dell'ultima gara e la nostra classifica generale. Solamente @alequandro ha centrato il podio completo, guadagnando il massimo dei punti e del premio. Tutti gli altri partecipanti, ad esclusione di @green77, hanno indovinato solamente il vincitore.
Aspetto i vostri nuovi pronostici ed in bocca al lupo a tutti.


Race #07 – Spa-Francorchamps, Belgium
Greetings to all,
After the mid-August break, here we are with the restart of our contest, which goes hand in hand with the F1 championship. This week we will be in Belgium, on the fantastic track of Spa-Francorchamps, in my opinion the best of the whole championship: long, fast, very varied and also very hard, both for cars and especially for drivers. Here, more than on other circuits, I would pay attention to the performance and consumption of Pirelli tyres, which so far have given some signs of "failure" too often.
The previous race in Spain saw the "usual podium": Hamilton, Verstappen, Bottas, who are taking off on all the rest of the drivers. Surely the championship is not finished and there are still several races left, but you do not see many spaces for the other teams, not even for Ferrari, still in crisis of cars and drivers.
We'll see if things change in Belgium this time, although I doubt...
---
Rules of the contest
As for our competition, the below you can see the results of the last race and our overall ranking. Only @alequandro he hit the full podium, earning the most points and the prize. All the other participants, excluding @green77, only guessed the winner.
I'm waiting for your new picks and good luck to everyone.


Race #06 results and general standings



Official FIA Formula 1 Site
Official FIA Formula 1 Youtube Channel
---
Call for the Players
@bubbolo21, @hasbydiaz, @chabertonvideo, @catgio, @zipsardinia, @lokibalboa, @ciuoto, @isabel23011, @yocritico, @alfredolopez1980, @grof, @jonelescalona, @vicpics, @dexpartacus, @franz54, @nfelix92, @fuentesjo3006, @chipi17, @miss-ste, @edgarf1979, @photo-moment, @cmoljoe, @sportsjrfc2018, @bisec, @lucasantangelo, @carlood, @dianagomez, @pagliozzo, @lelluzzo, @antorchajohnny, @mekky, @dernierdiaz, @deusjudo, @lolyfuentes, @salazarcag, @colon2018, @linterio, @jclark, @neo-wiza, @sljivanono, @vibeof100monkeys, @beisbol7, @justamoment, @lostprophet, @lovetaxi005, @hollywwod, @steemforez, @barbadosso, @davidesimoncini, @serialfiller, @sukhothai, @perdomo56, @adimantong, @traveljack894, @stefanogabbo, @coccodema, @freestyle7, @massrado, @alequandro and the others…
---
Immagini CC0 con diritti di modifica
CC0 Image labeled for reuse with modification