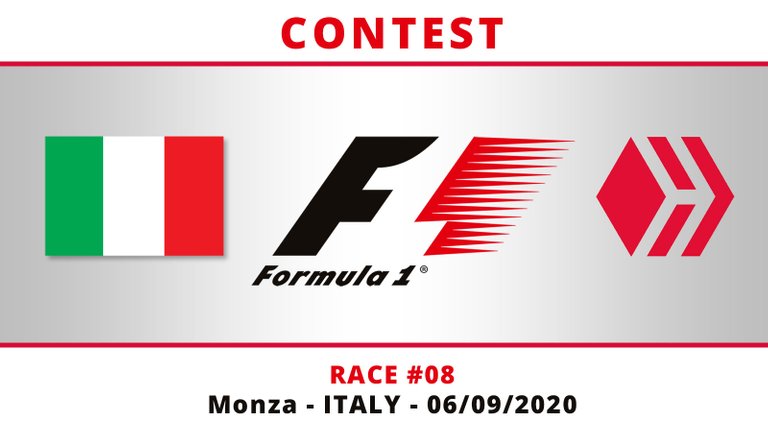 | RACE | Track | 1st | 2nd | 3rd |
| --- | --- | --- | --- | --- |
| 01 | Austria | Bottas | Leclerc | Norris |
| 02 | Austria | Hamilton | Bottas | Verstappen |
| 03 | Hungary | Hamilton | Verstappen | Bottas |
| 04 | Silverstone | Hamilton | Verstappen | Leclerc |
| 05 | Silverstone 70th | Verstappen | Hamilton | Bottas |
| 06 | Spain | Hamilton | Verstappen | Bottas |
| 07 | Belgium | Hamilton | Bottas | Verstappen |
| 08 | Italy | - | - | - |


Gara #08 – Monza, Italia
FINALMENTE!
Eccoci arrivati alla gara forse più attesa di tutto il campionato. Ormai circuito storico, dove si è sempre corso in ogni stagione di F1, molto veloce e con le chichane dov'è c'è sempre la possibilità di sorpasso. È anche una pista che piace molto ai piloti, e tutti bramano per avere il proprio nome tra i vincitori.
Le Ferrari arrivano sempre qui con molto entusiasmo e spesso tra i favoriti alla vittoria. Però quest'anno la vedo molto dura. Le Mercedes saranno di nuovo le auto da battere, e vedo molto bene anche le Renault, che a Spa hanno dimostrato di essere molto veloci in rettilineo. Le RedBull potranno soffrire un po' di velocità massima, ma dobbiamo aspettare almeno le qualifiche per saperlo.
Che dire riguardo alla gara a Spa… probabilmente una delle più noiose e scontate di sempre: Mercedes prima e seconda, Verstappen terzo. Come sono partiti, sono arrivati alla fine. Ormai è routine. Segnalo però la buona prestazione delle Renault, e lo sfacelo Ferrari. Vettel e Leclerc ci han provato, ma se la macchina non va, c'è poco da fare. Andiamo a Monza con la speranza di una buona prestazione (ma dubito).
---
Regolamento del concorso
Per quanto riguarda il nostro concorso, più sotto potete vedere i risultati dell'ultima gara e la nostra classifica generale. @alequandro si dimostra ancora il migliore, indovinando le prime due posizioni. In quattro abbiamo indovinato solo il vincitore, mentre il nuovo concorrente @stefano.massari ha indovinato Verstappen terzo. Dando il benvenuto anche a @blumela e @zottone444, vi saluto aspettando i vostri nuovi pronostici. In bocca al lupo a tutti.


Race #08 – Monza, Italy
YEAH!
Here we are at the race perhaps the most anticipated of the whole championship. Now a historical circuit, where it has always run in every season of F1, very fast and with the chichane where there is always the possibility of overtaking. It is also a track that the riders really like, and everyone craves to have their name among the winners.
Ferraris always arrive here with great enthusiasm and often among the favorites to win. But this year I see it very hard. Mercedes will be the cars to beat again, and I also see very well the Renaults, who at Spa have proven to be very fast in the straight. The RedBulls may suffer a bit of top speed, but we have to wait at least for qualifying to know.
What about the race at Spa... probably one of the most boring and obvious ever: Mercedes first and second, Verstappen third. How they started, they got to the end. It's routine now. However, I report the good performance of Renault, and the disintegration of Ferrari. Vettel and Leclerc tried, but if the car doesn't work, there's little to do. We go to Monza with the hope of a good performance (but I doubt).
The previous race in Spain saw the "usual podium": Hamilton, Verstappen, Bottas, who are taking off on all the rest of the drivers. Surely the championship is not finished and there are still several races left, but you do not see many spaces for the other teams, not even for Ferrari, still in crisis of cars and drivers.
We'll see if things change in Belgium this time, although I doubt...
---
Rules of the contest
As for our competition, the below you can see the results of the last race and our overall ranking. @alequandro proves to be the best, guessing the first two positions. In four we only guessed the winner, while the new competitor @stefano.massari guessed Verstappen third.
Welcoming also @blumela and @zottone444 as new players, I greet you by waiting for your new predictions. Good luck to everyone.


Race #04 results and general standings



Official FIA Formula 1 Site
Official FIA Formula 1 Youtube Channel
---
Call for the Players
@robertomarinello, @zottone444, @stefano.massari, @catgio, @zipsardinia, @lokibalboa, @ciuoto, @blumela, @yocritico, @alfredolopez1980, @grof, @jonelescalona, @vicpics, @dexpartacus, @franz54, @nfelix92, @fuentesjo3006, @chipi17, @miss-ste, @edgarf1979, @photo-moment, @cmoljoe, @sportsjrfc2018, @bisec, @lucasantangelo, @carlood, @dianagomez, @pagliozzo, @lelluzzo, @antorchajohnny, @mekky, @dernierdiaz, @deusjudo, @lolyfuentes, @salazarcag, @colon2018, @linterio, @jclark, @neo-wiza, @sljivanono, @vibeof100monkeys, @beisbol7, @justamoment, @lostprophet, @lovetaxi005, @hollywwod, @steemforez, @barbadosso, @davidesimoncini, @serialfiller, @sukhothai, @perdomo56, @adimantong, @traveljack894, @stefanogabbo, @coccodema, @freestyle7, @massrado, @alequandro and the others…
---
Immagini CC0 con diritti di modifica
CC0 Image labeled for reuse with modification