Hive F1 Contest - Race #09 - Ferrari 1000 - Mugello, Italy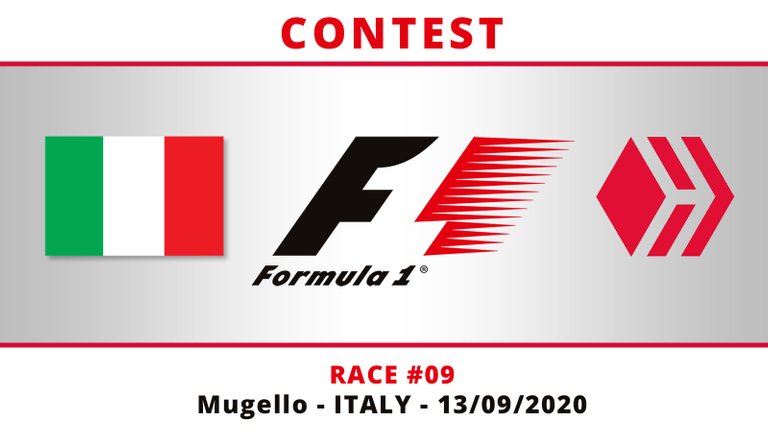 | RACE | Track | 1st | 2nd | 3rd |
| --- | --- | --- | --- | --- |
| 01 | Austria | Bottas | Leclerc | Norris |
| 02 | Austria | Hamilton | Bottas | Verstappen |
| 03 | Hungary | Hamilton | Verstappen | Bottas |
| 04 | Silverstone | Hamilton | Verstappen | Leclerc |
| 05 | Silverstone 70th | Verstappen | Hamilton | Bottas |
| 06 | Spain | Hamilton | Verstappen | Bottas |
| 07 | Belgium | Hamilton | Bottas | Verstappen |
| 08 | Italy | Gasly | Sainz | Stroll |
| 09 | Mugello | - | - | - |


Gara #09 – Ferrari 1000 – Mugello, Italia
Un saluto a tutti,
Questa settimana saremo ancora in Italia, ma su un "nuovo" tracciato, che poi tanto nuovo non è. La pista di casa della Ferrari, pista che tutti i piloti conoscono molto bene, soprattutto per averci corso spesso nelle gare delle serie minori. Nuova però perché è la prima volta che qui si corre con le vetture di F1. Pista molto veloce, con un lunghissimo rettilineo, e che offre molti punti dove si possono provare dei sorpassi. Le Ferrari dovrebbero partire avvantaggiate, ma viste le ultime prestazioni, onestamente dubito. Staremo a vedere dopo le qualificazioni.
Riguardo alla gara di Monza invece, brutta prestazione per le Ferrari, ma anche le altre squadre di punta non hanno fatto molto bene. Tra sfortune e incomprensioni, le Mercedes sono rimaste nelle posizioni di metà classifica. Anche le RedBull hanno avuto qualche problema. Ne hanno giovato, a buon merito, i giovani piloti che quest'anno stanno dimostrando di essere veloci e saper cogliere tutte le occasioni che gli si presentano. Così abbiamo avuto questo "strano" podio con Gasly vincitore davanti a Sainz, che per qualche giro avrebbe anche potuto vincere, e terzo Stroll.
---
Qui il regolamento del concorso
Per quanto riguarda il nostro concorso, più sotto potete vedere i risultati dell'ultima gara e la nostra classifica generale.
Questa volta nessuno ha indovinato alcuna posizione, quindi la classifica resta invariata.
A questo punto vi saluto aspettando i nuovi pronostici. In bocca al lupo a tutti.


Race #09 – Ferrari 1000 – Mugello, Italy
Greetings to all,
This week we will still be in Italy, but on a "new" track, which then so new is not. The home track of Ferrari, a track that all the drivers know very well, especially for having raced often in the races of the minor series. New though because it's the first time we've raced with F1 cars here. Very fast track, with a very long straight, and that offers many points where you can try overtaking. Ferraris should start with an advantage, but given the latest performance, I honestly doubt it. We'll see after the qualifying sessions.
Regarding the Monza race, however, bad performance for Ferrari, but also the other top teams did not do very well. Amid misfortune and misunderstanding, Mercedes remained in the mid positions. The RedBulls had problems, too. The young drivers who are proving to be fast and able to seize all the opportunities that come before them have benefited, to good credit. So we had this "weird" podium with Gasly winning ahead of Sainz, who for a few laps could also have won, and third Stroll.
---
Here the rules of the contest
As for our competition, the below you can see the results of the last race and our overall ranking.
This time no one has guessed any position, so the ranking remains unchanged.
At this point I greet you waiting for the new predictions. Good luck to everyone.


Race #08 results and general standings



Official FIA Formula 1 Site
Official FIA Formula 1 Youtube Channel
---
Call for the Players
@robertomarinello, @zottone444, @stefano.massari, @catgio, @zipsardinia, @lokibalboa, @ciuoto, @blumela, @yocritico, @alfredolopez1980, @grof, @jonelescalona, @vicpics, @dexpartacus, @franz54, @nfelix92, @fuentesjo3006, @chipi17, @miss-ste, @edgarf1979, @photo-moment, @cmoljoe, @sportsjrfc2018, @bisec, @lucasantangelo, @carlood, @dianagomez, @pagliozzo, @lelluzzo, @antorchajohnny, @mekky, @dernierdiaz, @deusjudo, @lolyfuentes, @salazarcag, @colon2018, @linterio, @jclark, @neo-wiza, @sljivanono, @vibeof100monkeys, @beisbol7, @justamoment, @lostprophet, @lovetaxi005, @hollywwod, @steemforez, @barbadosso, @davidesimoncini, @serialfiller, @sukhothai, @perdomo56, @adimantong, @traveljack894, @stefanogabbo, @coccodema, @freestyle7, @massrado, @alequandro and the others…
---
Immagini CC0 con diritti di modifica
CC0 Image labeled for reuse with modification
---
---