Hive F1 Contest - Race #10 - Sochi, Russia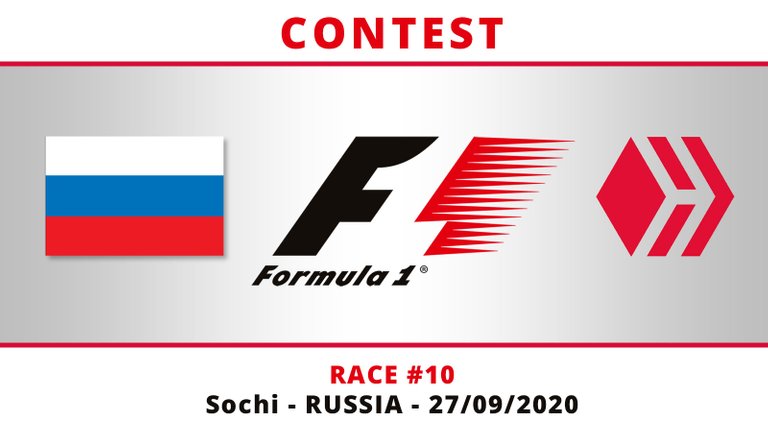 | RACE | Track | 1st | 2nd | 3rd |
| --- | --- | --- | --- | --- |
| 01 | Austria | Bottas | Leclerc | Norris |
| 02 | Austria | Hamilton | Bottas | Verstappen |
| 03 | Hungary | Hamilton | Verstappen | Bottas |
| 04 | UK | Hamilton | Verstappen | Leclerc |
| 05 | Silverstone 70th | Verstappen | Hamilton | Bottas |
| 06 | Spain | Hamilton | Verstappen | Bottas |
| 07 | Belgium | Hamilton | Bottas | Verstappen |
| 08 | Italy | Gasly | Sainz | Stroll |
| 09 | Mugello | Hamilton | Bottas | Albon |
| 10 | Russia | - | - | - |


Gara #10 – Sochi, Russia
Un saluto a tutti,
Dopo la stranissima gara del Mugello della scorsa settimana, andiamo in Russia sul bel tracciato di Sochi. Nuovo e molto veloce, caratterizzato dal veloce curvone disegnato proprio come un mezzo cerchio. Qui le gomme esterne e l'aerodinamica saranno gli elementi più importanti. A me il tracciato piace, ed è anche in un bel contesto. Voi che ne dite?
Riguardo alla gara del Mugello, che doveva festeggiare il millesimo GP della Ferrari, dobbiamo dire che è stata una gara molto strana, caratterizzata da due importanti incidenti, in cui fortunatamente nessuno ha avuto conseguenze fisiche, e relative ripartenze. Alla fine è stato come vedere tre gare, più corte. Delle oltre 20 auto presenti al via, solamente 12 sono arrivate al traguardo. Come ormai di routine, hanno vinto le due Mercedes, con Hamilton e Bottas davanti a tutti. Fortunato e bravo invece Albon con la seconda RedBull, arrivato al terzo posto. Deludenti le Ferrari, ma almeno sono arrivate alla fine della gara.
---
Qui il regolamento del concorso
Per quanto riguarda il nostro concorso, più sotto potete vedere i risultati dell'ultima gara e la nostra classifica generale.
In quattro hanno indovinato i primi due piloti, mentre gli altri tre hanno indovinato solamente il vincitore. I primi due premi, 30% e 20% vengon quindi ripartiti tra i vincitori.
A questo punto vi saluto aspettando i nuovi pronostici. In bocca al lupo a tutti.


Race #10 – Sochi, Russia
Greetings to all,
After last week's very strange Mugello race, we go to Russia on the beautiful track in Sochi. New and very fast, characterized by the fast curve drawn just like a half circle. Here the outer tyres and aerodynamics will be the most important elements. I like the track, and it's also in a nice context. What do you say?
Regarding the Mugello race, which was supposed to celebrate Ferrari's thousandth GP, we must say that it was a very strange race, characterized by two major accidents, in which fortunately no one had physical consequences, and related restarts. In the end it was like seeing three races, shorter. Of the more than 20 cars present at the start, only 12 have reached the finish line. As is now routine, they won the two Mercedes, with Hamilton and Bottas ahead of everyone. Lucky and good instead Albon with the second RedBull, arrived in third place. Disappointing Ferraris, but at least they got to the end of the race.
---
Here the rules of the contest
As for our competition, the below you can see the results of the last race and our overall ranking.
Four of them guessed the first two drivers, while the other three guessed only the winner. The first two prizes, 30% and 20% are then shared among the winners.
At this point I greet you waiting for the new predictions. Good luck to everyone.


Race #09 results and general standings



Official FIA Formula 1 Site
Official FIA Formula 1 Youtube Channel
---
Call for the Players
@robertomarinello, @zottone444, @stefano.massari, @catgio, @zipsardinia, @lokibalboa, @ciuoto, @blumela, @yocritico, @alfredolopez1980, @grof, @jonelescalona, @vicpics, @dexpartacus, @franz54, @nfelix92, @fuentesjo3006, @chipi17, @miss-ste, @edgarf1979, @photo-moment, @cmoljoe, @sportsjrfc2018, @bisec, @lucasantangelo, @carlood, @dianagomez, @pagliozzo, @lelluzzo, @antorchajohnny, @mekky, @dernierdiaz, @deusjudo, @lolyfuentes, @salazarcag, @colon2018, @linterio, @jclark, @neo-wiza, @sljivanono, @vibeof100monkeys, @beisbol7, @justamoment, @lostprophet, @lovetaxi005, @hollywwod, @steemforez, @barbadosso, @davidesimoncini, @serialfiller, @sukhothai, @perdomo56, @adimantong, @traveljack894, @stefanogabbo, @coccodema, @freestyle7, @massrado, @alequandro and the others…
---
Immagini CC0 con diritti di modifica
CC0 Image labeled for reuse with modification
---
---