Fantacalcio Olio di Balena: Giornata n.21 / Fantasy Football Olio di Balena: Day n.21 (ITA/ENG)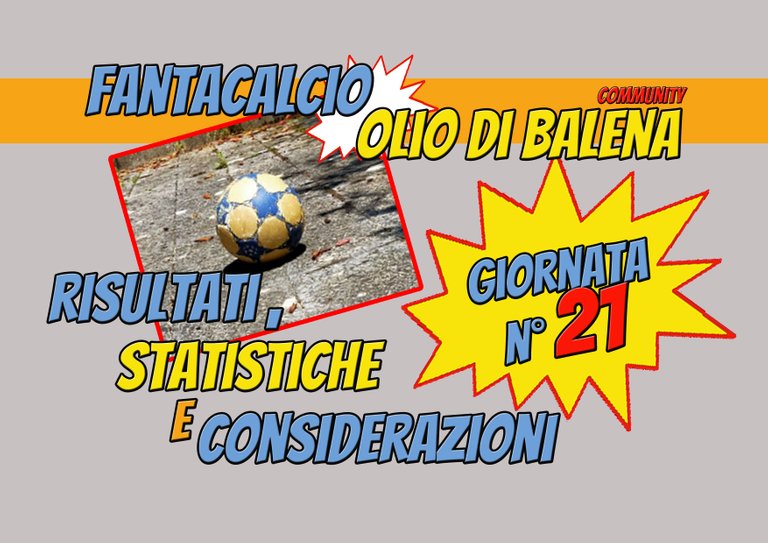 Image owned and edit by @libertycrypto27- Font used is Open Source
---
Domenica 7 febbraio 2021 si è conclusa la giornata numero 21 del campionato italiano di calcio della Seria A.
Il Milan di Pioli vince per la seconda giornata consecutiva e difende il primo posto in classifica:
Milan - Crotone = 4 - 0.
L'Inter vince fuori casa contro la Fiorentina con il risultato di 0 - 2 e mantiene inalterato il distacco di due punti dal Milan.
La Juventus batte la Roma e sale al terzo posto in classifica.
L'Atalanta fa un mezzo passo falso e pareggia contro un caparbio Torino che riesce a ribaltare un risultato parziale di 3 - 0 e costringe l'Atalanta, nel suo stadio, ad accontentarsi di un pareggio.
Il Napoli che alterna prestazioni di spessore ad altre meno convincenti perde contro il Genoa e la Lazio che è la squadra più in forma del momento (5 vittorie nelle ultime 5 giornate di Serie A) aggancia la Roma al quarto posto.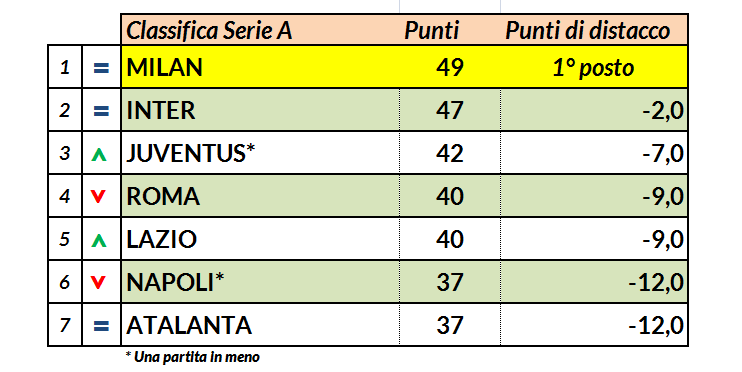 Parallelamente al campionato di calcio italiano di massima serie continua il suo percorso il Fantacalcio della comunità di Olio di Balena.
Andiamo subito a vedere la classifica aggiornata dopo la conclusione della giornata numero 21.
---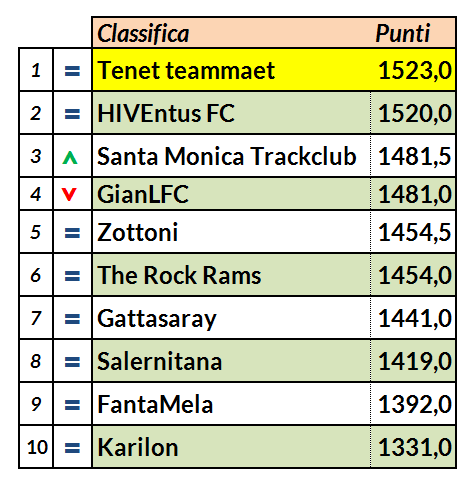 ---
Gli allenatori, in ordine di classifica, sono:
9 giocatori su 10 sono utenti di Hive tranne max57198 che spero possa diventare in futuro un nuovo utente del bellissimo mondo di Hive.
Di seguito c'è il grafico che mostra l'andamento delle posizioni in classifica giornata dopo giornata.
---
Grafico dell'andamento delle posizioni in classifica
---

---
Descrizione Grafico:
Sull'asse delle x ci sono le giornate indicate dai rispettivi numeri.
Ogni riga del grafico corrisponde ad una determinata posizione della classifica e la prima riga partendo dall'alto indica il primo posto, all'interno di ogni coppia di righe ci sono le posizioni di numero pari (2° posto, 4° posto...).
Ogni squadra è identificata da una linea di un colore preciso che permette di seguire facilmente l'andamento, giornata dopo giornata, della posizione in classifica.
Sulla destra ci sono i nomi delle squadre partecipanti al fantacalcio e ogni linea termina vicino al nome della squadra corrispondente.
Come è avvenuto nella scorsa giornata anche la ventunesima giornata produce un solo cambio nelle posizioni in classifica: la squadra Santa Monica trackclub supera in classifica la squadra GianLFC che dal terzo posto scende al quarto posto.

Tutte le altre squadre mantengono l'identica posizione che avevano alla conclusione della giornata precedente.
Escludendo il "walzer" delle squadre Santa Monica trackclub e GianLFC le altre posizioni in classifica hanno il medesimo occupante da 4 giornate consecutive.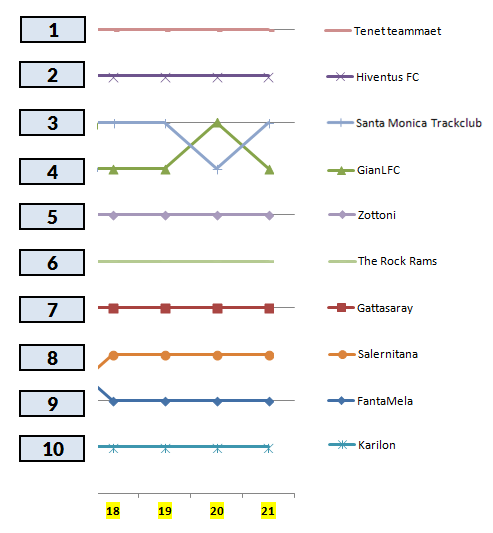 La squadra prima in classifica è sempre Tenet teammaet seguita dalla mia HIVEntus FC.
Sono sette giornate consecutive che il primo posto è accupato dalla fanta-squadra allenata da @serialfiller.

Se la classifica rimane invariata per 8 posizioni su 10 cambiano invece le distanze in punti tra le squadre della competizione.
---
Tabella del distacco punti dalla prima posizione
---
Nella tabella seguente c'è il distacco in punti che separa ogni squadra dal primo posto.
---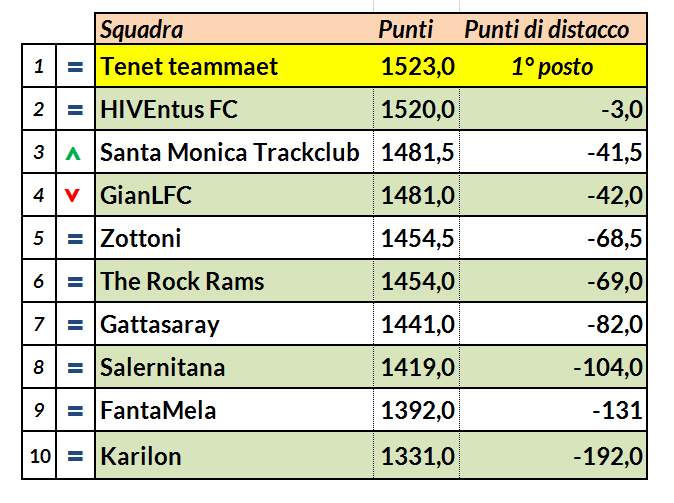 La squadra Tenet teammaet,a differenza della giornata precedente, perde gran parte del suo vantaggio sulla squadra HIVEntus FC. Dopo la ventesima giornata il distacco era di 19 punti mentre adesso è di soli 3 punti.
Una giornata sottotono per la squadra Tenet teammaet che conseguendo un punteggio di giornata di soli 61 punti vede il suo vantaggio ridursi anche nei confronti di tutte le altre squadre della competizione.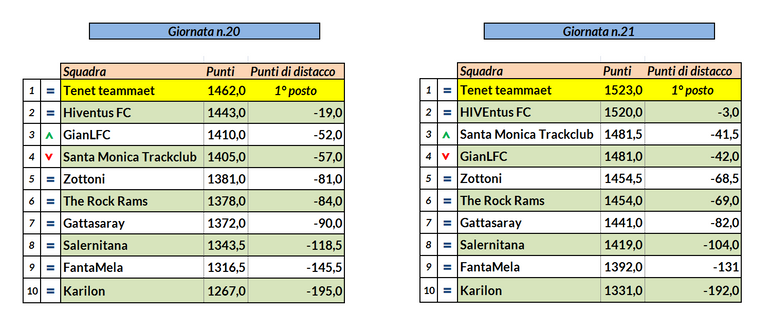 Le distanze tra le squadre permettono di individuare 4 blocchi e sono gli stessi della precedente giornata:
Posizioni 1 e 2: distacco 3 punti (-16 punti rispetto alla giornata precedente)
Posizioni 3,4 distaccatte di un soffio (0,5 punti).
La terza classificata è a 38,5 punti di distanza dalla seconda classificata (alla fine della giornata precedente il distacco era di 33 punti).
Posizioni 5,6,7 racchiuse in un range di 13,5 punti
La settima classificata è a 40 punti di distanza dalla quarta classificata.
Posizioni 8,9,10 distaccate rispettivamente da 104, 131 e 192 punti dalla prima posizione.
---
Il miglior risultato della ventunesima giornata
---
Il miglior risultato della ventunesima giornata lo ottiene la mia HIVEntus FC che totalizza un punteggio di 77 punti e supera di solo mezzo punto il secondo miglior punteggio messo a segno dalla squadra Santa Monica trackclub (76,5 punti).
---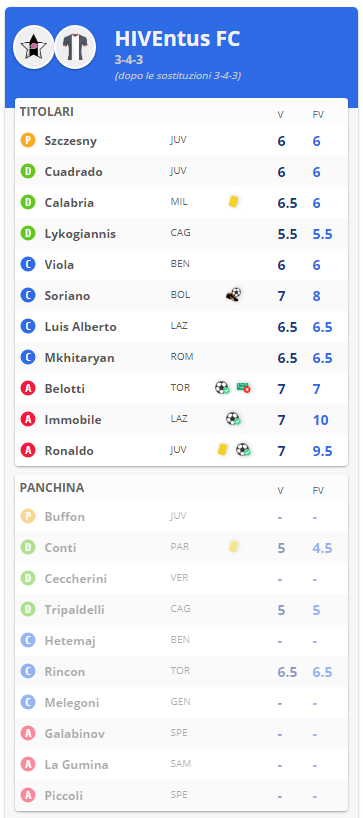 Screenshot from the site: https://leghe.fantacalcio.it/
---
La mia squadra totalizza il punteggio di 77 punti grazie in particolare alle ottime prestazioni di:
Immobile - Lazio (FV 10): 1 gol
Ronaldo - Juventus (FV 9,5): 1 gol + 1 cartellino giallo (-1)
Belotti - Torino (FV 7): 1 gol + 1 rigore sbagliato
Soriano (FV 7): 1 assist
---
Le altre ottime prestazioni della giornata numero 21
(70 punti+)
---
Oltre ad HIVEntus FC altre 6 squadre superano il punteggio di 70 punti nella ventunesima giornata.
Santa Monica trackclub (76,5)
The Rock Rams (76)
FantaMela (75,5)
Salernitana (75,5)
Gattasaray (74)
Zottoni (73,5)
Dopo la ventesima giornata si è svolta la terza sessione del mercato di riparazione che ha permesso ai partecipanti del fantacalcio di Olio di Balena di rafforzare la propria squadra e di sostituire gli infortunati.
Gli effetti sono stati positivi e infatti a differenza delle precedenti giornate nessuna squadra ha totalizzato meno di 60 punti.
---
Distribuzione Montepremi
---
Le 10 squadre partecipanti hanno versato una quota di iscrizione di 38 HIVE.
Il montepremi finale è di 380 HIVE e sono quattro le posizioni premiate.
La suddivisione del Montepremi avverrà alla fine della trentottesima giornata del campionato di Serie A italiana in base alle percentuali indicate nella seguente tabella: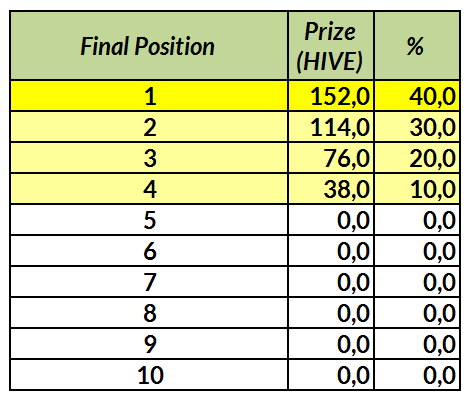 Il primo classificato riceverà 152 HIVE, il secondo 114 HIVE, il terzo 76 HIVE e il quarto riceverà in pratica il rimborso della quota di iscrizione: 38 HIVE.
---
Conclusione
---
La squadra Tenet Teammaet, prima in classifica, ha perso gran parte del suo vantaggio sulla squadra in seconda posizione e quindi la sua fuga è stata interrotta!
La classifica è più corta e quindi più divertente.
I nuovi acquisti effettuati all'interno della sezione di mercato potrebbero cambiare l'andamento e le posizioni della classifica.
Cosa succederà alla fine della prossima giornata?
Riuscirà Tenet Teammaet a conservare e proteggere il primo posto della classifica anche dopo la ventiduesima giornata?
Riusciranno gli inseguitori di Tenet Teammaet ad accorciare ancora di più le distanze dal primo posto?
Ci saranno nuovi cambi nelle posizioni in classifica?
I nuovi acquisti da poco effettuati modificheranno gli equilibri della competizione?
Lo scopriremo molto presto perchè la giornata numero 22 del campionato di Serie A è molto vicina e inizia tra pochi giorni.
Vincere è sempre bello ma partecipare è più importante e lo è ancora di più divertirsi e giocando al Fantacalcio di Olio di Balena il divertimento è assicurato ;)
Spero che questo mio post vi sia piaciuto e auguro a tutti di trascorrere una bellissima serata ;)
---
La nona immagine è uno screenshot preso dal sito:
https://leghe.fantacalcio.it/
Le altre immagini sono di mia proprietà e il font utilizzato è open source
---

---

---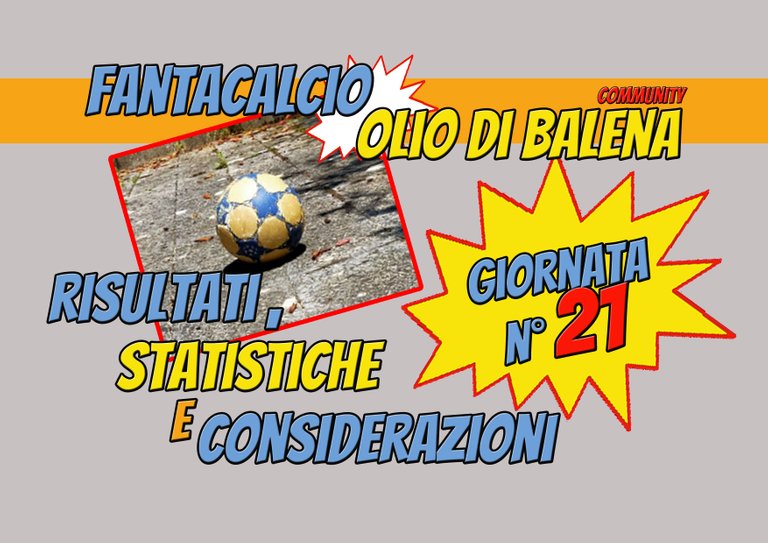 Image owned and edit by @libertycrypto27- Font used is Open Source
---
Fantasy Football Olio di Balena: Results, Statistics and Considerations - Day 21
---
Sunday, February 7, 2021 ended day number 21 of the Italian Seria A soccer championship.
Pioli's Milan wins for the second consecutive day and defends the first place in the ranking:
Milan - Crotone = 4 - 0.
Inter wins away from home against Fiorentina with the result of 0 - 2 and maintains the gap of two points from Milan unchanged.
Juventus beats Roma and climbs to third place in the ranking.
Atalanta makes a half false step and draws against a determined Torino that manages to overturn a partial result of 3 - 0 and obliges Atalanta, in its stadium, to settle for a draw.
Napoli that alternates performances of value to others less convincing loses against Genoa and Lazio that is the most in form team of the moment (5 victories in the last 5 days of Serie A) hooks Roma to the fourth place.
.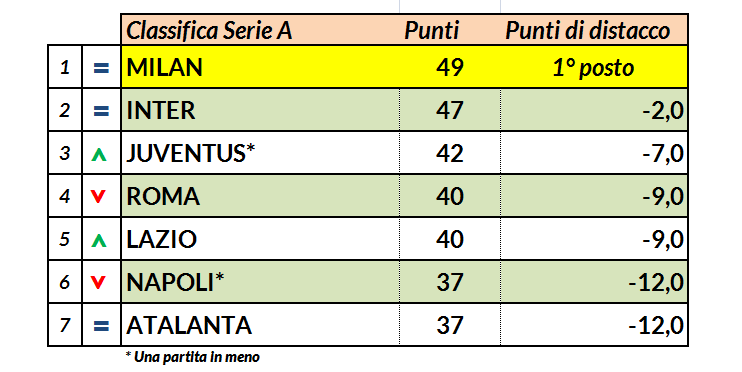 In parallel with the Italian soccer championship of the highest series continues its path the fantasy soccer of the community of Olio di Balena.
Let's go immediately to see the updated ranking after the conclusion of the day number 21.
---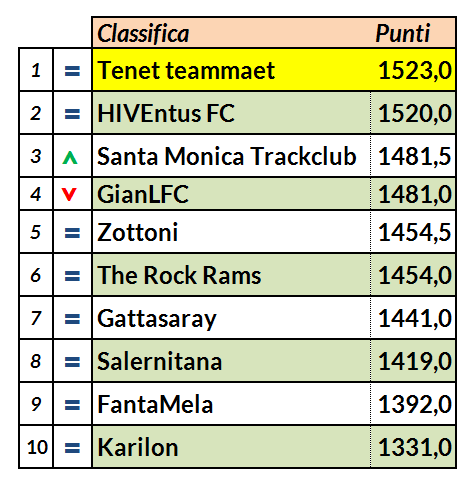 ---
The coaches, in order of ranking, are:
9 players out of 10 are Hive users except max57198 that I hope will become in the future a new user of the beautiful world of Hive.
Below is the chart showing the trend of the ranking positions day after day.
---
Chart of the trend of the positions in the ranking
---

---
Description Chart:
On the x-axis there are the days indicated by the respective numbers.
Each line of the graph corresponds to a specific position in the ranking and the first line from the top indicates the first place, within each pair of lines there are even numbered positions (2nd place, 4th place ...).
Each team is identified by a line of a precise color that allows you to easily follow the trend, day after day, of the position in the standings.
On the right are the names of the teams participating in fantasy soccer and each line ends near the name of the corresponding team.
The twenty-first day produces only one change in the ranking: the team Santa Monica trackclub overcomes the team GianLFC that from the third place goes down to the fourth.
.


All other teams maintain the identical position they had at the conclusion of the previous day.
Excluding the "waltz" of the teams Santa Monica trackclub and GianLFC the other positions in the ranking have the same occupant from 4 consecutive days.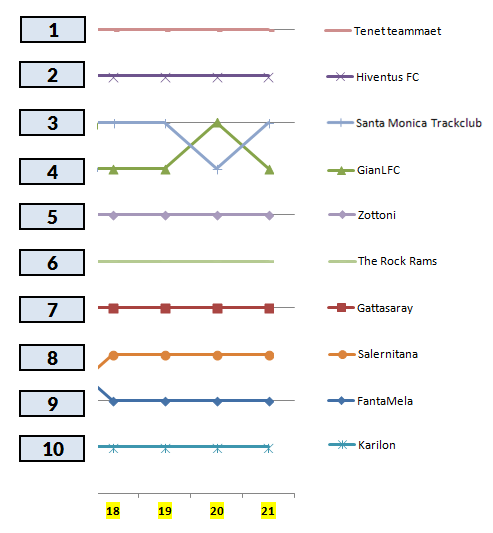 The first team in the ranking is always Tenet teammaet followed by my HIVEntus FC.
It's seven consecutive days that the first place is occupied by the fantasy team coached by @serialfiller.

If the ranking remains unchanged for 8 positions out of 10, the distances in points between the teams change instead.
---
Table of the points gap from the first position
---
In the following table there is the distance in points that separates each team from the first place.
---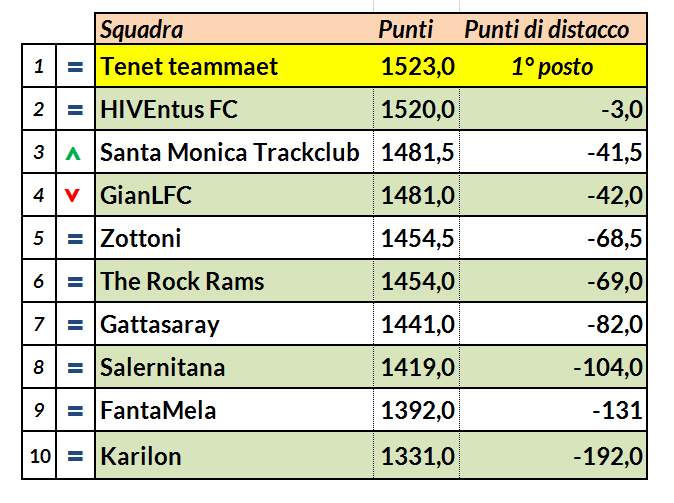 Differently from the previous day, the Tenet teammaet team loses most of its advantage over the HIVEntus FC team, which was 19 points at the end of the previous day and is now only 3 points.
An underwhelming day for the Tenet teammaet team that sees its advantage reducing towards all other teams in the competition as well.
.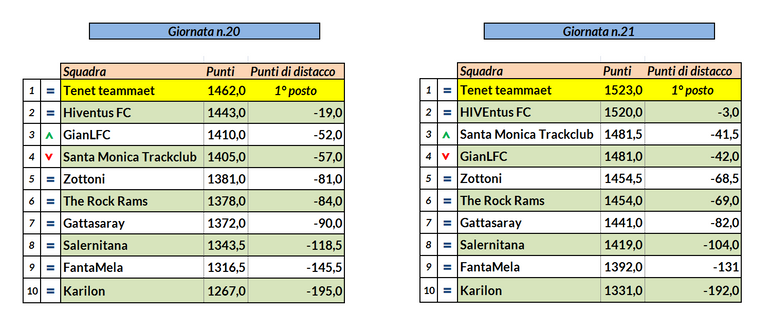 The distances between the teams allow to identify 4 blocks that are the same as the previous day:
Positions 1 and 2: 3 points apart (-16 points compared to the previous day).
Positions 3,4 are just a whisker away (0.5 points).
The third place is 38.5 points behind the second place (at the end of the previous day the gap was 33 points).
Positions 5,6,7 within a range of 13.5 points.
The seventh place finisher is 40 points behind the fourth place finisher.
Positions 8,9,10 separated by 104, 131 and 192 points respectively from the first position.
---
Best result of day 21
---
My HIVEntus FC scored the best score of day 21 with a score of 77 points, just half a point ahead of the second best score put up by the Santa Monica trackclub team (76.5 points).
---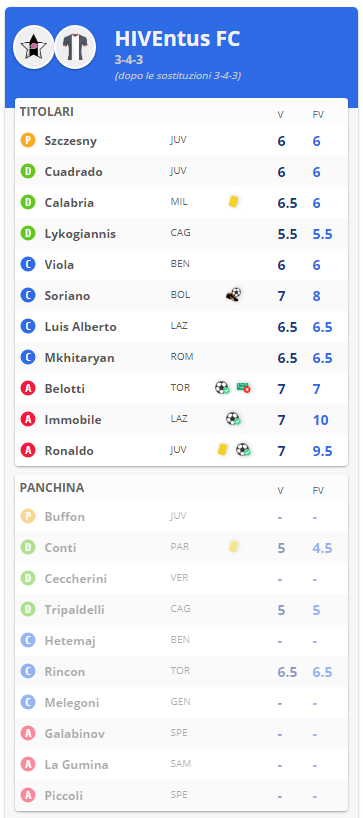 Screenshot from the site: https://leghe.fantacalcio.it/
---
My team totals the score of 77 points thanks in particular to the excellent performance of:
Immobile - Lazio (FV 10): 1 goal
Ronaldo - Juventus (FV 9,5): 1 goal + 1 yellow card (-1)
Belotti - Torino (FV 7): 1 goal + 1 missed penalty
Soriano - Bologna (FV 7): 1 assist
---
The other excellent performances of the day number 21
(70 points+)
---
In addition to HIVEntus, six other teams surpass the 70-point mark on day 21:
Santa Monica trackclub (76.5)
The Rock Rams (76)
FantaMela (75.5)
Salernitana (75.5)
Gattasaray (74)
Zottoni (73.5)
After the twentieth day, the third session of the reparation market took place, which allowed the participants of Olio di Balena's fantasy soccer to strengthen their team and replace injured players.
The effects have been positive and in fact, differently from the previous days, no team has scored less than 60 points.
---
Prize distribution
---
The 10 participating teams have paid an entry fee of 38 HIVE.
The final prize pool is 380 HIVE and there are four prize positions.
The division of the prize money will take place at the end of the thirty-eighth day of the Italian Serie A championship according to the percentages shown in the following table: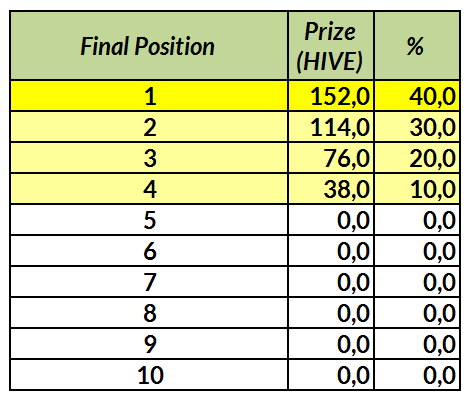 .
The first place winner will receive 152 HIVE, the second 114 HIVE, the third 76 HIVE and the fourth will basically receive a refund of the entry fee: 38 HIVE.
---
Conclusion
---
Team Tenet Teammaet, first in the ranking, has lost most of its advantage over the team in second place and so its run has been cut short!
The ranking is shorter and therefore more entertaining.
The new purchases made within the market section could change the trend and the positions of the ranking.
What will happen at the end of the next day?
Will Tenet Teammaet be able to keep and protect the first place in the standings also after the twenty-second day?
Will the followers of Tenet Teammaet be able to shorten the distance from the first place even more?
Will there be new changes in the positions in the ranking?
Will the new purchases recently made change the balance of the competition?
We will find out very soon because day number 22 of the Serie A championship is very close and starts in a few days.
Winning is always nice but participating is more important and it's even more important to have fun and playing in the fantasy soccer of Olio di Balena the fun is assured ;)
I hope you liked my post and I wish you all a wonderful day ;)
---
The ninth image is a screenshot taken from the site:
https://leghe.fantacalcio.it/
The other images are my property and the font used is open source
.
---

---
---