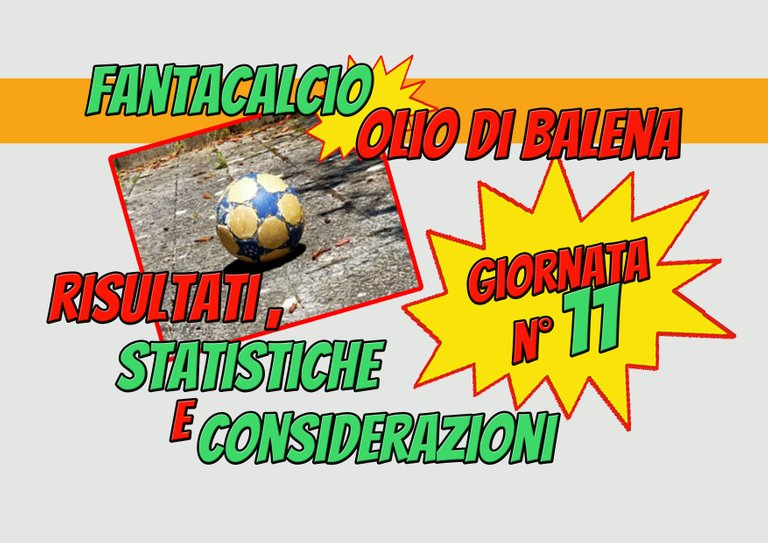 Image owned and edit by @libertycrypto27- Font used is Open Source
---
Ciao amici,
il Fantacalcio della comunità di Olio di Balena è arrivato alla giornata numero 11.
E' stata una giornata movimentata che ha prodotto sorpassi e scivoloni in classifica ad esclusione della squadra prima in classifica che se continua così potrà reclamare il diritto di usucapione per il gradino più alto.
Tagliamo corto e andiamo subito a vedere la classifica aggiornata dopo la conclusione dell'undicesima giornata:
---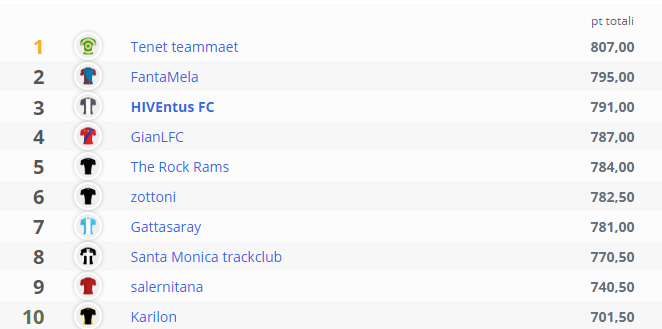 ---
Gli allenatori, in ordine di classifica, sono:
Ed ecco di seguito il grafico che mostra l'andamento delle posizioni in classifica giornata dopo giornata.
---
Grafico dell'andamento delle posizioni in classifica
---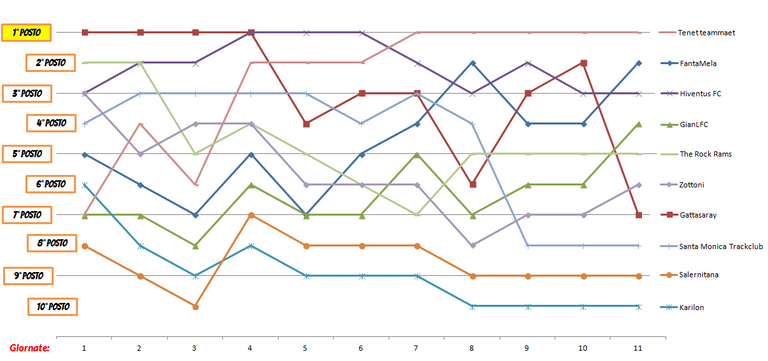 ---
Descrizione Grafico:
Sull'asse delle x ci sono le giornate indicate dai rispettivi numeri.
Ogni riga del grafico corrisponde ad una determinata posizione della classifica e la prima riga partendo dall'alto indica il primo posto, all'interno di ogni coppia di righe ci sono le posizioni di numero pari (2° posto, 4° posto...).
Ogni squadra è identificata da una linea di un colore preciso che permette di seguire facilmente l'andamento, giornata dopo giornata, della posizione in classifica.
Sulla destra ci sono i nomi delle squadre partecipanti al fantacalcio e ogni linea termina vicino al nome della squadra corrispondente.
Se la scorsa giornata è stata una giornata statica per quanto riguarda le posizioni in classifica, l'undicesima giornata ha riservato molte sorprese e quattro posizioni hanno un nuovo occupante.
La fantasquadra Gattasaray dopo una portentosa risalita crolla e scende di ben 5 posizioni in classifica.
Una discesa repentina che farebbe venire le vertigini al più esperto degli scalatori ma la squadra Gattasaray rimane un'ottima squadra e le giornate sfortunate capitano a tutti. Sono sicuro che la rivedremo presto nelle prime posizioni.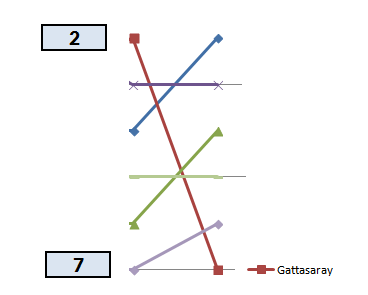 ---
Se Gattasaray scende, fanno esattamente il contrario e salgono in classifica di 2 posizioni le squadre FantaMela e GianLFC.
Migliora la sua classifica anche la squadra Zottoni che abbandona il settimo posto per approdare al sesto posto.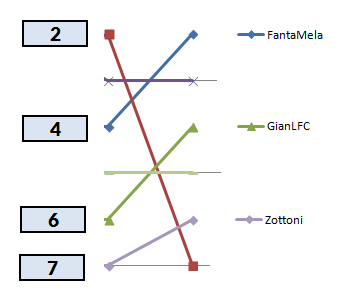 ---
La squadra Tenet teammaet consolida la sua prima posizione.
Sono cinque giornate di fila che è al primo posto e il suo andamento in classifica è sempre più simile al viaggio di un treno che percorre a tutta velocità su un binario senza curve.

---
Le altre posizioni in classifica rimangono invariate.
---
Tabella del distacco punti dalla prima posizione
---
Nella tabella seguente c'è il distacco in punti che separa ogni squadra dal primo posto.
---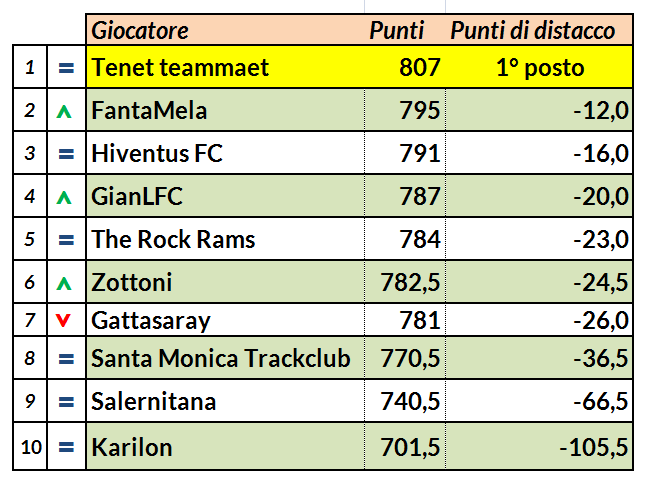 ---
Per la quinta giornata consecutiva il primo posto è di Tenet teammaet che però vede aumentare il suo vantaggio sulla seconda in classifica di 10,5 punti rispetto alla giornata precedente.
Alla fine della decima giornata Gattasaray era a solo 1,5 punti di distacco dalla squadra di @serialfiller.
12 punti di vantaggio sono un buon margine ma mancano ancora 27 giornate e tutto può ancora succedere.
Le squadre dalla seconda alla sesta posizione sono racchiuse in un range di punti di 12,5.
---
Il miglior risultato della undicesima giornata
---
Il miglior risultato dell'undicesima giornata lo ottiene la squadra FantaMela che mette a segno un punteggio di 81,50 punti.
---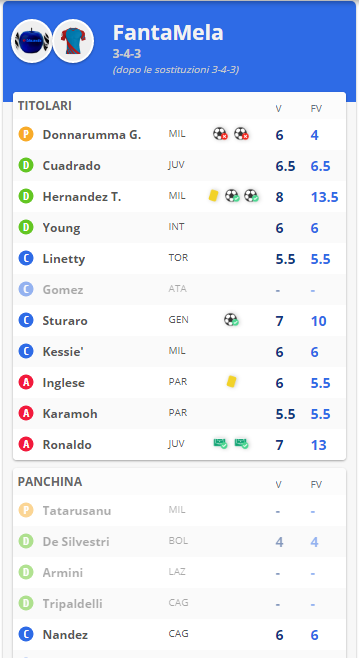 ---
Il punteggio della squadra di @blumela è spinto in alto dalle super prestazioni di:
Ronaldo (FV 13): 2 gol
Hernandez T. (FV 13,5): 2 gol - 1 ammonizione (-0,5)
Sturaro (FV 10): 1 gol
L'allenatore @blumela schiera due dei tre marcatori della partita:
Genoa - Juventus 1-3
Il resto lo fa Hernandez T. che salva la sua squadra dalla prima sconfitta stagionale in campionato contro un Parma un pò fortunato considerate le tante occasioni che ha avuto il Milan.
---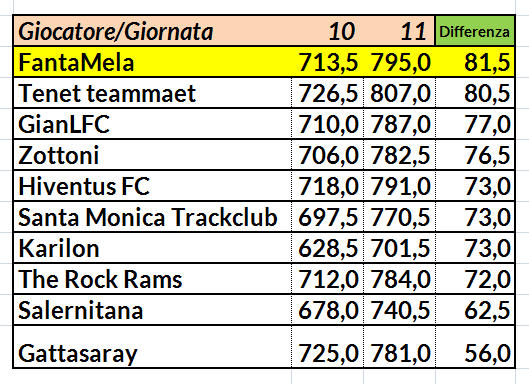 ---
Le altre ottime prestazioni dell'undicesima giornata
(70 punti+)
---
E' stata una giornata con punteggi sopra la media per la maggior parte delle squadre della competizione.
Infatti 8 squadre su 10 superano il punteggio di 70 punti e due squadre sfondano la barriera degli 80 punti.
Ecco di seguito l'elenco delle squadre che realizzano un'ottima prestazione di giornata e riescono a superare la soglia dei 70 punti:
Tenet teammaet (80.5)
GianLFC (77)
Zottoni (76.5)
HIVEntus FC (73)
Santa Monica Trackclub (73)
Karilon (73)
The Rock Rams (72)
---
Considerazioni finali sull'undicesima giornata
---
La mini fuga in solitaria di @serialfiller della decima giornata si è trasformata in una fuga vera e propria dopo la undicesima giornata.
L'allenatore dimostra di essere un conoscitore soprattutto di talenti e l'aver puntato su Zaccagni del Verona è una prova della sua bravura.
Riusciranno gli inseguitori ad accorciare la distanza dal primo classificato?
Riuscirà Tenet teammaet a difendere il primo posto per la sesta giornata di fila?
Ci saranno nuovi sconvolgimenti delle posizioni in classifica?
Lo scopriremo molto presto perchè la giornata numero 12 del campionato di Serie A inizia già domani e giovedì 17 dicembre avremo tutte le risposte...
Vincere è bello ma partecipare è più importante e lo è ancora di più divertirsi e giocando al Fantacalcio di Olio di Balena il divertimento è assicurato ;)
Nota: è ancora possibile aggiungersi anche se a competizione in corso e l'iscrizione è aperta a tutti. Chi fosse interessato può contattare il sempre bravo e competente @poliwalt10
Canale Discord Comunità Olio di Balena: https://discord.gg/2uzUZYMBNz
Chi entra adesso avrà un punteggio totale di 726 punti (66 punti * 11 giornate).
---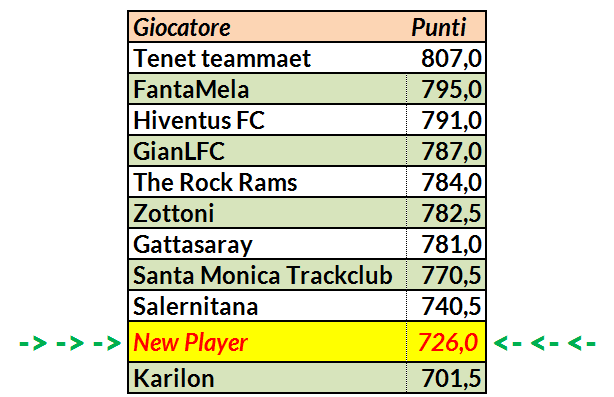 ---
Spero che questo mio post vi sia piaciuto e auguro a tutti una buona giornata ;)
---
La seconda e la quinta immagine sono screenshots presi dal sito:
https://leghe.fantacalcio.it/
Le altre immagini sono di mia proprietà e il font utilizzato è open source
---

---

---
Fantasy Football Olio di Balena: Results, Statistics and Considerations - Day 11
---
Hello friends,
the fantasy football of the community of Olio di Balena has arrived at the day number 11.
It has been an eventful day that has produced surprises and overtakes in the standings except for the first team in the standings that seems unstoppable.
Let's go immediately to see the updated ranking after the conclusion of the 11th day:
---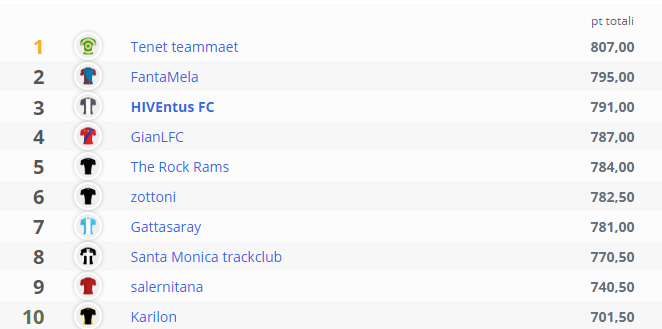 ---
The coaches, in order of ranking, are:
The participants are all Hive users except max57198.
And here is the chart below showing the trend of the ranking positions day by day.
---
Chart of the trend of the positions in the ranking
---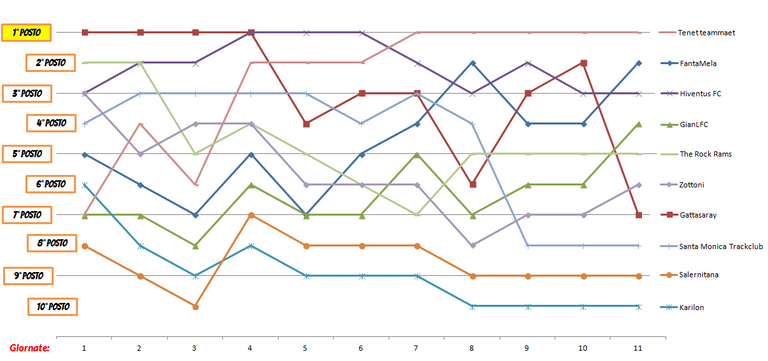 ---
Description Chart:
On the x-axis there are the days indicated by the respective numbers.
Each line of the graph corresponds to a specific position in the ranking and the first line from the top indicates the first place, within each pair of lines there are even numbered positions (2nd place, 4th place ...).
Each team is identified by a line of a precise color that allows you to easily follow the trend, day after day, of the position in the ranking.
On the right are the names of the teams participating in fantasy footbal and each line ends near the name of the corresponding team.
If last day was a static day in terms of the positions in the ranking, the eleventh day has reserved many surprises and four positions have a new occupant.
The fantasy team Gattasaray, after a portentous rise, collapses and falls 5 positions in the ranking.
A sudden descent that would make the most experienced climber dizzy, but the Gattasaray team remains a very good team and bad days happen to everyone. I'm sure we'll see it again soon in the top positions.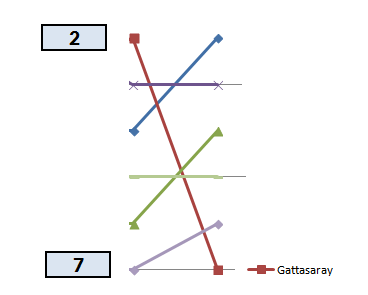 ---
If Gattasaray goes down, they do exactly the opposite and the FantaMela and GianLFC teams go up in the ranking by 2 positions.
The Zottoni team also improves its ranking, dropping from seventh place to sixth place.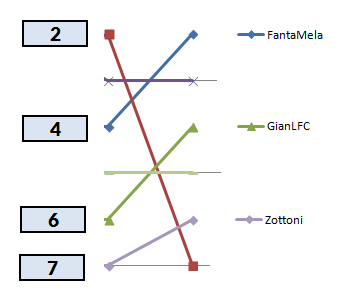 ---
The Tenet teammaet consolidates its first position.
It has been in first place for five matches in a row and its progress in the leaderboard is more and more similar to the journey of a train running at full speed on a track without curves.

---
The other positions in the rankings remain unchanged.
---
Table of the points detachment from the first position
---
In the following table there is the distance in points that separates each team from the first place.
---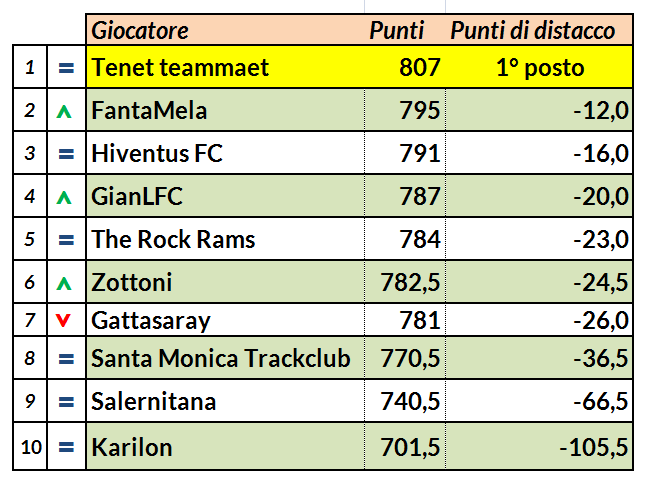 ---
For the fifth day in a row the first place is held by Tenet teammaet that, however, sees its advantage over the second in the ranking increase by 10.5 points compared to the previous day.
At the end of the tenth day Gattasaray was only 1.5 points behind the team of @serialfiller.
12 points of advantage is a good margin but there are still 27 days left and anything can still happen.
Teams from second to sixth position are enclosed in a point range of 12.5.
---
The best result of the tenth day
---
The best result of the eleventh day is obtained by the team FantaMela that scores 81,50 points.
---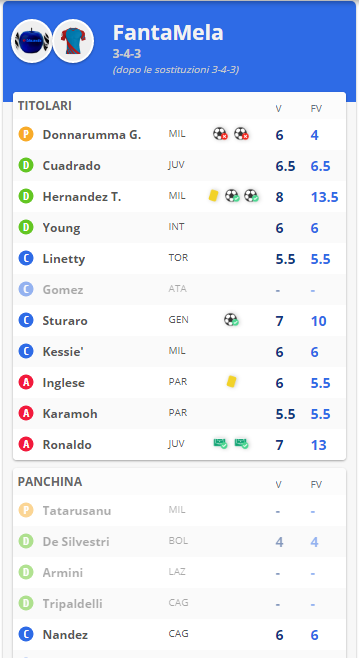 ---
Team @blumela's score is pushed up by super performances from:
Ronaldo (FV 13): 2 goals.
Hernandez T. (FV 13.5): 2 goals - 1 caution (-0.5)
Sturaro (FV 10): 1 goal
Coach @blumela fields two of the game's three goal scorers:
Genoa - Juventus 1-3
The rest is done by Hernandez T. who saves his team (Milan) from the first defeat of the season against Parma, a bit lucky considering the many chances Milan had.
---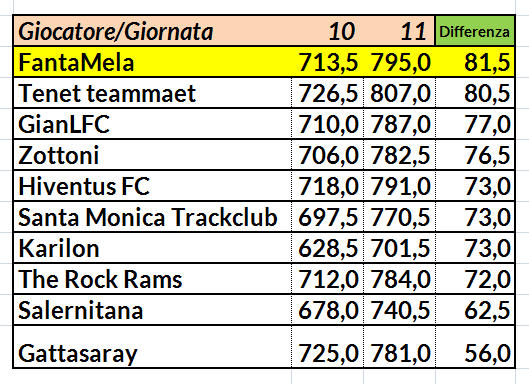 ---
The other excellent performances of the eleventh day
(70 points+)
---
It was an above average day for most of the teams in the competition.
In fact, 8 out of 10 teams exceeded the 70-point mark and two teams broke through the 80-point barrier.
Here is the list of the teams that make a great performance of the day and manage to exceed the threshold of 70 points:
Tenet teammaet (80.5)
GianLFC (77)
Zottoni (76.5)
HIVEntus FC (73)
Santa Monica Trackclub (73)
Karilon (73)
The Rock Rams (72)
---
Final considerations about the eleventh day
---
The mini solo flight of @serialfiller of the tenth day has turned into a real flight after the eleventh day.
The coach proves to be a connoisseur of talents and having bet on Zaccagni of Verona is a proof of his skill.
Will the rivals be able to shorten the distance from the first place?
Will @serialfiller be able to defend first place for the sixth day in a row?
Will there be new changes in the ranking positions?
We'll find out very soon because day number 12 of the Serie A championship starts tomorrow and Thursday, December 17 we'll have all the answers...
Winning is nice but participating is more important and it's even more important to have fun and playing at the Olio di Balena fantasy footbal the fun is assured ;)
Note: it is still possible to join even if the competition is in progress and registration is open to all. Those interested can contact the always good and competent @poliwalt10
Channel Discord Community Olio di Balena: https://discord.gg/2uzUZYMBNz
Those who enter now will have a total score of 726 points (66 points * 11 days).
---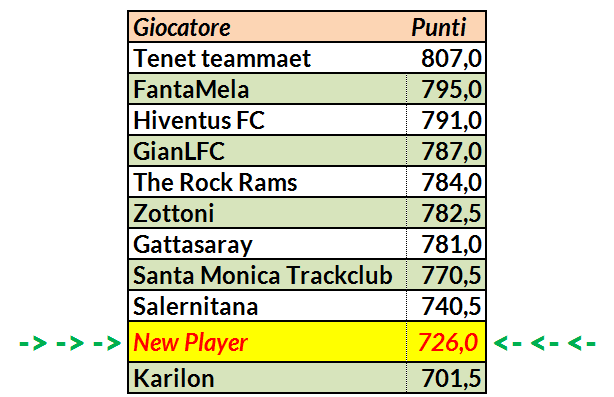 ---
I hope you liked this post of mine and I wish everyone a good day ;)
---
The second and the fifth image are screenshots taken from the site:
https://leghe.fantacalcio.it/
The other images are my property and the font used is open source
---

---