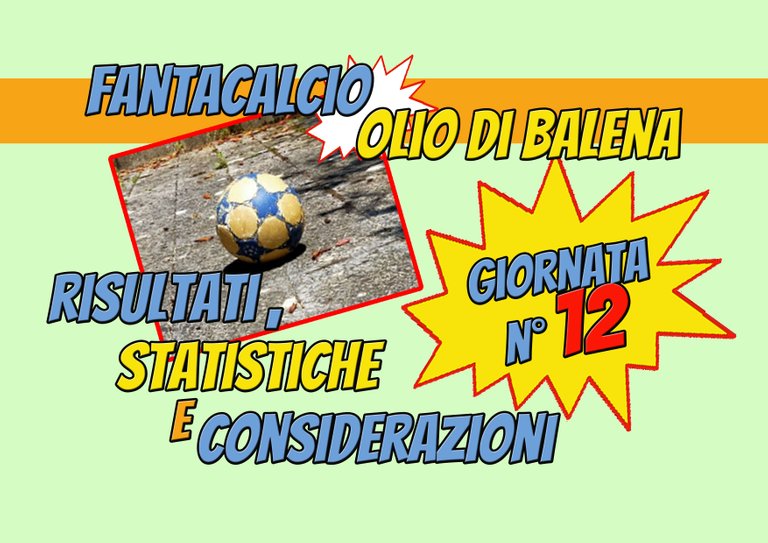 Image owned and edit by @libertycrypto27- Font used is Open Source
---
Ciao amici,
il campionato di Serie A viaggia ad una velocità elevata, si gioca ogni tre giorni e questo ritmo durerà fino al 10 gennaio del 2021.
A viaggiare ad alta velocità non è solo il campionato di calcio italiano ma anche la squadra Tenet teammaet del Fantacalcio della comunità di Olio di Balena che continua a guardare tutti dall'alto e mantiene la prima posizione per la sesta giornata consecutiva.
Con la sfida serale del lunedì tra Roma e Torino conclusa con il risultato di 3 a 1 per la squadra allenata da Fonseca si è conclusa la giornata numero 12 anche del Fantacalcio.
E' stata una giornata movimentata che ha prodotto ben sei cambi di posizioni in classifica.
Ma adesso andiamo subito a vedere la classifica aggiornata dopo la conclusione della dodicesima giornata:
---
---
Gli allenatori, in ordine di classifica, sono:
Di seguito c'è il grafico che mostra l'andamento delle posizioni in classifica giornata dopo giornata.
---
Grafico dell'andamento delle posizioni in classifica
---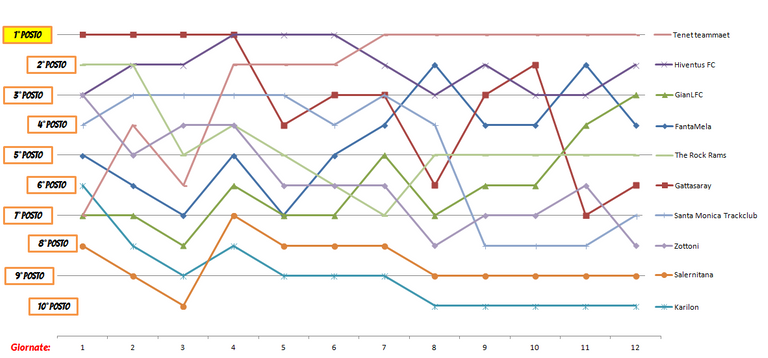 ---
Descrizione Grafico:
Sull'asse delle x ci sono le giornate indicate dai rispettivi numeri.
Ogni riga del grafico corrisponde ad una determinata posizione della classifica e la prima riga partendo dall'alto indica il primo posto, all'interno di ogni coppia di righe ci sono le posizioni di numero pari (2° posto, 4° posto...).
Ogni squadra è identificata da una linea di un colore preciso che permette di seguire facilmente l'andamento, giornata dopo giornata, della posizione in classifica.
Sulla destra ci sono i nomi delle squadre partecipanti al fantacalcio e ogni linea termina vicino al nome della squadra corrispondente.
L'undicesima giornata aveva prodotto quattro cambi di posizione in classifica. La dodicesima giornata ha invece prodotto 6 cambi in classifica.
In testa alla classifica c'è sempre la squadra dell'allenatore @serialfiller che con un'ottima prestazione di giornata mantiene inalterato il suo vantaggio sulla seconda in classifica (+12 punti) e quindi mantiene saldamente il possesso della prima posizione.

Continua invece il dinamismo delle successive tre posizioni in classifica (2-3-4).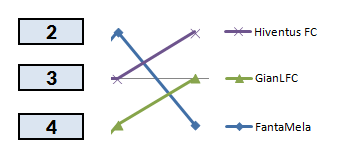 La squadra FantaMela lascia il secondo posto alla squadra HIVEntus FC e scivola al quarto posto mentre GianLFC continua la sua scalata alle posizioni di vertice e approda per la prima volta alla terza posizione.
Al quinto posto c'è la squadra The Rock Rams di @poliwalt10 che mantiene la quinta posizione da 5 giornate consecutive.

Guardate adesso il cambio di posizioni avvenuto dalla sesta all'ottava posizione.
E' praticamente identico al cambio di posizioni avvenuto dalla seconda alla quarta classificata.

La squadra zottoni dopo il secondo miglior punteggio ottenuto nell'undicesima giornata scivola all'ottavo posto.
Santa Monica Trackclub e Gattasaray risalgono di una posizione.

---
Nessun cambio nelle ultime due posizioni della classifica: la Salernitana rimane al nono posto e Karilon chiude la classifica al decimo posto.
---
Tabella del distacco punti dalla prima posizione
---
Nella tabella seguente c'è il distacco in punti che separa ogni squadra dal primo posto.
---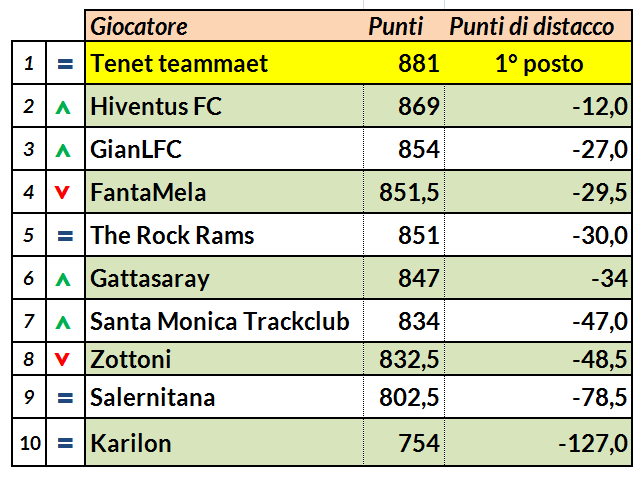 ---
Il distacco tra la prima e la seconda posizione rimane invariato rispetto alla scorsa giornata (+12).
Cambia solo l'occupante della seconda posizione che lunedì scorso era FantaMela e adesso è invece HIVEntus FC.
Quello che cambia è invece il distacco tra le posizioni dalla seconda all'ottava posizione.
Dopo l'undicesima giornata le squadre dalla seconda alla sesta posizione erano racchiuse in un range di punti di 12,5.
Dopo la dodicesima giornata si sono formati quattro blocchi:
Posizioni 1 e 2: distacco 12 punti
Posizioni 3,4,5,6 racchiuse in un range di 7 punti. La terza classificata è a 15 punti dalla seconda classificata.
Posizioni 7,8 separate da 1,5 ma con un distacco di 13 e 14,5 punti dalla sesta classificata.
Posizioni 9,10 sempre più distaccate dalle altre posizioni.
---
Il miglior risultato della dodicesima giornata
---
Il miglior risultato della dodicesima giornata lo ottiene per la prima volta la mia squadra HIVEntus FC che mette a segno un punteggio di 78 punti.
---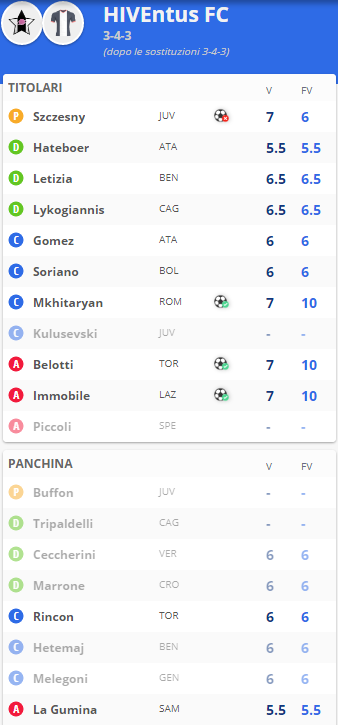 ---
Ottengo un buon punteggio grazie soprattutto alle ottime prestazioni di:
Mikhitaryan (FV 10): 1 gol
Belotti (FV 10): 1 gol
Immobile (FV 10): 1 gol
L'ultima sessione di mercato ha fatto decisamente bene alla mia squadra che ha acquistato più continuità con le sostituzioni di Immobile per Zapata e Mikhitaryan per Pulgar.
---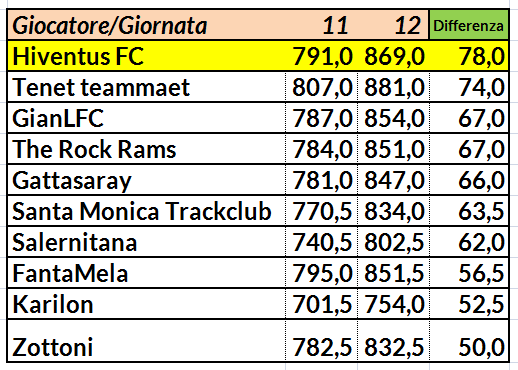 ---
Le altre ottime prestazioni della dodicesima giornata
(70 punti+)
---
E' stata una giornata con punteggi sotto la media per la maggior parte delle squadre della competizione.
Solo 2 squadre su 10 superano il punteggio di 70 punti:
HIVEntus FC (78)
Tenet teammaet (74)
Tre squadre totalizzano un punteggio inferiore ai 60 punti:
FantaMela (56,5)
Karilon (52,5)
Zottoni (50)
Ed ecco spiegato il motivo per cui si sono creati 4 blocchi in classifica.
---
Considerazioni finali sulla dodicesima giornata
---
La fuga in solitaria di @serialfiller continua senza soste o intoppi.
12 punti di vantaggio non sono pochi ma neanche molti e mancano ancora 26 giornate alla fine del campionato di Serie A e tutto è ancora da decidere e qualsiasi pronostico sarebbe avventato...
Riusciranno gli inseguitori ad accorciare la distanza dal primo classificato?
Riuscirà Tenet teammaet a difendere il primo posto per la settima giornata di fila?
Ci saranno nuovi cambi nelle posizioni in classifica?
Lo scopriremo molto presto perchè la giornata numero 13 del campionato di Serie A è alle porte e la prima partita si gioca già domani...
Vincere è bello ma partecipare è più importante e lo è ancora di più divertirsi e giocando al Fantacalcio di Olio di Balena il divertimento è assicurato ;)
Nota: è ancora possibile aggiungersi anche se a competizione in corso e l'iscrizione è aperta a tutti. Chi fosse interessato può contattare il sempre bravo e competente @poliwalt10
Canale Discord Comunità Olio di Balena: https://discord.gg/2uzUZYMBNz
Chi entra adesso avrà un punteggio totale di 792 punti (66 punti * 11 giornate).
---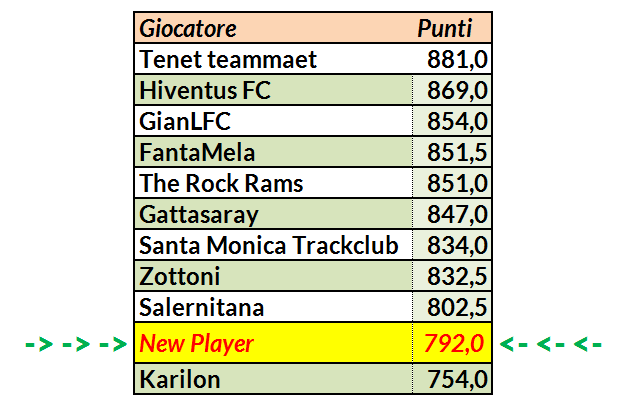 ---
Spero che questo mio post vi sia piaciuto e auguro a tutti una buona giornata ;)
---
La seconda e la nona immagine sono screenshots presi dal sito:
https://leghe.fantacalcio.it/
Le altre immagini sono di mia proprietà e il font utilizzato è open source
---

---

---
Fantasy Football Olio di Balena: Results, Statistics and Considerations - Day 12
---
Hello friends,
the Serie A championship runs at a high speed, it is played every three days and this pace will continue until January 10, 2021.
Running at high speed is not only the Italian soccer league but also the Tenet teammaet team of the [Olio di Balena] community fantasy football (https://peakd.com/c/hive-146620/created) that continues to watch everyone from above and maintains the first position for the sixth consecutive day.
With the Monday evening challenge between Roma and Torino ended with the result of 3 to 1 for the team coached by Fonseca, also ended the day number 12 of Fantasy Football.
It was an eventful day that produced six changes of positions in the leaderboard.
But now let's go straight to the updated leaderboard after the conclusion of the 12th day:
---
---
The coaches, in order of ranking, are:
Below is the chart showing the progression of positions in the standings day by day.
---
Chart of the trend of the positions in the standings
---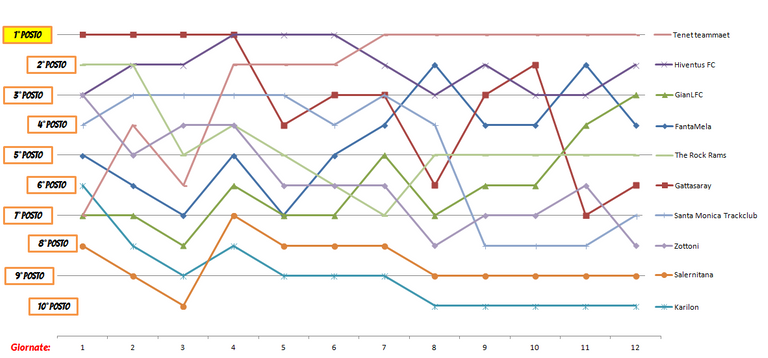 ---
Description Chart:
On the x-axis there are the days indicated by the respective numbers.
Each line of the graph corresponds to a specific position in the ranking and the first line from the top indicates the first place, within each pair of lines there are even numbered positions (2nd place, 4th place ...).
Each team is identified by a line of a precise color that allows you to easily follow the trend, day after day, of the position in the standings.
On the right are the names of the teams participating in fantasy soccer and each line ends near the name of the corresponding team.
The eleventh day had produced four changes of position in the ranking. On the other hand, the twelfth day has produced 6 changes in the ranking.
At the top of the ranking there is always the team of the coach @serialfiller that with an excellent performance of the day maintains its advantage over the second in the ranking (+12 points) and therefore keeps solidly the possession of the first position.

Instead, the dynamism of the next three positions in the ranking (2-3-4) continues.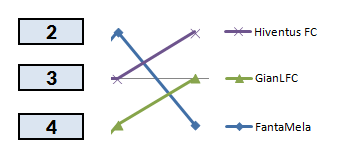 The team FantaMela leaves the second place to the team HIVEntus FC and slips to the fourth place while GianLFC continues its escalation to the top positions and arrives for the first time at the third position.
At the fifth place there is the team The Rock Rams of @poliwalt10 that keeps the fifth position since 5 consecutive days.

Now look at the change in positions that took place from sixth to eighth.
It is practically identical to the change of positions that took place from second to fourth place.

The zottoni team after the second best score on day 11 slips to eighth place.
Santa Monica Trackclub and Gattasaray move up one position.

---
No change in the last two positions of the rankings: Salernitana remains in ninth place and Karilon closes the rankings in tenth place.
---
Table of the points gap from the first position
---
In the following table there is the gap in points that separates each team from the first place.
---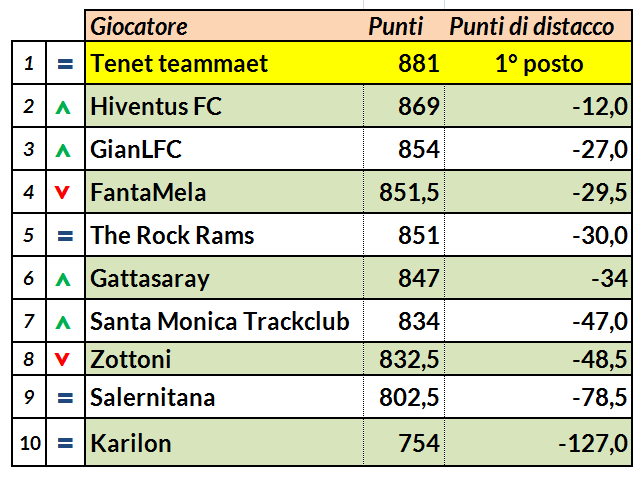 ---
The gap between the first and second position remains unchanged from last day (+12).
Only the occupant of the second position has changed: last Monday it was FantaMela and now it is HIVEntus FC.
What changes is the gap between the positions from second to eighth.
After the eleventh day, the teams from the second to the sixth position were within a points range of 12,5.
After the twelfth day, four blocks were formed:
Positions 1 and 2: gap 12 points
Positions 3,4,5,6 enclosed in a range of 7 points. The third place finisher is 15 points behind the second place finisher.
Positions 7,8 separated by 1.5 but with a gap of 13 and 14.5 points from the sixth place finisher.
Positions 9,10 increasingly distant from the other positions.
---
The best result of the twelfth day
---
The best result of the twelfth day is obtained for the first time by my team HIVEntus FC that scores 78 points.
---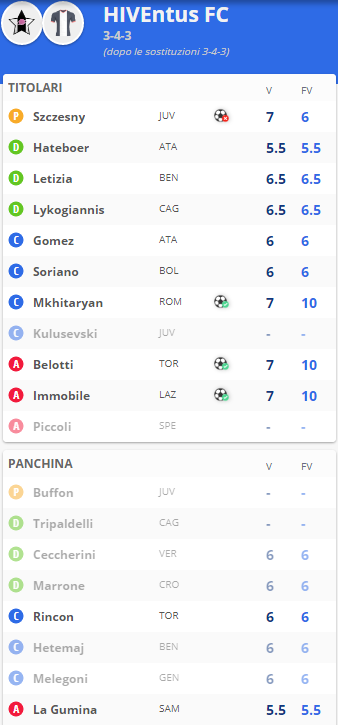 ---
I get a good score thanks mainly to the excellent performances of:
Mikhitaryan (FV 10): 1 goal
Belotti (FV 10): 1 goal
Immobile (FV 10): 1 goal
The last market session has definitely done well for my team that has acquired more continuity with the substitutions of Immobile in place of Zapata and Mikhitaryan in place of Pulgar.
---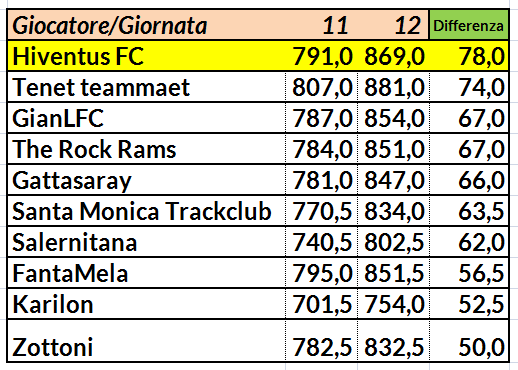 ---
The other excellent performances of the twelfth day
(70 points+)
---
It was a day of below average scores for most teams in the competition.
Only 2 out of 10 teams exceeded the 70 points mark:
HIVEntus FC (78).
Tenet teammaet (74).
Three teams score below 60 points:
FantaMela (56.5).
Karilon (52.5)
Zottoni (50)
And that explains why 4 blocks were created in the rankings.
---
Final thoughts on the twelfth day
---
The solo escape of @serialfiller continues without stops or hiccups.
12 points are not few but not many and there are still 26 days to the end of the Serie A championship and everything is still to be decided and any prediction would be rash...
Will the followers be able to shorten the distance from the first place?
Will Tenet teammaet be able to defend the first place for the seventh day in a row?
Will there be new changes in the ranking positions?
We will find out very soon because the day number 13 of the Serie A championship is coming up and the first match will be played tomorrow...
Winning is nice but participating is more important and it's even more important to have fun and playing at Olio di Balena Fantacalcio the fun is assured ;)
**Note: it is still possible to join even if the competition is in progress and registration is open to all. Those interested can contact the always good and competent @poliwalt10
Channel Discord Community Olio di Balena: https://discord.gg/2uzUZYMBNz
Those who enter now will have a total score of 792 points (66 points * 12 days).
---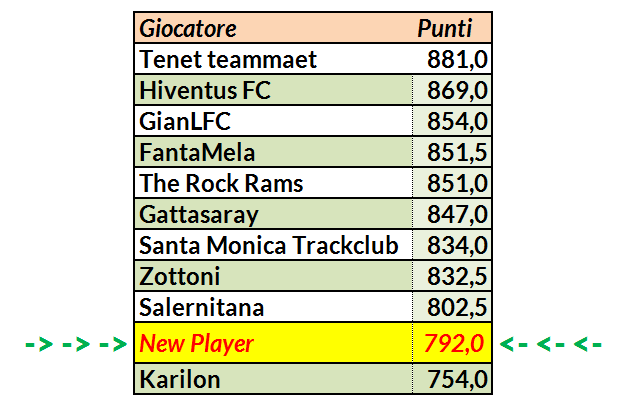 ---
I hope you enjoyed this post of mine and I wish everyone a good day ;)
---
The second and the ninth image are screenshots taken from the site:
https://leghe.fantacalcio.it/
The other images are my property and the font used is open source
---

---