Hello Splinterland warriors!
How are you all i hope you will be fine and blessed today i am here again with another splinterland post in which i am going to share the daily quest rewards and a new card belongs to the neutral family the halfin alchemist.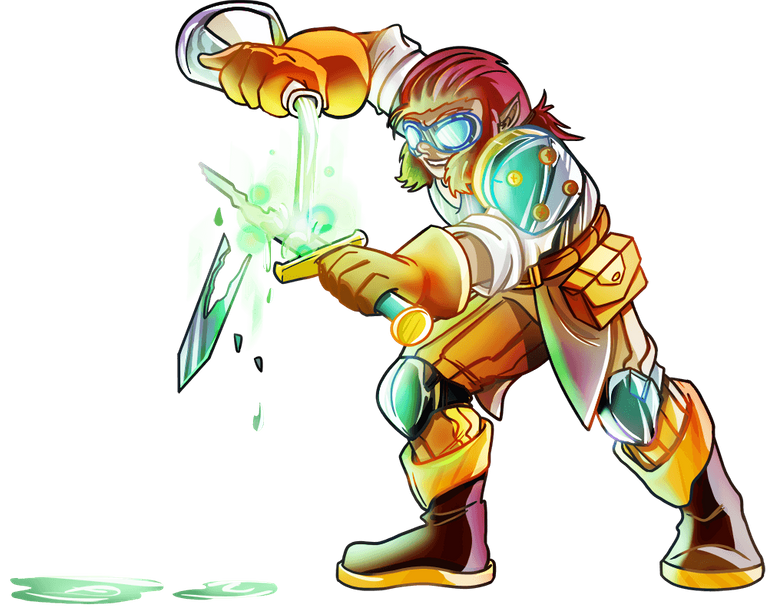 Where did the Halflings come from? Did they sail from across the Outers, did they dig up through the ground, or did they simply fall from the sky? No one knows for certain; the Halflings have been less than forthcoming when answering questions of their past.
Read more
When i got this card from airdrop like round about of 3 BCX that time i did not know much about this card and was thinking that this is a useless range attack card with low mana that needs to be used in little leagues and sometimes for filling the space. But latter i realize that once i used this monster in my team and watching the battle with focus on each card then i saw the attack of this halfin alchemist that reduce and half the attack of the enemy monster and it was i think Goblin mech and the melee attack was turned to 3 from 6 when hit by this monster then i started using this monster in most of my battles and especially i am using this monster in my alt account because i am playing in bronze and silver league with that id.

STATS AND ABILITIES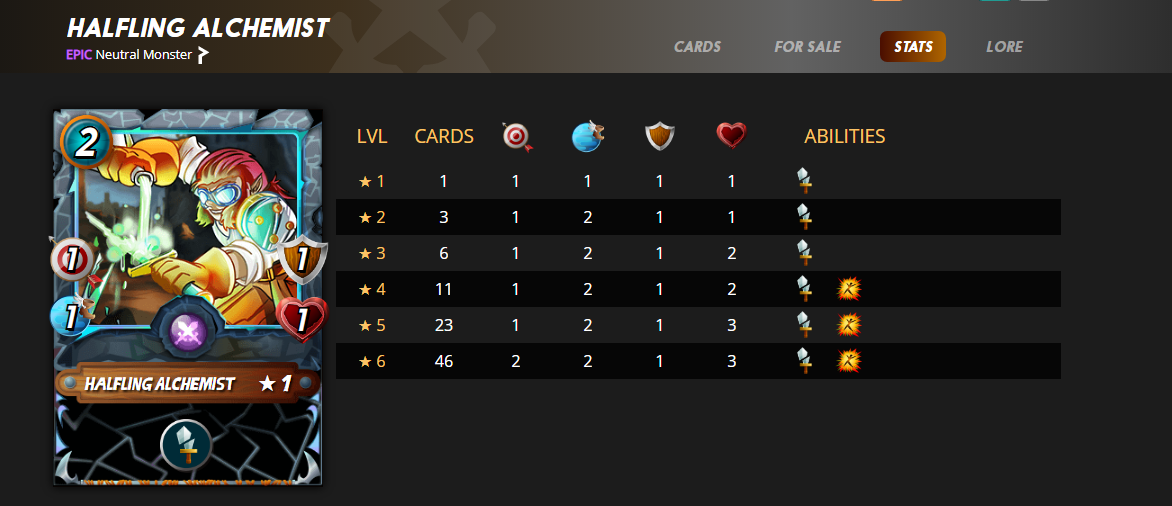 Even the halving ability that you can get at level 1 from this monster that is really awesome because you don't need to upgrade it to get this ability. However, the redemption ability you can get at level 4 that one is also good but for that you need high upgraded summoners in which you can easily use this monster at level 4 not only this monster but all epic monster at level 4 so that would be nice for you to get both the abilities from this little monster. This is also an expensive monster like round about worth of 1$ card for a single BCX but almost most of the players got this from the airdropped.

TORTISIAN CHIEF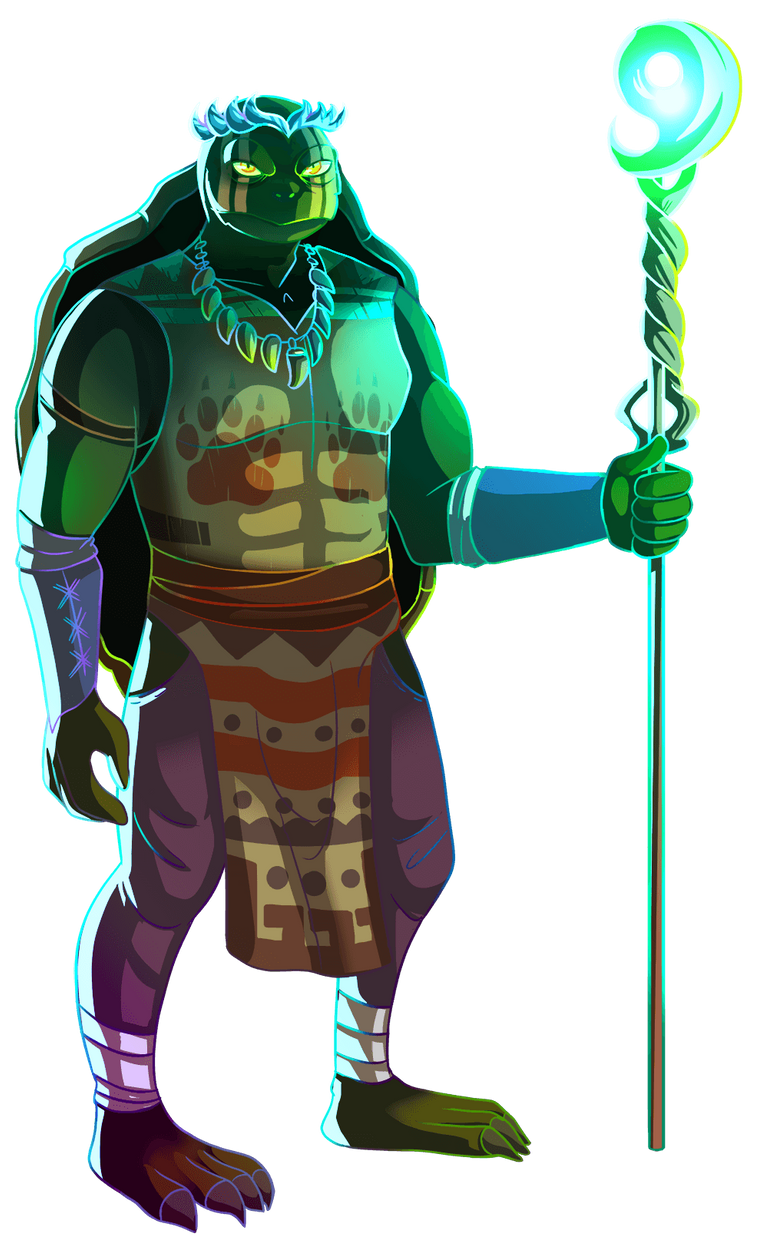 Most of the Totisians (turtle people) live in Azmaré, but there are many wandering clans looking for new homes throughout the Splinterlands as well. Each of these groups is led by a Chief who wears a silver crown and carries a large scepter.Read more
Here is one more epic neutral monster from the untamed edition that you can get from the untamed packs opening but only in rare packs because the ratio of getting epic and legendary is lower than the common and rare cards. I did not use this monster yet in my battles instead of one or two times in my battles just because of not upgraded yet but seems a nice monster that takes 5 mana, 5 lives and a single magic attack. But if you wanna use it in your battles with then better to upgrade it first to at least level 4 then you can get benefit from this monster because at level 4 you can get the healing ability from this monster that will restore the healing of your first friendly monster.

STATS AND ABILITIES

Here you can see all the information about this tortisian chief an epic neutral monster from the untamed edition. However, i will not prefer this card to use it in your team because there are lots of other monsters in each splinter that provides the healing ability so better to use them first other wise in rare cases we need to use this like in odd mana ruleset because this one is an odd mana monster that we can use when there is a ruleset that are allowing us only to use the odd mana monster.

QUEST REWARDS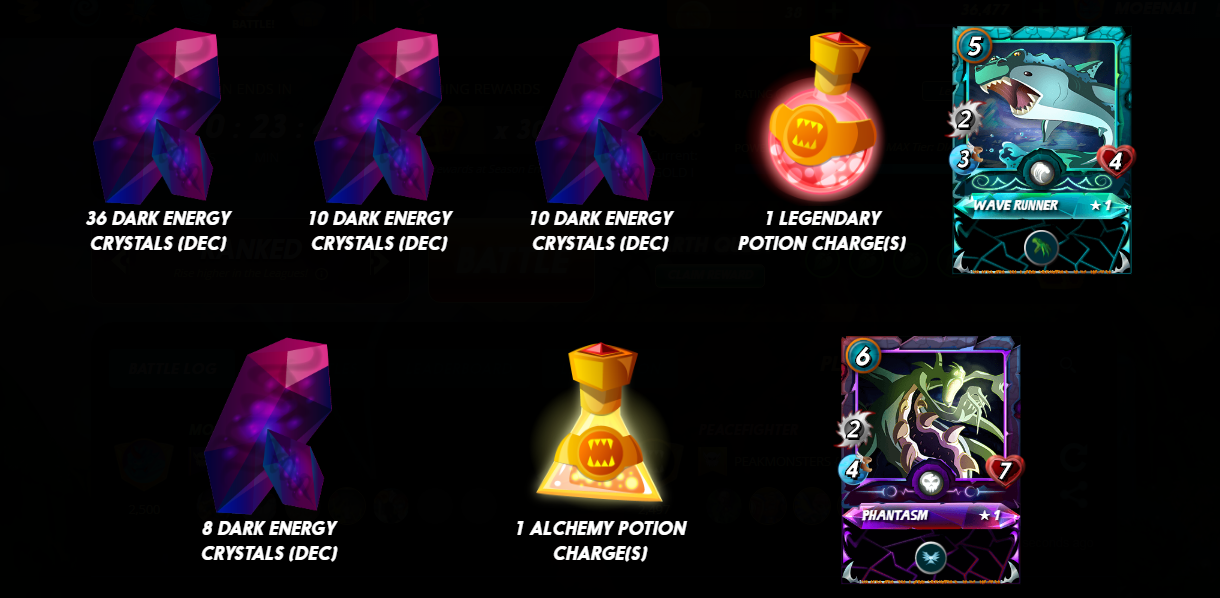 It was a quest with the earth splinter after a lot of time tha i easily completed in which i used mostly the nectar queen and the flesh golem with the orc sergant that gives us one extxra melee attack but i got lots of earthquake ruleset battles today that gives lot of losing but still happy that i claimed the quest rewards with the gold 1 league and got these rewards in which you can see only two common cards the one is wave runner and the other one is phantasm belongs to the death family. Also you can see many loot chest for the dec tokens but you can not find enough dec but only 30 and 10 like shit.
This is enough for today see you tomorrow will share another post and another card from the daily quest special thanks to @fedesox for the great support much love and stay blessed.


All images are from the Splinterlands website if you are new to this game then signup here to play the game click here for signup
---
---
Thanks For visiting my Blog
Best Regards @moeenali