Graphics & Photos; Thank you IrishCryptoGirl ♥♥♥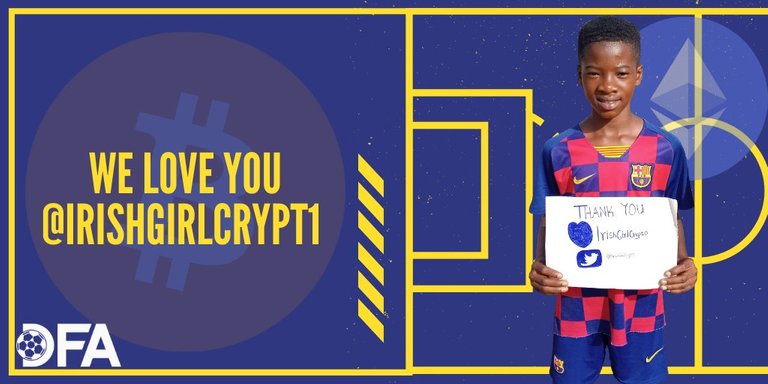 It all started when we wanted to promote our Twitter account to boost our Twitter followers and account attention. We DMed IrishGirl her because that's what she does, few mins after she checked our profile and noticed our account is a charity football academy for empowering kids leveraging blockchain tech. then she said she would do the promo without fees, we were blown away hearing this! She did it and our account grows by 1000+ followers!!!!
Furthermore, after we got back on session last Saturday we made a banner to show her appreciation (photos are attached below) and after seeing these photos she also gave us $20 worth of BTC.
---
📸
---
The text was written with a blue pen on a A4 paper containing word of appreciation and her Twitter handle and logo.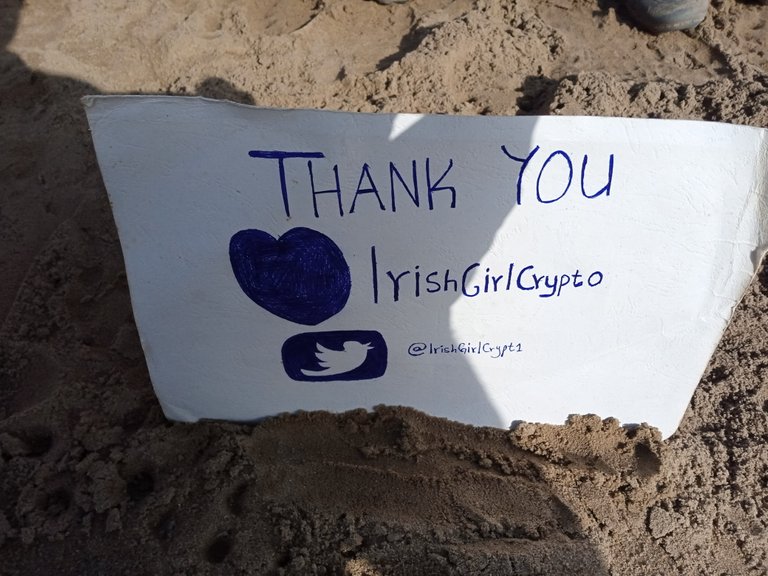 ---
📸
---
DFA team standing before the A4 banner.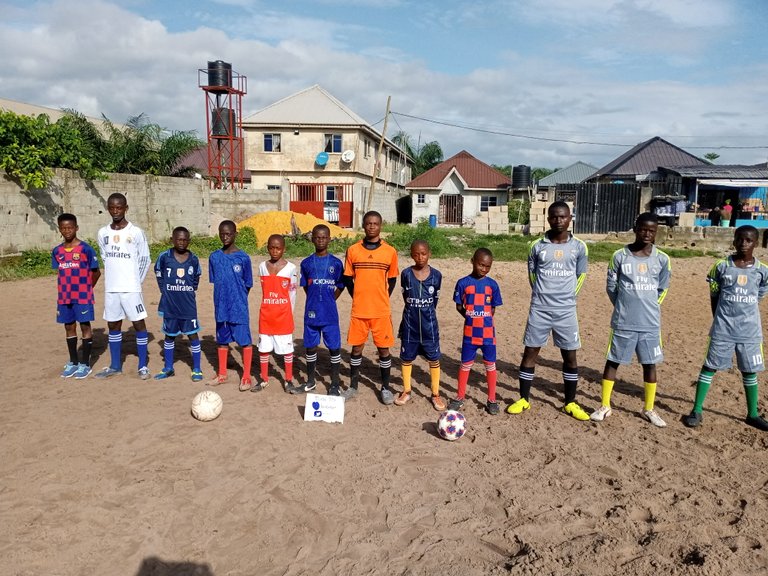 ---
📸
---
One of the students, Kelvin holding the banner among others.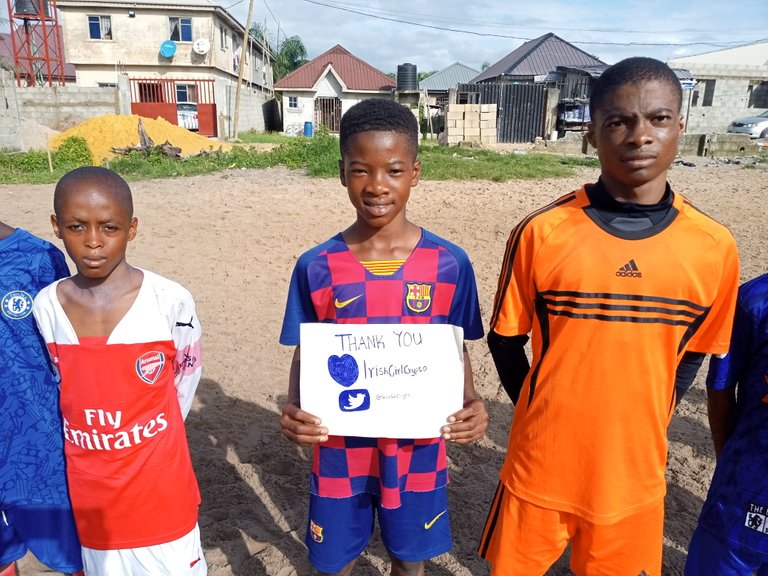 ---
📸
---
Two footballers (Wasiu and Biodun) from DFA in the same Chelsea jersey holding the banner.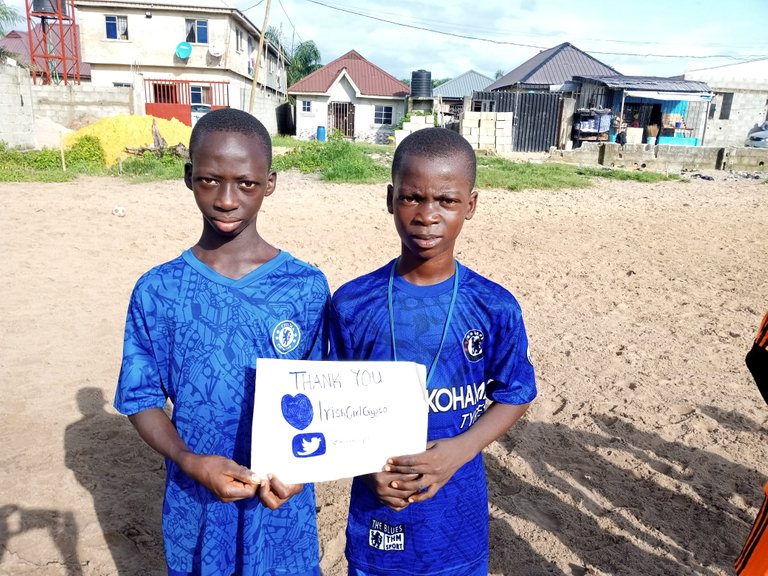 ---
📸
---
DFA twins (Kehinde and Taiwo) holding the banner.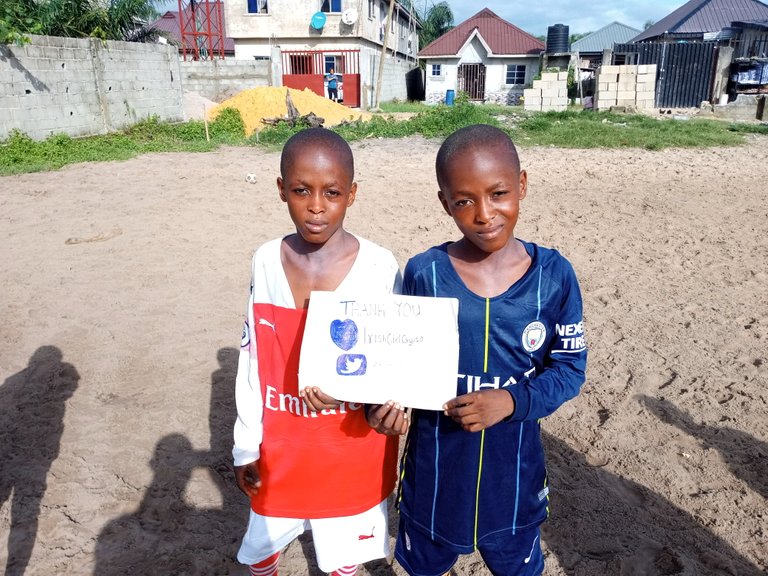 ---
📸
---
Three footballers (Habeeb, Evans, & John) in Real Madrid jersey holding the banner.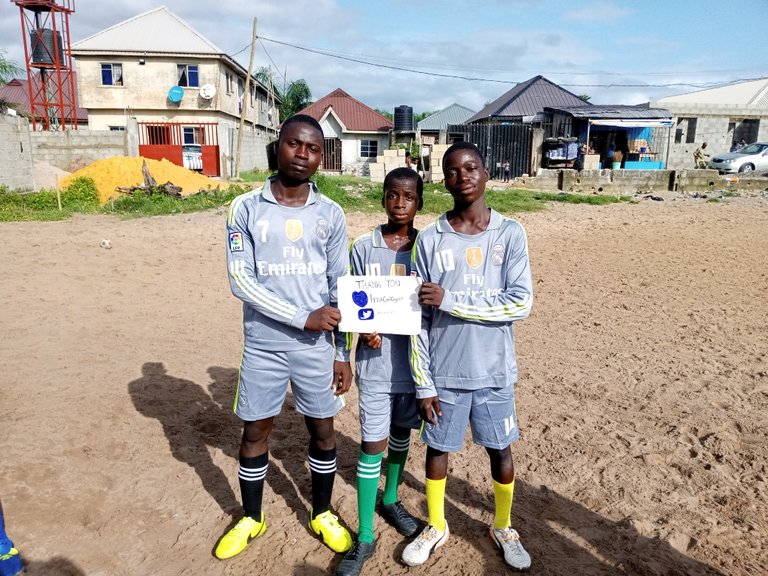 ---
Words cannot express how we feel, we can only show appreciation to https://twitter.com/IrishGirlCrypt1 for the astonishing support! Thank you very much IrishGirl

BONUS: Game Priority Order By Age Group
U6: fitness (movement education), technique, psychology, and tactics.
U8: technique, fitness, psychology, and tactics.
U10: technique, psychology, fitness, and tactics.
U12: technique, tactics, psychology, and fitness.
U14: technique, psychology, tactics, and fitness.
U16: tactics, psychology, fitness, and technique.
U19: tactics, fitness, psychology, and technique.
About DFA
If you are stumbling upon DFA (Decentralized Football Academy) for the first time, please check out our Introduction article and this Medium article to see our achievements.
PS: The reward from this post will be used to provide the footballers with full kits, new gear, partake in competitions, visit sports events, excursion, food accommodations, camps, and management for the team.

Thank you for viewing and supporting Decentralized Football Academy!


Earn free $USD surfing the web with the new Ad-Free Brave browser for at least 30 days.

🙌 Follow Us 🤝







---
---