Hi Everyone.
How are you all doing?
Today, I'm back again among you to share another one of my amazing splinterlands battles. In my today's post, I'm going to share a match of splinterlands played by me using a gigantic fire monster named The MOLTEN OGRE. I'm explaining about the card below.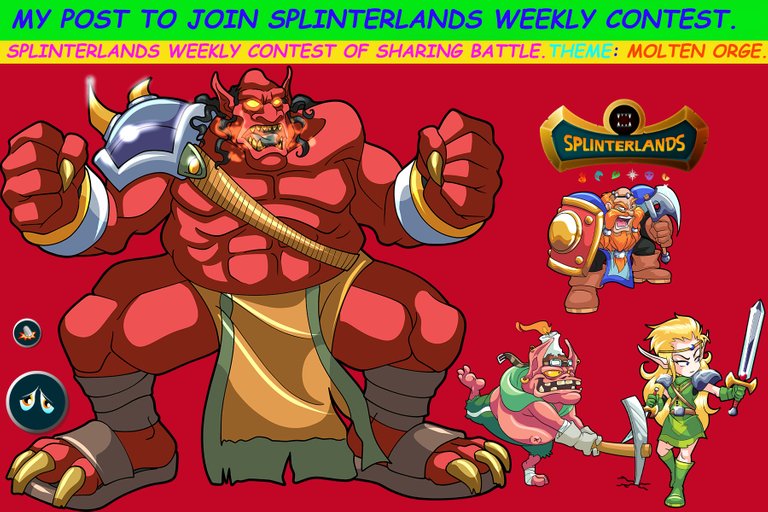 MOLTEN OGRE
The MOLTEN OGRE is a common monster that players under the Fire Splinter. This is a monster with melee attacking ability including huge damage ability. It's the Demoralize ability of this card that makes it so more amazing and powerful. The gigantic look and its super strong abilities match so perfectly. It's a perfect card to be used with The MALRIC INFERNO splinter.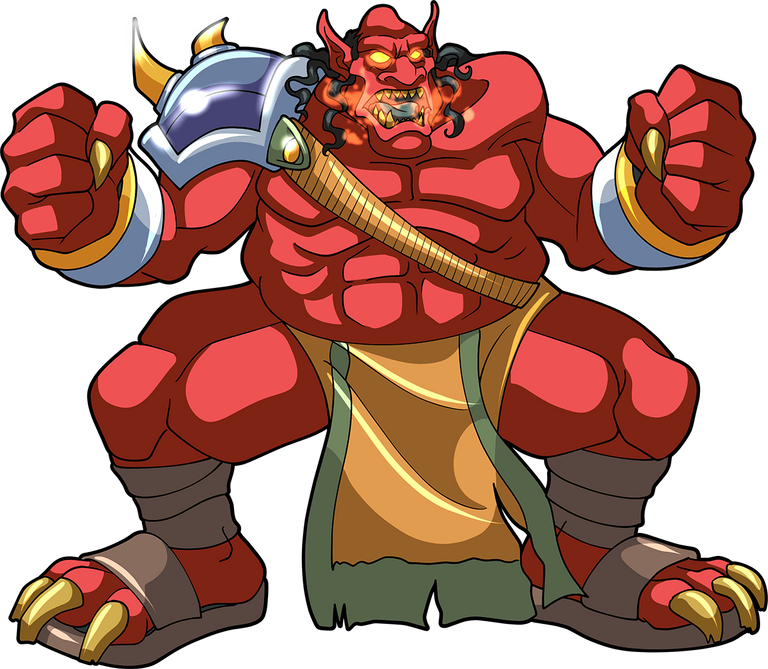 Demoralize: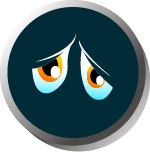 Explanation About This Card. From SPLINTERLANDS:
In the largest and deepest of the Flaming Caverns beneath Molten Mountain, there lives a race of Ogres that has been forged in fire. The Molten Ogres are called upon by the Torch for the grandest Ferexia military conquests. Unlike their smaller cousins, the Pit Ogres, who must be chained and dragged into service, Molten Ogres are willing and eager to march off to a bloody battle. Their incredible confidence, combined with their unparalleled strength cause many who face the Molten Ogres to run away in fear.
Stats of This Card.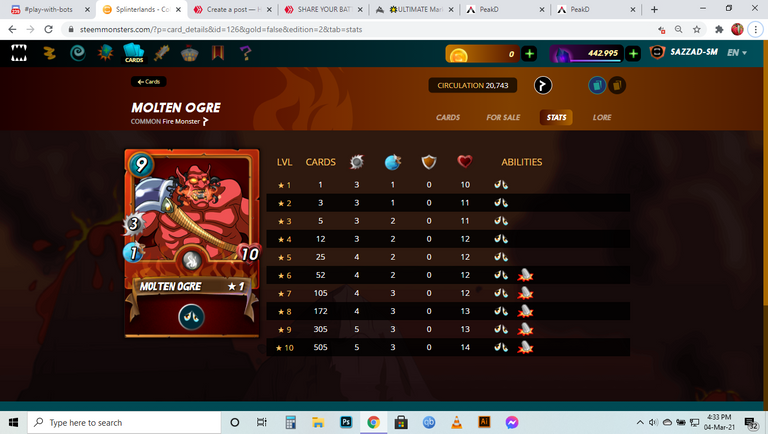 Before I go to the main topic of my today's content, I'd like to inform you about something amazing. Through this amazing thing is ongoing in this blockchain for more than 2 years maybe and I'm a part of it for 1.5 years. So, it's not something new but I think there's still someone who doesn't know about it or isn't a part of it yet.
This amazing thing is the ongoing contest of splinterlands. By now I guess most of you know what SPLINTERLANDS is. It's an online card game. Though it's not only a game, in here you can earn by playing, trade by buying and selling. You will also get amazing rewards in the daily quests and also in season-ending quests. This is one of the best card games that I've ever played. The fun thing is, there's a lot of cards/monsters to use in battle. And when I say a lot, I mean it. And all of them have their own specialty, separate types of powers and so many types of special abilities. There are even some summoners under those the cards play. These summoners also have their own ability which affects the battlefield. This is really amazing. This gives you the chance to think of hundreds of strategies for your battle. Believe me, once you start playing this game you'll fall in love with it.
All of these are my personal opinion about @splinterlands and their contest. And if you find it interesting, you are welcome to join SPLINTERLANDS. I'm also putting my referral link to make it easy for you to join if you want.
My Referral Link To Splinterlands
https://steemmonsters.com?ref=sazzad-sm
And my today's post is to join this week's contest of share your battle arranged by the @splinterlands team. To join this contest you'll need to create a post where you'll need to share a battle of yours which you should play by the rules that are given in the contest. You'll also need to answer some of the questions that @splinterlands asked in the announcement post of the contest. And this week's rule is you'll need to use the water elemental in your battle and share it with everyone. After creating your post and posting it on this blockchain, you'll need to share it on any social media and put both your post link and the link from the social media on the comment section of the announcement post of this week's contest. You'll need to follow up on these things to perfectly join this amazing contest. I'm also putting the link to this week's contest below in case you want to join it.
Link To The Contest:
https://hive.blog/splinterlands/@splinterlands/share-your-battle-weekly-challenge-molten-ogre
Now, it's time to share my battle with you.
My Battle Link
https://steemmonsters.com?p=battle&id=2411f7494008285e13b878df6023c99a28c4ff1c&ref=sazzad-sm
My Lineup: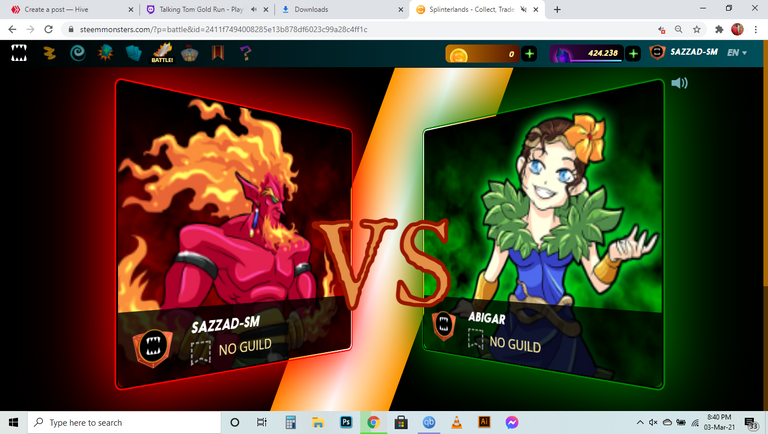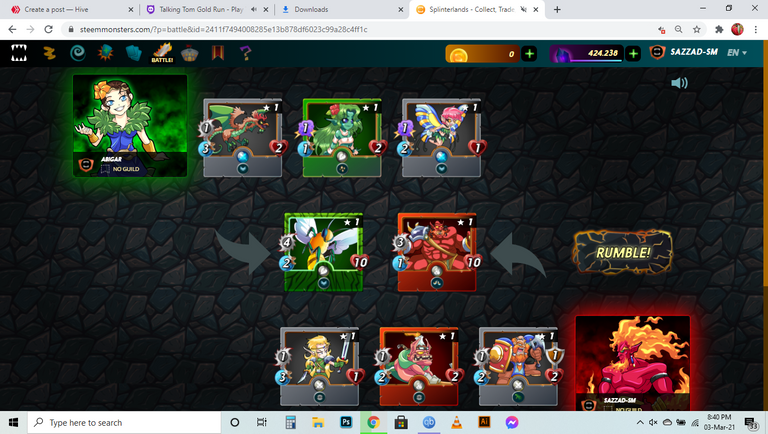 I used The Molten Orge in the first position because of its huge life power which will probably help it to stay longer in the first position also it can do huge damage on the front card of the enemy. And the demoralize ability of this card is really helpful in the battle to make the enemy melee cards weeker.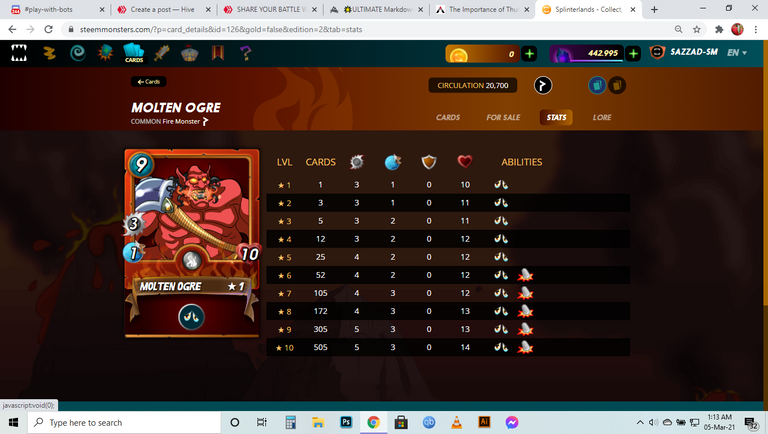 Then I used The Grumpy Dwarf in the second position. The reach ability of this card helps it to attack from the second position.
And then I used The Kobold Miner and The Elven Cutthroat in 3rd & 4th position because of their sneak attacking ability.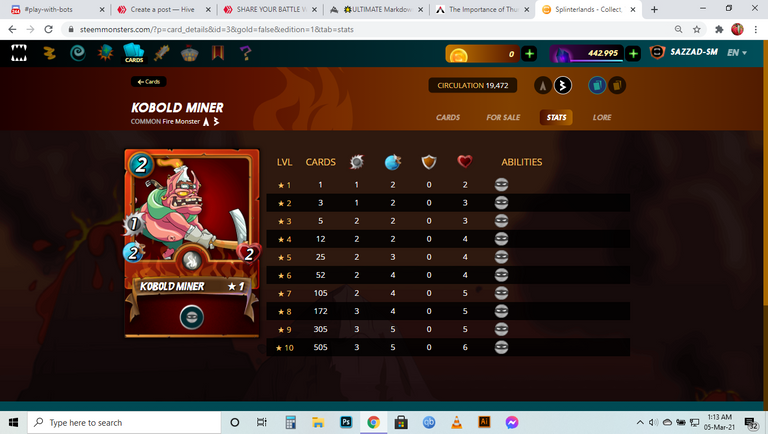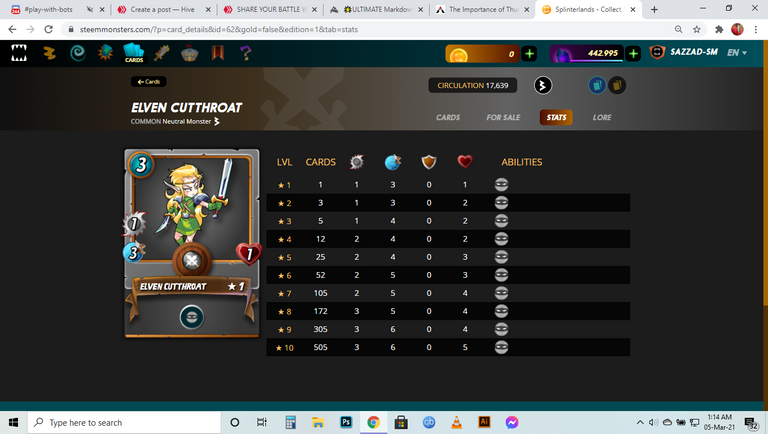 So, this was all about my lineup and the reasons for putting each card in their position.
And, now it's time to talk about strategy.
Actually I wasn't sure to use the Molten Orge in this battle of mine. Because I had only 21 mana cap and only The Molten Orge costs 9 mana cap alone. And normally I use another lineup while playing with fire splinter. Especially in 21 mana cap matches.
I normally use this lineup given below: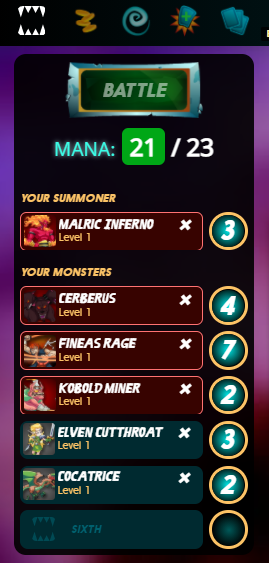 Then I decided to change my old lineup and try something new. Normally I use this Molten Orge card in large mana cap battles. But this is the first time I've used this card in such limited mana cap battles. I mainly use this card in matches of SUPER SNEAK and MELEE MAYHEM ruleset. But, this time it worked out perfectly. My strategy worked successfully and I won the match.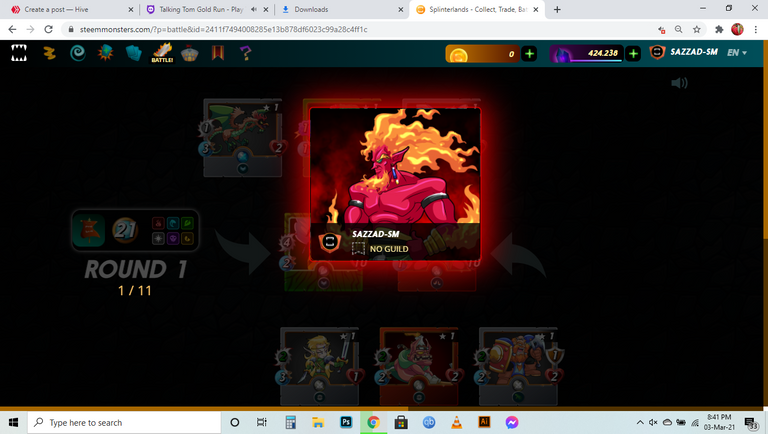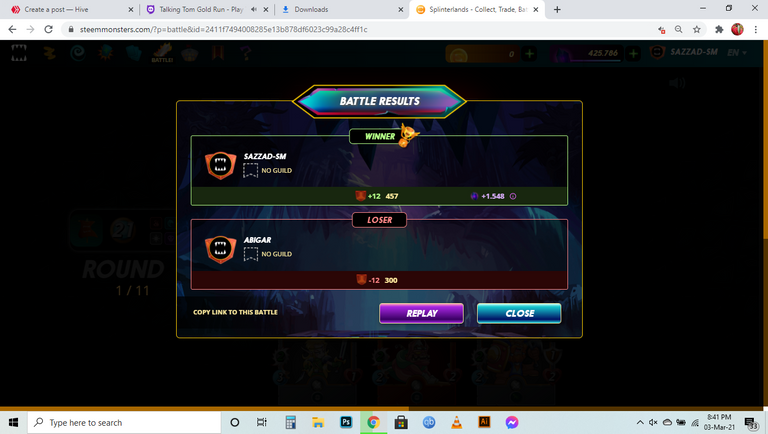 I really hope that you enjoyed reading my post and also enjoyed my battle. And as always it felt good to share my opinion about something with everyone. I'll be back among you all soon with another battle of mine to share it. So, stay tuned guys.
See you again in my next post. Till then stay happy, stay healthy. Take care.
Thank you for your precious time to read my post.