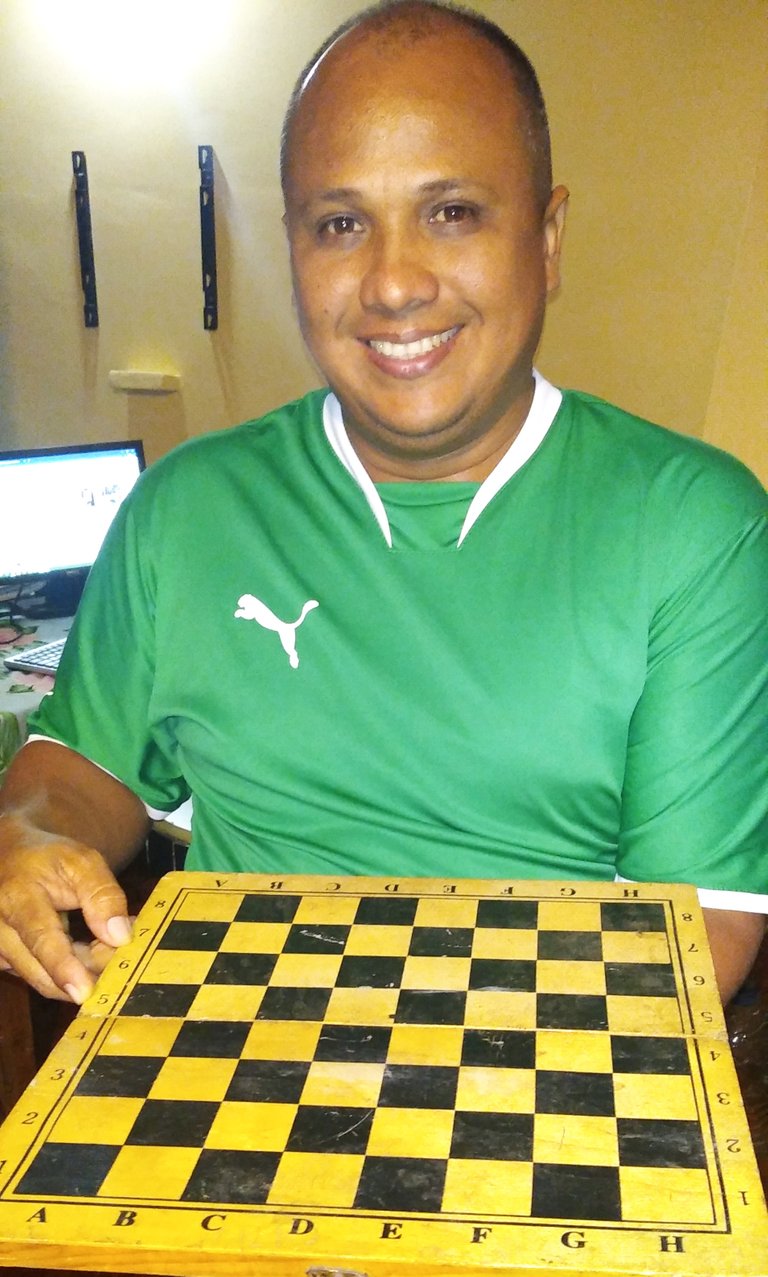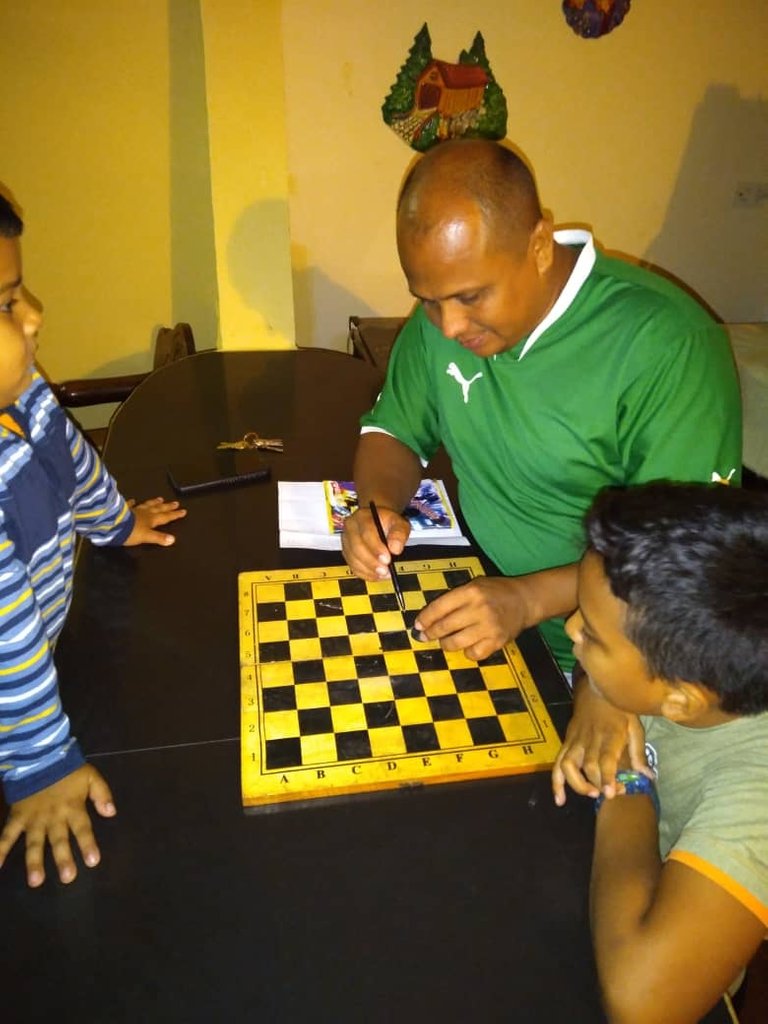 Imagen de mi propiedad en compañía de mis hijos Keny y Daniel-Tablero de Ajedrez
Image of my property-Chessboard

---
Saludos estimados Hivers, siguiendo la onda de repasar un poco de las disciplinas deportivas que mas me gustan y que he practicado en alguna etapa de mi vida, hoy les hablaré del deporte que es todo cerebro, estrategia y pensamiento, inclusive en algunos países se ha adoptado como una cátedra mas desde la escuela primaria, por supuesto les hablo del Ajedrez.
Dear Hivers, following the wave of reviewing a little of the sports disciplines that I like and that I have practiced in some stage of my life, today I will speak to you of the sport that is all brain, strategy and thought, even in some countries it has been adopted like a chair but from the elementary school, of course I speak to you of the Chess
Su origen se remonta al continente asiático en el siglo VI dc, como modificación de otros juegos antiguos, donde se representaba una batalla entre dos ejércitos, quienes mediante una serie de movimientos estratégicos debían tomar las piezas enemigas para acercarse a la ubicación del Rey y ejecutar el ¡jaque mate!, posteriormente fue hasta el siglo XVI en Europa donde se comenzó a incluir normas y reglamentos para su práctica.
Esta interesante dramatización de guerra entre dos reinos (por lo general uno de color blanco y otro de color negro) se lleva a cabo sobre un tablero o superficie plana que consta de 64 casillas, donde cada jugador dispone de 16 piezas en total ha desarrollado un sinfín de tácticas para ganar y demostrar quién es el mejor. Y en verdad es una guerra, pero de pensamientos e ideas en aras de demostrar superioridad intelectual, en un evento de capacidad mental.
Its origin goes back to the Asian continent in the 6th century AD, as a modification of other ancient games, where a battle was represented between two armies, who through a series of strategic movements had to take the enemy pieces to approach the location of the King and execute the checkmate, later it was until the 16th century in Europe where rules and regulations began to be included for its practice.
This interesting dramatization of war between two kingdoms (usually one in white and one in black) is carried out on a board or flat surface consisting of 64 squares, where each player has 16 pieces in total and has developed a myriad of tactics to win and demonstrate who is the best. And in truth it is a war, but of thoughts and ideas in order to demonstrate intellectual superiority, in an event of mental capacity.
Sin duda su mayor impacto se centró en la década de los 70 durante la llamada guerra fría y en la que sus protagonistas, Estados Unidos de Norteamérica EE. UU y la Unión de Repúblicas Socialistas Soviéticas U.R.S.S. enfrentaron a sus más grandes jugadores para ese entonces, el prodigio Robert "Bobby" Fischer versus el campeón soviético del momento Boris Spassky, este encuentro se realizó en Islandia y se efectuó en la final del mundial de ajedrez (recordado como el Match del siglo), donde ambas naciones eran públicamente conocidos rivales, competían en todo, inicialmente en la carrera espacial, carrera armamentista y finalmente todo tipo de competencias deportivas, con lo que disfrazaban el trasfondo de una batalla por la imposición de sus modelos políticos y económicos (Libre Capitalismo versus Estado Comunista).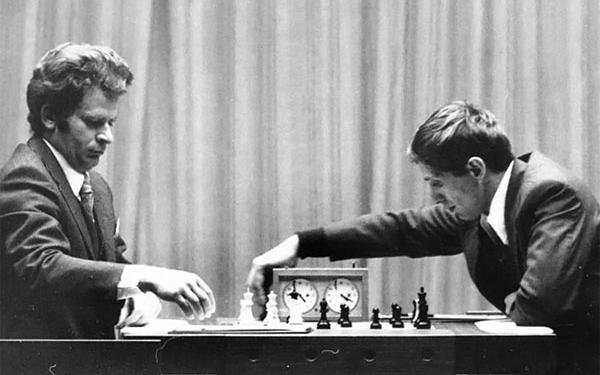 BobbyFischer-Boris Spassky Fuente de Imagen
Todos estos ingredientes fueron el catalizador perfecto para colocar ante los ojos del mundo una batalla de ideas sobre un tablero de ajedrez donde el ganador le daría a su país el mérito de ser reconocido como campeón del deporte intelectual por excelencia. Fue entonces en el año de 1.972 cuando el mundo puso sus ojos en aquel encuentro que se extendió por varios días y que como ya todos sabemos, fue Fischer quien salió vencedor, convirtiéndose así en el primer campeón mundial nacido en los Estados Unidos, pero que luego de su triunfo, literalmente desapareció de las competiciones oficiales, hecho que hizo nuevamente que los soviéticos retomaron su hegemonía con el gran Anatoly Kárpov, quien asumió la vacante y se hacía invencible durante los siguientes diez años, hasta la llegada en 1.985 del inigualable Garry Kaspárov.
All these ingredients were the perfect catalyst to place before the eyes of the world a battle of ideas on a chess board where the winner would give his country the merit of being recognized as the champion of the intellectual sport par excellence. It was then, in 1972, when the world set its eyes on that encounter that extended for several days and that, as we all know, was Fischer who came out victorious, thus becoming the first world champion born in the United States, but who, after his triumph, literally disappeared from official competitions, a fact that made the Soviets once again retake their hegemony with the great Anatoly Karpov, who assumed the vacancy and became invincible during the following ten years, until the arrival in 1. 985 of the incomparable Garry Kasparov.
Kaspárov fue un campeón con un juego muy superior a los campeones anteriormente conocidos, además recordado como el más joven campeón del mundo en llegar a esa instancia, con apenas 22 años, impulsado también por los comienzos de la masificación de los medios de comunicación. Incluso, debido a su famosa invencibilidad en el tablero, la empresa IBM creó una computadora llamada Deep Blue, cargada de una gran cantidad de jugadas para poder vencer al gran campeón y fue en el segundo intento en el que se pudo ver como la máquina pudo vencer al hombre, en un evento muy llamativo y comercial por el año de 1.997.
Posteriormente, ya después del nuevo milenio, otros campeones saltaron a la escena mundialista, nombres también resaltantes como Vladimir Kramnik, Veselin Topalov y entre ellos uno que no provenía de prestigiosa escuela soviética como lo es el joven competidor de origen indio Viswanathan Anand, y en la actualidad este titulo lo ostenta el novel Gran maestro internacional de Noruega Magnus Carlsen, desde el 2.013 hasta la actualidad. Lo que representa una nueva generación de alto nivel.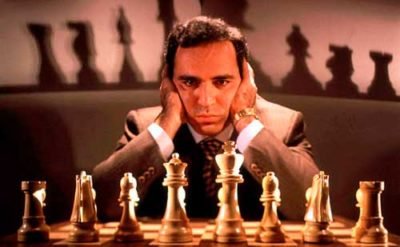 Fuente Imagen
Kasparov was a champion with a game far superior to the previously known champions, and he is also remembered as the youngest world champion to reach this stage, at just 22 years of age, driven also by the beginnings of the mass media. Even, due to his famous invincibility on the board, the IBM company created a computer called Deep Blue, loaded with a great amount of moves to be able to defeat the great champion and it was in the second attempt that the machine could be seen to defeat man, in a very striking and commercial event for the year of 1.997.
Later, after the new millennium, other champions jumped to the world stage, also prominent names such as Vladimir Kramnik, Veselin Topalov and among them one who did not come from the prestigious Soviet school as is the young competitor of Indian origin Viswanathan Anand, and currently this title is held by the novel international Grandmaster of Norway Magnus Carlsen, from 2013 until today. This represents a new generation of high level.

Es todo por los momentos, deseo sea de su agrado esta publicación de carácter histórico, que reseña brevemente el inicio, desarrollo y evolución de las disciplinas deportivas que mas me gustan. Es sin duda emocionante para mí rememorar la historia, hacerla mía y mostrárselas de una manera sencilla para toda la familia #Hive. Obviamente, he tenido que leer algunos artículos, pero lo interesante es que por conocimientos previos uno sabe cuales hechos citar. Muchas de estas historias despertaron mi interés desde la escuela y posteriormente en la universidad.
Hago este post con mucha dedicación para la recreación de todos ustedes aceptando las sugerencias que me puedan dar en el marco del respeto y mejoras en mis futuras proyecciones.





That's all for the moment, I wish you like this historical publication, which briefly reviews the beginning, development and evolution of the sports disciplines that I like the most. It is undoubtedly exciting for me to recall history, make it my own and show it in a simple way for the whole Hive family. Obviously, I have had to read some articles, but the interesting thing is that by previous knowledge one knows which facts to cite. Many of these stories have piqued my interest since school and later in college.
I make this post with a lot of dedication for the recreation of all of you accepting the suggestions that you can give me within the framework of respect and improvements in my future projections.


Utilicé traductor Español-Ingles en su versión gratuita Deepl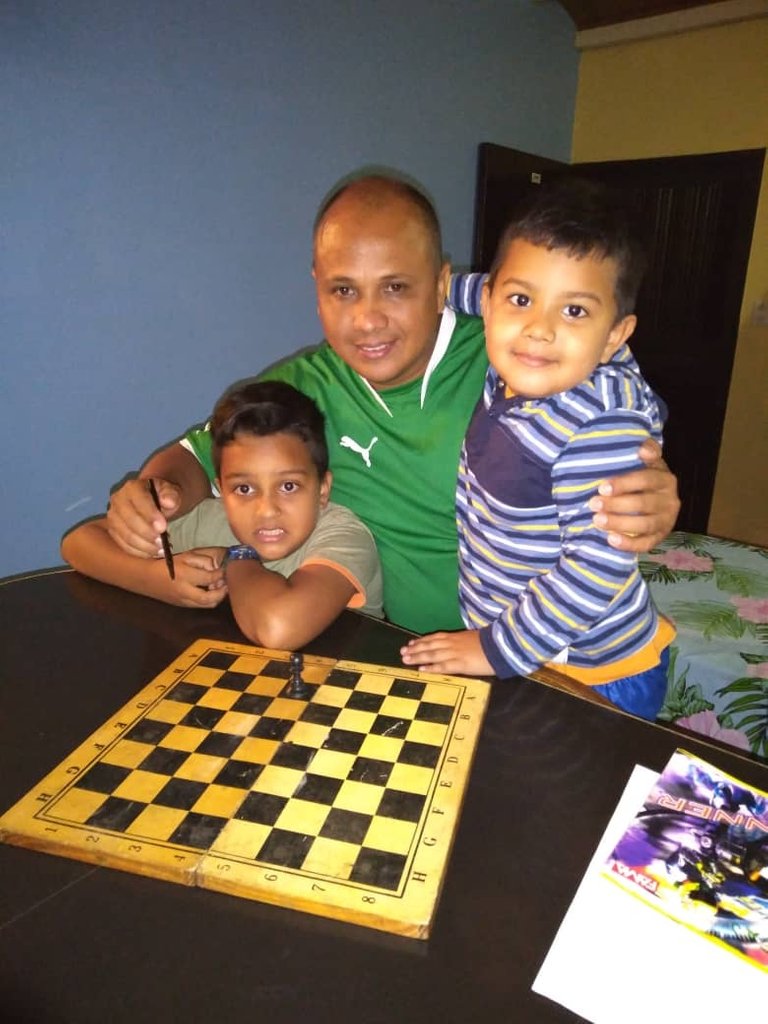 Imagen de mi propiedad en compañía de mis hijos Keny y Daniel-Tablero de Ajedrez
Imagen realizada en la aplicación CollageMaker