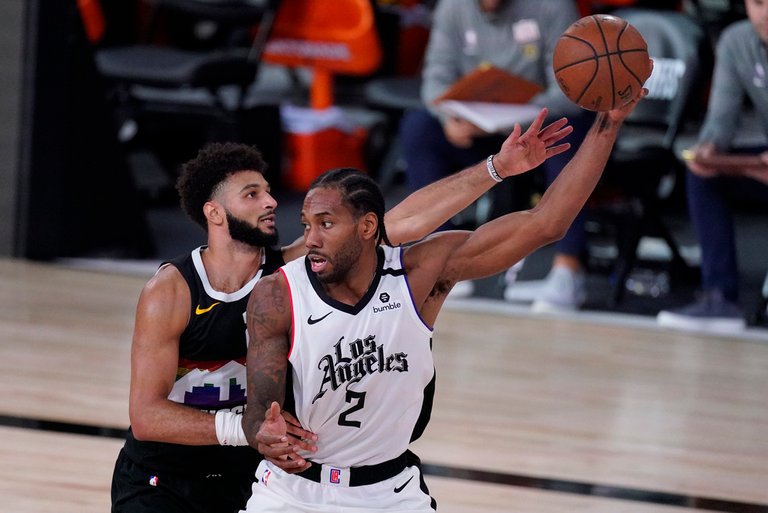 Kahwi Leonard has the Los Angeles Clippers very close to their first ever trip to the Western Conference Finals after they beat the Denver Nuggets 96- 85 on Wednesday night to take a 3-1 lead in Orlando.
Leonard who finished with just one assist shy of his first playoff triple-double remained focused on the task ahead.
"We've got a lot of work to do still," Leonard said. "We're still fighting."
He was exceptional once again as he ended the night with 30 points, 11 rebounds, four steals and two blocked shots. Sixth Man of the year winner Montrezl Harrel also added 15 points with Paul George scoring just 10 points in 27 minutes due to early foul trouble.
The Clippers once again threw away a big lead. They allowed Nuggets back into the game in the third quarter after building an 18-point lead in the first half. They however got back on the same page and went on a 21 to 5 run to pull away once again.
Nikola Jokic had a double double ( 26 points, 11 rebounds) for the Nuggets who struggled to find a way through the Clippers defense. Murray also had 18 points.
The Nuggets never led throughout the game and shot just 39% as a team on the night. They were even forced into 3 shot-clock violations as they had no answer for the defense being played by the Clippers.
Coach Doc Rivers had praise for Paul George who limited the damage Jamal Murray could do to them.
"We knew that when we were getting him," Rivers said of George's defensive tenacity. "It gets lost at times, with P.G., because he's such a great shooter. The better shooter you are the more people forget how good you are defensively."
The Clippers keep showing glimpses of how scary they are as a unit when locked in. They are a defensive juggernaut when they set their mind to it and will need to do it one more game to close the series out.
The Denver Nuggets have however been in this situation before in this year's playoffs. The Utah Jazz led them 3-1 before they came back to win the the next 3 games and advance to face the Clippers. The Clippers are however a different side and will prove to be a much tougher task than the Utah Jazz.
The action continues on Friday night with Game 5.