---
Dear Friends!
Hello Friends, hope you all are playing splinterlands battles war daily. so today i am back with another challenge battle with new theme that is theme of this week battle challenge . this week theme is WAR CHAANG , it is strong heavy monster Elephants machine. but before going to share with you my battle , here i will again repeat that if you are new player of splinterlands and want to learn more about this game, then you can leave a comments under my post, i will do my best to guide you. because it is the beauty of splinterlands community that we play like a unity and help each other to understand the rules of game, and also shared cards abilities skills if any one have no information, so it is the beauty of steemmonster community , so i connected with this community because of this beauty. so dear friends if you do not know about weekly challenge then here i would like to tell you that this week splinterlands battle theme is WAR CHAANG ,
this card Edition: UNTAMED
Rarity: EPIC
Element: NEUTRAL
ATTACK: MELEE & RANGED
if you have no this monster card in your army list then you can buy this card from splinterlands market very easily , you can purchase this card by DEC amount also. so it is very much easy.
Dear friends, if you still do not know about the battle week, then visit this link to get more detail information about it. SHARE YOUR BATTLE Weekly Challenge! WAR CHAANG
so if any new splinterlands lover , need any help about this game, i am ready or you can leave a question in this post comments area, i will try to guide you in my best way.
so you can also get help from me if you use discord, so you will find there always if you will ask any question or help.

My lineup in this Battle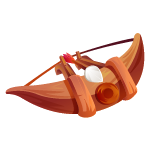 Close Ranged
Ranged attack may be used in the first position in battle, so dear friend, first placing the monsters in battle ,first keep eyes on rules and so if you do not give importance rules then you have 100% chance to lost the battle, so in this battle rule is closed ranged, so in this battle ranged attacker will be useful that will destroy the first position, so in this battle , i will place strong monster at first position that will try to destroy the first position of monster .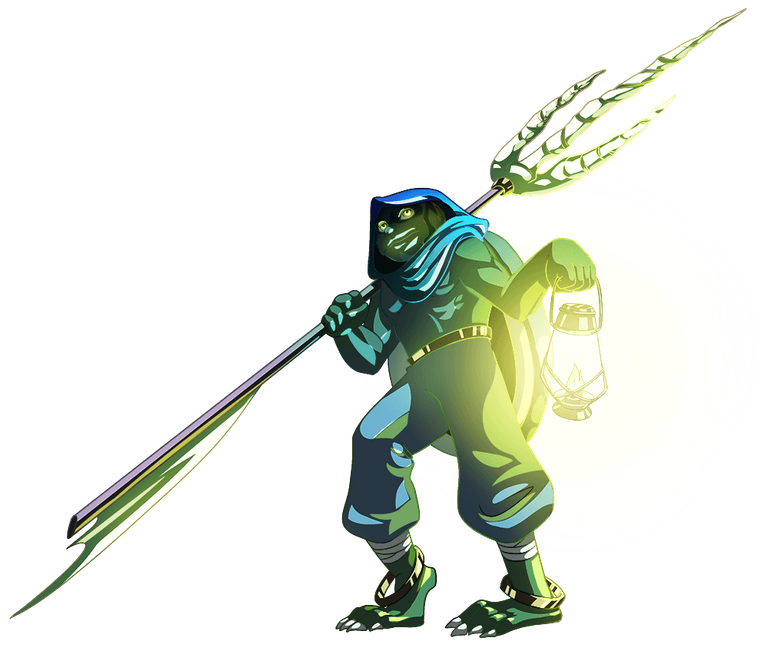 BORTUS
BORTUS is my Summoner in the battle, this has quality magic, i have level 2 Bortus , so i chose this one because of its level 2, so i thought this will help me in the battle with strong abilities of magic, but my card collection was different then summoner .
Many of the Turtle people known as Tortisians are skilled in magic, but only Bortus has risen to the level of summoner in the Mount Mox Tournaments. He taunts and summons like he has something to prove to everyone who watches, and he absolutely hates the fact that his name rhymes with tortoise. Frankly, the comparison of a glorified Tortisian summoner to a common tortoise is offensive to Bortus.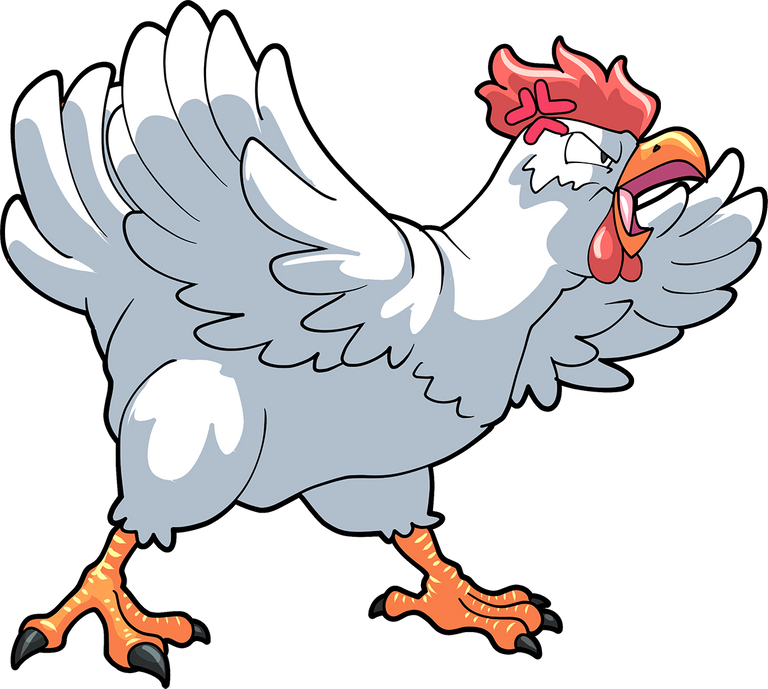 FURIOUS CHICKEN
I placed FURIOUS CHICKEN at first place, i always used in low mana cap battle it at first positions, always reason of this plan is that i want to keep my main monster safe from the first attack of opponent side, because first attack always give great damage, so if my furious chicken face the first attack then my main monster that is 2nd place has chance to attack back in first round so in this way we can get chance to make safe main cards so it is reason i used this card at first place. here my strategy was same as i mentioned above.
The chickens of the Splinterlands have had enough. For too long they have been kept in cages and pens. For too many generations their eggs have been made into omelettes, their breasts and thighs into nuggets, and their most pristine feathers into rather tacky jewelry. Under the brave leadership of a great hero known only as The Alpha Chicken, all chicken-kind is finally rising up against their oppressors. This uprising, all across the Splinterlands, is known as the Cluckening.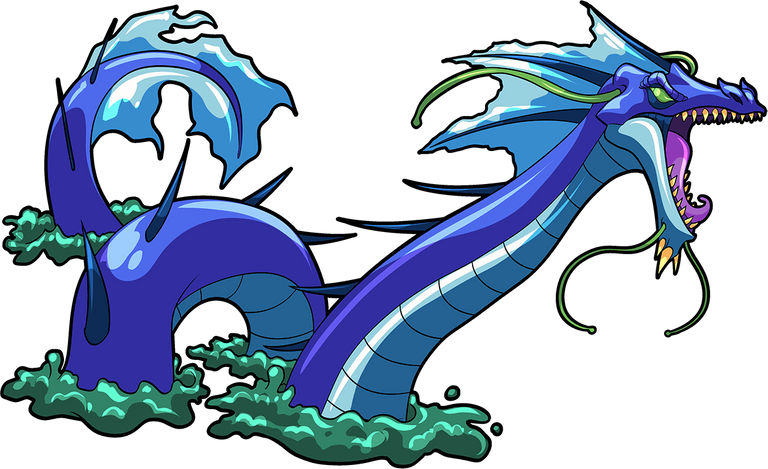 SEA MONSTER
It was my main monster in battle, it has many quality skills of fight. so this battle was 26 mana , and rule was closed ranged . so in this all , i thought i should use the monster that has ability of Restore portion of monster health, so sea monster was my first choice, because it has ability to restore portion's monster health in each round. so i thought if my enemy use magic attacker then this can restore little portion of health in each round in this way , my monster will have chance to stay in battle for long time.
There are rumors of Sea Monsters that can swallow a ship whole. The truth is, there are Sea Monsters big enough to swallow the Sea Monster that swallowed the ship whole. Most land lubbers cannot conceive how deep within the planet or how far beyond the horizon the oceans go.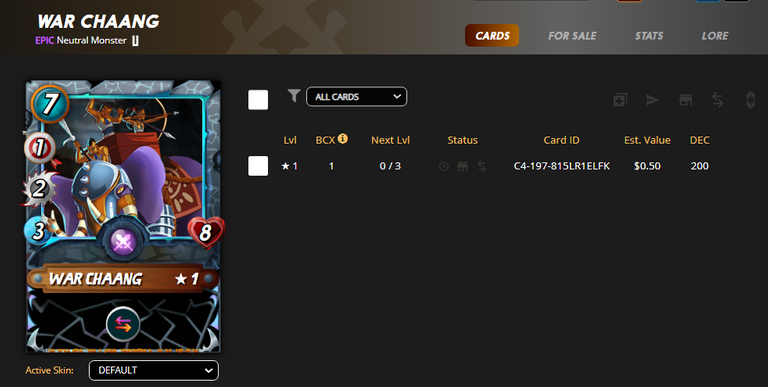 It is theme card of this week battle challenge, here you can see id of my this monster, price, bcx for level one, so i have level one card, Dear friends,here i want to tell you that i bought this monster to take participate in this battle, i had no this monster, but i bought it to take participate in this battle, so if you do not have this monster then you can buy it from splinterlands market or from other monster market .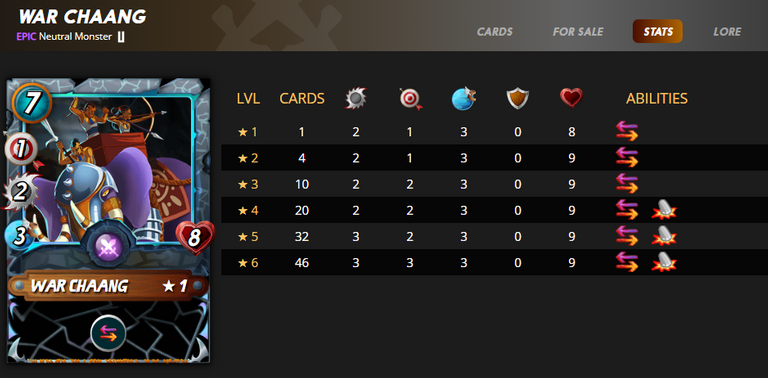 there is states of War chaang monster, i have total 6 level, first to 3, here we get health improvement and level 4 to 6 then its abilities increase rapidly. so i played just few game, so i liked this card very much.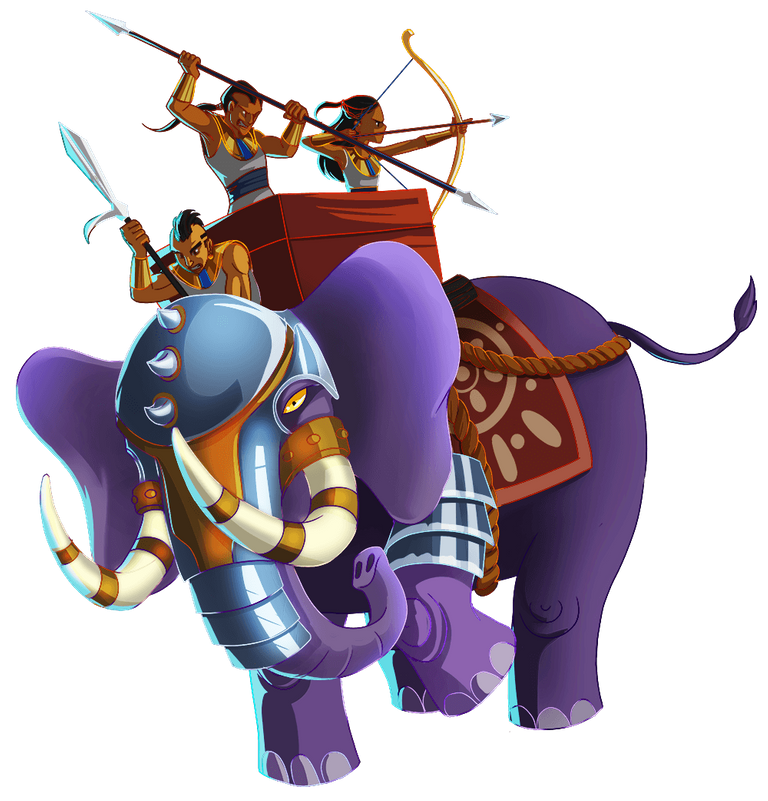 I placed WAR CHAANG at 3rd place, because it is very much good looking in this rule that i have in this battle, so i was thinking at this position it attack will be strong, but i do not have very much information about this monster, because first time i bought it only to take participate in this battle, so after reading its abilities i placed it at 3rd place, but my cards placement about this was correct, so i won this battle.
They say that in the great battles on the other side of the world, Hellaphants were trained and outfitted as massive monstrosities of war. It was not generally believed that Hellaphants could be controlled until the Ferexia Torch began its Chaang Project. Hellaphants were abducted en masse from the Wastelands of the Unknown and taken to the training grounds near Mittreya's Hand. There, the Hellaphants were forged into soldiers to carry soldiers. They were molded into a new type of war machine, called Chaang.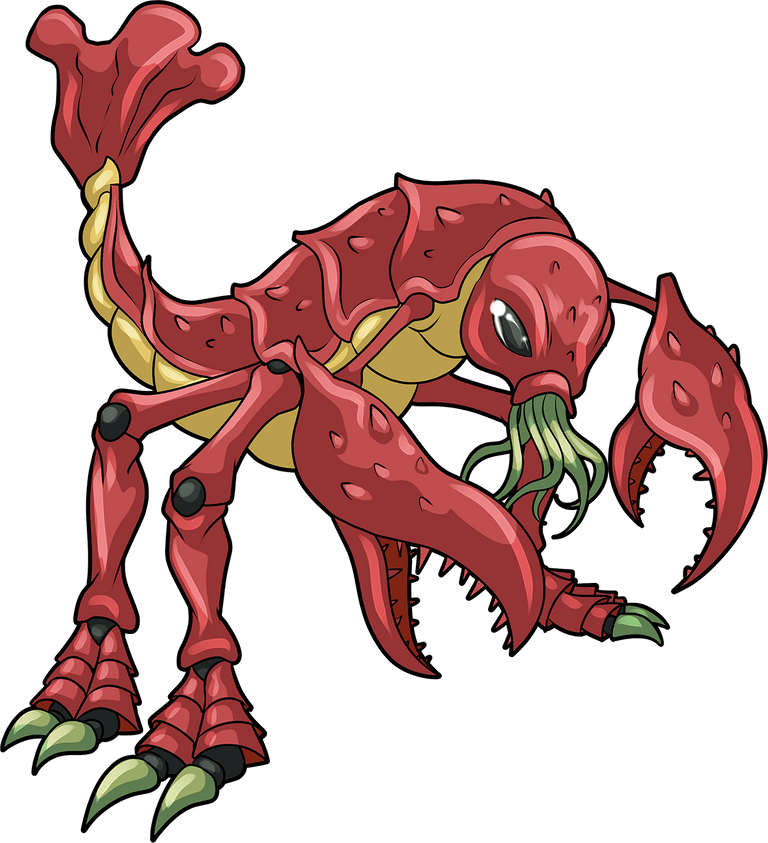 )
CRUSTACEAN KING
i placed it 4th position for this that this monster will help the first position to restore its health in each round. so in this mana it was very much important to place those cards also that will help to increase health in each round, so CRUSTACEAN KING has ability of this. it has no attacking ability but it restore the portion of health first position monster in each round. i liked it and i love to use it if the rule of battle support it according to its ability.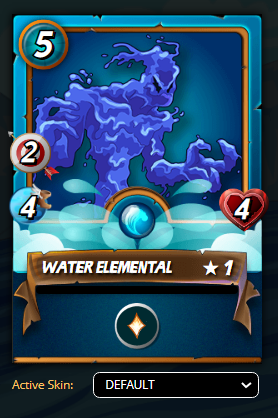 In this battle i placed at first position furious chicken, then 2nd sea monster, then theme card war chaang , so at 4th Crustacean king , so 2, 4 position monster has ability of restore portion of health first position, king help the restoring health first position monster, so i thought if should keep in last position one more monster that also has ability of restore health portion in each round, and it was only water elemental, because water elemental has no ability of fight at first position , but has ability of restore and strong attacking ability. so my main card also had restore health ability, and king was there to help restore first monster, so in this way my theme card was in great position to fight with great way, so this was main strategy in my mind at the time of selection all monsters. hope you all will enjoy it.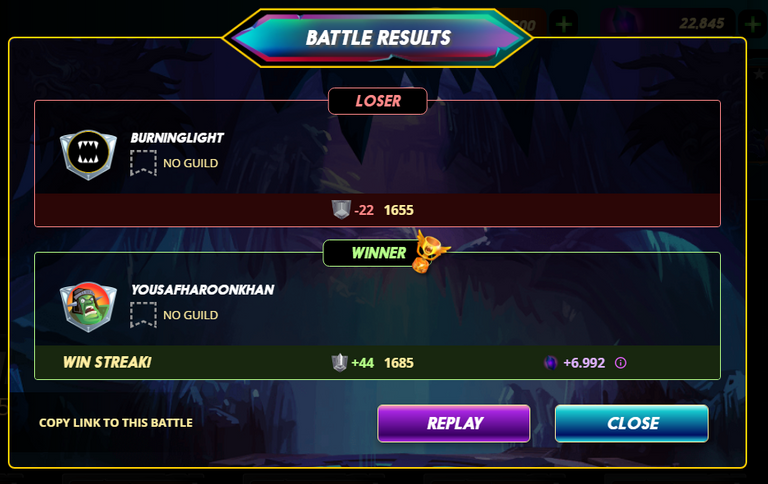 If you want to watch my this battle live on splinterlands site then below is the direct link to this battle
DIRECT LINK TO BATTLE: Hellaphants -Epic War Chaang || Weekly BATTLE Challenge!

Did your strategy work? What will you try differently next time?
Yes my strategy worked and its proof is that i got victory, yeah i want to learn more about this war chaang because i bought its to take participate in this challenge, but next time i want to use it many battle to observe its abilities position
---
Do you use the WAR CHAANG often? Why or why not?
it is true , i bought this war chaang to take participate in this contest. so i could not use it in past. but now i have it in my list, i want to use it many battle but according to rule , but here i need to also know that in which rule this war chaang has ability of great fight.
---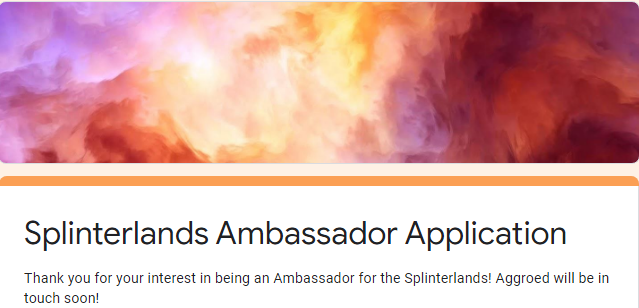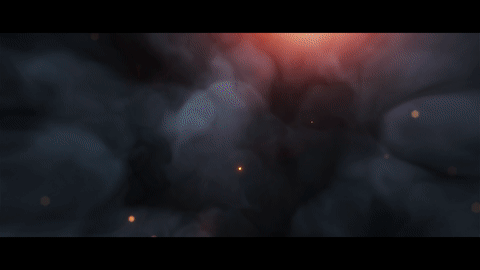 source of above gif/image
Subcribe my other social profile
My Hive profile
My Dtube channel
My Youtube channel
My Twitter profile
---

---