My excuses and complaining continue... lol... I'm not a big sports fan, and I didn't follow this EURO2020 championship at the beginning at all... As a matter of fact, I didn't even know that it will be held this year... But, when you watch one game, and another one, and another one, you get hooked! And that happened to me... So, in the last couple of days, I'm watching 2 games per day, which is around 4 hours per day lost...
In my defense, it looks that I'm not alone... I have noticed that there are fewer posts on Hive, but the reason for that can be found in the lower Hive price... That happened many times before, and it repeats every time now and then... It is the best time for accumulation, and I know that, but this football is killing me... :) Anyways, I have tweaked some of my curation trails and started with manual curation and I get some rewards from that side... It's the same pattern there too... People are not upvoting as usual, and curation rewards are higher...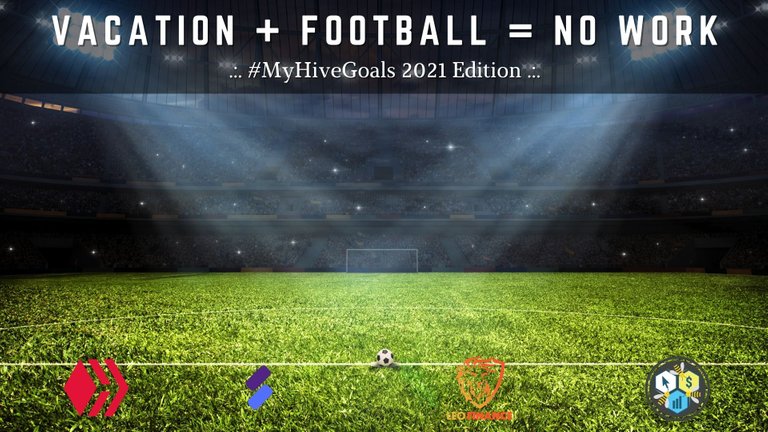 Created in Canva.com
This is my last report this month and this was my last chance to hit my monthly goals... If you scroll down, you will notice that I wasn't that successful this time, but I was very close to hitting them... The Hive Power wasn't that close, but I am accumulating some liquid HIVE for powering up on the HivePUD... So, that should make an impact on next month's Hive Power goal, so we will see...
So, in conclusion... No, I didn't reach my monthly HP goal, but I have time to catch up the next month...

The one that I did reach is the LEO Power goal! Not just that, but I made a small cushion for the next month... For getting that result, I should thank Geyser rewards, but also the fact that CUBDefi is doing great and people are moving some of their LEO there, so my curation rewards are getting better... I had some daily goals about these rewards and I'm happy that I have reached them the last month...

My CTP Power goal stayed in the color red, but I will reach that goal this month, but nobody will notice that as I will not publish another report in June... As you can see in the table, I needed only 0.06% (or 114 powered-up CTP tokens) to get there... If I know that I didn't publish many posts during this week, it's obvious why I didn't get there...
The last goal in this tribe power section is the SPORTS POWER... The interesting thing about this is that curation rewards are really nice and the thing with fewer people curating is present... So, if you combine better rewards for upvoting with your SPORTS stake and everyday content creation (I do regularly my Actifit reports, and it's spare from my laziness... lol) then it's possible to pass your monthly goal for over 1M SPORTS POWER!

GAMING GOALS
As I have found the card for the special mission, I was doing it at the beginning of the month more intensively... When I found both of the special instrument cards, I have stopped doing it... So, I'm back to my STARBITS accumulation and purchase of packs in the RISING STAR game...
So, I have added 71 cards during the past week to my balance, so I'm now over my monthly goal pretty much... To be honest, I'm thinking about bumping up this goal, but I'm still not sure to what number... I'm afraid that 3000 is too much, so maybe I will change my goal to 2500 cards! I Will think about it during the next week as it is important to challenge myself as that keeps me focused...

In the end, I would like to make an update of my current numbers (June 27th, 2021) on #MyHiveGoals: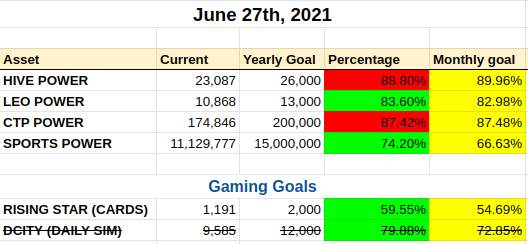 Join us in this awesome #MyHiveGoals and let's grow together! You can find the original post about the challenge by @robwillmann here: https://peakd.com/myhivegoals/@robwillmann/new-challenge-myhivegoals-set-and-achieve-your-goals
Thank you for your time,
~ph~

The link to my initial 2021 Goals Edition is here...
These are my initial goals for 2021 on January 15th, 2021, and this #MyHiveGoals Challenge:
HIVE POWER - 20,000 / 25,000    80.00%  needed monthly grow 1.66%
LEO POWER     - 8,000 / 12,000  66.00%  needed monthly grow 2.83%
CTP POWER - 150,000 / 200,000   75.00%  needed monthly grow 2.08%
SPORTS POWER   - 5M / 15M       33.33%  needed monthly grow 5.55%

Gaming Goals:
RISING STAR (CARDS) - 189 / 2,000    9.45%  needed monthly grow 7.54%
DCITY (DAILY SIM) - 5,488/ 12,000   45.73%  needed monthly grow 4.52%   (base Income - before taxes) - goal dropped 06.06.2021.

The revised goals - May 16th, 2021:
HIVE POWER - 26,000
LEO POWER - 13,000


If you want to support my witness, you can do it by voting for @ph1102.ctp here https://tribaldex.com/witnesses, or just scan the QR code down below...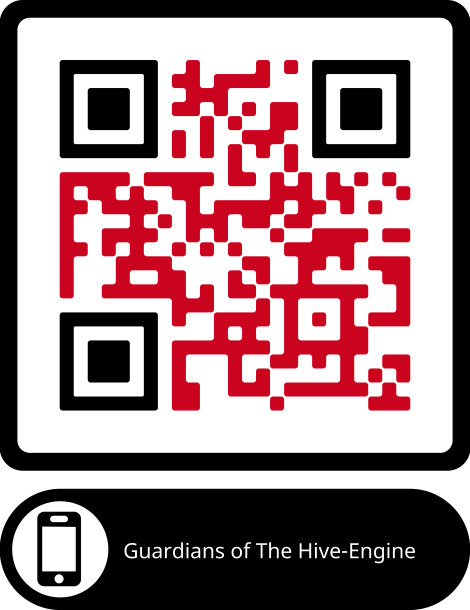 Don't forget to follow, reblog, and browse my Hivepage to stay connected with all the great stuff!
You can also find me on LEO Finance .:. Twitter .:. LBRY