The Greatest Turnaround in Premier League History—Granit Xhaka's Redemption Story and What I Learned From It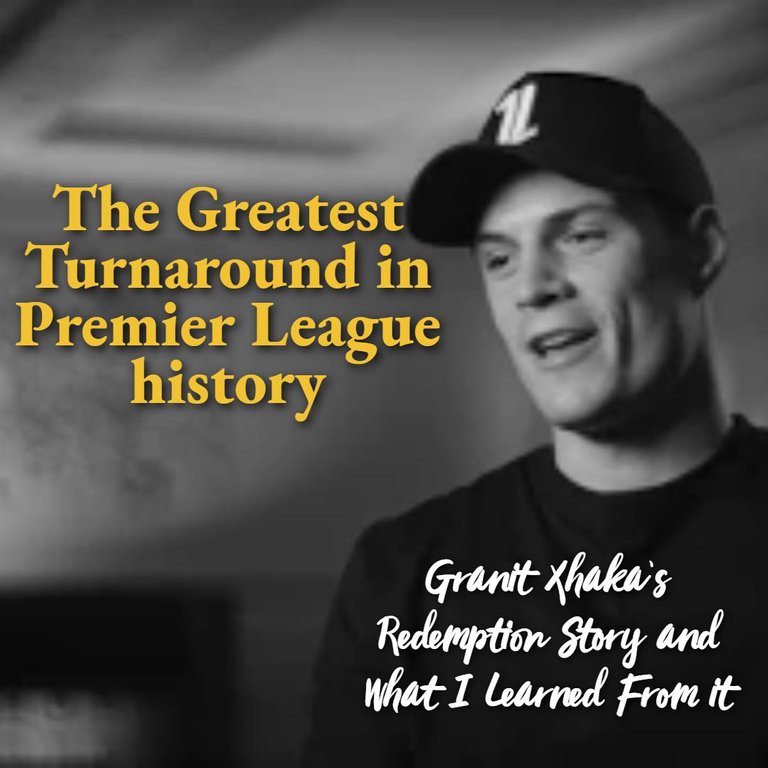 photo credit
If there's any story that motivates me, then it's the story of how a person was able to move from total obscurity to clarity.
A total rebirth. At one time, he was passing through hell; then, all of a sudden, he's now enjoying heaven's glory. Such stories inspire me, and the world is filled with individuals from all walks of life that manage to transform their lives around.
I love to read such stories. Listen to podcasts and watch YouTube videos about such people because what comes to mind next is, "If they can do it, then I can too."
There's a story that's truly inspiring. The hero of this story made me truly believe that, yes, it is possible to transform yourself.
I did not read this story from a book, nor did I watch a video about this person, but I witnessed the event.
It is the fall and rise of Arsenal's Granit Xhaka, the captain of Switzerland's national team.
The Story
In May 2016, Granit Xhaka completed a high-profile transfer from Borussia Monchengladbach to Arsenal for a fee in the region of 35 million pounds.
This transfer really made Arsenal fans excited because Arsene Wenger (the manager of Arsenal Football Club) splashed 35 million pounds on a player, which was something rare.
As an Arsenal fan myself, I was indeed excited. The media have described him as an astute player. A leader on and off the football pitch. In fact, he became the captain of Borussia Monchengladbach at the age of 22, and a year later Arsenal bought him. I was so happy.
During his time under Arsene Wenger, he was lukewarm, which means he wasn't playing badly but also wasn't performing up to our expectations.
His Downfall
In 2018, Arsene Wenger ended his 22-year spell with Arsenal, and Unai Emery took over as head coach of the club.
And of course, Granit Xhaka was part and parcel of Unai Emery's plans. He played almost every game, but his performances became worrying.
He became notable for giving out unnecessary fouls and receiving red cards, which eventually cost us games we should have won.
The game between Arsenal and Crystal Palace was the moment everything got broken. Arsenal was playing a 2-2 draw with Crystal Palace, and for some reason, the coach decided to substitute him (Granit Xhaka).
As Granit Xhaka walks off the pitch, the Arsenal fans begin to boo him. He was so annoyed that he made a gesture to the fans, telling them to "f*ck off," and that was the end.
His relationship with the fans grew sour, and 98% of the fan base turned against him. He was stripped of his captaincy at Arsenal by the coach for his behavior, and he lost the fan base.
Some fans even went as far as threatening his family. It was too much for Granit Xhaka to bear.
Expressing how he felt when he was asked about how he reflected on what happened to him. He said, "Of course, I wish nobody to be in the situation that I've been.
"I'm very honest with you because it was the most difficult time for me–for myself and for my family.
"In this moment, you don't see nobody near you. This is the biggest problem.
"So you're sitting in a dark place; you're feeling alone. You know you have people around, but you have no chance to touch them and this is how I felt.
"And you try not to go so deep. You try not to get the message–what they are writing, the people are there speaking in front of the tv but you can't ignore [it]."


How he turned his Arsenal career around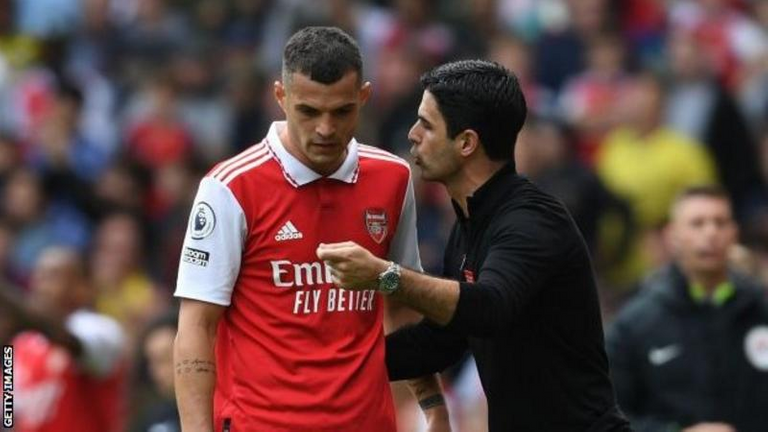 photo credit
Granit Xhaka was able to turn his Arsenal career around because one man believed in him. Speaking of that one man, he is no other than the current Arsenal manager, Mikel Arteta.
Mikel Arteta arrived at Arsenal in December 2019 after the sacking of Unai Emery. His arrival played a pivotal role in Granit Xhaka as the coach convinced him to stay.
He added: "Mikel was the guy who stopped me to leave without speaking with any one of my family."
Mikel Arteta convinced Granit Xhaka to stay, and that he was part of his plan to build a very dominant team.
Granit Xhaka agreed to stay, and that was the turning point.
He added: "He[Mikel Arteta] knows exactly what he wants from me. He knows exactly where the process would go.
"I felt the moment is right to say yes and stay–to come back how I want and to come back where I deserve to be; with the people around, with the fans, with the club, and with the teammates."


What I learned
- Face your fears, don't coward away
Granit Xhaka wanted to leave, but he changed his mind and decided to fight for his honor and dignity. This is not different in life.
If we must conquer, we must face our fears. We're often told to leave when we are not appreciated, which is true, but sometimes you have to use your heroics to convince the naysayers. We must show that we have what it takes to turn things around.
Granit faced his fears and won. I can, and you can too. This brings me to the next lesson.


Believe that you can turn the situation around
"Whether you think you can, or you think you can't, you're right"
— Henry Ford
If you do not believe that you can turn your situation around, then you can't. It is as simple as that.
What you say to yourself is all that matters. So the question is, what are you saying to yourself?
And the word became "Flesh."


- Pay attention to those who believe in you
"Always pay attention to who is present and genuinely involved in your life at your hardest times." ~ Joe Kay
Mikel Arteta convinced Granit Xhaka to stay. He believed in him. He wanted him and made him part of his plans. Don't bother yourself trying to force others to believe in you.
You should always be around positive people and positive energy. People that will bring the best out of you because they believe in you. Everything else is wasted energy.
And lastly,


- It is not over until you win
It doesn't matter how many times you fall, just keep getting back up because until you win, it is not over. There's no such thing as "It is over."
Granit Xhaka proved it, and he won.
With 9 wins out of 11 games in the premier league this season, Granit Xhaka has established himself as the best in his position, playing at the top of his game.
It is so unreal that the fans have to compose a special song for him.
What a man and player he is. This has to be the greatest comeback in premier league history and I'm so happy and proud to cheer for Granit Xhaka.
I doubted him, but he changed my mind and made me love him. He is indeed a superhero.
---
---