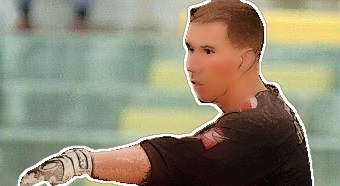 The fading of the former Italy U21 goalkeeper. Trapped in Doping Cases and Drugs.
In the history of Italian football, the name Angelo Pagoco is currently only in the history of a talented young goalkeeper who was once a mainstay goalkeeper for the Glee Azzurri team.
Appearing as Italy's main goalkeeper in the Euro 21 1996 tournament, Pagoco was able to perform nicely together with Alexandro Nesta, Fabio Cannavaro and also Francesco Totti. Meanwhile, in the same team the current legendary goalkeeper Gianluigi Buffon, only became a pagoco coating goalkeeper who sat on the bench after being able to penetrate the final round at Euro aged 21 in 1996.
At that time Italy had to go through Spain's obstacles to become European champions, had a 1-1 draw in 90 minutes of the normal time of the match and had to continue to the extra round, up to or get to the penalty shootout. Performed convincingly under the crossbar Angelo Pageto managed to block two shots from Spanish players, namely Ivan De Lapena and Raul Gonzalez.
Italy also managed to come out as Euro champions aged 21 in 1996 thanks to the slick performance of their goalkeepers after being crowned European champions, young Italian players began to be glimpsed by top clubs including the goalkeeper Angelo Fageto.
The former Napoli Academy player, had rejected Juventus club's proposal before finally signing a contract with AC Milan. But together with the rossoneri Pago was only able to make eight appearances before finally leaving for the Perugia Calcio club, at the end of a season of less than three seasons at the Perugia club.
Pagoco was suspended. After testing positive for doping in 1999, it was also the starting point for the career ruin of talented goalkeeper Angelo Pageto. When he faced Fiorentina, he tested positive for doping, as a result Pago was not allowed to play and had to quit the world of football for two years.
Although there is a short 6 month option if Pagoco admits the case related to his sentence, he remains at his stand and accepts the sentence. In 2007, at the age of 34 years Pagoco, he strengthened the club Grosseto, but he was again caught in the law after tripping over a drug case.
As a result, Fageto was sentenced to eight years and forced him to retire early, in his career he also admitted to having gone to Germany to find his fortune there, not in the world of football but to be a cook in a pizza restaurant.
Angelo Pago is recorded to have played with 12 teams by packing 254 appearances and scoring 83 clins, now at the age of 43 Pageto is known to have returned to football and become a goalkeeping coach who plays in Serie B Italy Avellino.