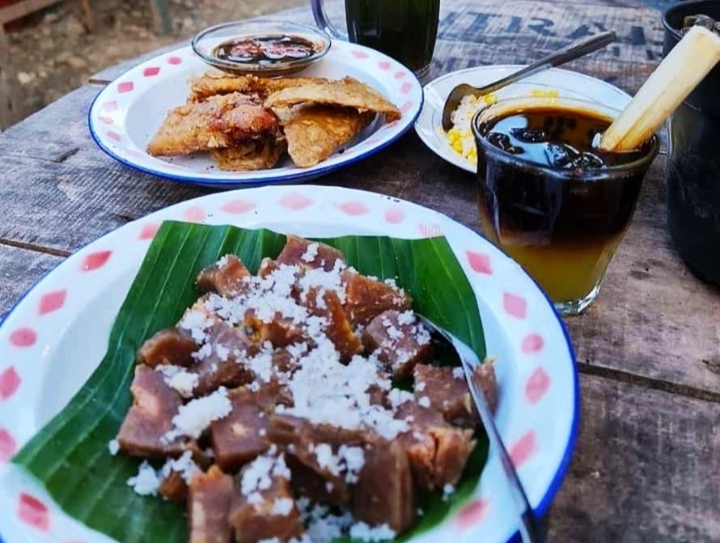 The Diary Game - Monday, 12/4/2021. Activities and Gathering with Family.
Monday, which was full of beautiful charms in the early morning, welcomed my activities very tiring, starting from getting up early, cleaning myself, wearing clothes and performing morning prayers is the start of my activities today.
After this activity, my routine is to go to work as usual. To go to work I departed by motorbike, the trip I took about fifteen minutes from my residence.
Arriving at work, I immediately carried out my activities as a Barista, as I usually go through my daily work. Mixing various types of coffee and other drinks is my job at work, I prepare drinks that are ordered through the waiter one by one with great enthusiasm.
Today the cafe is very crowded with visitors, this is because the community is carrying out traditional meugang activities to welcome the holy month of Ramadan. The crowds of visitors make my activities very busy and tiring. It is my responsibility to mix various types of drinks that come to the table.
When I greeted him in the afternoon, I finished doing my activities as a barista. Then I returned home to carry out another routine, on my motorbike I went straight back to the house. When I got home, all I did was clean myself, take ablution water, wear clothes and fulfill the obligation to pray dzuhur and enjoy the lunch that is already available at the dining table.
The routine that I do at home is to take a short break to release fatigue, a cup of coffee to accompany my afternoon break while watching television. I give free time at home to my family, where we tell each other about the lives that have been passed and about life in the future. The discussion made me fall asleep for a moment on the sofa in the family room.
When the afternoon greeted the beautiful sunset, I immediately got up from the resting place to take ablution water and perform the Asr prayer, then I carried out sports activities with my friends. The sport that I do in a beautiful afternoon is cycling around the village, we did not do this sport for long, due to the fact that tonight we will perform tarawih prayers in congregation.
After the exercise was over, my friends and I immediately returned to our respective homes. When I got home, all I did was immediately clean myself and go to the mosque to perform Maghrib prayers. After maghrib prayer I returned for a moment to my house to enjoy dinner with my family, then I returned to carrying out the obligation of the evening prayer at the mosque in conjunction with the first tarawih prayer in the holy month of Ramadan.
After finishing at the mosque to perform the tarawih prayer, I immediately returned home to rest from all my daily activities.