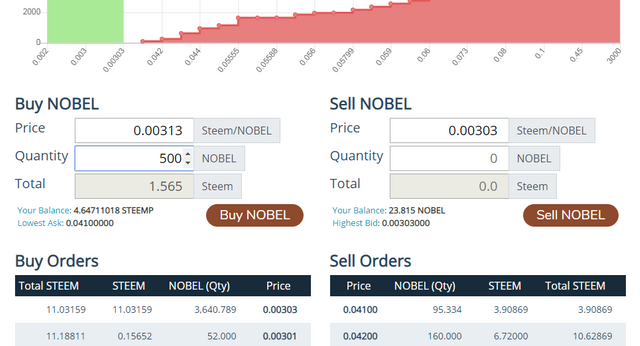 Charity is one way to capture the interest of the public to a particular product especially now that people love free stuffs. I am seeing a new and more organic way of promoting Steem by using part of our rewards for off-chain activities to better humanity and the environment.
Today, I decided to purchase some NOBEL tokens after many months. I feel so bad that I've not kept in pace as I had promised in my first post on the nobel.charity platform. Kudos to @Achimmertens for thinking this project and setting it to roll on the Steem blockchain and still keeping it growing despite the lows in steem and the plague surrounding some steem-engine tokens. The below statement by Achimmertens got me interested in the tokens:
The purpose of the NOBEL-token is to honour the people that Alfred Nobel would appreciate. People, that do good things to other people, should be rewarded with this coin. The NOBEL is an high effective charity distribution tool, where the donators either support their favorite beneficence helpers directly or leave it up to the community to care about, that the money goes to the right places. The beneficence helpers do "Proof of Charity" by writing blogs about their work. STEEM (the base of NOBEL) is a great blockchain platform with a big and good minded community, that creates value by connecting the right people. No NGO or middleman is needed.
I had made a resolve to start-off some charity projects but was unable to continue due to some activities that struggled for my time. I think its right time to think charity as this will be an awesome way to promote steem blockchain.
Reiterating my interest in the
My engagement with the Nobel community and investment in NOBEL tokens is geared towards supporting my push to make families Smile. I have been on Steem blockchain for close to two (2) years and saw how wonderful this blockchain has been. This prompted me to engage every strategy within my capacity to promote Steem and I've successfully onboarded over a 100 persons and organisations to this blockchain.
Education: Books, pens, uniforms to pupils and students;
Skill Acquisition for youths;
Sports facilities and wears for emerging Sport Teams/Schools;
Consumables and Instruments to Medical and Health Centres;
The above will be the focus, other areas may be enlisted later. Let's keep curating humanity and share love to families.
I will be putting up road maps on how to execute the above projects. Already, I've started free Skills acquisition in my Creativity hub. I look forward to making official presentations and making my trainees a part of the blockchain to share their level of growth.
Other areas of charity listed above will be covered in bits in the next few months and I am excited that they will be built on steem blockchain and powered by steem-tokens.
Truly, we can make the world a Better Place!
Here is my Proof of order for the purchase of NOBEL tokens.


Confirmation