Welcome BroadhiveGiGs on Broadhive.org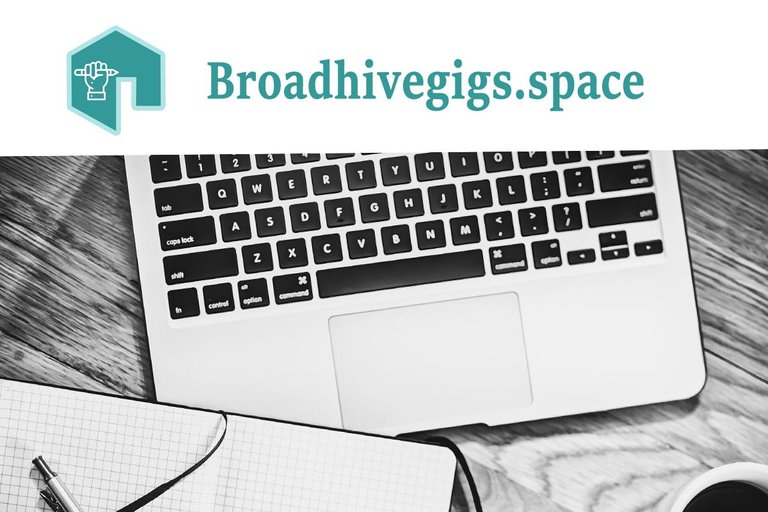 Hello all, we announced in our last post that the web app, BroadhiveGiGs will go live within 48hrs. However, because of some unseen issues, there was a delay. Thanks to our engineer and developer who took in extra work to figure out the issues.
BroadhiveGiGs is a writing workstation where anyone can create a writing task for our writers to pick up. The website is very easy to use and we have a guide on how to use on the website. There may be some UI bugs or other bugs on the website for now. If you find any errors or bugs, kindly reach out to us so that we can fix them as soon as possible.
Purpose
Writing is the key part of the Hive blockchain and the content industry is quite wide. Also, creating a task or getting gigs on projects like Fiverr or Outwork is quite expensive. So we are using this channel to create quality services in a cheaper way.
The BHT writers.
We aim to make this app decentralized in the future, but we are starting with the whitelisted writers on BHT. Currently, we have some writers in the live community and few online that will be part of the idea. But we are open to receive more people.
To be among the writers, we will scrutinize your work, check the quality you can provide and ensure you will be available to be taking tasks. And abide by the fixed prices of tasks. To join the writers, reach out to us on discord.
Why Fixed Price?
We know writers should have a price for their services, but we want this to be community work. A minimum of 3 writers in the community will review any work by the BHT writers to ensure excellent quality before we deliver to the owner.
Features on BroadhiveGiGs
Account Creation
No need for Hive keys. Just create an account with a unique username you desire (Preferably, your HIVE username) and use a password you will not forget. We do not provide a feature to recover password. So, just choose what you will not forget.
Once your account is up, you can start creating tasks. The form is simple to use. Your plan determines the amount you will pay.
Payment.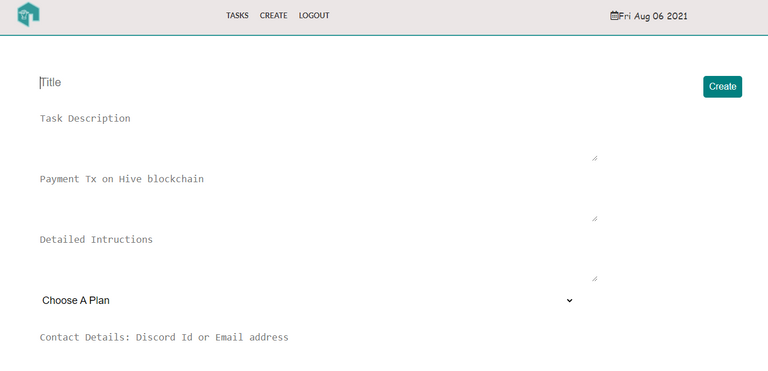 The payment account is @escrow.bht. The current plans are $3-300 words, $6-600 words and $10-1,000 words. You simply need to send the amount for the plan you want to choose to @escrow.bht before you publish your task and you will include the transaction hash in the form for validation.
How quickly will tasks be executed?
This will vary depending on the amounts of tasks and the writers working. The pending task shows from the old to the newest. So, if a task has been on the pending page for 2hrs and another user creates another task, the newly created task will be behind the 2hrs task on the task page. This will make users to know the current task writers are working on.
Pending and completed.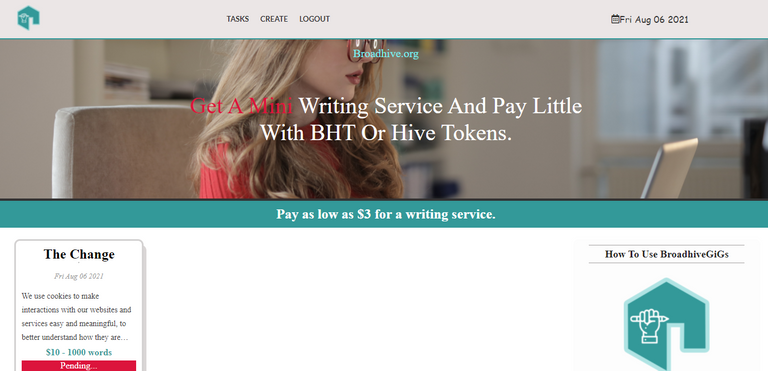 There is only a Pending page for now. Once a task is executed, it will leave the pending task page and it will show nowhere. However, we will work on the completed page soon and users will see their tasks that are completed on the page.
Once we receive your task and start working, you will get an email or message on discord depending on the communication channel you specify on the task.
List of tasks created by a user
Users can also see the list of tasks they have pending.
Tools we use.
We have experienced writers in the community, but we also believe that tools like Grammarly, Hemingway, and ProWritingAid are good to increase readability and fix some errors.
What is next in Broadhive?
We aim to bring in 3 applications on Broadhive before the end of 2021. The next on the line is a prediction app and a Mini game app. These 2 will encourage the use of BHT and Hive only.
Curation
In addition, we will start curating good content with the @broadhive-org account. We will create a good rewarding system for Hive delegators in a few days.
Join the BHT working team
We want members that will work with us to make this community one of the best on the Hive blockchain. The roles we want right now are:
Community manager.
Influencers.
Curators
Share your ideas
If you have ideas on how we can always make this community better, kindly share them with us. We would appreciate them.
Thank you for your cooperation.
---
---