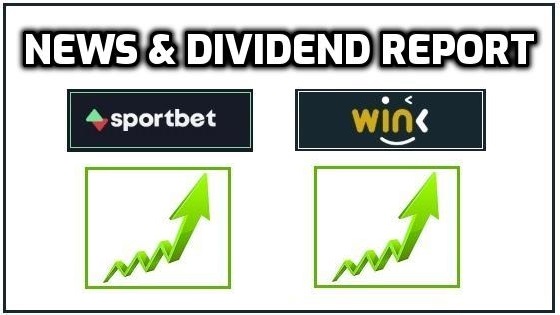 I closely follow both the Wink.org & Sportbet.one platforms and am bringing weekly updates on the news and the Returns they are providing...
---
The EURO 2020 Football Championship seems to be giving a bit of a boost to the gambling dapps as Sportbet.one saw an increase in weekly unique users from 103 to 135 while Wink.org finally put their Sportsbook back online and is seeing an increase in Daily dividends again.
Betfury BFG Tokens ?

betfury.io recently released their sportsbook which looks quite ok at first sight giving an extra option to shop for the best lines on the Tron Blockchain. They do have a native BFG token that pays out dividends which I will have a closer look into as I have been wanting to get an extra source of gambling dapp passive returns. Right now it looks like the only way to get BFG tokens is to mine them so I might just test placing a bet or two on their sportsbook.
WINK Sportsbook Rug Pull ?
So more than a month ago for some reason they never really properly communicated about, Wink took down their sportsbook. I had some bets running in there assuming things would get paid out with everything resuming once it got back online. Now that the sportsbook is back, it looks like all records on previous bets that were taken are wiped away with no way for me to prove that I had running bets since betting required a TRX deposit to the live wallet which operates in a centralized way. From what I have heard, they claim they returned all funds in the past and it might be the case I somehow missed that even though I feel I kept a close eye on it. I haven't seen anyone else having the same issue and filed a request asking what is going on which is still pending.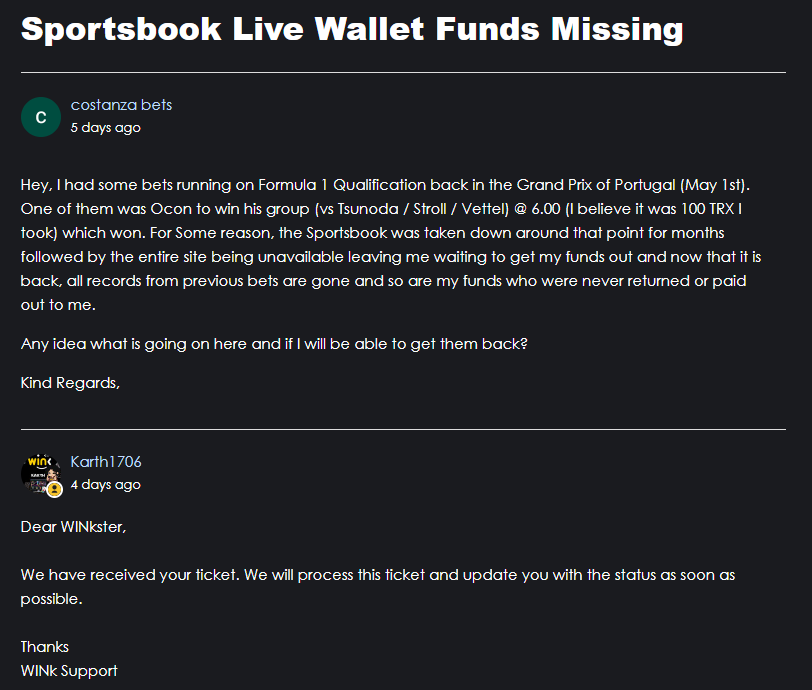 Things like this remind me that all of the current crypto gambling options are a short-mid term play for me offering partly of a solution but still very much operate with a broken and outdated bookmaking model. To this day, 99% of my betting still is done on my main Betting Broker Sportmarket Pro which just provides a much better overall experience nearly always having the best odds with the lowest juice.
Wink Dividends

It was another week where the Dividends from freezing WIN tokens increased a bit again, it also looks like more WIN is being staked again which inevitably will put pressure on the dividends even if more people start gambling.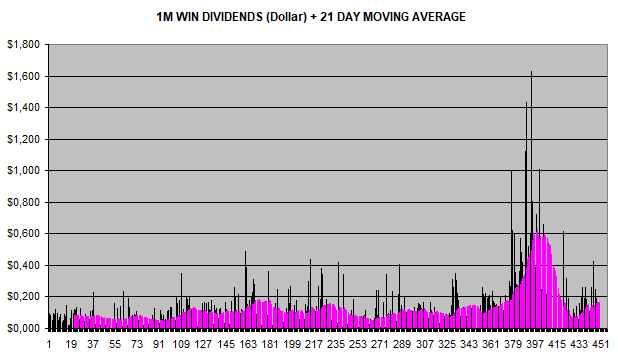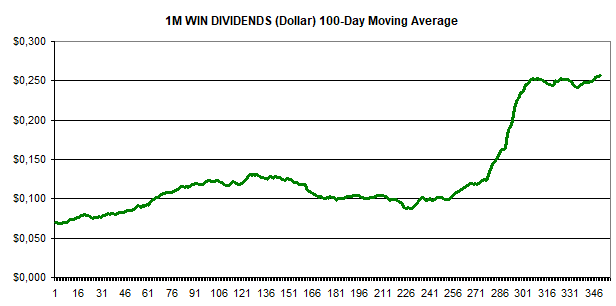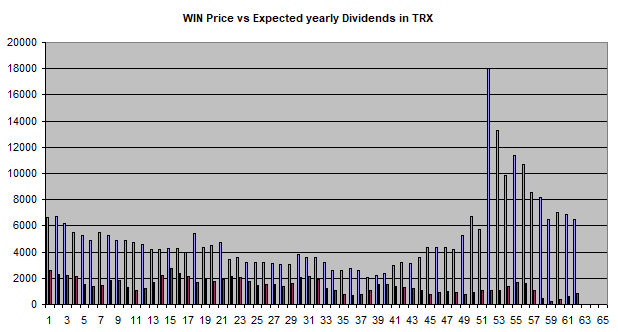 The charts look like things are starting to recover after the pump & dump but returns currently still are only at 0.241% Weekly based on the 21-day moving average and the current price. This is a +12.58% APY which for me makes WIN being a hold but not a buy as the risk/reward for that is not favorable enough.
---
SBET Increased Users & Dividends
The Euro 2020 tournament certainly did make the number of users on Sportbet.one increase (103 -> 135) and I hope that this continues during the tournament. SBET dipped in price again as EOS which it is trading against dropped last week. This makes SBET for me still being in an accumulation zone. (even though at this point I'm nearly at my personal max). The 0.00054 EOS price which it was yesterday when running my weekly numbers by now got bought up to 0.000603 as some solid dividends can be anticipated over the next 7 days with plenty of action.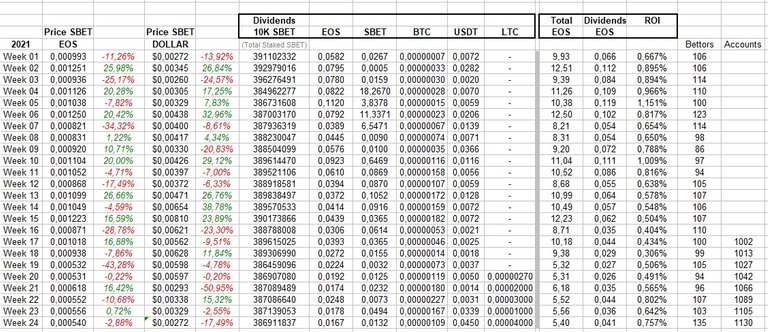 The returns last week increased a bit now being at 0.757% based on yesterday's 0.00054 EOS price and last dividend payout.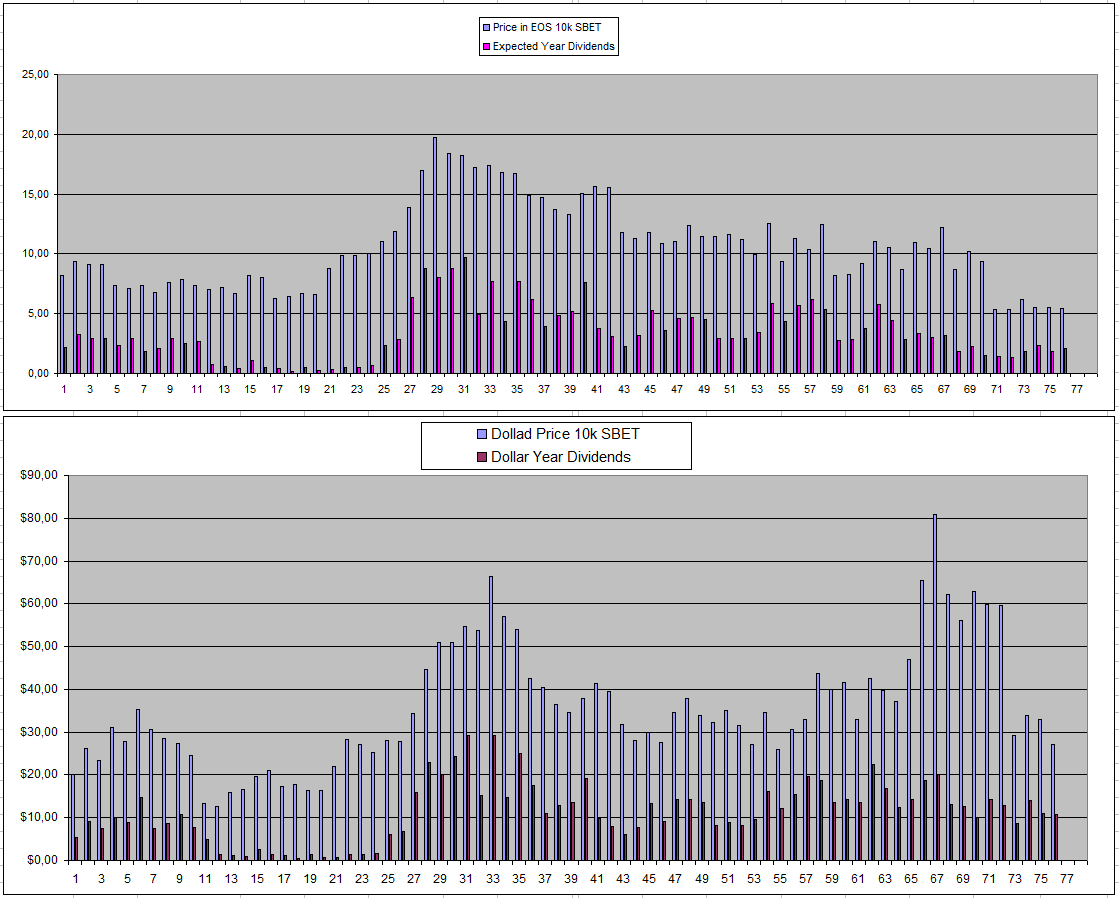 Being at around +40% APY right now and what looks to be an increase in users, things look quite ok for SBET and I'm tempted to get some more at the current price of 32$ for 10k SBET!
---
Personal Gambling Dapp Portfolio
I didn't make any changes in my portfolio currently holding 14M WIN / 3M SBET / 10k TRX / 22 LIVE | 2271 RAKE. Results were very similar to what was paid out last week. I continue to be interested in adding another gambling dapps that pay the losses from the gambler to those holding a token that can't be mined, so if you have one on your radar make sure to let me know...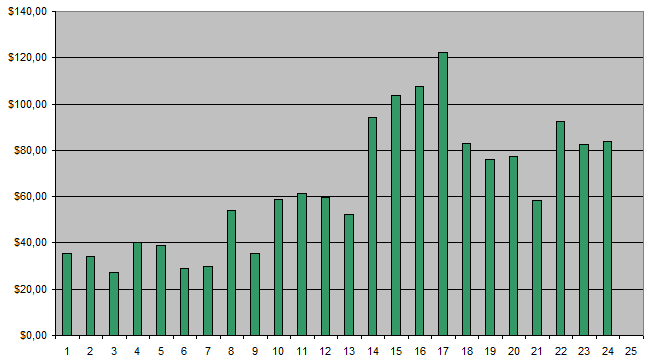 ---
Full Guides to Decentralized Crypto Bookies I personally use where no KYC is required allowing anonymous betting from any location without individual limits for winning players...
---
I'm anticipating a dividend increase for next report which will be online 7 days from now...
---
Posted Using LeoFinance Beta