This post can also be read in Portuguese
It is unquestionable that some tribes will be quite successful in the future, we all obviously expect this because we are depositing time and money in the hope that our efforts can pay off even if it takes months or even years.
We cannot give up what we believe and even if some tokens can no longer be worth anything, others have enough potential for those who know how to overcome HIVE when it comes to its price. One of the factors that still weighs on the domestic market for HE is the lack of liquidity that the vast majority of tokens have unfortunately and with the mass acceptance in communities can perhaps solve this problem.
And this lack of liquidity is like what happened in the last 24 hours in the SPORTS market, as we can see in the graph, the price has been in the 0.00003 and 0.00004 area for a long time and has recently increased slightly to 0.00005.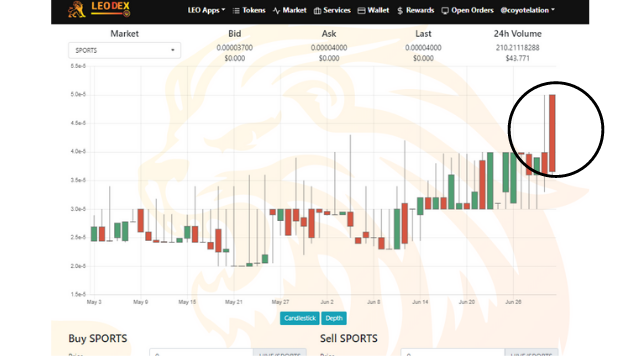 LeoDex
It may not mean much, but if we look at sales orders, nearly 345 HIVE would be able to bring the SPORTS price down to 0.000075 and if we take into account your daily volume for the last 24 hours of 210 HIVE ($ 43,771), no it would be impossible in the next few days to reach that price and perhaps decrease a digit.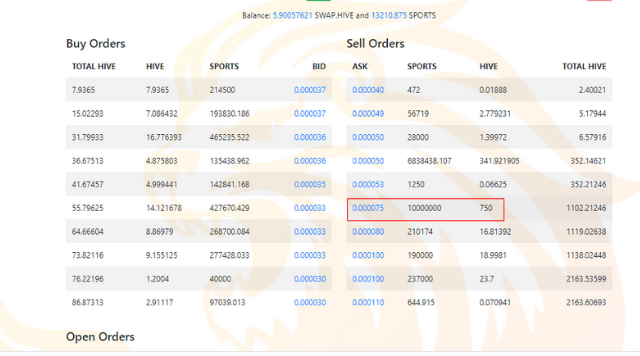 LeoDex
Gradually we are seeing an increase in the participation of more users on Sportstalk Social and this factor is very important for the demand for the token to grow because the possibility of increasing their participation by buying the token is usually faster than simply creating content and maybe the return the fact that some sports such as football are back in action in some countries contribute to more people consuming these contents.
A few weeks from now, we can have an important change for the future of the SPORTS token and seeing this growth both in the community and in its price is quite rewarding when you are part of it all.
PS: This is just a personal opinion and should not be taken to any kind of professional analysis to take certain investment attitudes as the basis for this post. Any decision must be made exclusively by you.

Versão em português
É inquestionável que algumas tribos terão bastante sucesso no futuro, todos obviamente esperamos isso até porque estamos depositando tempo e dinheiro na esperança de que nossos esforços possam nos recompensar mesmo que sejam precisos meses ou até anos.
Não podemos desistir daquilo que acreditamos e mesmo que alguns tokens não possam mais valer nada, outros têm bastante potencial para quem sabe ultrapassar o HIVE se tratando de seu preço. Um dos fatores que ainda pesa no mercado interno pelo HE é a falta de liquidez que a grande maioria dos tokens possuem infelizmente e com a aceitação em massa nas comunidades pode talvez resolver esse problema.
E essa falta de liquidez faz como o que aconteceu nas ultimas 24 horas o mercado do SPORTS, como podemos observar no gráfico, há bastante tempo que o preço permanece na zona de 0.00003 e 0.00004 e que recentemente teve uma leve subida para 0.00005.
Talvez não signifique muito, mas se olharmos para as ordens de venda, praticamente cerca de 345 HIVE seriam capazes de levar o preço do SPORTS para 0.000075 e se levarmos em consideração o seu volume diário das ultimas 24 horas de 210 HIVE ($43.771), não seria impossível nos próximos dias chegarmos a esse preço e quem sabe diminuir um dígito.
Aos poucos estamos vendo um aumento das participações de mais usuários no Sportstalk Social e esse fator é muito importante para a demanda pelo token cresça pois a possibilidade de aumentar sua participação comprando o token geralmente é mais rápido do que ficar simplesmente criando conteúdos e talvez a volta de alguns esportes como o futebol voltarem a atuar em alguns países contribuem para mais pessoas consumirem esses conteúdos.
Daqui há algumas semanas podemos ter uma mudança importante para o futuro do SPORTS token e ver esse crescimento tanto da comunidade quanto em seu preço é bastante compensador quando você faz parte disso tudo.
PS: Essa é apenas uma opinião pessoal e não deve ser levada a nenhum tipo de análise profissional para tomar certas atitudes de investimento como base neste post. Qualquer decisão deve ser tomada unicamente exclusiva por você.

Thanks for reading so far. If you liked it, give that strength with your upvote and rate me. Feel free to leave a comment .Thanks guys!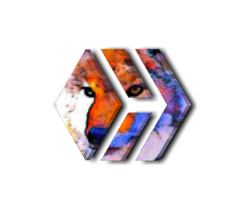 Posted Using LeoFinance