(American) Sportstalk Sunday: Super Bowl done, NBA takes the spotlight

Hey Everybody, another Sportstalk Sunday, American style, here on Hive.
Super Bowl LVII
First things first. Last week showcased one of the best Super Bowls in history as the Kansas City Chiefs won their second title in four years by coming from 10 points down to beat the Philadelphia Eagles on a last-second field goal, 38-35. After QB Patrick Mahomes hobbled off the field just before halftime with a reaggravated ankle injury and his team down 24-14, things looked pretty grim for the MVP. But the Chiefs scored on all four drives in the second half (3TDs and the game-winning FG) capitalizing on some big special teams plays (including a Super Bowl record 65yd punt return), and their defense did just enough to slow down the Eagles high-powered offense for them to come out on top.
Philadelphia didn't lose this game. Kansas City won it. Eagles QB Jalen Hurts set a Super Bowl record himself by scoring three TD's and throwing for another. However, he also accounted for the game's only turnover when he fumbled in the first half and the Chiefs defense scooped it up and scored. As mentioned in last weeks article, there were two things I thought could end up making the difference: mistakes (as mentioned, Philly had the only turnover), and that 310 number. Philadelphia was only 4-3 when giving up over 310 yds. They were 12-0 when it was less. The Chiefs managed 340yds and it proved just enough to get it done.
One other telling stat was the fact that the defense with the third-most sacks in NFL history managed to get exactly zero in this game. When two high-powered offenses go at it, oftentimes it comes down to which defense can do just enough to slow them down for their own offense to win the game. On paper, Philadelphia should have had the advantage with their defense able to disrupt offenses all year thus putting them in unfavorable positions. But the Kansas City offensive line played the game of their lives and kept Patrick Mahomes upright all night, allowing him to lead his team to 24 second half points and the Super Bowl title.
Mahomes added the Super Bowl MVP to his regular season MVP trophy becoming the first to do that since Kurt Warner did it with the then St Louis Rams in 1999.
Overall, it was a fantastic game crowning a very deserving NFL Champion. Now, it's on to the combine and the draft, and then we do it all over again this fall.
NBA
It's All-Star Weekend for the NBA this weekend in Salt Lake City, Utah and it hasn't disappointed so far. Damien Lillard displayed his sharp-shooting by winning the 3-pt contest while representing his Ogden, Utah based college, Weber State, thrilling the hometown fans who have followed him to the NBA. The local fans also got to see their Utah Jazz trio of Jordan Clarkson, Walter Kessler, and Collin Sexton take home the trophy for the Skills Challenge.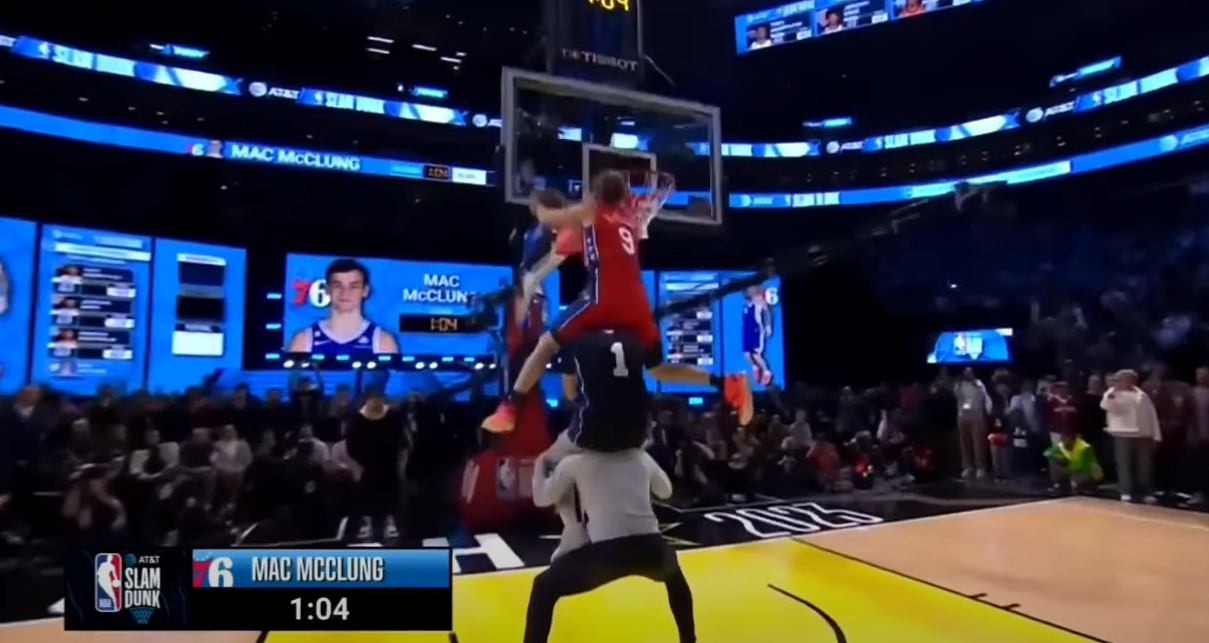 YouTube
But the show of the night was obviously the Dunk Contest. That's a picture. Check out the link below it. Little known 76ers guard, Mac McClung, who has spent most of his time so far in the G-League, absolutely ignited the crowd, the stars, the announcers, the players, and anyone else in the building with four absolutely electric dunks. After starting by leaping over two people and tapping the backboard before reverse slamming it, he finished with an amazing 540 reverse to bring home the title. Sandwiched in between were two more incredible displays of athleticism. Definitely something to watch. The All-Star game itself is today.
Also happening this weekend, the finalists for the NBA Hall of Fame were announced and there is a decidedly international flair to the mix. Spain's Pao Gasol, Germany's Dirk Nowitski, and France's Tony Parker lead the way, with Dwayne Wade and the winningest coach in NBA history, Gregg Popovich rounding out the final five. All seem deserving and it won't surprise me if they all get in when it's announced during the Final Four weekend in early April.
College Hoops
Speaking of the college game, Purdue lost it's third consecutive road game and has come back down to earth, showcasing just how tough it is to win night in and night out in the Big Ten. Perennial football powerhouse, Alabama, has vaulted to the number one spot in the latest rankings, followed by Houston, Purdue, and then UCLA and Kansas rounding out the top five. Things are heating up with conference tourneys only a few weeks away. There will be more in the weeks to come I'm sure.
NHL
The NHL continues to march it's way toward the playoffs with the trade deadline approaching on March 3rd. Everyone in the East continues to chase the Boston Bruins and Toronto made the first move to try and close the gap by acquiring St Louis center Ryan O'Reilly and forward Noel Acciari for a total of four draft picks, including a first round selection. Expect more trades to come over the next couple weeks as teams determine whether they're buyers or sellers down the stretch.
Golf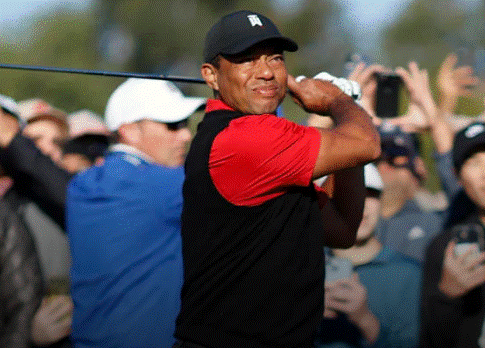 The biggest news of the weekend is of course that we're one week closer to the Masters (just kidding). It's obviously the fact that Tiger Woods is back playing on the PGA Tour. The Genesis at Riviera this weekend is his first regular PGA tournament since before the pandemic in 2020. Amazingly, while not in contention, he has a legitimate chance at finishing in the top 10, a feat most 47 yr old golfers with a broken back and a leg that needs hours of treatment every night could not even comprehend. But, this is Tiger Woods we're talking about. A man who has continued to do the impossible. He almost shot the best round of the day on Saturday so is obviously still capable of winning. It will be amazing to see him back at Augusta this year. Who knows what sort of magic he still has tucked away inside that battered body, but one thing is for sure, he is still the most mentally dominant player in the game and that can take you a long way around a golf course. Should be fun to watch, regardless.
New LeoFinance UI (Everyone should be using it)
That's it for this week. One last thing I should mention, for those who don't know, LeoFinance launched their new UI (user interface) last week and it's been a major success so far. It is a microblogging platform built along the same lines as Twitter and is extremely fun and easy to use. Not only that, but it is now no longer a place for finance and crypto only content. They welcome anything and everything to be posted on "threads".
(Link is here. You can sign in with your normal HiveKey.)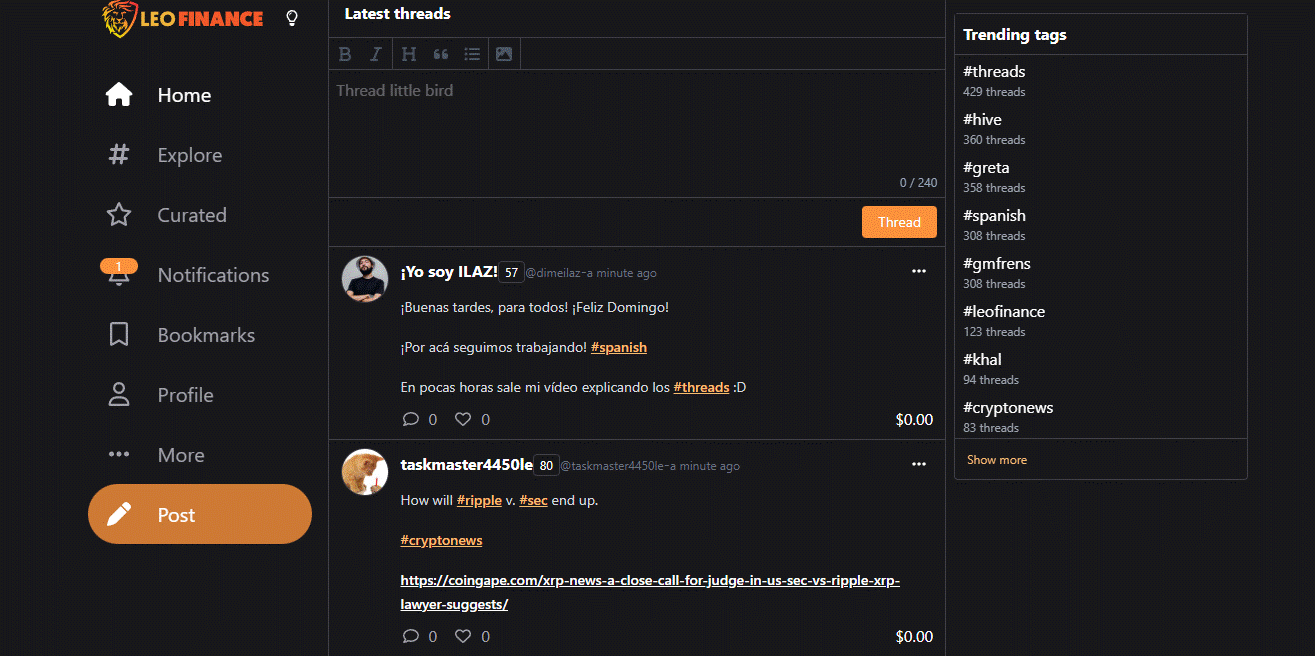 It's a perfect venue for sports-related content. Scores, comments, pictures, whatever, all of it can now be freely posted on threads. The great thing is that it doesn't show up on your blog. Threads actually are treated as "comments" so you can find them there, but you're not spamming your blog or other peoples' feeds with your threads. It's a great way to gain exposure and also learn about what else is going on in the Hive community.
So, "thread" links to your articles, links to other peoples' articles, make comments, post pictures, whatever you want to do. Other communities are starting to post under their own hashtags (#) and, as I said, gaining exposure for their articles and communities, as well as earning a little $LEO and $HIVE along the way. Definitely check it out. You have nothing to lose and lots to gain.
Have a good week!
Hive is the Way.
LeoFinance, the Gateway.
Posted Using LeoFinance Beta
---
---