Hey guys!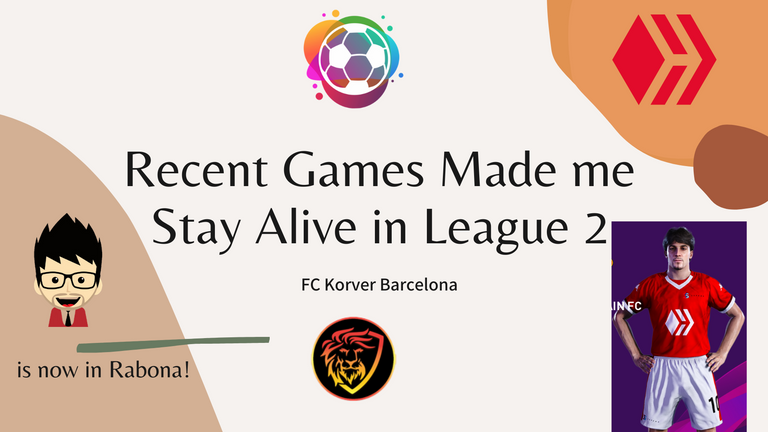 It's been a couple of days since I posted and now I'm back! Obviously, it's a game where I've been hooked for a month now and that is Rabona, a Football Manage game on top of Hive blockchain. It has a currency called RBN where you use it to fund your players, infrastructure upgrades, buy players in the market, etc.
One of the things I like about Rabona is its own currency RBN, which is currently in the final stage of development to be sold in the market. There will be a Hive-RBN trading pair that will be readily available to users anytime soon. Another thing, all actions/transactions are recorded in the blockchain so there's an assurance of fair play.
---
The Title That I mentioned

Yes, for most of the games I was stuck in the middle-to-bottom of the table. Points were very close for 6th to 14th position and losing games will feed you to the bottom. FYI, the bottom 4 of the table after all games being held will get relegated to League 3, the lowest league. The top (1st) of the table gets promoted to League I.
What Does it Mean to be Promoted
There are a couple of advantages when you get promoted.
League 2, League 1, and League of Champions (LOC) gets a fair share of the 50% of the rewards pool under @rabona.rewards. Of course, the higher the league and the better position in the final standings gets the bigger chunk of the rewards.
More Profitability in RBN - the higher the league, the bigger the fan base locally and internationally. This means that you can increase your stadium tickets, Beer, Scarf, and an advertising partner. Like me, I just had an advertising partner named HIVE who had offered 400k+ RBN per season, totally different from my first advertising partner McMoney where I was offered only 100k+ RBN per season.
Dominance? After all, this is a game, where supremacy is all that matters. The more you are on top, the more rewarding it is to feel. This is the reason why you compete because you wanted to feel supreme!
---
How Positive I am for the Next Season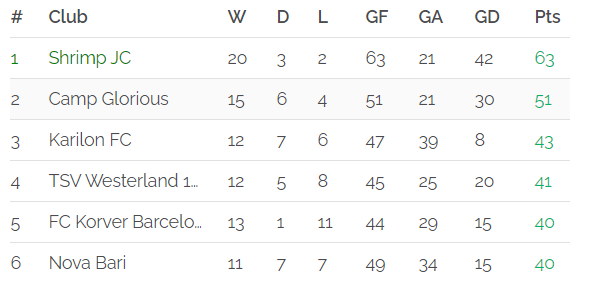 I've been very positive from the way how my matches had. I've had a lot of good talking points about why there's a big possibility of topping in the next season. Here are some of them:
I've defeated Camp Glorious, 2nd in the standings twice. The recent one is a 4-0 win.
The losses I've had with Shrimp JC, the expected top team in the table were very close matches: 2-1 and 1-0, it's a good sign.
I haven't been defeated badly. Most of the losses I had were very close. In fact, there's a lot of games with one 1 goal difference. Goes to show, there's something to hold on to.
---
Thank you for the Support
Throughout my journey here in Hive and Leofinance, I'm thankful to the people who supported me in their ways. As a minnow, your support is very helpful to people like me to continue striving in this platform. I may not be the best writer out there, but I have put my efforts into creating this post. Put the best out of me to deliver a valuable piece of content in this chain.


Posted Using LeoFinance Beta