4 Months to Go! .:. #MyHiveGoals September 5th, 2021
When I was doing this month's #HivePUD I wrote that the goal for the next year will be getting that ORCA rank here on Hive... I have just take a look at #MyHiveGoal and the initial goals for this year and I'm not sure that I will be able to reach Orca next year... lol... If I accomplish this year's HivePower goal that would mean that I have accumulated around 6K HP during the year...
That was a "realistic goal" that required (and requires) consistency and dedication, but it isn't that impossible to reach... If I want to get to Orca, I would need to accumulate around 25K Hive next year, or to double my HP... That is an audacious goal! Not sure that I will have the strength to put it on paper at the beginning of the year, but we will see...
Back to the present... We still have 4 months until the end of the year, and I have goals to reach, so let's get back to current numbers and focus on the goal!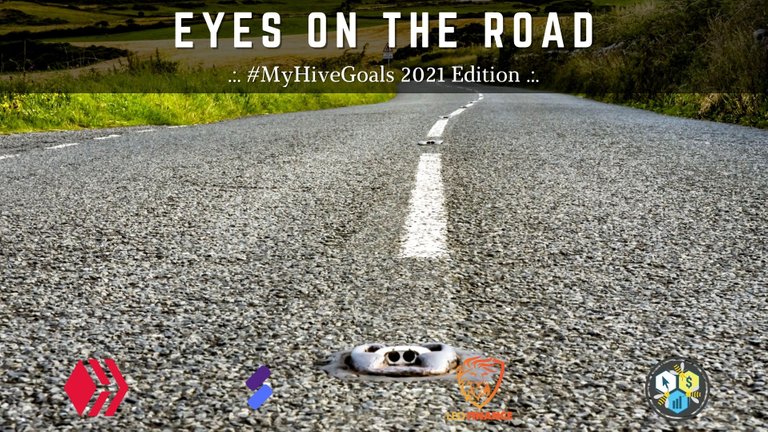 Created in Canva.com

It's the beginning of the month and it's normal to see red-colored cells in the #MyHiveGoals table... The first, and the most important goal is the Hive Power goal. On HivePUD I have powered up 200 HIVE, and during the week, I have received 77HP in curation rewards which make 277 HP in total added in the last week! I will probably reach my initial HP goal of 25K soon, and the revisioned goal should be accomplished by the end of the year... 1.5K in the next 4 months... Not impossible!

Getting early in Uniswap WLEO pool and joining it as a liquidity provider was probably one of my best moves regarding this awesome tribe... Besides that, I have a bunch of LEO Power that is curating quality posts on LeoFinance! All that helps a lot in accumulating LEO tokens which I'm still powering up and accumulate! Because of all that, I have already reached my monthly goal for LEO Power! Thinking of adding 1000 more to my yearly goal, but we are very close to the end of the year... Will see how it goes...

After quitting my DCity goal, one of the most controversial goals is probably my CTP Power goal... I was in the tribe from the very begin and most of the content I have created with the "ctp" tag... That is the reason why I have that many tokens and why I'm one of the whales in that tribe... Thanks to that I earn a decent amount of tokens from my curation rewards, but still, I need a lot more to reach my goal... Also, there are some other interesting projects connected with CTP (hint: CTPSB) which have made me think about future strategies... More about that in some future posts... For now, the CTP Power is adding up slowly...
I'm back on track with my Actifit reports and with my curation in sportstalk tribe! Those are good news as my SPORTS POWER is growing nicely thanks to that... The monthly goal is already reached, all the rest is a bonus!

GAMING GOALS
I keep my eyes on the goal regarding the RISING STAR game... Opening 24 packs per week should be enough to reach my yearly goal, but I'm not stopping there... At the moment, I'm building up my SKILL as I have received a lot of cards with FANS so my EGO started to go up... So, balancing up things for getting more rewards in the future... More rewards, more packs, more cards...

In the end, I would like to make an update of my current numbers (September 5th, 2021) on #MyHiveGoals: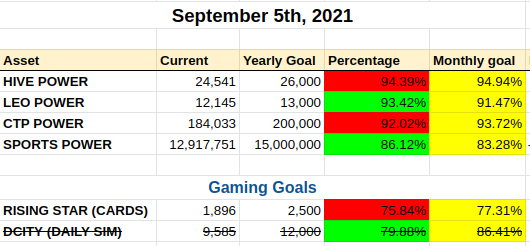 Join us in this awesome #MyHiveGoals and let's grow together! You can find the original post about the challenge by @robwillmann here.
Thank you for your time,
~ph~

The link to my initial 2021 Goals Edition is here...
These are my initial goals for 2021 on January 15th, 2021, and this #MyHiveGoals Challenge:
HIVE POWER - 20,000 / 25,000    80.00%  needed monthly grow 1.66%
LEO POWER     - 8,000 / 12,000  66.00%  needed monthly grow 2.83%
CTP POWER - 150,000 / 200,000   75.00%  needed monthly grow 2.08%
SPORTS POWER   - 5M / 15M       33.33%  needed monthly grow 5.55%

Gaming Goals:
RISING STAR (CARDS) - 189 / 2,000    9.45%  needed monthly grow 7.54%
DCITY (DAILY SIM) - 5,488/ 12,000   45.73%  needed monthly grow 4.52%   (base Income - before taxes) - goal dropped 06.06.2021.

The revised goals - May 16th, July 4th, 2021:
HIVE POWER - 26,000
LEO POWER - 13,000
RISING STAR (CARDS) - 2,500


If you want to support my witness, you can do it by voting for @ph1102.ctp here https://tribaldex.com/witnesses, or just scan the QR code down below...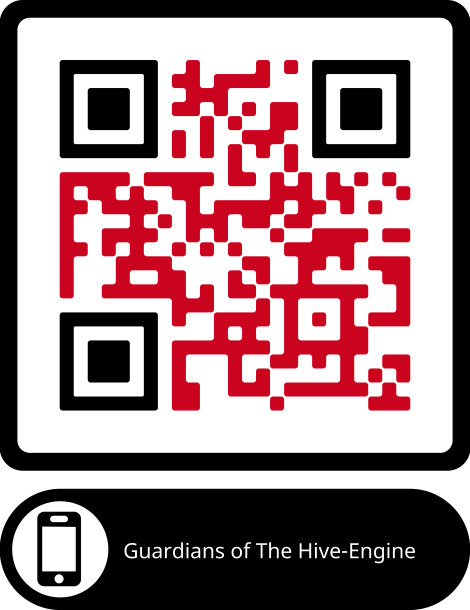 Don't forget to follow, reblog, and browse my Hivepage to stay connected with all the great stuff!
You can also find me on LEO Finance .:. Twitter .:. LBRY
---
---