I have mentioned a couple of times that I will consider raising up some of my goals just to keep myself challenged and motivated... On the other side, I will never lower any of my goals before hitting my time deadline... That would be almost like quitting and that is not acceptable. :)
I know that I have dropped my dCity goal, but that was more from the practical point of view and I didn't find it challenging at all... When food doesn't have taste anymore you drop it, or spicy it up a bit more...
So, let's dive into this report... Don't worry about almost everything being red... It's normal as this is only 4th day of the month!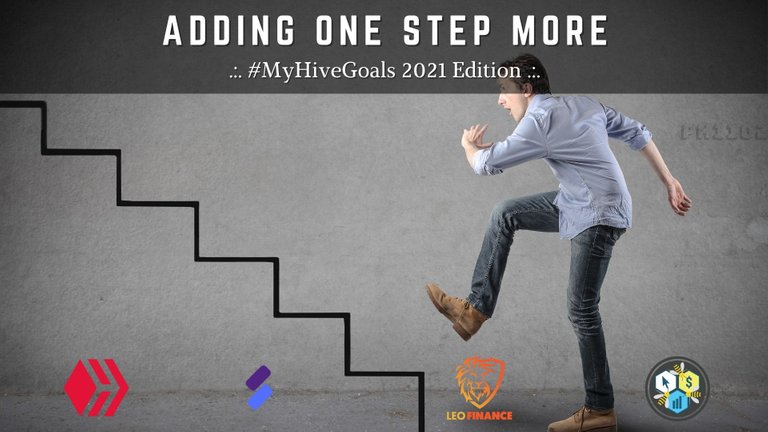 Created in Canva.com

As always, first on the list is Hive Power and we have some good news and some bad news regarding that... The bad news is that almost all curation rewards before the HF got wiped out, but the good news is that someone has found the solution to "recover" some of that... I was a bit slow in the beginning to do that, but I'm back on track and maybe I will even have more HP curation rewards than the week before... This all means, that there is a chance to hit my monthly goal this time (I didn't get it in June)!

My diversified LEO portfolio is doing its work on all levels... I have sorted all that like a funnel... All earnings from liquidity pools incentives, author rewards, etc. are funneling into the LEO Power... Altogether make it a powerful passive income machine, so more-less it's everything on "auto-pilot mode"... As I said, I didn't hit the monthly goal yet, but I had a very good start...

My CTP Power goal is something like "carrot on the stick" for me... I'm always so close to hitting the monthly goal, but still, I fail to get there... Anyways, during the week, I have powered up almost 1000 HP which moved that percentage a bit more up... If I continue powering up around 1K CTP tokens, I have a chance that during the next 25 weeks get my yearly goal of 200K staked CTP tokens!
The only goal in this report that is colored in green is my SPORTS POWER monthly goal... Got there where I want to be and will push more this month... Maybe I will be able to bump up this goal in August... As I'm going for a longer vacation, maybe that will wait...

GAMING GOALS
The one that will not wait with raising the bar is my RISING STAR goal... I have decided to push the final yearly goal from 2000 cards to 2500... I have made some calculations and it is possible to reach, but only with everyday dedication... Currently, I'm doing great, but I was afraid that I will not be challenged enough and feel too comfy, so I have decided to raise the bar with additional 500 cards...
I have added 67 new cards to my collection during the past week as I have given away some cards in our @Liotes discord... No worries at all, as I will open a pack or two more in the future, and the problem are fixed.. :)
As I said a few paragraphs above, I'm going for a longer vacation in 2 days and I will spend a lot less time on Hive and the Internet in general... My Hive goals will probably suffer because of that, but I will try to do some work every day, at least for an hour or two... It's time to see how the passive-income machine is working!

In the end, I would like to make an update of my current numbers (July 4th, 2021) on #MyHiveGoals: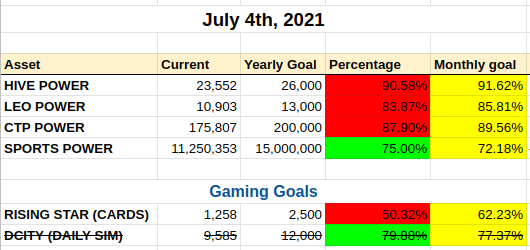 Join us in this awesome #MyHiveGoals and let's grow together! You can find the original post about the challenge by @robwillmann here.
Thank you for your time,
~ph~

The link to my initial 2021 Goals Edition is here...
These are my initial goals for 2021 on January 15th, 2021, and this #MyHiveGoals Challenge:
HIVE POWER - 20,000 / 25,000    80.00%  needed monthly grow 1.66%
LEO POWER     - 8,000 / 12,000  66.00%  needed monthly grow 2.83%
CTP POWER - 150,000 / 200,000   75.00%  needed monthly grow 2.08%
SPORTS POWER   - 5M / 15M       33.33%  needed monthly grow 5.55%

Gaming Goals:
RISING STAR (CARDS) - 189 / 2,000    9.45%  needed monthly grow 7.54%
DCITY (DAILY SIM) - 5,488/ 12,000   45.73%  needed monthly grow 4.52%   (base Income - before taxes) - goal dropped 06.06.2021.

The revised goals - May 16th, July 4th, 2021:
HIVE POWER - 26,000
LEO POWER - 13,000
RISING STAR (CARDS) - 2,500


If you want to support my witness, you can do it by voting for @ph1102.ctp here https://tribaldex.com/witnesses, or just scan the QR code down below...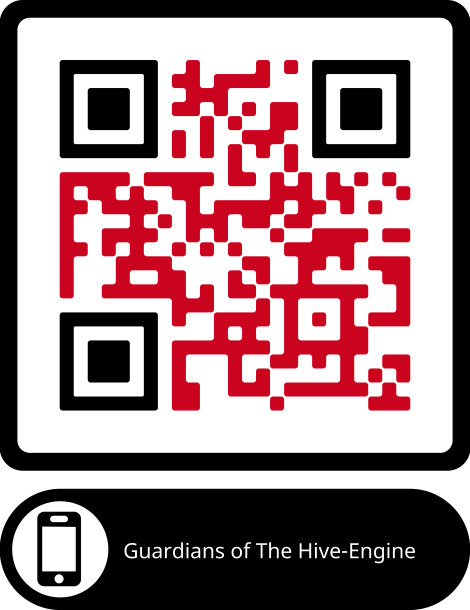 Don't forget to follow, reblog, and browse my Hivepage to stay connected with all the great stuff!
You can also find me on LEO Finance .:. Twitter .:. LBRY
Posted Using LeoFinance Beta