Back On Track... Almost... .:. #MyHiveGoals August 29th, 2021
It always happens like this... You are pushing something like crazy and results are coming, but you have a feeling that you are standing in one place... And then, when you take a break, don't do anything, you reach your goals!
Something similar happened to me... I was on a long vacation and I have to admit that I have problems getting back to work... I mean, I'm "hustling" (like I said in the last post), but most of the work is trying to catch up with things that happened while I was absent... Maybe that's normal, but I miss my content creation process for which I had no time the past week...
And you know the drill... When you don't create content you don't have earnings... But, luckily, this is HIVE and you CAN have earnings even if you don't create! We have games where you can earn, we have curation, we have different DeFi apps on the platform... Thanks to all that I have colored all my monthly goals in the green today!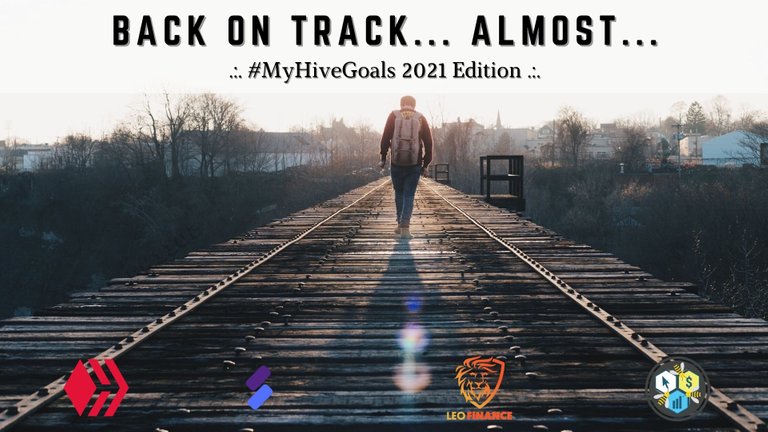 Created in Canva.com

One goal that got colored today is the Hive Power. I have added 79HP and it was enough to go over my monthly goal... Like I said at the beginning, it wasn't thanks to my posts, but more to the curation rewards that I have received... Before the vacation, I have stopped delegating my HP through Dlease, and that bumped up my rewards from curating... Also, you guys are getting better upvotes from me! It's still under $1, but who knows, maybe it will go over that soon...

I forgot to mention the problem with rewarding.app that I'm using for upvoting content with my tribe token accounts... It stopped working more than a week ago and I didn't react on time to find a substitute, or a good solution to fix the problem... Because of that, my dedicated accounts for tribe curation didn't upvote posts and I didn't collect as many tokens as I do usually... So, my LEO Power didn't go up too much... Only 7 LP were added during the last week...

The CTPSB Power Up challenge got to its end and I have powered up a lot of my CTP tokens, so there was a significant growth in my CTP Power! I have added almost 2000 CTP tokens to my staked amount, plus, I have undelegated some power so my curation rewards will be even better in the future! This goal was looking the ugliest from the beginning of the year and I'm happy that I'm finally back on track... Btw. this was my second green-colored monthly goal this week!
It's not that I need a lot of tokens for my SPORTS POWER goal, but I like the fact that I started with my Actifit reports publishing more regularly than before... It was hard to do this report during my vacation, but when I got back, somehow I managed to "force" myself to do them... I hope that it will be a spark that will light my content creation habit for my main account too! The results for this week's Actifit reports will be visible in the next #MyHiveGoals SPORTS POWER report!

GAMING GOALS
The RISING STAR goal is doing well... Opening 24 packs is helping a lot in reaching it, but I'm doing some additional steps toward improving it even more... I was experimenting a bit with STARPRO tokens and I will try to do at least two times every next Festival mission... That will bring me 1 card more per week, and maybe a good leverage for the future trades of these potentially valuable cards... Remember, you can get these cards ONLY during the week when the festival is active! After that, you can get them only if someone wants to sell them...

In the end, I would like to make an update of my current numbers (August 29th, 2021) on #MyHiveGoals: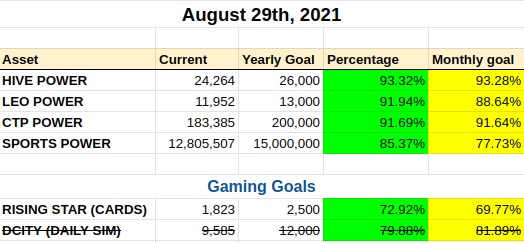 Join us in this awesome #MyHiveGoals and let's grow together! You can find the original post about the challenge by @robwillmann here.
Thank you for your time,
~ph~

The link to my initial 2021 Goals Edition is here...
These are my initial goals for 2021 on January 15th, 2021, and this #MyHiveGoals Challenge:
HIVE POWER - 20,000 / 25,000    80.00%  needed monthly grow 1.66%
LEO POWER     - 8,000 / 12,000  66.00%  needed monthly grow 2.83%
CTP POWER - 150,000 / 200,000   75.00%  needed monthly grow 2.08%
SPORTS POWER   - 5M / 15M       33.33%  needed monthly grow 5.55%

Gaming Goals:
RISING STAR (CARDS) - 189 / 2,000    9.45%  needed monthly grow 7.54%
DCITY (DAILY SIM) - 5,488/ 12,000   45.73%  needed monthly grow 4.52%   (base Income - before taxes) - goal dropped 06.06.2021.

The revised goals - May 16th, July 4th, 2021:
HIVE POWER - 26,000
LEO POWER - 13,000
RISING STAR (CARDS) - 2,500


If you want to support my witness, you can do it by voting for @ph1102.ctp here https://tribaldex.com/witnesses, or just scan the QR code down below...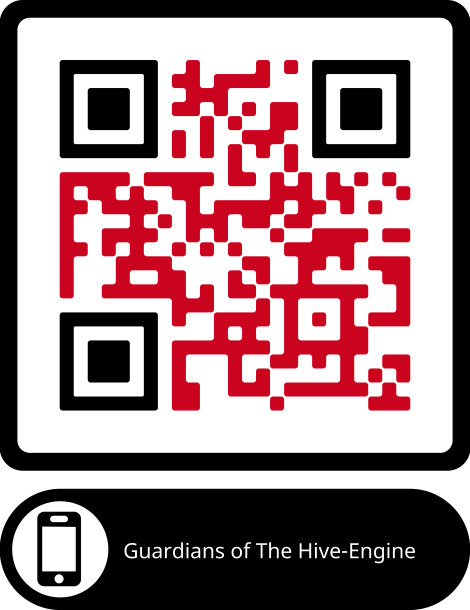 Don't forget to follow, reblog, and browse my Hivepage to stay connected with all the great stuff!
You can also find me on LEO Finance .:. Twitter .:. LBRY
---
---