Calm Before The Storm .:. #MyHiveGoals June 13th, 2021
It looks that the #MyHiveGoals report is like a Bitcoin price at the moment... It's very calm and always around the same numbers (in my case, the percentage of goal always near the monthly goal)... But, if we take the general picture, and absolute numbers of tokens, numbers are going steadily up...
What does that mean? Well, it means that even if the price of HIVE (or any other token in the markets) is going down, you CAN accumulate those tokens... If you compare them with USD or any other fiat currency, maybe you will notice that you have the same amount... But still, you are having MORE crypto, and that is something that counts very much when the markets go in the opposite direction... Now it's the moment for EARNING crypto, and there will be a time when it will be the moment of SPENDING!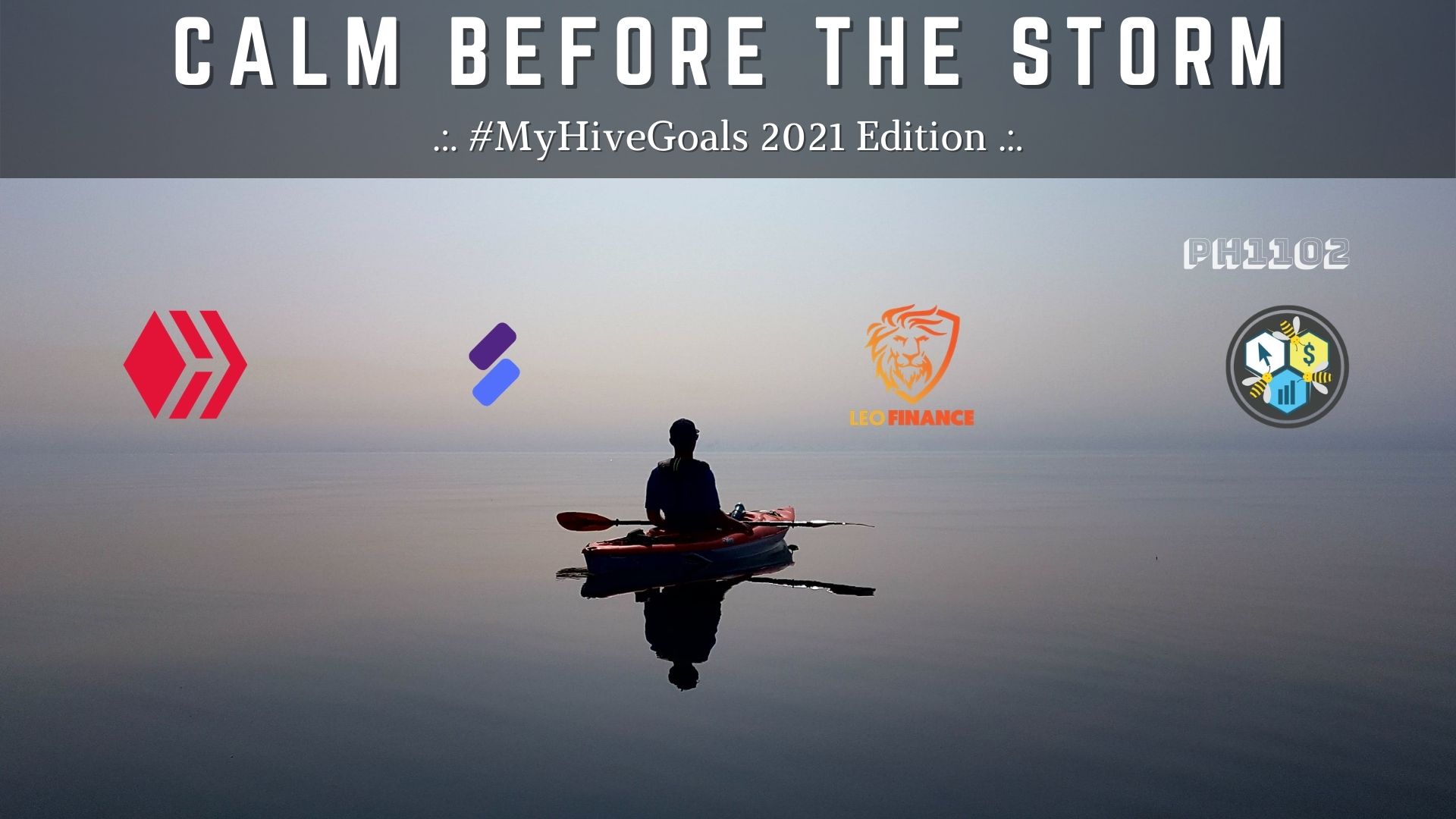 Created in Canva.com
As I had less time to publish posts every day, my monthly Hive Power goal is more-less in the same distance as it was before... Yes, I have the curation rewards that are moving those numbers up, but the content creation aspect is also very important... But, I don't want to force content for the sake of publishing anything... So, I will rather skip a day or two, and come back with quality content...
Of course, I'm doing content for @Liotes occasionally, so check out that account for some useful tutorial for your future investing and about Hive "tricks" in general... I have added 89 HP more during the past week...

The LEO Power goal is going steadily up... I have a nice amount of staked power that creates regular income in LEO tokens by curating awesome content...
As I think that the LEO price is very undervalued at the moment, I'm not selling any of them... Currently, I'm powering up the majority of tokens, and doing some VFTLabs staking just to diversify my investment... During the past week, an additional 67 LEOPower was added to my balance...

The other goal that's paying the price of not creating content every day is the CTP Power... I have added 784 more to my staked CTP tokens, but that isn't enough weekly amount to catch up on my yearly goal... So, I will have to push a bit more and be more consistent with the content...
The one goal that it's "isolated" from this lack of time for content creation is SPORTS POWER... As I have created the habit of doing my Actifit reports every single day, I didn't miss any rewards for months! That is probably the main reason why this goal is doing very well and it's the only one that is in green!

Let's talk about my GAMING GOALS a bit...
Every week, my RISING STAR monthly goals are closer and closer to be fulfilled for the first time ever... Actually, I think that it can happen during this month as now I'm very close! I hope I will raise that goal in the near future, as it has that "snowball effect", or compounding effect when you are earning more as your stake grows through time...
Like last week, I have added 70 cards more to my balance, and now I have 1047! So, I have passed halfway to my yearly goal almost exactly in the middle of this year! The future is promising and everything points out that I should do it!

In the end, I would like to make an update of my current numbers (June 13th, 2021) on #MyHiveGoals: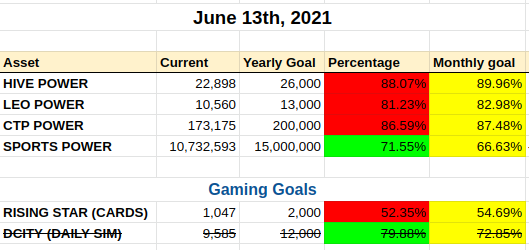 Join us in this awesome #MyHiveGoals and let's grow together! You can find the original post about the challenge by @robwillmann here: https://peakd.com/myhivegoals/@robwillmann/new-challenge-myhivegoals-set-and-achieve-your-goals
Thank you for your time,
~ph~

The link to my initial 2021 Goals Edition is here...
These are my initial goals for 2021 on January 15th, 2021, and this #MyHiveGoals Challenge:
HIVE POWER - 20,000 / 25,000    80.00%  needed monthly grow 1.66%
LEO POWER     - 8,000 / 12,000  66.00%  needed monthly grow 2.83%
CTP POWER - 150,000 / 200,000   75.00%  needed monthly grow 2.08%
SPORTS POWER   - 5M / 15M       33.33%  needed monthly grow 5.55%

Gaming Goals:
RISING STAR (CARDS) - 189 / 2,000    9.45%  needed monthly grow 7.54%
DCITY (DAILY SIM) - 5,488/ 12,000   45.73%  needed monthly grow 4.52%   (base Income - before taxes) - goal dropped 06.06.2021.

The revised goals - May 16th, 2021:
HIVE POWER - 26,000
LEO POWER - 13,000


If you want to support my witness, you can do it by voting for @ph1102.ctp here https://tribaldex.com/witnesses, or just scan the QR code down below...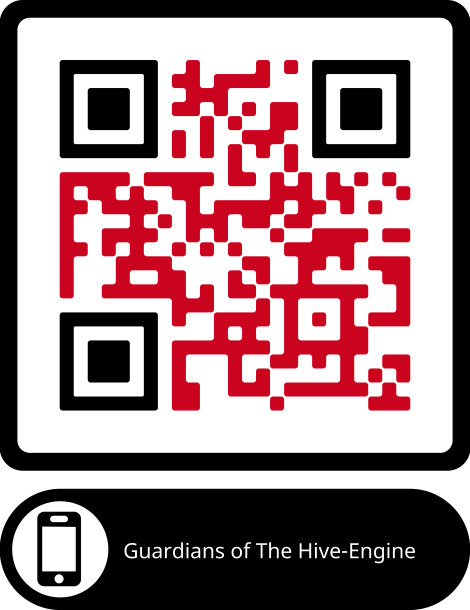 Don't forget to follow, reblog, and browse my Hivepage to stay connected with all the great stuff!
You can also find me on LEO Finance .:. Twitter .:. LBRY
Posted Using LeoFinance Beta
---
---