Closing Down the Gap .:. #MyHiveGoals April 18th, 2021
There wasn't too much excitement during the past week as I didn't reach any new monthly goal, but it was more building up to current stats and closing down the gap... After a while, I see a bit of the light at the end of the CTP goal tunnel and I think that I will catch it next one... Maybe even this one, we will see...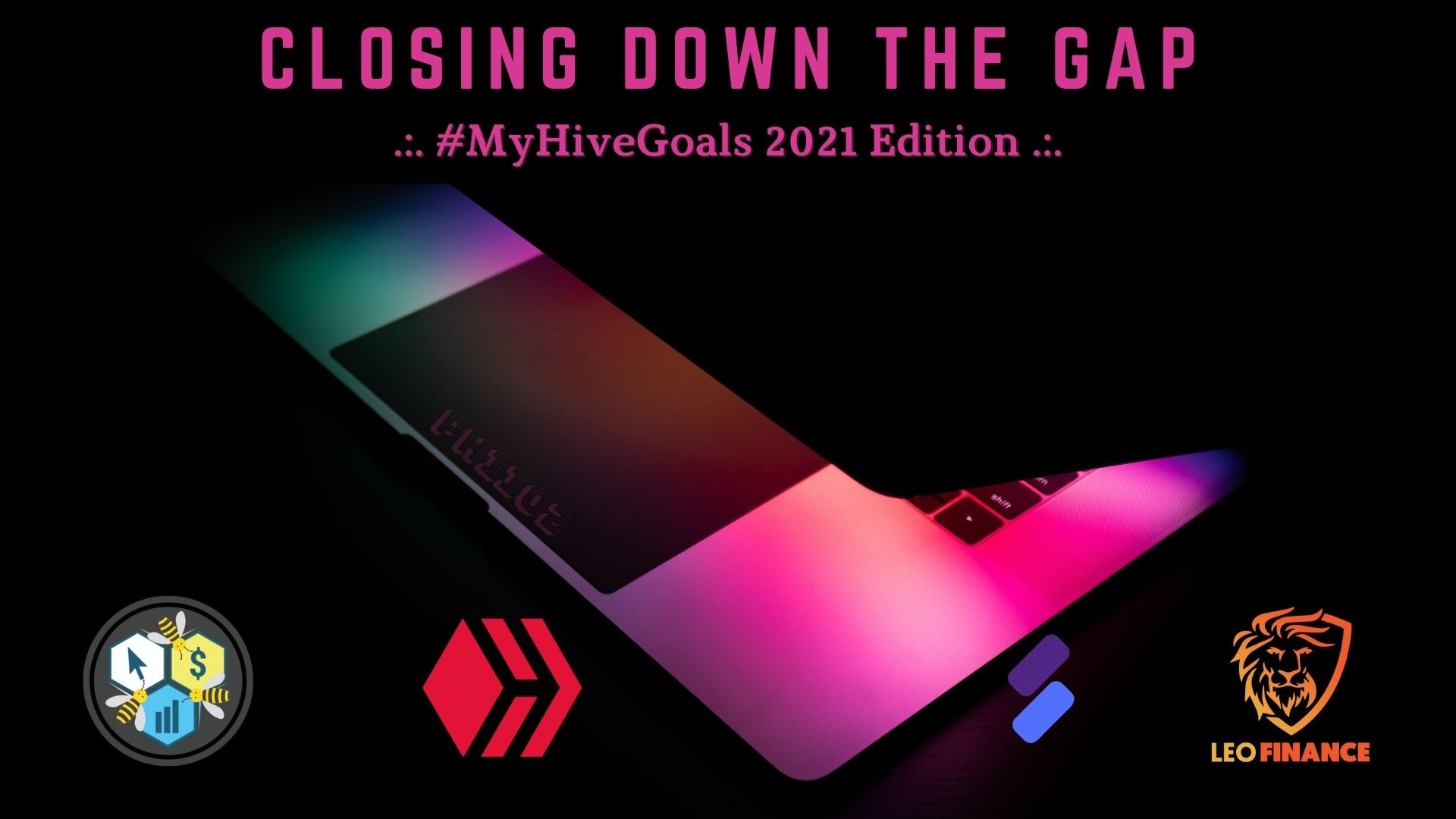 Created in Canva.com
Nothing new regarding my Hive Power goal, as I have hit my monthly goal last week... Actually, I'm thinking of maybe raising the goal for 1-2K, but I have a problem with "rounded numbers" and the only one that comes to my mind is 30K... And that would be maybe too much to hit in the next 7-8 months as that would mean 1K per month... Earning 1K Hive Power per month isn't an easy job... Let's keep this goal as it is, and work in the background on the bigger goal :)

For example, there is no way that I can raise my LEO Power goals... As I don't create everyday content for that platform the only way to build up more would be to purchase it... Actually, I have delegated some power to @leo.voter and that already helps a lot in reaching my goals regarding LEO tokens... Also, curating other's stuff helps, but it can't accumulate the amount that I have set...
So, there is no too much brainstorming about building up my LEO power... The content creation and curating stuff is the only way to go... Of course, wLEO and bLEO can make a difference too, but there is not too much work on that... Just set and forget!

The one thing that was bothering me too much in the past 1-2 months is my CTP Power goal... I was way too far from reaching my monthly goals, but I'm finally closer than ever to reach it! Maybe not this one, but the next one like 99%...
If you are in the CTP tribe, you probably know that @ctpsb has launched the 3rd CTP Power Up Challenge! From one side, it's great as it will be an additional motivator for me to push even more and rank as high as possible... But, on the other side, it will probably pump up the price of the token so my plan of buying some will probably fail... :) And also, I suppose that others have the same idea as me and they will create and curate more too!
The SPORTS POWER goals are going well... At the moment, I have to add under 1M tokens every month and I will reach my yearly goal... To be more exact, I have to add around 700K SPORTS tokens every month and it looks scary when it's written like that... lol... I will never do that anymore... How do I plan to do it? As any other of the previous goals, by creating and curating!

My GAMING GOALS, look like a half-split cake... The RISING STAR goal still looks very far, but I do see a difference... In the last pack's opening, I got some nice cards and I think that I have gotten to the point when I could open 12 packs every 6 days, instead of every 7 days! That's one day less needed for the accumulation of STARBITS needed for pack purchasing and I hope that I will shorten that period to 5 days in a month or two...
The "secret" is in doing missions 24/7, but also in having enough cold-sliced pizzas and pizza boxes to have enough energy for doing them... Also, the Rising Star Birthday Cake card helped a lot with the recharge time of only 12 hours...
The other game that I have listed in my goals is DCITY.... I have reached my monthly goal even before the month started, so no worries about that... The only thing to worry about is the whole game, in general... It would be nice to see it on the old path of glory... :)

In the end, I would like to make an update of my current numbers (April 18th, 2021) on #MyHiveGoals: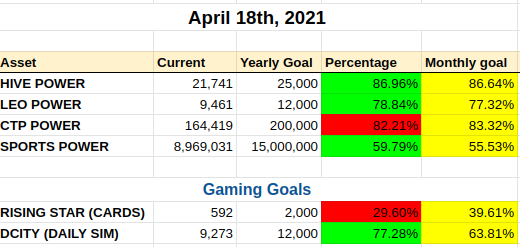 Join us in this awesome #MyHiveGoals and let's grow together! You can find the original post about the challenge by @robwillmann here: https://peakd.com/myhivegoals/@robwillmann/new-challenge-myhivegoals-set-and-achieve-your-goals
Thank you for your time,
~ph~

The link to my initial 2021 Goals Edition is here...
These are my initial goals for 2021 on January 15th, 2021, and this #MyHiveGoals Challenge:
HIVE POWER - 20,000 / 25,000    80.00%  needed monthly grow 1.66%
LEO POWER     - 8,000 / 12,000  66.00%  needed monthly grow 2.83%
CTP POWER - 150,000 / 200,000   75.00%  needed monthly grow 2.08%
SPORTS POWER   - 5M / 15M       33.33%  needed monthly grow 5.55%

Gaming Goals:
RISING STAR (CARDS) - 189 / 2,000    9.45%  needed monthly grow 7.54%
DCITY (DAILY SIM) - 5,488/ 12,000   45.73%  needed monthly grow 4.52%   (base Income - before taxes)


If you want to support my witness, you can do it by voting for @ph1102.ctp here https://tribaldex.com/witnesses, or just scan the QR code down below...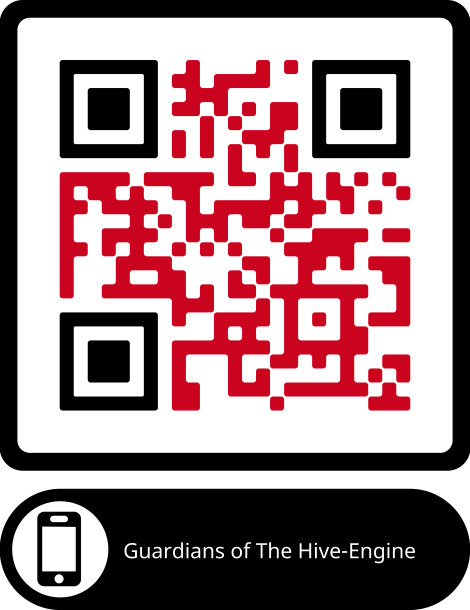 Don't forget to follow, reblog, and browse my Hivepage to stay connected with all the great stuff!
You can also find me on LEO Finance .:. Twitter .:. LBRY
Posted Using LeoFinance Beta
---
---