I Like It Green! .:. #MyHiveGoals May 2nd, 2021
When I was a child I hated the green color... I don't know the exact reason, but I have some clues about it... At that time, I think that my father bought a lot of green colors that he planned to use for one thing... But, as there was a lot of it, at the end, we had the green gate, green windows, green boat, green beds, etc. lol... So, I suppose that that was the reason why I hated it that much...
But, today is different... I like to use green color for my accomplished goals, for positive things in general, and when I see something colored in green, it means something good... :) (That is probably the effect of subliminal messages from outside, like traffic lights, and who knows what more... :) )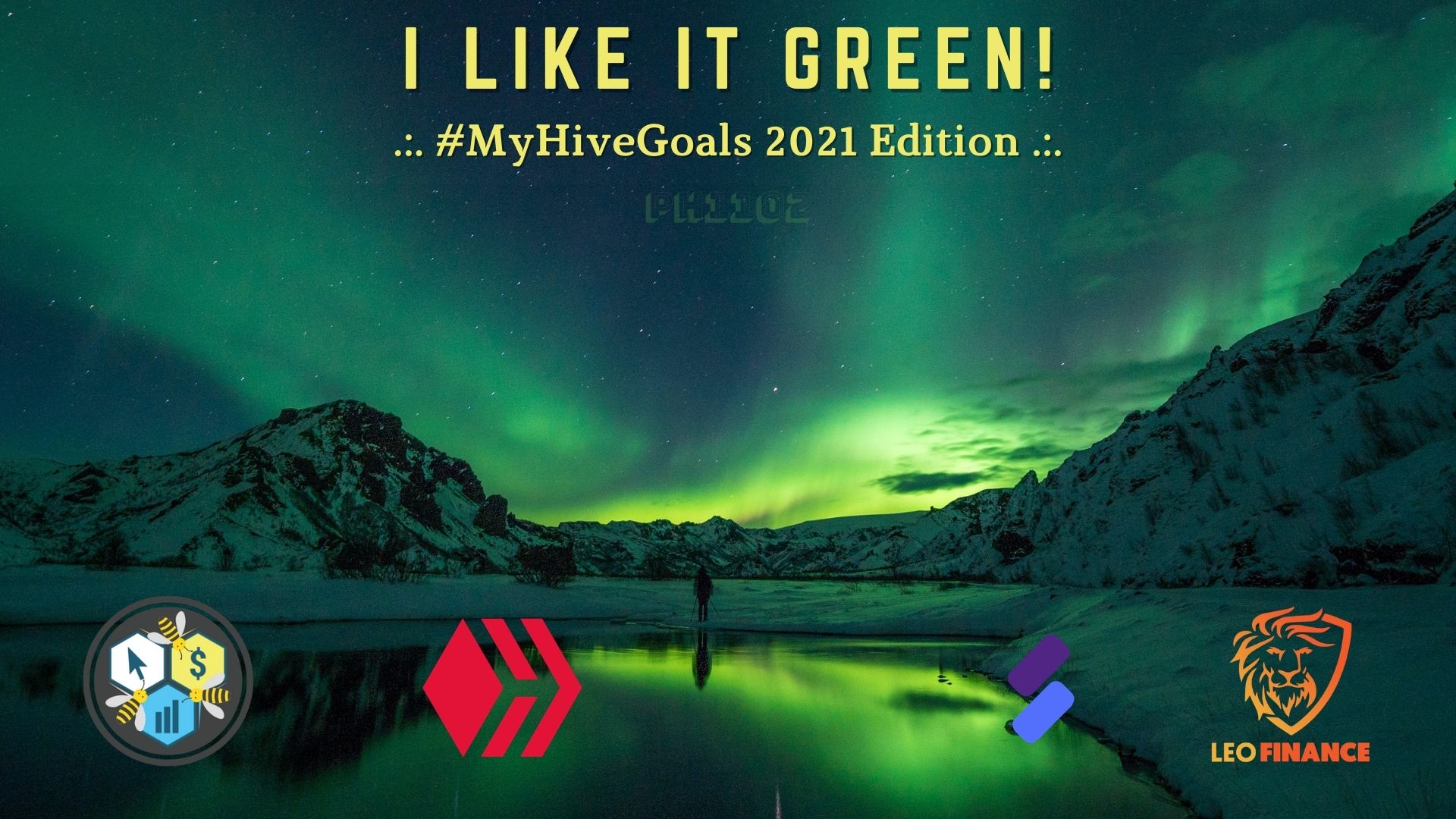 Created in Canva.com
I have powered up 300 HIVE yesterday and that gave me wings to think again about raising my goals... I'm still kind of hesitant about that, so I will leave that decision for some other weekly report... But, 99% that it will happen as I don't plan to Power-down any of my HivePower, so it will go up...
And that was one of the reasons for mentioning the green color in the opening paragraph... With an additional 300 HP, I have already hit my Hive Power monthly goal for May! So, that is already awesome!

It is interesting that I have delegated some of my LEO Power during the past month, but, because of the "unstake effect of others", my curation rewards went up and I have easily hit my monthly goal for May! Another reason is that I get more LEO for my HP delegation to leo.voter, but I have mentioned that in the past report...

One of the most concerning goals is CTP Power yearly goal... I have started lazily a bit on that, but lately, it's picking up the pace and the numbers are catching the monthly goals... Maybe this, or the next month, I will finally catch and color that cell in green too!
The SPORTS POWER goal is still going well, and as planned... It's funny that the main effect on this goal is the weather! :) How's that? Well, most of my SP I get from the author rewards from my Actifit reports... And when the weather is great (like today), I go out on my long walks and do some nice photos and create interesting posts on which I get nice SPORTS rewards... So, fingers crossed for more nice weather... :)

Regarding my GAMING GOALS, more-less I'm doing the same as usual...
The RISING STAR goal looks a bit better as I have noticed a big difference because that 1 card (Birthday Cake) gave me the opportunity to refill my energy 2 times more in one day... Also, during this week I have bought an additional Pizza Box and that will help as well... I have noticed more STARBITS in my wallet, so I went, and buy a couple of cards that are out of print... It's good to buy them early as their price can go only up... ;)
The DCITY game got a new look and the 3rd edition cards are finally released... I didn't have time to check all of them out, but it looks that the future of the game is prolonged a bit more and it looks brighter than a week ago... I had a nice amount of accumulated SIM income, but I will work on creating more... ;)

In the end, I would like to make an update of my current numbers (May 2nd, 2021) on #MyHiveGoals: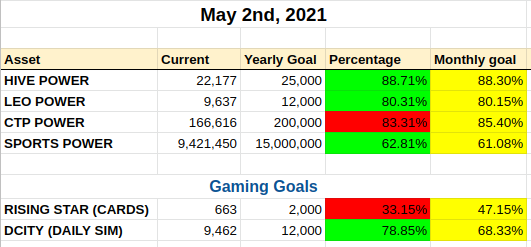 Join us in this awesome #MyHiveGoals and let's grow together! You can find the original post about the challenge by @robwillmann here: https://peakd.com/myhivegoals/@robwillmann/new-challenge-myhivegoals-set-and-achieve-your-goals
Thank you for your time,
~ph~

The link to my initial 2021 Goals Edition is here...
These are my initial goals for 2021 on January 15th, 2021, and this #MyHiveGoals Challenge:
HIVE POWER - 20,000 / 25,000    80.00%  needed monthly grow 1.66%
LEO POWER     - 8,000 / 12,000  66.00%  needed monthly grow 2.83%
CTP POWER - 150,000 / 200,000   75.00%  needed monthly grow 2.08%
SPORTS POWER   - 5M / 15M       33.33%  needed monthly grow 5.55%

Gaming Goals:
RISING STAR (CARDS) - 189 / 2,000    9.45%  needed monthly grow 7.54%
DCITY (DAILY SIM) - 5,488/ 12,000   45.73%  needed monthly grow 4.52%   (base Income - before taxes)


If you want to support my witness, you can do it by voting for @ph1102.ctp here https://tribaldex.com/witnesses, or just scan the QR code down below...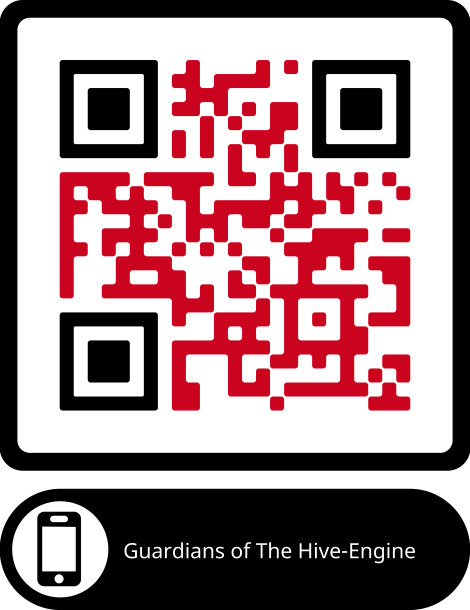 Don't forget to follow, reblog, and browse my Hivepage to stay connected with all the great stuff!
You can also find me on LEO Finance .:. Twitter .:. LBRY
Posted Using LeoFinance Beta
---
---