Liquidity Provider Boost! .:. #MyHiveGoals April 11th, 2021
We are still not in the middle of the month and I have already hit most of my monthly goals! How is that possible? Keep reading and you will discover... :) :)
The first secret is to NOT FOMO, and keep calm... :) And most of us have failed on this one already, including me... This post will be mostly about the LEO token and my goal that I have put to myself at the beginning of this year...
I'm not that popular author on the LEO Finance platform, but I have still managed to hit my goal with a nice amount of tokens... And I didn't buy them! But, let's start this #MyHiveGoals report from the beginning as always, with my Hive Power goal...
Created in Canva.com
I was very close to hitting my HP goal last week, but I didn't do it then... There was no time for whining, so I have been creating content every day in the past week, and collected the amount of needed HP to get to my goal almost 3 weeks before the end of the month!

The one that is the main topic for today is that I didn't calculate well the past week... Last Sunday, I have created my report, added my Geyser rewards to my LEO Power, but I forgot to add my delegated out LP!?! As you maybe know, we (Achim and I) have launched Liotes shop, where you can rent tribe power (at the moment, LEO, CTP, and SPORTS power)... As we have just started we are delegating OUR personal tokens...
So, last week I didn't calculate the 200 LEO Power that I have been delegated out and that's why this number looks so much bigger than before... Another secret is to stay with your strategy... LEO Finance has made some great moves with creating additional markets for their token, like wLEO on Uniswap (Ethereuem chain), bLEO on Binance chain, and our native Hive-Engine version... All these stuff are great, but it's very hard to follow all and to be "good in all", and sometimes, it's the best to stick to ONE... I have provided liquidity to wLEO, and didn't touch that at all (that strategy works the best, because of the Geyser model)!
Tried bLEO, but in the end, I have decided to pull out from there and power up all my LEO! As many people went in CUBs, my curation rewards got much better than before, and I don't regret my decision to go back to the roots! If you don't have a large bag of tokens, leave the "balancing out thing" to others and stick to your plan!

After the change to the linear rewarding curve, my CTP Power goal is slowly going back on track... In the one moment, I was moving very slowly with this goal, but lately, things are coming back where they should be... Maybe I will not get to my monthly goal this month, but I'm here for the long run, so no worries...
The SPORTS POWER goals are still going well... I have delegated out some SP and that will maybe slow my curation rewards down, but I think that it will not make a big difference... Doing well!

Regarding my GAMING GOALS, they are also going well... The RISING STAR goal is going exactly as I have planned and I'm slowly earning more STARBITS per week, which will lead to more pack purchases in the future... And that means more cards!! :) The only "problem" is the new update for the game that will come out in the next couple of days and it could "drain out" some of my earnings... I will probably spend some STARBITS to "test the water" :)
I have made a post about DCITY yesterday, so I will not go into the drama... I have a nice cushion for my goal, and I have no doubts that I will reach this goal before the end of the year...

In the end, I would like to make an update of my current numbers (April 11th, 2021) on #MyHiveGoals: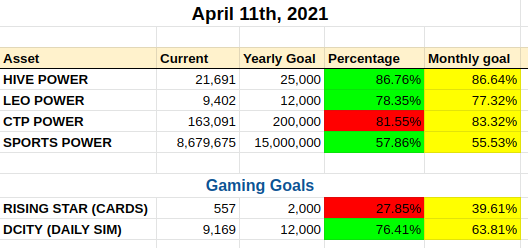 Join us in this awesome #MyHiveGoals and let's grow together! You can find the original post about the challenge by @robwillmann here: https://peakd.com/myhivegoals/@robwillmann/new-challenge-myhivegoals-set-and-achieve-your-goals
Thank you for your time,
~ph~

The link to my initial 2021 Goals Edition is here...
These are my initial goals for 2021 on January 15th, 2021, and this #MyHiveGoals Challenge:
HIVE POWER - 20,000 / 25,000    80.00%  needed monthly grow 1.66%
LEO POWER     - 8,000 / 12,000  66.00%  needed monthly grow 2.83%
CTP POWER - 150,000 / 200,000   75.00%  needed monthly grow 2.08%
SPORTS POWER   - 5M / 15M       33.33%  needed monthly grow 5.55%

Gaming Goals:
RISING STAR (CARDS) - 189 / 2,000    9.45%  needed monthly grow 7.54%
DCITY (DAILY SIM) - 5,488/ 12,000   45.73%  needed monthly grow 4.52%   (base Income - before taxes)


If you want to support my witness, you can do it by voting for @ph1102.ctp here https://tribaldex.com/witnesses, or just scan the QR code down below...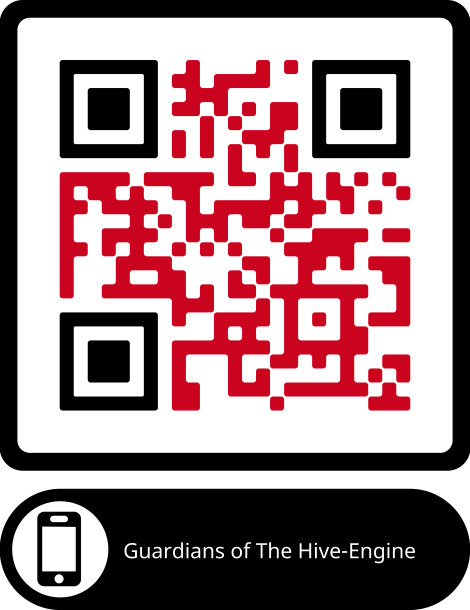 Don't forget to follow, reblog, and browse my Hivepage to stay connected with all the great stuff!
You can also find me on LEO Finance .:. Twitter .:. LBRY
Posted Using LeoFinance Beta
---
---