Monthly Re-Cap .:. #MyHiveGoals May 30th, 2021
As the title says, today's weekly report on #MyHiveGoals got aligned with almost the last day of the month, so my current monthly goals are very close to balance... So, it perfect for doing a monthly re-cap...
There are some greens, some reds, and some thoughts of dropping one of my goals... It's hard to do it, but I'm not thinking about that for the goals in red, or for the goal that I can't reach, it's just about the point and sense of doing it... But, let's do checks on all of them...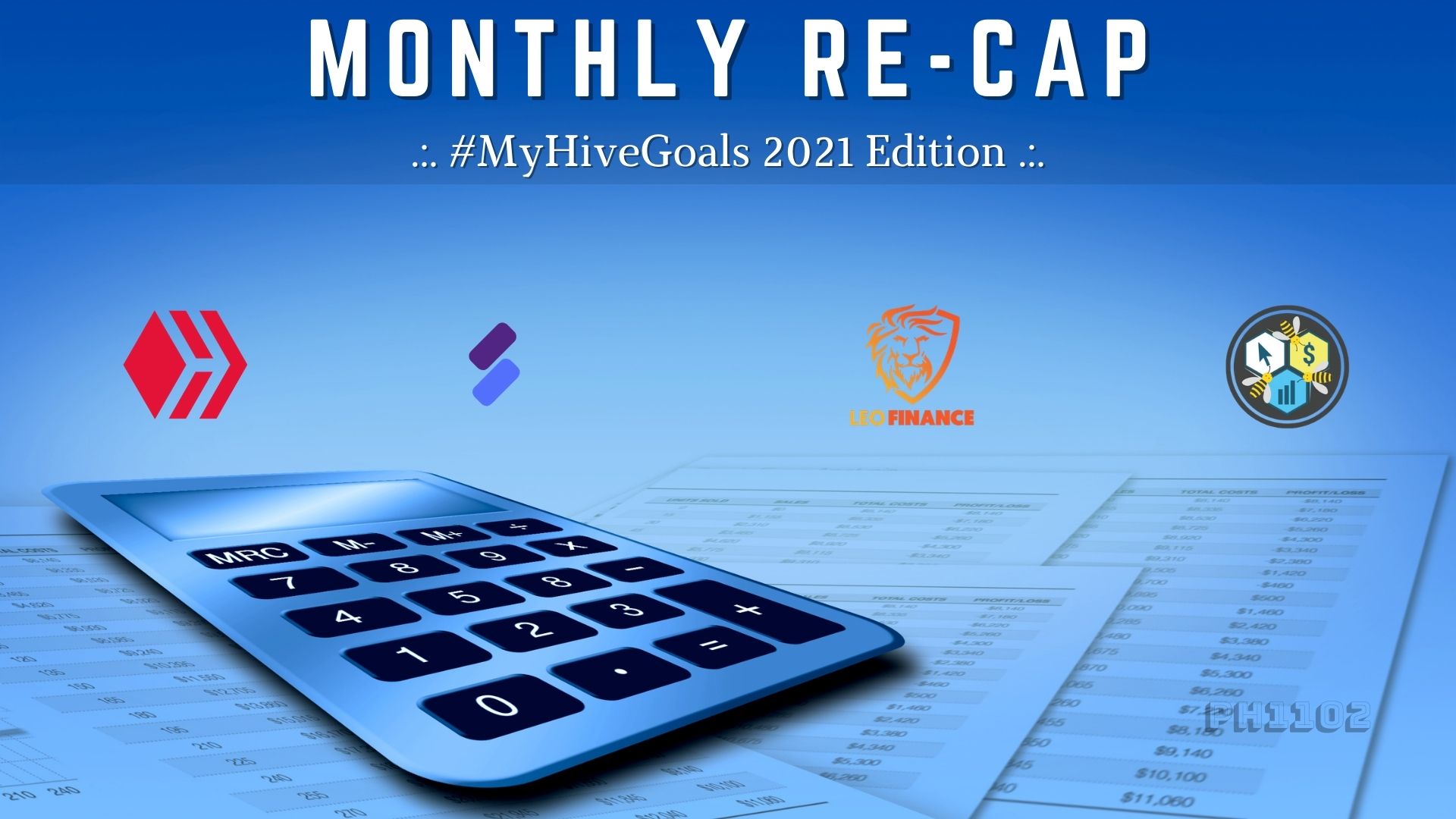 Created in Canva.com
The first goal on the list is Hive Power, and it's the first one that I didn't reach this month... In my defense, I have raised this goal during this month, so "not reaching" it was more than expected... It's not that easy to get 1000 HP in one month, regarding the staked amount...
I added around 70HP during the past week, and I'm fine with that... It's slowly accumulating, and going up... That's the most important... ;) Oh, yes... The Hive Power UP Day (HivePUD) is coming, so that will be a nice opportunity to do a nice bump in HivePower immediately on the first day of June...

The LEO Power goal was another one that I have raised this month, but I did reach my monthly goal by adding 43LP more in the past week to my account dedicated to LEO curation... It was almost exactly the amount that I needed for coloring that rectangle to green...
The price of LEO tokens when down, so I bought some more... I didn't stake them, but invested into the VFTLab platform... So, I have more in my bags, but not in one place... :)

I have mentioned in the last week's report that I hope that I will hit my monthly goal for the CTP Power and that's finally happened! For the first time of creating these goals, I have reached my monthly goal for the CTP tokens! I'm back on track again! I have added 961 CTP tokens to my CTP Power during the last 7 days!
The SPORTS POWER goal is going way over my expectations... I didn't expect that I will reach these monthly goals as I did... But, if you are curate actively in ANY Of tribes, accumulate tribe power in it, and don't cash out all your earnings, it happens that you are reaching your goals... :) More power, more curation rewards, faster accumulation... It is simple as that...

Speaking of mentions from the last week... I have mentioned some possible changes in my GAMING GOALS and they will probably happen from the next month...
A similar thing to that with CTP Power will happen (I hope) with my RISING STAR goal... With opening 24 packs per week, I got very close to reaching my monthly goal this May... It didn't happen, but I was very, very close to that happening... I have added 63 cards in 1 week, which narrowed the difference between the current and goal percentage to only 2%... That's closer than ever!
Again, I have mentioned my concerns about the DCITY goal and its pointless counting of daily SIMs earnings as that number has nothing to do with the real earnings... I haven't invested any SIM in the past week, and this number has changed to lower... Also, with continuous tax over 90% (mostly at 100%), I really don't see the point of this goal in this form...
As I'm not a quitter, it takes too long to think about the right move to make about this... To keep my conscience clear, maybe I will replace this goal with another game's goal... Or just simply drop this goal... Anyways, I will do that from the next week's report probably...

In the end, I would like to make an update of my current numbers (May 30th, 2021) on #MyHiveGoals: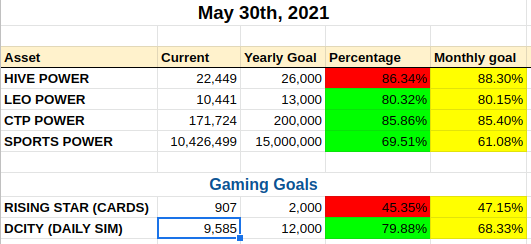 Join us in this awesome #MyHiveGoals and let's grow together! You can find the original post about the challenge by @robwillmann here: https://peakd.com/myhivegoals/@robwillmann/new-challenge-myhivegoals-set-and-achieve-your-goals
Thank you for your time,
~ph~

The link to my initial 2021 Goals Edition is here...
These are my initial goals for 2021 on January 15th, 2021, and this #MyHiveGoals Challenge:
HIVE POWER - 20,000 / 25,000    80.00%  needed monthly grow 1.66%
LEO POWER     - 8,000 / 12,000  66.00%  needed monthly grow 2.83%
CTP POWER - 150,000 / 200,000   75.00%  needed monthly grow 2.08%
SPORTS POWER   - 5M / 15M       33.33%  needed monthly grow 5.55%

Gaming Goals:
RISING STAR (CARDS) - 189 / 2,000    9.45%  needed monthly grow 7.54%
DCITY (DAILY SIM) - 5,488/ 12,000   45.73%  needed monthly grow 4.52%   (base Income - before taxes)

The revised goals - May 16th, 2021:
HIVE POWER - 26,000
LEO POWER - 13,000


If you want to support my witness, you can do it by voting for @ph1102.ctp here https://tribaldex.com/witnesses, or just scan the QR code down below...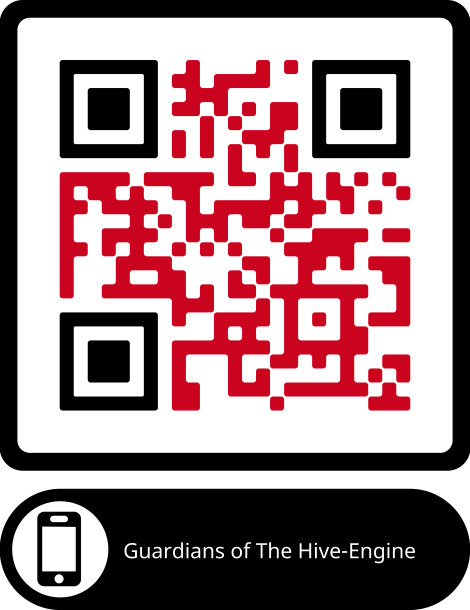 Don't forget to follow, reblog, and browse my Hivepage to stay connected with all the great stuff!
You can also find me on LEO Finance .:. Twitter .:. LBRY
Posted Using LeoFinance Beta
---
---