In my last #MyHiveGoals report I was talking about the perfect time for the accumulation of tokens, and how important is to create (and curate) at these moments when prices of cryptocurrencies are going down (compared to fiat money)... And, it is like that! I didn't lie about that at all... But, I have failed to do so... At least on my personal account, but still, that's not an excuse...
For the last 2-3 months, I'm creating 3-4 posts per week, which is half what I was doing before... Mostly, I was doing 1 post per day, and in the past year, there were mostly vlogs, but now, I create one, or max 2 videos per week... That is directly connected with my results and it's good that I'm doing these reports as they help me to kick me in the ass!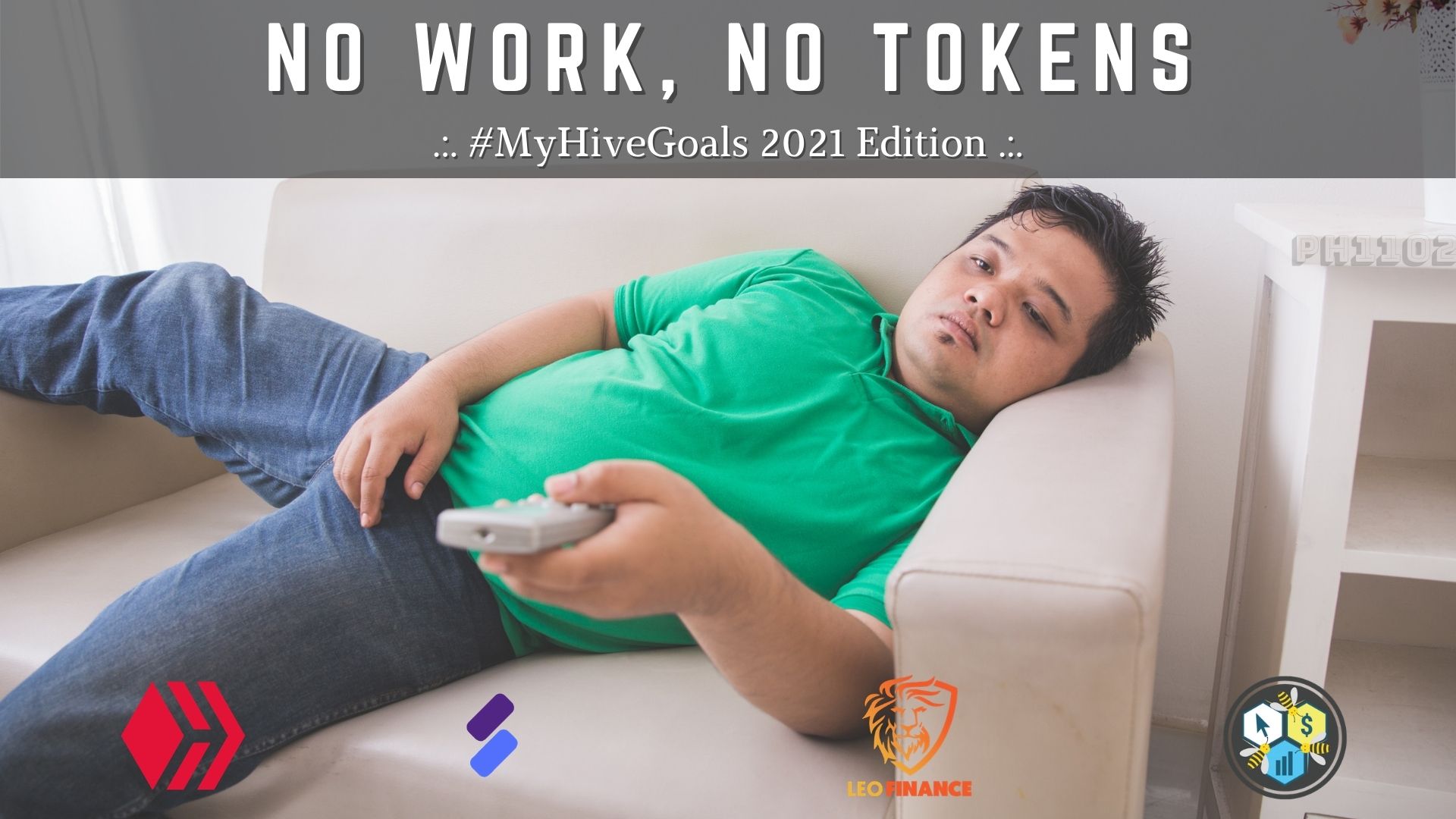 Created in Canva.com
One of my main objectives is, of course, Hive Power goal and it is directly hit by my laziness... If you want to earn HIVE tokens (and HivePower), you have to create and curate content! If you don't have tons of HP, your curation rewards will not be too big, so you have to create quality content and attract upvotes... It's simple like that!
But, on the other side, you can earn HIVE tokens by doing other stuff on the chain... So, for example, I have earned some of mine by playing Splinterlands, Rising Star, or DCity, which is a nice additional income... If you are good in games, you can earn a nice amount of crypto...

The LEO Power goal is going up, maybe not as fast as I would like, but still, I think that I will hit my monthly goal for June... I have delegated some of my LEO Power to others, so my curation rewards are a bit lower, but I count on other income sources for LEO...
One of them is Geyser Liquidity provider earnings that should come during the week... The other ones are earnings from CUBs and VFT, where I have invested some of my LEO, so I should buy some LEO back with that income...

The CTP Power is also suffering because of my laziness... I am one of the whales in the CTP tribe, but still, I can't earn enough from curating to reach the goals that I have created... So, I will have to make an additional effort regarding this, or buy more tokens with some other ones that have a "spillover" effect...
Speaking of spillover, I could sell some of my SPORTS tokens, as my SPORTS POWER goal is doing great... So, maybe I will do that and buy some CTP with that... I have one week ahead to think about that... The SPORTS token is doing great at the moment, and it looks much healthier than when I bought most of my stash... I can't believe that it costs now almost 10x more than before...

GAMING GOALS
This week, my RISING STAR goal has advanced more than usual... Firstly, it got colored to green for the first time EVER, which is just AWESOME! It wasn't that easy to come to this point... It maybe looks like that, but it's not... Especially if you are trying to build your card base with your earnings from the game... It's very similar to content creation for HIVE accumulation... You have to play the game regularly, do missions, and waste your time doing nothing...
Currently, there is a special mission where you can earn additional seasonal cards and that's the reason why I earned 3 more cards than usual during the week... The game is growing nicely, and some of the cards that you earn today can be valued much more in a year, or two (or more)... It happened with Splinterlands, and it can happen with Rising Star...

In the end, I would like to make an update of my current numbers (June 20th, 2021) on #MyHiveGoals: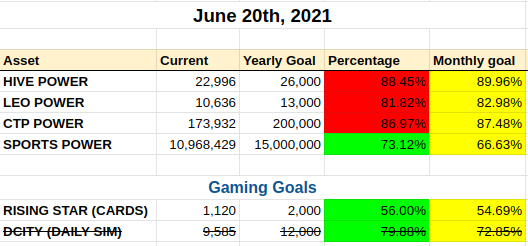 Join us in this awesome #MyHiveGoals and let's grow together! You can find the original post about the challenge by @robwillmann here: https://peakd.com/myhivegoals/@robwillmann/new-challenge-myhivegoals-set-and-achieve-your-goals
Thank you for your time,
~ph~

The link to my initial 2021 Goals Edition is here...
These are my initial goals for 2021 on January 15th, 2021, and this #MyHiveGoals Challenge:
HIVE POWER - 20,000 / 25,000    80.00%  needed monthly grow 1.66%
LEO POWER     - 8,000 / 12,000  66.00%  needed monthly grow 2.83%
CTP POWER - 150,000 / 200,000   75.00%  needed monthly grow 2.08%
SPORTS POWER   - 5M / 15M       33.33%  needed monthly grow 5.55%

Gaming Goals:
RISING STAR (CARDS) - 189 / 2,000    9.45%  needed monthly grow 7.54%
DCITY (DAILY SIM) - 5,488/ 12,000   45.73%  needed monthly grow 4.52%   (base Income - before taxes) - goal dropped 06.06.2021.

The revised goals - May 16th, 2021:
HIVE POWER - 26,000
LEO POWER - 13,000


If you want to support my witness, you can do it by voting for @ph1102.ctp here https://tribaldex.com/witnesses, or just scan the QR code down below...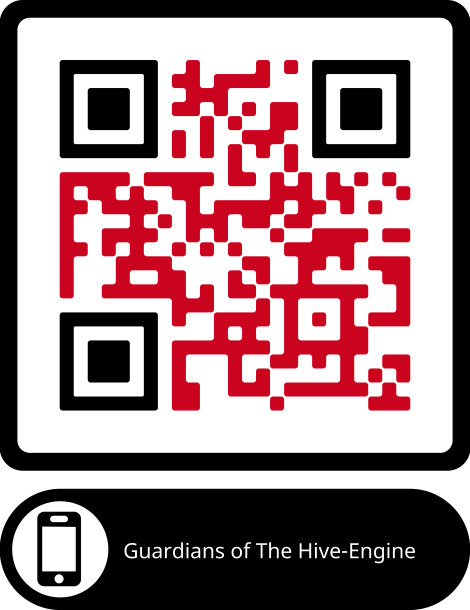 Don't forget to follow, reblog, and browse my Hivepage to stay connected with all the great stuff!
You can also find me on LEO Finance .:. Twitter .:. LBRY
Posted Using LeoFinance Beta