I'm not sure that last week's goals raise was a good move, now when I see all these crypto markets in red... But, to be honest, I think that I have accumulated the most of my crypto earning in the bear market, so it's maybe a good thing...
Also, let's be clear here... It hurts to see most of the coins in red, but it's not the end of the world... As I said, this is the perfect moment to re-group and re-organize your crypto bags... I will do that for sure... At these moments, there are some crazy prices out there for some good coins, and I will use this situation to fill my bags with cryptos that I believe in... ;)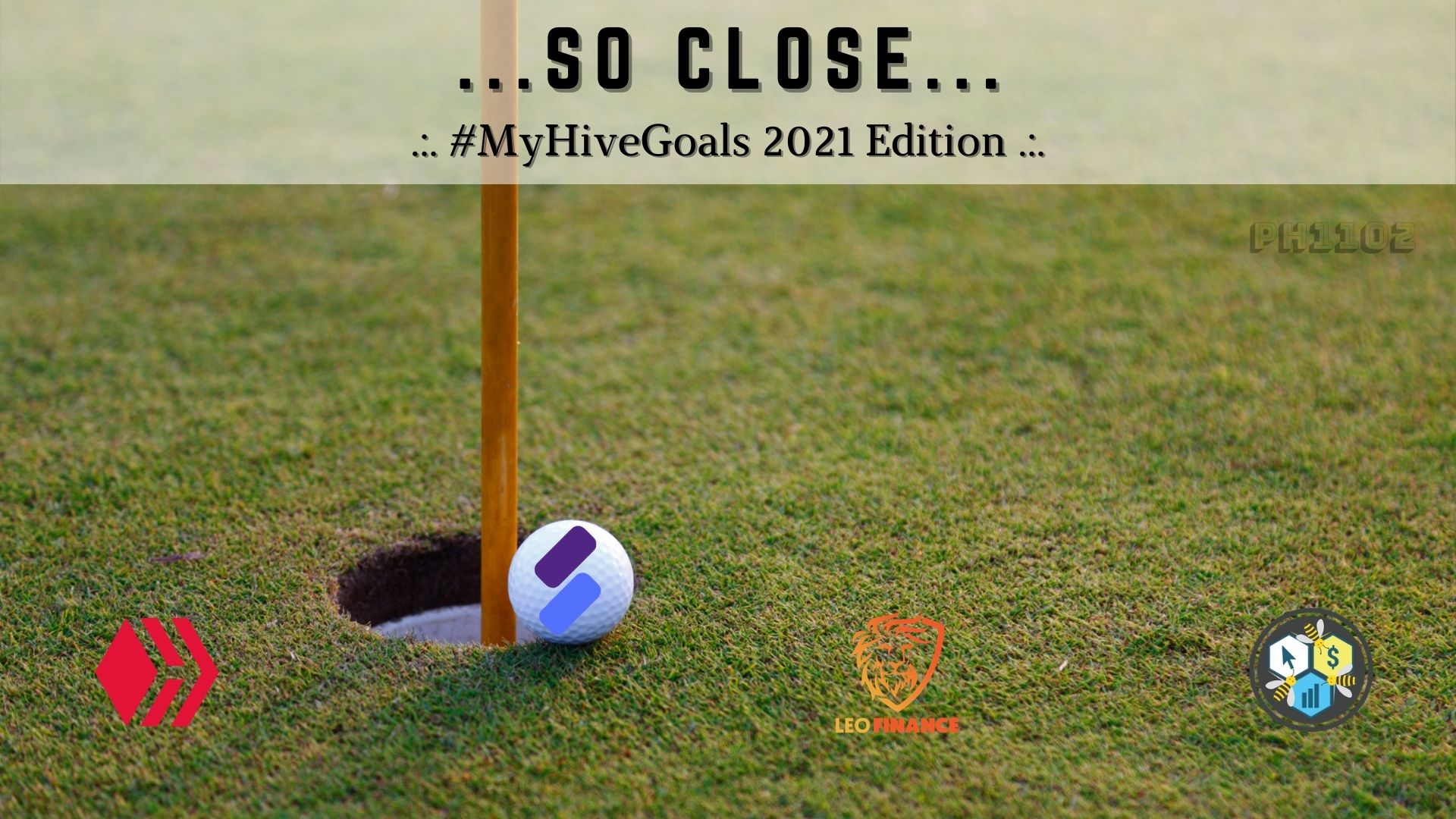 Created in Canva.com
It sounds very odd, but Hive was one of the rare coins that didn't drop that much in value compared to Bitcoin... Seeing all others going down 20-30-50%, and Hive standing still is just awesome! It dropped in USD value, but who cares about that? :)
After raising my Hive Power goal to 26K, it stayed in the red rectangle for this week too, and will probably stay like that in the next couple of weeks... At the moment, I can't earn enough HP from my posts and curation, but I will probably exchange some of my tribe tokens to get there... Also, if the price goes down, I will probably buy some... ;) In any case, the challenge is ON!

The LEO Power power is something manageable to reach... At least, it looks like that at the moment and I'm going toward that green-colored rectangle in the last week of May... The price of the token is crazily low at the moment, and I'm tempted to buy some more... Which will probably be the case if it stays where it is...

Finally some good news regarding my CTP Power goal... I'm still didn't hit my monthly goal but I'm closer than ever to do that in May! From the beginning of this year's #MyHiveGoals challenge, I was far away from hitting this goal, but I had a clear vision that it will happen... And I hope that the next week it will!
The SPORTS POWER goal going awesome... I have reached 10 Million SPORTS tokens this week!!! That is just amazing! A year ago, I would never, ever thought that I will accumulate that many SPORTS tokens! It put me in the Top 30 on the rich list for this token!

I have some mixed feelings about my GAMING GOALS and I'm thinking of doing some changes to them, but still not sure how to do it...
My RISING STAR goals are going great... Two weeks in a row I have managed to buy 24 packs (twice per week 12 packs) which brought me around 70 cards more... This goal is maybe the next one (after CTP) that will be colored in green... Maybe not this month, but the next one probably!
I had some hopes that DCITY game taxes will move a bit up and down, at least... But, instead of that, they are on 100% (or over) which makes my goal for this game totally irrelevant and without sense... I don't see any sense in buying cards and trying to have a higher "fictional" income, as it will never come to my wallet... I will keep this goal "alive" until further notice...

In the end, I would like to make an update of my current numbers (May 23rd, 2021) on #MyHiveGoals: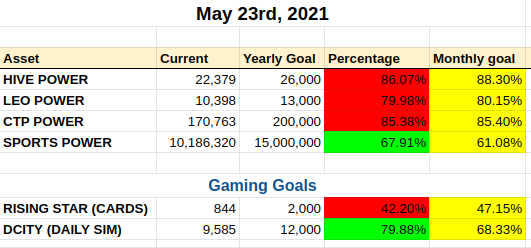 Join us in this awesome #MyHiveGoals and let's grow together! You can find the original post about the challenge by @robwillmann here: https://peakd.com/myhivegoals/@robwillmann/new-challenge-myhivegoals-set-and-achieve-your-goals
Thank you for your time,
~ph~

The link to my initial 2021 Goals Edition is here...
These are my initial goals for 2021 on January 15th, 2021, and this #MyHiveGoals Challenge:
HIVE POWER - 20,000 / 25,000    80.00%  needed monthly grow 1.66%
LEO POWER     - 8,000 / 12,000  66.00%  needed monthly grow 2.83%
CTP POWER - 150,000 / 200,000   75.00%  needed monthly grow 2.08%
SPORTS POWER   - 5M / 15M       33.33%  needed monthly grow 5.55%

Gaming Goals:
RISING STAR (CARDS) - 189 / 2,000    9.45%  needed monthly grow 7.54%
DCITY (DAILY SIM) - 5,488/ 12,000   45.73%  needed monthly grow 4.52%   (base Income - before taxes)

The revised goals - May 16th, 2021:
HIVE POWER - 26,000
LEO POWER - 13,000


If you want to support my witness, you can do it by voting for @ph1102.ctp here https://tribaldex.com/witnesses, or just scan the QR code down below...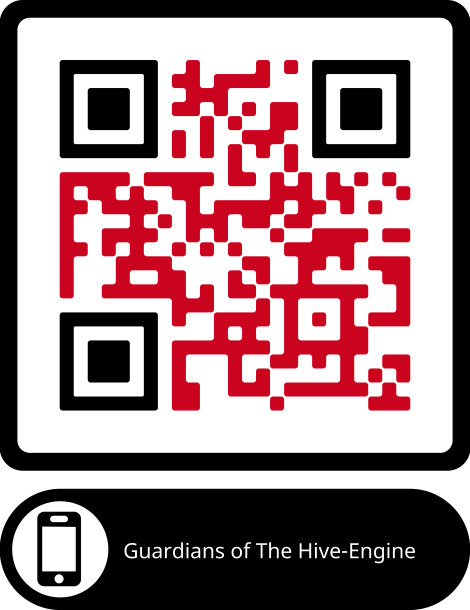 Don't forget to follow, reblog, and browse my Hivepage to stay connected with all the great stuff!
You can also find me on LEO Finance .:. Twitter .:. LBRY
Posted Using LeoFinance Beta