TIme to Move On .:. #MyHiveGoals June 6th, 2021
A new month has started and almost everything is red in the #MyHiveGoals table, but that's a normal thing... It should be like that... That's the point as these red rectangles are the motivational factor that pushes me forward every month... That's the reason why I'm doing these reports!
On the other side, the title sounds a bit pessimistic... lol... But, that part is connected with the DCity game goals that I have decided to remove from these reports... I have already explained the reason(s) for that and how the goal has no sense anymore... I will not do numbers for the game, but maybe I will replace that with some other game that I play... But, I'm still not sure how to measure the numbers, yet...
Created in Canva.com
The chase for reaching the new Hive Power goal has started! As it is the first week of the month, I have participated in HivePUD, which means that I have Powered Up some liquid Hive on the first of June... Also, some curation rewards came in, so my HP has grown for 360 in just one week! Slowly, I'm coming back on track with this one...
Raising this yearly goal has raised the amount of Hive that I need every month, so it became an interesting challenge... I'm glad that I did it as I have started to be too "comfy" with this goal... :)

The LEO Power goal is very similar to the HP goal as raising it, making the monthly goal bigger... Currently, I should get around 300 LP per month, which means that I have to power up around 75 LP per week... Well, this didn't happen in my first week, as I have powered around 52...
Luckily, the new liquidity pool provider's incentives are paid bi-weekly, and that amount should help me with reaching my monthly goals... I did get the first payment in June, but I have staked my LEO into the VFTLab platform... Is it a good choice, or a bad one, time will tell...

I was happy last week when I hit my monthly CTP Power goal for the first time this year, and I'm happy that I'm back on track... During the last week, I have powered up 667 CTP tokens, which is almost exactly the amount that I need to do every week to reach my goal...
The SPORTS POWER goal is going smoothly... I was thinking about raising this one too, but I think that I will rather do some token exchange and forward to other goals... Still not sure about that, but I will decide about that in the coming weeks... In the last week, I have powered up almost a quarter of a million SPORTS tokens, which is mind-blowing!

Kicking out my DCity goal from GAMING GOALS, this name should be changed to GAMING GOAL... :) But, let us keep it as it is, as I'm thinking about adding other goals instead of kicked one...
My RISING STAR goal is going exactly as I have planned... Doing 2 weekly openings of 12 packs is pumping the number of cards very nicely... Also, I have noticed that my earnings are also growing, so maybe I will do these openings even 3 times per week in a month, or two... I bet that some people who like my RS card giveaways would like that very much... :)
In the last week, I have added 70 new cards to my collection by opening these packs... To spice things up, I will probably buy some cards directly from the market with STARBITS that spill over after buying my 2 x 12 packs per week... There are some cards that are discontinued, and I would like to have them in my collection... The only way to get them is to buy them from the market...

In the end, I would like to make an update of my current numbers (June 6th, 2021) on #MyHiveGoals: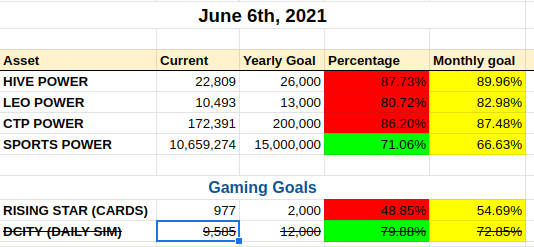 Join us in this awesome #MyHiveGoals and let's grow together! You can find the original post about the challenge by @robwillmann here: https://peakd.com/myhivegoals/@robwillmann/new-challenge-myhivegoals-set-and-achieve-your-goals
Thank you for your time,
~ph~

The link to my initial 2021 Goals Edition is here...
These are my initial goals for 2021 on January 15th, 2021, and this #MyHiveGoals Challenge:
HIVE POWER - 20,000 / 25,000    80.00%  needed monthly grow 1.66%
LEO POWER     - 8,000 / 12,000  66.00%  needed monthly grow 2.83%
CTP POWER - 150,000 / 200,000   75.00%  needed monthly grow 2.08%
SPORTS POWER   - 5M / 15M       33.33%  needed monthly grow 5.55%

Gaming Goals:
RISING STAR (CARDS) - 189 / 2,000    9.45%  needed monthly grow 7.54%
DCITY (DAILY SIM) - 5,488/ 12,000   45.73%  needed monthly grow 4.52%   (base Income - before taxes) - goal dropped 06.06.2021.

The revised goals - May 16th, 2021:
HIVE POWER - 26,000
LEO POWER - 13,000


If you want to support my witness, you can do it by voting for @ph1102.ctp here https://tribaldex.com/witnesses, or just scan the QR code down below...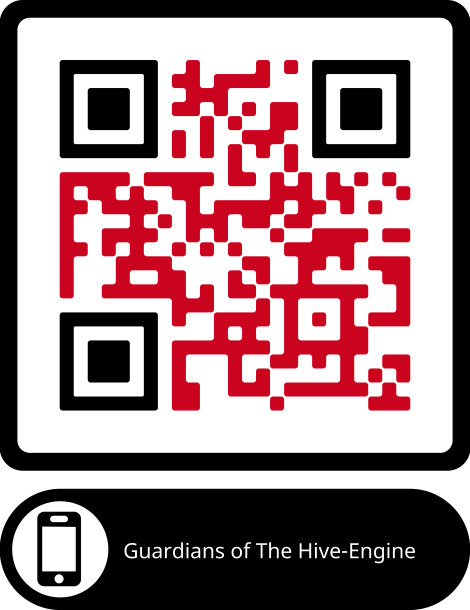 Don't forget to follow, reblog, and browse my Hivepage to stay connected with all the great stuff!
You can also find me on LEO Finance .:. Twitter .:. LBRY
Posted Using LeoFinance Beta
---
---