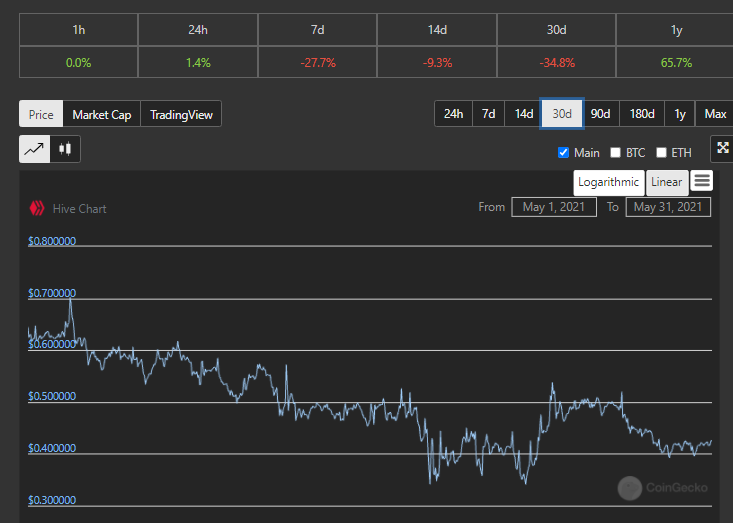 source
In my part of the world I will be happy to say goodbye to the month of May. A new beginning, a reset will commence
with June. At the same token many in the community will honor this route as powering Hive stronger than ever. Within 30 days
like all tokens in the market, Hive lost 34.8% from its value within 30 days. To tell you the true in the community it does not feel
as bad if you hold your token elsewhere. Hive remains strong despite this precipice hanging over our head. The sentiment is somewhere
melancholic but we are determined to hold.
Reading the post of many Hivers, this verse of holding is strong. Many do not stay it openly but their actions speak louder by holding
and buying nonstop. This fanaticism is welcome. Someone needs to hold Hive in order for the value to grow. Time has not come yet where a true holder can use it for everyday affairs. Comparatively we need some folks to sell if it deems necessary. I am contemplating the imagery of HBD getting close to the true dollar mark. I am holding mine HBD and see how the 3% will work in long term.
You can see it better if you use #peakd front end where you can retrieve it after 30 day. A friend told me, this month of May has proven
to be a great example for Hive holders. We all lose in percentage, but we gain in curation, friendship and strengthen our position. This drop causes our sentiment in spending. We should think the other way. If the value will continue to drop be ready to pile up and process this drop as a blessing. When the bubble is in full motion, everyone wants to spend. I guess the storyline should change by now.
I am staying true to what is at stake.
Due to the quick drop, weak hands are selling. Everyone is slow to react to the market. I guess the next bubble should teach us a lesson about reaction. Clearly it is a lack of planning. Everyone lost something. Unless you knew it from miles away. Hard to digest, this is the time to find the right moment to buy the dip. From what I read it is not over. The true bottom is near. It has been sitting in this area for a while, that could be it.
CUB FINANCE
The same fate that happenned to Hive did happen to CUB defi. It touches us harder. Looking from 30 days we were rolling at $2.63 to below a dollar a cub now. Keep in mind the drop has nothing to do with CUb token directly. Every single token got hammered since BTC lost its luster this MAY. Now another lesson learned, hold token that can withstand the drop. Good luck to CUB holders, they are managing tight. I am one of them. I am certain things will come back, got to wait for the right condition. The wounds are fresh. Time will heal. Kingdoms are something that bring a dose of fresh air for Cub and holders altogether. May has been sensational for all the wrong things. At the same tokens, May did what it does every year, slowing things down.
It is up to us to understand the circumstances and find a common ground to move forward. Everyone is tense about spending. This is right to be that way. This community favors long time holders. It is critical not to jump quick to conclusion and find your settings to move forward. I bet you could say to yourself, I wish I got more Hive. you could say the same for #leo. #POB is doing very good right now. June should give you the option of fresh start. Move forward. Power up and start kicking up a notch.
I know tomorrow will be a big deal for many of us. Let's make it really big and power up.

Posted Using LeoFinance Beta