If you are wondering from where I have got this screenshot then let me share the hivestats.io with you. It has many other nice feature too.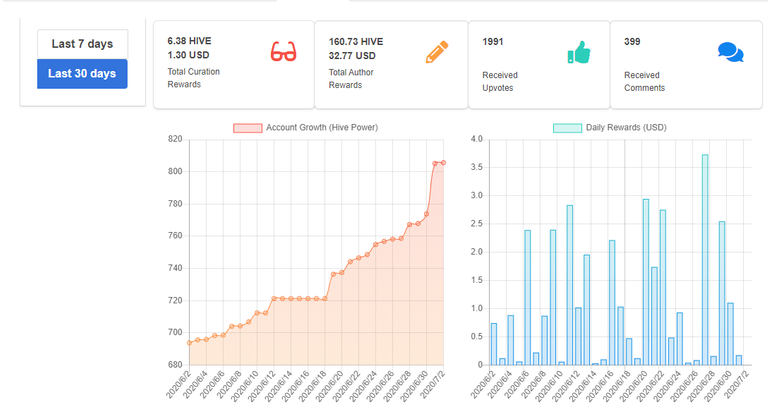 Graphs look good specially I have made nice Hive progress and make lot of comments , It means I fairly interacted with the user here and making more than 13 comments a day. One more thing I liked that whether big or small but there is some earning every day and it proves that I am interacting here daily.
Last I posted about my goals in post and I will reiterate it again that my LEO goal was to reach 2500 till the end of the year,10K for the CTP and 2500 for the Hive. These goals we carefully crafted that are achievable if I keep working for them daily without over exerting me and disturbing my other work-life balances. So the recorded snapshot of ny power were as below.
Current HP . 696.5 HP
Current Leo Power: 750
Current CTP power : 2618




Source





And today (2nd July 2020 ) my staked power are as follows.

Current HP : 805.6 HP
Current Leo Power: 1085
Current CTP power : 3321

Hive Power added 109, so projected addition for next six month is 109*6 =654. And total projected HP at the end of the year 805.6+654 = 1459.6
It look like that I am almost short of 1000 HP but this 1000 Hive is currently locked in DEC. DEC is currently under high sell pressure and I am not sure should I hold DEC to buy more packs to get good chances on airdrops?. So 1500 HP without converting my DEC looks good and will be on my reach if I do not turn lazy.

Leo power added is 1085-750 =335. So projected Leo can be added is 335*6 =2010. So overall projected Leo power at the end can 1085+2010=3095. It look like I was lucky on accumulating LEO in last month and if I keep this pace I will meet my target even before the year.

CTP power added is 3321-2618 = 703 , so with this projection I will add 703*6=4218 CTP power in next 6 month.So overall projected CTP power will be 3321+4218= 7539 , Look like I am short of 2500 CTP and short of 25% of my goal.

It means I need to put extra focus on acquiring CTP token and let me see, how my goal of CTP token get improved in next month reports.

Few of my undecided tribe goals are : SPORTS and KANDA
I will like to earn them and not deciding to sell them but I am not want to put fix number for them and burden myself (work life balances.) but if I reach my above goals early then I will take a deeper look on them and create some goals for them.

Tribe goal completed: LIST
Currently I have decided to stake 1000 LIST only and I have staked 1095 List currently. I will like to observe it further and might put new goal for it in next month.

Apart from these financial goal , I am quite happy with my engagement goals and I think I have added few followers for me. Since I did not noted this number in last post so I am not sure that how many followers I have gained.
Currently I have 315 followers and let me track how many will be added.
Though I do not putting any goal for this but I will commit myself for more engagement with other and take part in community initiatives.

Posted Using LeoFinance