FC Barcelona has been in absolute shambles for the last 4-5 years and it's not just down to the players. The playing standard has been horrible to say the least, but it had a lot more to do with what was happening behind the scenes from the Board of Directors and president. Too much nasty politics.
Beginning from bad manager appointments, to utterly shocking player recruitment, there was nothing to be happy about with Barcelona. I mean, the Arthur-Pjianic deal, What the actual hell was that! Not to say Pjianic is a bad player, far from that. But this deal show to what extent this board will go, driven by financial allures and personal benefits.
And all the chaos reached its peak after the disastrous 8-2 defeat to Bayern Munich in the Champions League semi-finals. Lionel Messi was on the verge of leaving the club. Lionel Messi leaving Barcelona, I feel weird even writing these words down, but that almost happened.
Being a Messi fan, I would actually be okay if Messi eventually did leave this dystopian Barcelona. But this current president being almost as horrible as a human being could get, played his "diplomatic" cards and created a situation where Messi would have to take Barcelona to court to get his move out of this club. Messi being messi, came out to public and said he was never going to take Barcelona to court, never. But very unlike himself, he lashed out hard at the club's board and that is completely understandable. He felt betrayed, mislead by the club he gave everything to.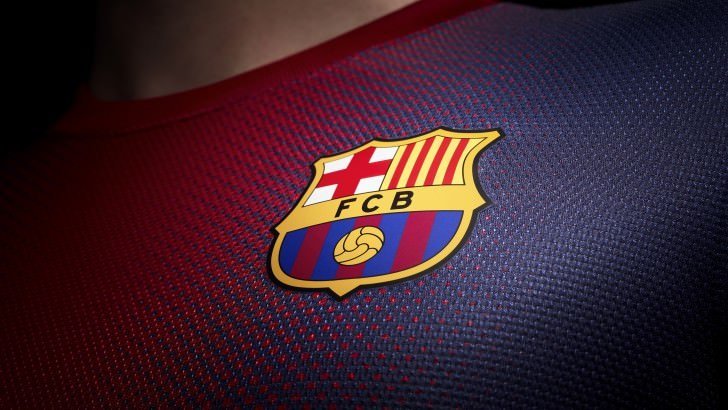 Source
But being a Barcelona fan, somewhere deep down, I hoped he would stay and revive this shit-hole, once again. And he did stay.
Barcelona has been playing very, very boring football for the last few years since Ernesto Valvarde took over as manager. Yeah, let's digest that. The Barcelona that was running bulldozer on teams across Europe for over a decade, was playing boring football. So much so that it was actually very difficult to watch them play for the whole 90 minutes. Fun fact : I didn't manage to sit through one single Barca game for the whole of 90 minutes during this time.
And then to change this, what does the Barcelona board do? Sack Valvarde and appoint none other than Qique Setien Massive facepalm emoji here!
In Setien's own words,
Yesterday I was with the cattle in my farm, and today here I am with some of the best players in the world.
No blame on Setien for the embarrassments that followed in the defeats. Barcelona was bound to fail with horrendous decision making under president Bartomeu. Such examples go on. Buying Antoine Griezmann for $135 million and playing him out of position, buying one of the most exciting young talent in world football at the moment Frankie de Jong for €75 million and playing him out of position....they were wasting money up and down and left and right! This shows the lack of planning, lack of a project in place at Barcelona.
But Messi was right to want to leave for somewhere there was an actual project in place.
In comes Ronald Koeman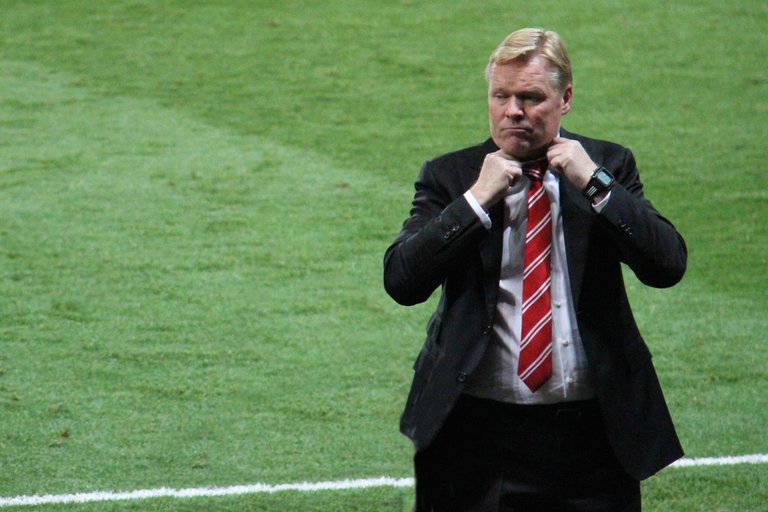 Source
In all fairness, Koeman is a great choice for coach. But previous bad financial decisions resulted in the club going under debt and not being able to buy the players Koeman needs/wants. More drama followed in the way they "kicked" Suarez out of the club.
Despite everything that has been happening for the past few years, Barcelona still won 2 La Liga titles during this time and it was all down to one single man, Lionel Messi. Barcelona lost possession of the ball...? Messi has to come recover it. Need an assist..? Messi has to provide. No one good enough to score a goal from that assist...? Messi has to score the goal too. Everything was dumped on to messi. Anybody gets the ball...pass it to messi and sit back and relax.
But with such bad air around the club, and messi being particularly grumpy at the board, there wasn't a lot nothing to be hopeful about for the Barcelona fans this season.
An exciting first game of the Season
And yet, the first game of the season Barcelona played last night against a good Villareal side was nothing short of Exciting! My eyes got heavy with sleep and yet the match kept me awake! That's the kind of football we're used to seeing from Barcelona.
Ansu Fati was breath of fresh air. And guess what! The first 2 goals Barcelona scored needed no involvement from Lionel Messi. It's almost as if the players now suddenly learned how to play football!
But what excited me the most was the second goal from the young kid, Fati. Phillipe Coutinho picks up the ball at midfield, runs a few yards, looks up and sees Messi on his right. Then he does the "unthinkable" in the words of Ale Moreno! He decides he is ""not"" going to pass the ball to Messi, but to Fati who was in a much better position to score the goal on his left! This is the type of footballing brain and judgement that was missing from Barcelona the last few years!
We even got to see Frankie de Jong play his natural position and his signature "The de Jong Turn" quite often this game!
Too early to tell if we are going to keep seeing such performances from Ronald Koeman's Barcelona on a fairly regular basis, but hope has been re-ignited!
The only disappointment was Antoine Griezmann still searching for himself and looking lost. But hey, after 3 years I eagerly watched the full 90 minutes of a Barcelona game!


Posted Using LeoFinance Beta