Dogecoin from a coin of value to memecoin and back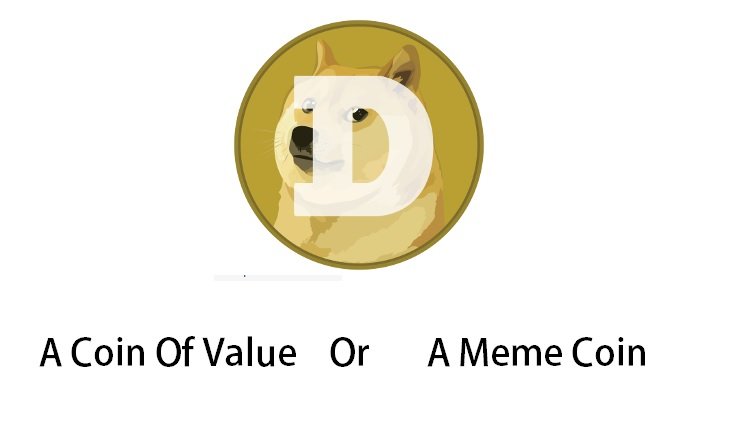 Source with some added text
When Dogecoin was started it was referred to a meme coin and no one took it very seriously.
Everyone was focused on the cryptos that were considered more mainstream like Bitcoin and Ethereum.
Back in the day the altcoins were still being born and finding their place in the crypto universe.
Dogecoin offered immense value right from the beginning
When the rest of the crypto prices moved Dogecoin prices remained almost fixed.
The initial reaction of this fixed and relatively low price of Dogecoin meant that many people overlooked it while allocating funds to their crypto portfolio.
A unique use case emerged for Dogecoin
Dogecoins across exchanges were locked at the same price and this used to be only a few satoshi.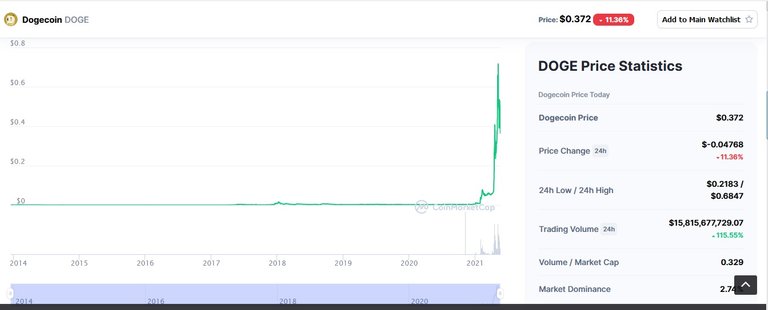 source
The Above image shows no price movement for Dogecoin over time
Thus in the real sense of the word the Dogecoin behaved as a stable coin though a lot of people failed to see its utility.



source
Since little importance was given to a coin of low value in satoshi price terms and also in USD price terms the withdrawal fee from exchanges was quite low.
At the same time if a person had to transfer a small amount of BTC the fee in BTC ran into a few dollars.
Thus a fee of 4-5$ in BTC to withdraw $10 meant a 50% fee paid in BTC terms.
Since the crypto space is all about innovation so smart crypto innovators came up with the innovative solution using Dogecoin.
In this method one would first convert the BTC into Dogecoin and withdraw the Dogecoin paying a negligible fee.
The withdrawal would be made to the 2nd desired exchange account where it could be converted back into BTC.
The Low withdrawal fee of Dogecoin as well as the fixed never or rarely moving prices meant there would be no price loss due to arbitrage.
This method worked like a charm and gave the Dogecoin a tremendous use case.
However all this changed when...
Mr Musk started tweeting about Dogecoin
With every tweet that Mr Elon Musk made the price of Dogecoin jumped and went higher. Once in a while some not so positive tweet came and the price drifted lower.
So what this has made Dogecoin is a top of the line crypto asset. Till a few days ago it found its place in the top five crypto assets on coinmarketcap.com
Even today at the time of writing this post Dogecoin is in the top ten cryptocurrency list on coinmarketcap.
Time to add Dogecoin to the portfolio and the watch list.
To own Dogecoin or not is a personal decision however it is highly recommended that Dogecoin be added to the watchlist.
This can easily be done on coinmarketcap.com
Simply create an account on coinmarketcap.com using your email and password.
After logging into your account click the star button next to Dogecoin as shown in the image below.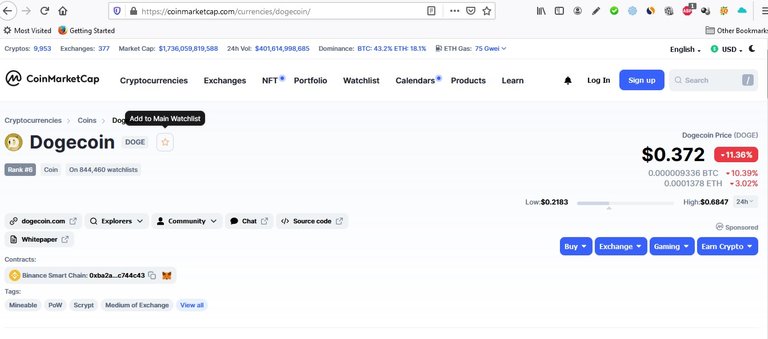 source
Adding Dogecoin to ones watch list is going to be a useful exercise to understand and possibly benefit from the price movements of Dogecoin in the future.
For further resources and tools visit coinmarketcap.com
and connect to its various channels
Registration Link – [https://accounts.coinmarketcap.com/signup] (https://accounts.coinmarketcap.com/signup)
App Link – https://apps.apple.com/app/coinmarketcap/id1282107098
App Link – https://play.google.com/store/apps/details?id=com.coinmarketcap.android
Watchlist Link – https://coinmarketcap.com/watchlist
Telegram Link – https://t.me/CoinMarketCap
Social Link – https://reddit.com/r/CoinMarketCap
Social Link – https://twitter.com/CoinMarketCap
Social Link – https://facebook.com/CoinMarketCap
Social Link – https://instagram.com/CoinMarketCap
A Crypto sporting tip
Play hard but play by the rules. Even when you feel that no one is watching there is no getting away from our own inner self.
If you are interested in earning some extra income:
Easy free Crypto money site method even grandma can do
Or wanna try your luck?
Win a lambo Get free crypto or More?
Posted Using LeoFinance Beta
---
---