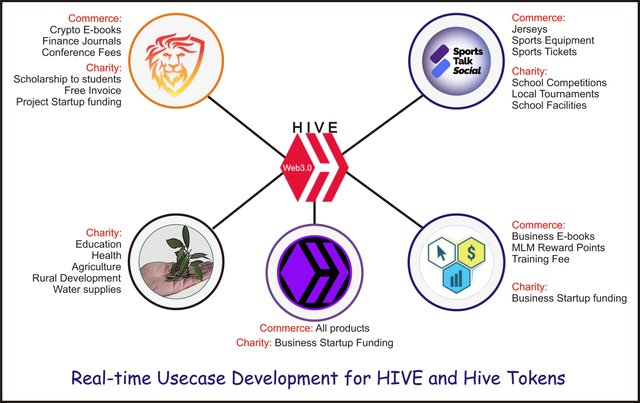 The week (August 3rd to 9th, 2020) ending was a very busy one for me off-chain and that reduced my engagement presence on the Hive blockchain. It was a productive week and I was able to help onboard two new Hivers - @Gabby20 and @Princessgift. I didn't forget my Hive token investment and curation though I was only staking a few out of the five tokens I am building curation power with.
It's been exciting to see the great stuffs happening around Hive as well as anticipated price pumps which is is drawing more users to the blockchain. I had a whats app message yesterday from someone who wants to know more about HIVE. I will be speaking to a few persons tomorrow and I hopefully would onboard more new users. It is interesting to see more people around me getting to be concerned about cryptocurrency and HIVE/Hive tokens are the first they're hearing.
In the coming week, I will be busy doing some branding work at my Training Hub to speak volumes about HIVE and the Hive tokens I am hodling. I hope to draw more attention from my offline marketing strategies. I am also looking at engaging more corporate bodies and letting them know why they should have a handle on HIVE and register their presence in the cryptocurrency world. Trust me, I will certainly let them know about LEO, SPORTS, LIST, NEOXAG, PAL, CHARY, CTP, LOTUS, and other Hive tokens. I am hopeful that they'd find some interests with the tokens.
As I restart my engagement here on Hive, I had to look-up my Hive token stakes and their curation capacities.
despite my reduced activities in the blockchain, I am happy to see the token stakes growing organically and gaining more value over the day despite their bearish run in response to HIVE pump. I'll be back with more holistic promotions for the Hive communities and we'll see some more tangible impacts both on community activities and token price actions.
I am aware that information drives the cryptocurrency markets. I am not losing sight of my plans for the tokens as captured in the infographics above. I'll keep pushing from this end to see HIVE rise through the Hive tokens.
Shalom!
Posted Using LeoFinance